It has to be said straight away that William Tell is a colossal challenge, almost as much for its audiences as its performers. People talk of Wagner's Curse (what can go wrong, usually does, in spades), but Rossini's operatic swansong is not far behind. What makes it especially daunting for any opera company brave or foolhardy enough to attempt a production – and this before any consideration of how to cast or stage it – is how much of the score to use. An uncut version, stuffed with ballets and other orchestral material, can run for close to five hours. Then, which language? Do you perform it as Guillaume Tell (the original Paris version of 1829), or as Guglielmo Tell, Wilhelm Tell, or plain old William Tell?
Richard Mills, Victorian Opera's artistic director and conductor of this production of William Tell (call it Guillaume, since it is sung in French), writes in the program book that he has cut the opera down to three hours, as well as omitting the ballets. This is a good thing, although, I have to say, even with slashings of the red pencil, the piece still contains its fair share of what the French delicately call mauvais quart d'heures, when one fears we will still be there at sunrise.
Berlioz, among other enthusiastic Rossini contemporaries, who also included Bizet and Wagner, was more positive about the score. In 1834 he described it as 'seriously thought out, considered at leisure, and conscientiously executed from beginning to end'. So it proved in the expanses of the Palais, a theatre whose own architecture reflects similar ambition and execution. Indeed, its recent refurbishments, including a repainted exterior, provides the place with an extra, almost Rossinian dash of smart elegance.
Mind you, once the famous overture – excellently, deftly played by Orchestra Victoria – galloped to the finish line and the curtain rose, a chilly draft straight off the bay seeped into the stalls; a frigid reminder of Switzerland that never quite lost its grip on the first-night audience (although the Palais' foot-warmers helped a little).
Director Rodula Gaitanou has set the opera in occupied Switzerland in a 'dystopian future', which I suppose is a good reason for the cross-chronology of costumes (by Esther Marie Hayes), which included boiler suits, polo shirts, jeans, sci-fi helmets, and the occasional nod to alpine-wear, rag-and-bone, and other shreds and patches.
Simon Corder's permanent and economical set – with a jagged, grey-brick wall in the background, and AstroTurf-draped grassy knolls and a mini-alp downstage – cleverly emphasised the opera's twin themes of the beauty of nature and the darkness of political oppression. Less effectively, as it turned out, this setting proved awkward and distracting, as most of the large cast had to negotiate the various foothills and peaks with understandable care, especially with the fog machine working overtime. (Corder's lighting, although pertinent, was often obtrusive.)
A tragic melodrama in four acts requires a substantial force of singers to do it justice, and, for the most part on Saturday, they did. There are eleven main roles, and, let's not forget, a large chorus of forty-eight (well prepared by Richard Mills and Phoebe Briggs), which sang with unerring strength throughout.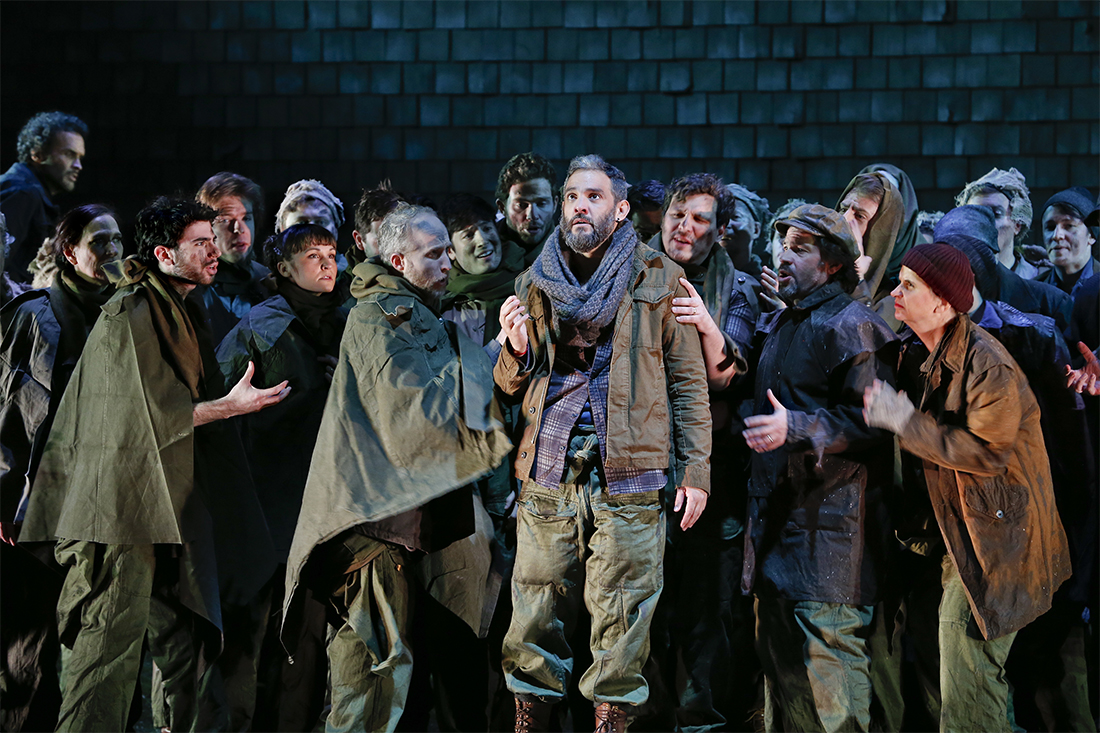 Armando Noguera as William Tell (photo by Jeff Busby)
The lynchpin of this performance was the mighty William Tell of Armando Noguera, who reached the very heights of impassioned pride and dignity in the apple-and-arrow moment, 'Sois immobile', when he beseeches his son, Jemmy, to stay still. Alexandra Flood, as Jemmy, was also a remarkable performer, dramatically as well as vocally.
The romantic interests – the firebrand Arnold and the impassioned princess, Mathilde – were well sung by Carlos E. Bárcenas and Gisela Stille. The tenor's superhuman role, festooned with high Cs and with his most treacherous aria not until Act IV, sometimes lacked the vocal heft required; but his determination never let him down. It was a bravura performance. Likewise, Stille's flexible and serviceable soprano did her proud, especially in her Act II aria, 'Sombre forêt'.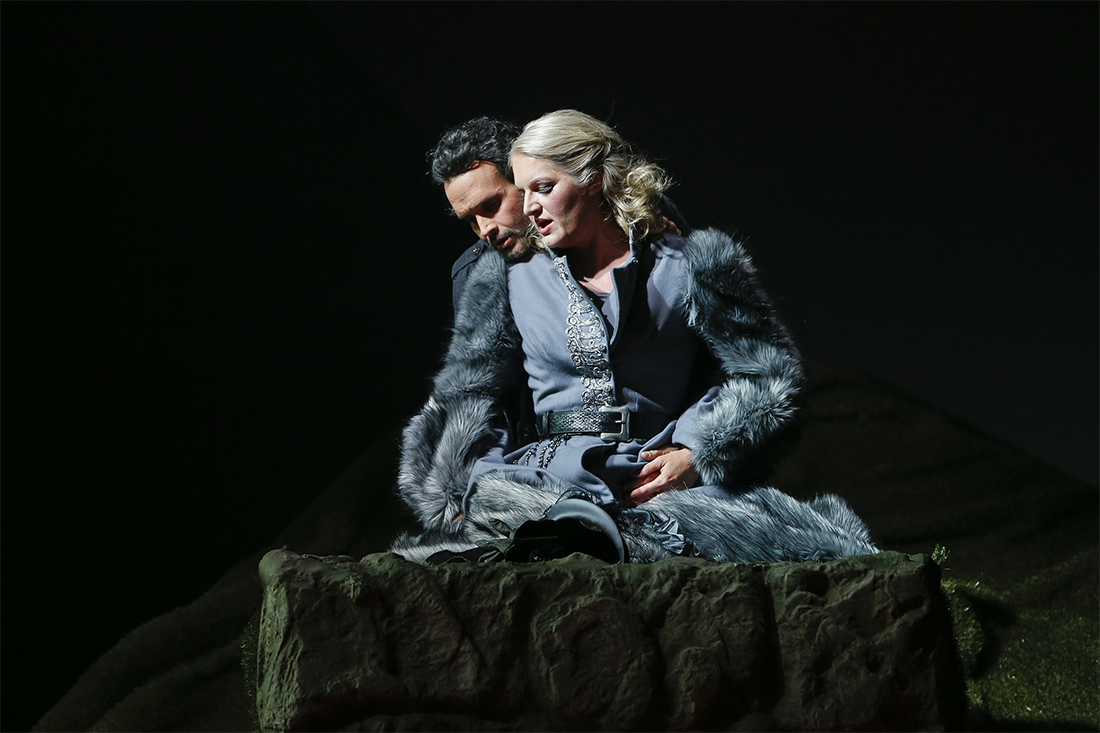 Carlos E. Bárcenas as Arnold and Gisela Stille William as Mathilde in William Tell (photo by Jeff Busby)
In other roles, there was fine singing from Jeremy Kleeman, as Tell's compatriot Walter Furst, Timothy Reynolds as the drunken Ruodi, Jerzy Kozlowski as the fugitive Leuthold, and Liane Keegan's compassionate and motherly Hedwige Tell.
It was luxury casting indeed to have Teddy Tahu Rhodes as the village elder, Melcthal, who gave a marvellously stentorian performance. Here's one role where Teddy will have to keep his shirt on, I thought. But, no. In the dystopian future, even bearded old men are stripped to the waist before being summarily executed with dagger and gun (dystopia extends to weaponry, too).
Less satisfactory, though, were the tyrant Gesler and his henchman, Rodolphe, in over-the-top, hiss-the-villain performances from Paolo Pecchioli and Paul Biencourt, respectively. It remains a mystery as to why it was decided to ramp up the comedy in Act II, by having Gesler and Rodolphe conduct their own rehearsal of apple-balancing during one of the most plangent scenes in all opera. Particularly coarse singing from Pecchioli did not help.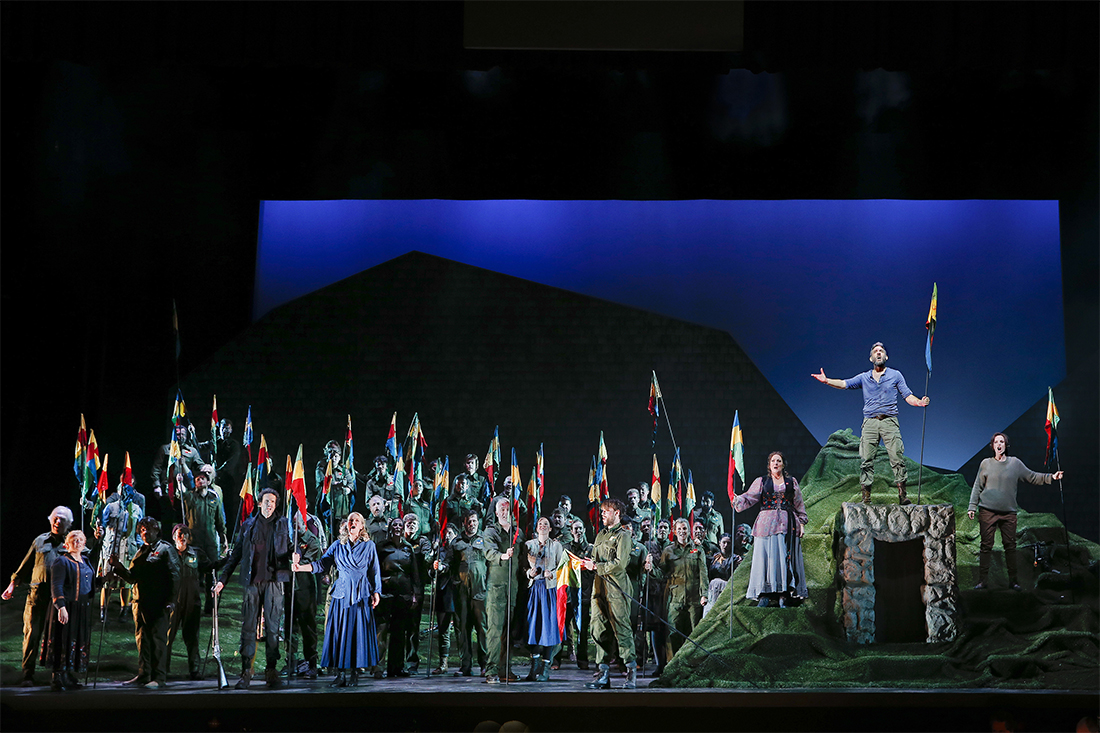 The cast of William Tell, performed by Victorian Opera (photo by Jeff Busby)
In the end, though, even hampered by the prolix libretto by V.J. Étienne de Jouy and H.L.F. Bis, Rossini achieved a triumph of sorts with William Tell. For all sorts of reasons, most of them practical, the work is not performed all that often, especially in this country, where it hasn't been professionally staged since 1876. Full marks, therefore, to Victorian Opera, for having the determination and courage to take on Tell.
Really, the evening belonged to Richard Mills, who conducted this long and sometimes unwieldy score with steadiness and majesty, letting the music unfold with respect and with naturalness. Orchestra Victoria responded with playing that was anything but routine: it was as if each player was discovering the inner beauty of the score. The company – and, for sure, this was a company effort, right down to that final sunlit chorus in C major – rose above a sometimes clumsy production to achieve its own sense of triumph over adversity.
William Tell, by Gioacchino Rossini, based on Schiller's play of the same name, is being performed by Victorian Opera until 19 July 2018. Performance attended 14 July.
ABR Arts is generously supported by The Ian Potter Foundation and the ABR Patrons.