Books of the Year
2017 Books of the Year
Michelle de Kretser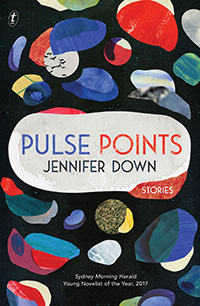 Sybille Smith's Mothertongue (Vagabond) is a thoughtful, brief memoir-in-essays, chiefly concerned with growing up between two places, Vienna and Sydney, and two languages, German and English. It speaks of loss and carves out recoveries (partial, provisional) in moving, lucid prose; a small gem.
In a big year for Australian novels, here's a shout out for two collections of stories. Jennifer Down's Pulse Points (Text Publishing, reviewed in ABR 9/17) consolidates her reputation as a remarkable young writer. Her stories are effortlessly global yet strongly anchored in place. They testify to Down's remarkable powers of observation and her ability to create bleak but engaging worlds – the longer tales are especially potent. Tony Birch's Common People (UQP, 9/17) also traffics in characters in difficult circumstances, but Birch is tender as well as unsentimental. This sturdily crafted collection, Birch's best yet, offers illuminating, sometimes harrowing narratives that sing of solidarity and humour in hardscrabble lives.
Geordie Williamson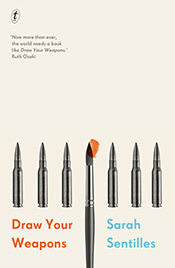 In a world where nations are more likely to militarise than to engage in dialogue, to build walls rather than open borders, Sarah Sentilles's Draw Your Weapons (Text Publishing, 8/17) is a formally elegant and intellectually rigorous argument for peace. Not a pacifist manifesto so much as a collage built from paradox and juxtaposition – from encounters with images of terror, war, and torture – whose total implication is clear. We in the affluent West cannot remain unsullied by refusing to look at evidence of the multiplying human disasters around us. Sentilles' book inspires us to be more than we are, to live beyond our historical moment. Not a call to arms so much as a call to the writers' pen.
Brenda Niall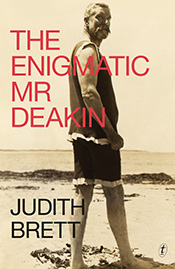 In too many biographies of political leaders the private self is lost, or not even sought. Like John Murphy's subtle portrait of Herbert Evatt (NewSouth, 11/16), which revealed a complex human being, Judith Brett's The Enigmatic Mr Deakin (Text Publishing, 9/17) explores our second prime minister's career with full attention to his intense inner life and family relationships. Her title points to the puzzles, but Brett doesn't simplify; she ponders, suggests, dramatises. Closely observed and psychologically persuasive, this is more than a life-and-times; it is a life. Elizabeth Strout's Anything Is Possible (Viking) looks like an elegy for small-town America, but the degree of loneliness Strout exposes puts paid to any easy notion of community. Strout's interconnected short stories reveal the isolation of people who have known one another since childhood. As well as lies and secrets, gossip and harsh judgement, there are astonishing moments of compassion. A brilliant, disturbing work.

Advertisement
Tom Griffiths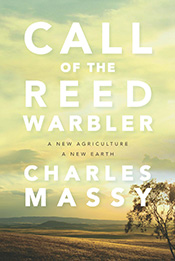 Charles Massy's Call of the Reed Warbler: A new agriculture – a new earth (UQP, 10/17) is a revolutionary and lyrical story of a farmer's journey towards ecological literacy. It is learned, wise, practical, and full of hope. Another impressive big book is Tony Hughes-d'Aeth's Like Nothing on this Earth: A literary history of the wheatbelt (UWA Publishing, 6/17). It is a brilliant work of scholarship that effectively establishes a new genre; I hope it inspires more regional literary ecologies. Don't miss Kieran Finnane's honest, powerful, and sensitive report from the streets and camps of Alice Springs, Trouble: On trial in Central Australia (UQP). This is journalism of the highest calibre. And I love Alex Miller's new novel, The Passage of Love (Allen & Unwin, 11/17), which delivers an enthralling fusion of fiction and memoir.
James McNamara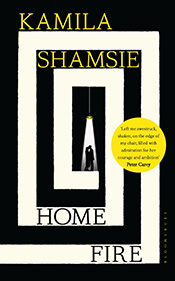 I should nominate Twitter, because I spent much of the year in America reading and shouting at it. Offline, I hugely admired Kamila Shamsie's Home Fire (Bloomsbury, 10/17), a magnificent reworking of Sophocles' Antigone that traces the impact of a brother's radicalisation on his British-Pakistani family. Mohsin Hamid's beautiful, magical realist Exit West (Hamish Hamilton) deftly humanises the refugees that Western governments are deftly trying to ignore. Robert Webb's memoir, How Not To Be A Boy (Canongate, 12/17), is both hilarious and lip-wobblingly poignant. And, without meaning to sound too much of a (tweedy, threadbare) jetsetter, I missed the 2010 Australian release of Ashley Hay's The Body In The Clouds (Washington Square) while I was living in London, but I delighted in its publication here in the States this year. So I'm going to count it for 2017 and direct some positive shouting towards Hay's brilliant, multilayered work: 'huzzah!'
Sheila Fitzpatrick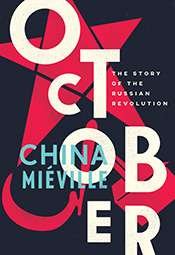 In China Miéville's October: The story of the Russian Revolution (Verso, 10/17) – the liveliest of the centenary publications – the dramatic events of 1917 in Petrograd are related with some wistful regret that things didn't turn out better. Sarah Dowse's As The Lonely Fly (For Pity's Sake, 6/17) is a twentieth-century Jewish family saga encompassing Russia, America, and Palestine – a moving story that makes you think. Chris Hilliard's The Littlehampton Libels. A miscarriage of justice and a mystery about words in 1920s England (OUP) is a real-crime scholarly history, but Agatha Christie fans should love it. It's Christie's world, and those dogged and courteous police officers turn out to be real.
Paul Giles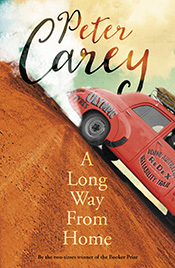 Dennis C. Rasmussen's The Infidel and the Professor: David Hume, Adam Smith, and the friendship that shaped modern thought (Princeton) is a lively and readable account of how two Scottish philosophers conspired to subvert many nostrums of Western culture during the late Enlightenment era. Peter Carey's A Long Way from Home (Hamish Hamilton, 11/17) is an important novel that treats relations between white Australian and Indigenous cultures through a framework of dark postmodernist humour. Michelle de Kretser's The Life to Come (Allen & Unwin, 10/17) sensually incarnates her themes of travel and displacement in a work of fiction that brilliantly evokes the climate, smells, and cuisine of Sydney. And Tracey Moffatt: My horizon, edited by Natalie King (Thames & Hudson) brings together Moffatt's provocative visual exhibition for the 2017 Venice Biennale with a collection of essays from Alexis Wright and others that testifies to the enduring importance of Moffatt's oeuvre.
Sarah Holland-Batt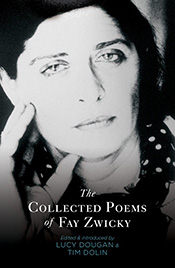 Fay Zwicky's death was keenly felt among poets and readers of poetry earlier this year, so it is a bittersweet joy to see all of her terse, tough, magnificently spiky poems gathered in one volume. The Collected Poems of Fay Zwicky (UWAP) reveals a poet whose oeuvre was the product of what she calls 'the dissenting imagination'; her poems concern themselves deeply with the ethical realm, but also grapple profoundly with agnosticism and doubt. This meticulously edited collection offers all seven of Zwicky's books, along with a substantial selection of new and uncollected poems at the end; it is a pleasure to be able to read her life's work in order and trace how her relentlessly contemporary late style developed. 'Let us talk of now,' she said in her masterwork 'Kaddish', and her poems follow suit. This indelible collection will be treasured everywhere by those who love poetry.
Susan Sheridan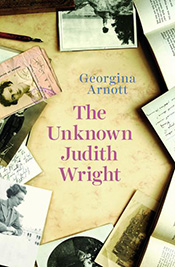 As one of the Miles Franklin Award judges, I spend the first part of the year reading Australian novels published in the previous year, after which I set out to catch up on other contemporary fiction. Kamila Shamsie's latest novel, Home Fire, bowled me over: it is a brilliant rewriting of the story of Antigone, set mainly in London, about two families destroyed by jihad and anti-Muslim politics. Apart from fiction, two new titles from university presses – Georgina Arnott's The Unknown Judith Wright (UWA Publishing, 11/16) and Thea Astley: Selected poems, edited by Cheryl Taylor (UQP, 11/17) – provide fascinating insights into the earliest work of these two giants of twentieth-century Australian literature.
Frank Bongiorno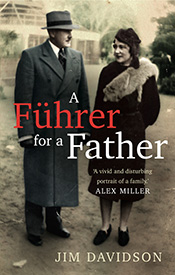 Two books exploring father–son relationships in the context of changing masculinities and gay life stand out. Alan Hollinghurst's The Sparsholt Affair (Picador) is as profound as you would expect from this Man Booker winner. Beginning in Oxford in 1940 and stretching over seventy years, Hollinghurst lovingly evokes period detail without allowing it to overwhelm the absorbing drama of lived intimacies. Jim Davidson's memoir, A Führer for a Father: The domestic face of colonialism (NewSouth, 9/17), by one of Australia's leading cultural historians and biographers, explores with enviable subtlety the connections between British imperial rule and the patriarchy of a man inside a family. Judith Brett's excellent The Enigmatic Mr Deakin introduces this Federation-era giant to a modern audience: a timely reminder of the achievements and failings of a century ago, and perfect summer reading for any Australian politician whose aspirations rise above seat-warming.
Bernadette Brennan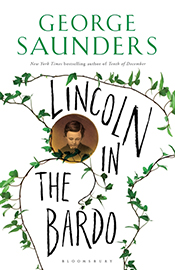 I am currently judging an Australian literary award, so will refrain from nominating some of this year's brilliant Australian fiction. Melanie Joosten's A Long Time Coming: Essays on old age (Scribe) is an important, moving collection of essays on ageing, mortality, and the ethics of writing. Arundhati Roy's huge – in every sense of the word – The Ministry of Utmost Happiness (Hamish Hamilton, 6/17) and George Saunders's lyrical Lincoln in the Bardo (Bloomsbury, 3/17) extend the novel's form superbly. Kamila Shamsie's Home Fire takes us deep inside the psychology of a disaffected Muslim youth, and draws us into a complex world of loss, pain, filial piety, and (largely destructive) duty. My favourite book of the year is Elizabeth Strout's Anything Is Possible. What a thrill to be returned to the richly extended world of Lucy Barton and her narrative people.
Tony Hughes-d'Aeth
'I found myself immeasurably and inexplicably moved', to use the words of one of its ghostly narrators, by George Saunders's Lincoln in the Bardo. While it is a novel that is bold in its formal innovations, these never overpower the simple, heartrending premise of a father's raw grief for the death of his eleven-year-old son. Closer to home, I had my unfairly high expectations met by Kim Scott's novel Taboo (Picador, 8/17), in which the problems of reconciliation between settler and indigene in Australia were slowly and slyly circled, then seized with breathtaking precision. Both novels rose to a similar challenge, the challenge of all serious literature, which is to narrate the unnarratable.
Felicity Plunkett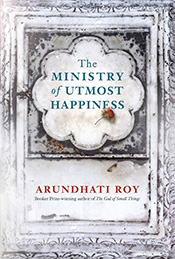 My list begins with the latest dazzling novel by Ali Smith. Winter (Hamish Hamilton) is the second in a proposed series of four seasonal novels and follows the crisp and crackling Autumn (Hamish Hamilton, 1/17). Set between life and death, closeness and solitude, the mythological and the contemporary, it shimmers with snow crystals, etymology, and thaw. Smith's winter is 'an exercise in how to still yourself then how to come pliantly back to life again'. I found Arundhati Roy's sprawling, magnificent The Ministry of Utmost Happiness a demanding and compelling assemblage of 'a shattered story'. I have begun Michelle de Kretser's The Life to Come and am thrilled by the shape of her every sentence and her acute wit and insight. And Reinhard Kleist's Nick Cave: Mercy on me (SelfMadeHero) is a rollicking confabulation exploring the Nick Cave universe, all myth, slash, and swagger.
Shannon Burns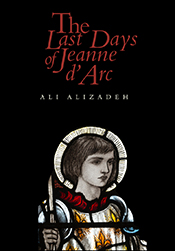 I particularly enjoyed three works of Australian fiction: Kim Scott's Taboo combines aesthetic and moral seriousness with unusual success, and is a worthy follow-up to his two Miles Franklin-winning novels. His is a truly generative and urgent brand of fiction. Tony Birch's Common People is a collection of stylistically unadorned yet artfully wrought stories. Birch hones in on protagonists and communities rarely glimpsed in contemporary Australian literature. Ali Alizadeh's The Last Days of Jeanne d'Arc (Giramondo, 10/17) is lightly experimental and emotionally rich – the kind of novel that invites and rewards close attention without forcing the matter.
On the non-fiction front, Nancy Isenberg's White Trash: The 400-year untold history of class in America (Allen & Unwin) – which documents the social history of the 'waste' people transported from Britain to the United States – was particularly eye-opening.
James Walter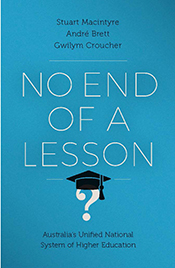 George Saunders's Lincoln in the Bardo, a cascade of voices observing, mourning, and denying death, is a literary high wire act. The peril of an adventurous literary conceit teetering so close to extremes as to threaten collapse kept me reading: the most arresting novel of the year. Judith Brett achieves something rare in political biography: a synthesis of the public life with the beliefs, doubts, private struggles, and spiritual inquiry that made The Enigmatic Mr Deakin our most intriguing prime minister. She rescues Alfred Deakin from recent ahistorical readings of his 'Australian settlement'. Not only politically minded but also general readers perplexed by the collapse of confidence in public institutions should read Stuart Macintyre, André Brett, and Gwylim Croucher's No End of a Lesson: Australia's unified system of higher education (Melbourne University Press) A compelling narrative history of John Dawkins's revolution in higher education, it is a revelatory instantiation of the intentions, achievements, and unforeseen consequences of recent policy reform.
Jen Webb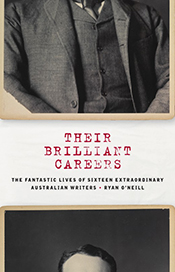 Tara Bergin's The Tragic Death of Eleanor Marx (Carcanet), a wonderfully angry, self-deprecatingly funny yet tragic collection of poems, reflects on women's lives in fiction and in history. Bergin gives voice to famous people, fairytales, and folklore in her rhythmic, beautifully disturbing collection.
Vahni Capildeo's chapbook Seas and Trees (Recent Work Press) is crammed with vivid images, and language that shimmers and sings. It presents a landscape of possible universes where 'trees had evolved to eat other trees', where the familiar sea becomes strange and unknowable. Supple, subtle, marvellous.
Ryan O'Neill's Their Brilliant Careers: The fantastic lives of sixteen extraordinary Australian writers (Black Inc., 8/16) is probably the funniest literary novel since Tristram Shandy. This unmerciful lampooning of 'extraordinary Australian writers' – barely disguised, bizarrely intertwined – doubles as a parodic, playful workshop in OzLit, and a portrait of the literary community and its politics.
David McCooey
Andrew Ford's memoir of his extraordinary life in music, The Memory of Music (Black Inc.), seems somehow effortless, but it's also profound, deeply moving, and often very funny. The 'composer's memoir' might be a niche category, but Ford's is a classic of the genre.
In Australian poetry, The Collected Poems of Fay Zwicky shows what an uncompromising and playful poet Zwicky was. Meanwhile, I loved Sarah Manguso's 300 Arguments (Graywolf). Only ninety pages long, Manguso's book brilliantly extends the literary possibilities of the ancient form of the aphorism. And talking of brevity and renewal, Fleur Jaeggy's wafer-thin These Possible Lives (New Directions) reinvents the biographical essay. In Jaeggy's hands, the lives of John Keats, Thomas de Quincey, and Marcel Schwob become nightmarish and uncanny prose poems. Happily, the year also saw the appearance of a new collection of Jaeggy's stories, I Am the Brother of XX (New Directions).
Fiona Wright
One of my favourite books this year felt like a call to arms: Briohny Doyle's Adult Fantasy (Scribe). Doyle's book is about how difficult it is for our generation to come to terms with our own adulthood, because so many of the markers of that stage – a house, a stable career, a marriage – are so often unavailable to us; the book seemed to articulate something (some things) that I'd been feeling, vaguely, for years. It's smart and funny and fierce, but never angry or divisive – it isn't interested in the intergenerational slanging wars that so often categorise this kind of discussion in the media (there's nary an avocado toast in sight), rather, in a much more personal muddling through that's somehow still hopeful and affirming and bold.
James Ley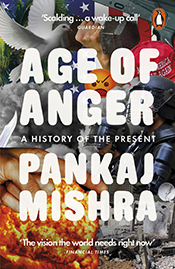 This year I particularly enjoyed reading Laurent Binet's witty and irreverent novel The 7th Function of Language (Vintage), a parodic thriller that pokes fun at the influential cohort of French philosophers and literary critics (Roland Barthes, Jacques Derrida, Michel Foucault, et al.) whose work colonised the humanities in the latter decades of the last century. In a rather more serious vein, I also enjoyed thinking about the arguments proposed in Pankaj Mishra's Age of Anger: A history of the present (Penguin), which seeks to understand the political volatility of our own time by tracing its origins all the way back to the eighteenth century. It is an impassioned and rather narrowly focused book that draws some long bows, but one that nevertheless contains important insights.
My final hat-tip is to Wayne Macauley's Some Tests (Text Publishing), a subtle and quietly moving novel about illness and death. Macauley's stylised and artfully paced narrative, which gradually takes on a dreamlike quality, is a fine example of his ability to evoke the inchoate sense of dissatisfaction and existential disquiet that lurks beneath the surface of contemporary life.
Nicholas Jose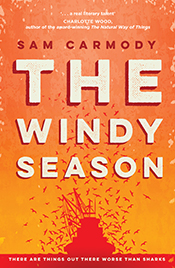 I loved the mix of vaunting ambition, vendetta, and sheer madness in Their Brilliant Careers, Ryan O'Neill's wicked re-imagining of Australian literary history. A weird mob, these great writers. O'Neill acknowledges Bolaño's Nazi Literature in the Americas as essential background, and Vivian Darkbloom walks on wonderfully from Nabokov. Satire is its own reward. Julie Koh's Portable Curiosities (UQP, 8/16) is darkly comedic, too, combining formal inventiveness with a poker face in a particularly sharp collection of short stories. 'The Three-Dimensional Yellow Man' is surely a classic. Then there is Sam Carmody's The Windy Season (Allen & Unwin, 11/16), an emotionally charged novel that kept me awake at night, raw and self-scrutinising in its exploration of the 'toxic masculinity' in a West Australian fishing town, scarier than any shark.
Jill Jones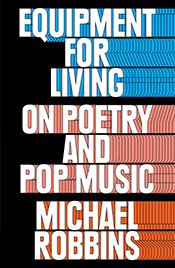 Many terrific Australian poetry books have been released this year – how to choose? I was impressed by volumes from many small, indeed, micro publishers, such as Sydney's Subbed In. But Alison Croggon's New and Selected Poems 1991–2017 (Newport Street Books) is a long overdue highlight, a deliberate reconfiguration of her poetry, thus, a 'new' work. Croggon, again, shows us how to do things with lyric in ways I can only envy. Fleur Jaeggy's These Possible Lives reads like meticulous yet dreamlike collage. The essay on John Keats is worth the price of admission alone. Equipment for Living: On poetry and pop music (Simon & Schuster) by Michael Robbins is an intense, if at times overheated, exploration of the consolations of poetry and music. He'll never get me to love metal, but his Basho-to-Rhianna 'playlist' is a smart coda.
Mark Edele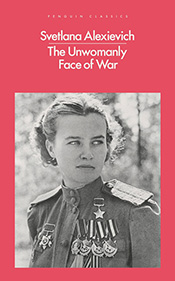 Evgeny Finkel's eloquent Ordinary Jews: Choice and survival during the Holocaust (Princeton) shows how serious historical research can benefit from the perspective of a political scientist. Claire L. Shaw's Deaf in the USSR: Marginality, community, and Soviet identity, 1917–1991 (Cornell) is a landmark in the history of disability and the Soviet welfare state. A stunning first book, it covers the entire Soviet experience from a thought-provoking perspective. Svetlana Alexievich's The Unwomanly Face of War (Penguin, 11/17) was published in Russian in 1985 and in a hard-to-get English translation in 1988. This stunning oral history remains unsurpassed. Finally, it is back in print. Cordelia Fine's Testosterone Rex (Icon Books), finally, makes short work of scientific sexism. Male evolutionary biologists sometimes claim that men evolved to be promiscuous because they can, allegedly, make 100 babies a year with 100 different women. The schedule involved would be punishing, as Fine points out.
Morag Fraser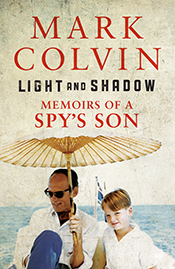 Australians should long remember Mark Colvin – for his authoritative ABC voice (its British modulations raised Bob Hawke's hackles) and his exemplary integrity as both radio presenter and foreign correspondent. So the publication of Light and Shadow: Memoirs of a spy's son (Melbourne University Press, 3/17), a few months before Colvin's untimely death, was an unexpected bonus – revealing the extraordinary life behind that Radio National sangfroid. Colvin, committed journalist and seeker after truth, was the loving – and loved – son of a Cold War MI6 spy. I found his story psychologically complex and professionally inspiring.
Alex Miller's new novel The Passage of Love is capacious, wise, and startlingly honest about human frailty and the permutations of love over time. Frankly autobiographical, it is also a work of fully achieved fiction, ripe with experience, double-voiced, peopled with unpredictable men and women, and set in Miller landscapes that characteristically throb with life.
Glyn Davis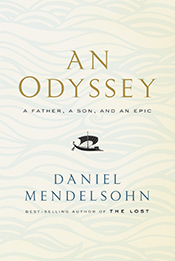 For sympathy and insight, Judith Brett's The Enigmatic Mr Deakin is a welcome contribution to analysis of Australian politics. A difficult subject, often deliberately elusive, is captured with skill. Through close and compelling reading of Deakin's private writing, Brett brings to life his political thinking and spiritual wrestling. An important book.
For sheer reading pleasure, Daniel Mendelsohn's An Odyssey: a father, a son, and an epic (Knopf) is compelling. This classical scholar leads us through a semester teaching The Odyssey with his father in the classroom, reflecting on parallels between Odyssey and Telemachus while he displays the hidden weaving in Homer's text.
Alice Oswald is a precise and powerful poet. Her latest collection, Falling Awake (W.W. Norton), is about change in the natural world, with reflections that speak to motion among people. The opening poem about rain, 'A Short History of Falling', approaches perfection.
Anna MacDonald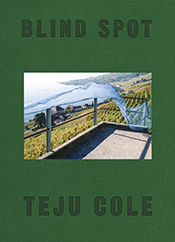 A number of books have remained with me this year. Teju Cole's captivating collection, Blind Spot (Faber & Faber, 11/17) rewards slow reading. Cole's photographs are presented in abstract relation to short texts that read as part prose poem, part metaphysical investigation, and part memory fragment. The whole is often heart-stopping. Arundhati Roy's The Ministry of Utmost Happiness is challenging in the most necessary sense. A polyphonic epic, this novel incorporates stories of hijra, Kashmiri rebels, Guajarati Muslims, and is clearly a counterpoint to Roy's political activism. Beverley Farmer'sThis Water: Five tales (Giramondo, 6/17) is a lyrical and resonantly interwoven rewriting of myth, fairytale, and folklore. Farmer's last work, This Water affirms her place among Australian literature's pre-eminent stylists. And Eley Williams's collection, Attrib. and other stories (Influx Press), playful and genuinely original, is a joy to read.
Gregory Day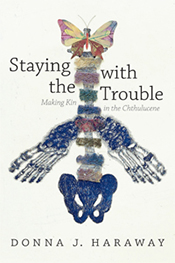 Arundhati Roy's The Ministry of Utmost Happiness has been misread by some critics as being untidy and too polemical. But well-kept gloom or neat literary dystopias won't satisfy this reading heart. Roy has said that her return to fiction was prompted by a frustration at 'winning the argument but losing the battle'. Well, her return has produced the most virtuosic and emotionally affecting response to our era's profit-driven barbarities that I know of. In many ways it makes real some of the ideas prescribed by ground-breaking Californian academic Donna Haraway in her Staying With The Trouble: Making kin in the Chthulucene (Duke). Like Roy, Haraway is responding directly to our age with what could be described as a permacultural approach to organising human society. Staying With The Trouble sits alongside Charles Massy's wonderful The Call of The Reed Warbler as the most regenerative non-fiction stimulants I digested this year.
Patrick Allington
Sarah Sentilles's Draw Your Weapons, a word collage, is a complex and original reaction to violence, warfare, and conscientious objection: I'm still thinking about it, still dipping back into it. Judith Brett's The Enigmatic Mr Deakin is a reminder that meticulous scholarship can also be elegantly written. Kim McGrath's Crossing the Line: Australia's secret history in the Timor Sea (Redback) chronicles decades of Australian misbehaviour, notwithstanding developments since the book was published in August 2017. The quarterly Mekong Review continues to impress with its mix of Southeast Asian-related criticism, analysis, reportage, fiction, poetry, and more.
Susan Wyndham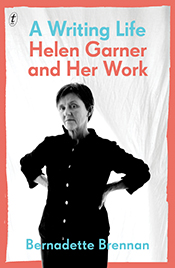 We've had a feast of Helen Garner with her reissued Stories and True Stories (Text Publishing) for her seventy-fifth birthday, and Bernadette Brennan's ingenious A Writing Life: Helen Garner and her work (Text Publishing, 5/17), which gets around the subject's resistance to biography by viewing her life through her writing, as Garner herself does. Michelle de Kretser warns that The Life to Come may be her last novel. If so, I will miss her mastery of metaphor, her laser insight into the yearnings and pretensions of characters – writers, shopkeepers, travellers; friends, lovers, neighbours – and her scrutiny at once of the domestic minutiae and the global context of their lives.
Living with a bird-watcher, I welcomed The Australian Bird Guide by Peter Menkhorst et al. (CSIRO Publishing, 10/17) as a gorgeous lure to spend more time in nature.
Andrew Fuhrmann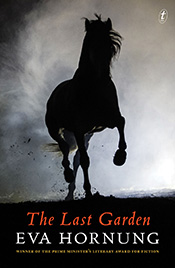 I am enthusiastic about the two new Fleur Jaeggy translations published by New Directions this year – a collection of essays called These Possible Lives and a collection of stories called I Am the Brother of XX. Everyone seems to be talking about this enigmatic Swiss writer, now in her late seventies, and with good reason. Two Australian novels stand out. The first, Eva Hornung's The Last Garden (Text, 6/17), is a cut black gem of a book: beautiful, compact, and sinister. The other, Michelle de Kretser's The Life to Come, overflows with intelligent, incisive observations about identity, imagination, and privilege. I am currently working my way through The Tracker (Giramondo) by Alexis Wright, and it's proving something of a revelation. It's both an exhaustive account of the life and work of activist Tracker Tilmouth and, crucially, an experimental form of 'collective' memoir.
Beejay Silcox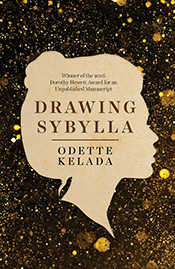 My literary heart belongs to the rule breakers – to the form smashers and narrative knotters. George Saunders's first novel, Lincoln in the Bardo, won me over early and easily this year with his fragmented tale of Abraham Lincoln's transcendent grief for his lost son. A novel haunted by its spectral cast, but also by the ghost of an American future yet to come. Sarah Sentilles' tender collage essay Draw Your Weapons was an unexpected marvel: equal parts treatise, history, meditation, and prayer. Her premise – that art can vitiate violence – is unapologetically idealistic and deeply necessary. Closer to home, Odette Kelada's début novel, Drawing Sybylla (UWA Publishing, 12/17), was a mercurial wonder, illuminating the inner lives of Australia's women writers. And finally, The Sarah Book (Tyrant Books) – an almighty wallop of a book. I wouldn't have encountered its author, West Virginian Scott McClanahan, had I not lived just across the state line – I'm deeply glad I did.
Bronwyn Lea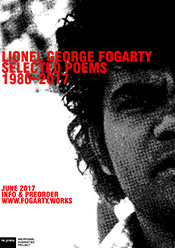 Robert Hass's handsome Little Book on Form: An exploration into the formal imagination of poetry (Ecco) begins: 'A single line is a naked thing. It is both light and heavy. It is, obviously, the basic unit of all lyric forms.' I could read his prose all night long. One of the contemporary masters of the line is Alice Oswald, whose Falling Awake is ever awake to the repetitions of the natural world. In a hat-tip to Wallace Stevens, 'Slowed-Down Blackbird' ends with her blackbird on the edge 'trying over and over its broken line'. Also in pride of place on my bookshelf are The Collected Poems of Fay Zwicky and Lionel Fogarty: Selected poems 1980–2017 (re.press). 'Do yourself a favour', Fogarty says borrowing from a Stevie Wonder song – 'educate your mind'.
Marilyn Lake
The most imaginative Australian history at present comes from young women, who locate our past in a wider world. Sophie Loy-Wilson's Australians in Shanghai: Race, rights and nation in Treaty Port China (Routledge), an evocative account of the transnational lives and chaotic mobility that challenged the White Australia Policy, prompts us to rethink national history. Katherine Ellinghaus's fine study, Blood Will Tell: Native Americans and assimilation policy (Nebraska) digs deep into American archival sources to show how ideas about 'mixed-blood' facilitated the white take-over of Indian land. In locating her subject in a broader consideration of settler colonialism, Ellinghaus helps us to understand the dispossession of Indigenous peoples in Australia. Further afield, I recommend Harvard historian David Armitage's Civil Wars: A history in ideas (Yale). It reminds us that civil wars are now the most common kind of warfare and refugees – including the almost five million from Syria – their most vulnerable victims.
John Hawke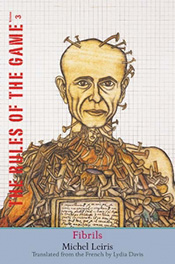 Michel Leiris's Fibrils (Yale) is the third and latest volume in Lydia Davis's translations of Rules of the Game, his ground-breaking experiment in 'creative non-fiction'. A meditation on the relationship between literature and politics, set against the 1950s background of a visit to Mao's China, Leiris's self-excoriating writing includes a description of his own suicide attempt. This year saw the first visit to Australia by legendary US anthologist, Jerome Rothenberg: a new and expanded fiftieth-anniversary edition of Rothenberg's Technicians of the Sacred (California), described by Nick Cave as 'the greatest anthology of poetry ever created', has just appeared. Among local poetry, Lionel Fogarty's Selected Poems gathers the best work of this important Indigenous poet in a single volume. Also recommended are three volumes by younger authors, Matthew Hall's First Fruits (Cordite), Bella Li's Argosy (Vagabond), and Oscar Schwartz's The Honeymoon Stage (Giramondo), each of which indicates intriguing new directions for our literature.
Catherine Noske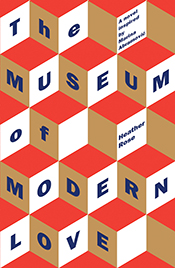 I was fascinated this year by Heather Rose's The Museum of Modern Love (Allen & Unwin), and thought it a deserving winner of the Stella Prize. More recently, I've been enthralled by Alexis Wright's 'collective memoir' The Tracker, which is creative and important, challenging expectations of the biographical form. Weaving several voices together in a unique cultural history focused on the life of Tracker Tilmouth, Wright's work is testament to the power of Indigenous modes of storytelling. Finally, this year's poetry titles from UWA Publishing have been exciting; of the eight offerings from their series, Nathanael O'Reilly's Preparations for Departure stood out for me. Separately from UWA Publishing came The Collected Poems of Fay Zwicky, poignantly released only days before Fay passed away. Edited with love and subtlety by Lucy Dougan and Tim Dolin, it is a rich body of work from an important poet.
Suzy Freeman-Greene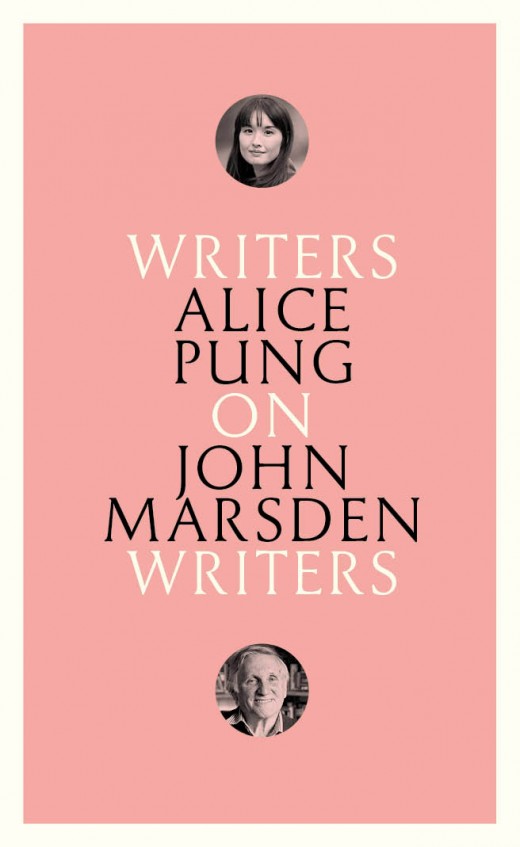 In Being Here: The life of Paula Modersohn-Becker (Text Publishing), French author Marie Darrieussecq animates the short life of a passionate German artist with vivid, spare prose. The first woman to paint herself naked and pregnant, Modersohn-Becker died in 1907, at the age of thirty-one, soon after giving birth. This taut biography, written in the present tense, has the urgency and poignancy of the best novels.
In Draw Your Weapons, Sarah Sentilles reflects on war, art, the ethics of looking, and how we should respond to the violence governments enact in our name. Sentilles mounts her argument with an accumulation of detail, employing metaphor rather than polemic. Her examination of drone warfare is especially powerful.
Alice Pung's On John Marsden (Black Inc.) is ostensibly a tribute to an author of Young Adult novels. But this wise, political, heartfelt essay is about so much more.
Kerryn Goldsworthy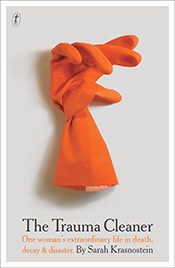 Mohsin Hamid's Booker-shortlisted Exit West uses an unexpected fantasy device to disrupt a mode of realism so precise and sharply focused that it would feel like reportage if not for some truly breathtaking writing. His style builds ideas into its very grammar, and gives its account of a world in conflict an extra dimension of meaning and reflection — and sometimes a horrible beauty as well. Closer to home, Sarah Krasnostein's The Trauma Cleaner: One woman's extraordinary life in death, decay and disaster (Text Publishing) is a superbly written book about the redoubtable Sandra Pankhurst and her work as a trauma cleaner: someone who cleans up after hoarders, murders, meth labs, and suicides. This is the startling life story of Pankhurst, a trans woman with a heart the size of Uluru, written in Krasnostein's irresistibly warm, frank, intelligent voice as she describes sites of sadness and horror that take the reader straight to the dark heart of the human condition.
Geoff Page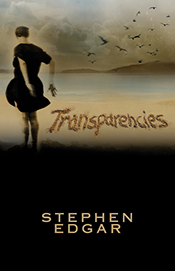 To narrow the excellent new Australian poetry collections I've read so far this year down to four is an almost arbitrary exercise. Among them, however, would have to be Clive James's unerringly formal and poignant Injury Time (Picador). A comparable technical achievement is Stephen Edgar's Transparencies (Black Pepper, 8/17). Edgar's cleverly rhymed poems often end in a single powerful image, leaving us with an awareness of the poem as a resonant whole. A third highly formal book is Euclid's Dog by Jordie Albiston (GloriaSMH). It's a pleasure to be carried along by her unfailing metres – and to be surprised by the unpredictable internal rhymes which have so long been a part of her armoury. Melinda Smith has an innate feeling for irony and humour but can also produce poems of extreme tenderness and emotional depth. Her new collection, Goodbye, Cruel (Pitt Street Poetry), displays all of these and more.
Jane Sullivan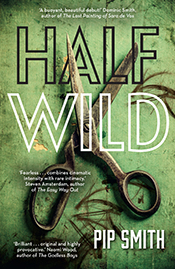 Sometimes a year produces a novel that is head and shoulders above everything else, and for me that was George Saunders's wonderfully weird Lincoln in the Bardo. It reads like a play of fragments performed by ghosts; it weaves historical accounts, fiction and mythology into an inextricable tangle; it is outrageously grotesque, satirical, comical, scary, and poignant. How daring a writer he is: and how well he shows our lack of daring, our skill at deluding ourselves, even beyond death.
Plenty of bold new Australian writing, but perhaps the standout was a first novel that dared to tackle a rich but hugely challenging subject. Pip Smith'sHalf Wild (Allen & Unwin, 12/17) transforms the true story of a transgender man accused of murdering his wife into something far beyond the sensational: it is a sensitive examination of a secret life that for all its subtlety also conjures a sense of rollicking adventure.