Politics
Draw Your Weapons
by Sarah Sentilles
'Thinking is my fighting.'
Virginia Woolf
Sarah Sentilles's Draw Your Weapons is one of the most erudite, original, and thought-provoking books I have ever read. A philosophical and moral meditation on pain, torture, and the violence of war – part memoir, part history, even a kind of secular prayer – this book asks us to look at terrible human darkness while also celebrating the ways in which love, connectedness, and the making of art nourish and redeem the human spirit.
Sentilles, an American academic, began writing what was to become Draw Your Weapons after seeing two photographs: one of an old man, eyes joyously aglow, cradling a violin; the other of a hooded prisoner standing on a box. These images derailed her preparation for the priesthood. Rather than complete her dissertation about theological imagination, she left the church and wrote instead on the torture photographs taken at Abu Ghraib.
The old man was Howard Scott, who, as a conscientious objector during World War II, had twice been imprisoned. While incarcerated, and separated from his beloved wife, Ruane, and their baby daughter, Howard set about trying to make a violin. Ruane copied out instructions from Violin-Making (1885), squeezing as much information as possible into the few letters she was permitted to send. Sentilles went looking for Howard and was welcomed into his family. The second major character in this narrative is Miles. He enters Sentilles's life as a student in her critical theory class, where she was using the Abu Ghraib photographs as a teaching tool. Miles had been a soldier stationed at the prison after the photographs were taken. Teacher and student become friends. Miles goes on to become an artist, and remain in the military. From Miles, we hear more complex stories about the realities of war, good stories and bad from inside the prison and beyond.
Draw Your Weapons took Sentilles ten years to write. She first tried to shape her material as a novel. It didn't work. In her essay 'Cut and Tape: On Writing Draw Your Weapons' (Powells.com, June 30 2017), she explains that she took her manuscript and 'shattered it as if it were made of glass'. What remains are hundreds of fragments about ethics, torture, slavery, internment, photography, theology, instruments, music, art; the list goes on. The fragmentary structure and the brilliant juxtapositions and segues give this book its extraordinary power. Abraham's potential sacrifice of his son sits in conversation with the evil of all-seeing, god-like drones. The etymology of souvenir leads into discussion of the body parts of saints via a black site at Guantánamo. Sentilles's paragraphs – some only a single sentence – are written in direct, simple prose. Thoughts, research, scholarly quotations, old letters, verbatim testimony; all are placed strategically on the page. Each entry stands alone, wrapped in the textual silence of blank space. These gaps invite the reader to pause and contemplate the individual entries. They also provide an imaginative space across and through which the reader is encouraged to make their own connections.
Sentilles writes that in being opposed to America's wars she felt she was somehow 'off the hook ... they have nothing to do with me'. Howard's letter from prison in the 1940s follows: 'I remain a part of the crimes committed by us ... And I do not wish to separate myself from society or my group. I need to intentionally make myself more a part of it.' Meanwhile, Miles is disconcerted when he returns home on leave from Iraq and sees no evidence of war. To read Draw Your Weapons is to understand that we are all implicated in the evils of war.
Sentilles cites Judith Butler: 'We are undone by each other. And if we're not, we're missing something.' This book calls us to be present to, and responsible for, our fellow human beings. Affirming Levinas's belief in the 'irreducible alterity' of the other, Sentilles insists that we must look directly at war, its violence, its victims. Again turning to Butler, she notes: 'The critique of violence must begin with a critique of seeing.' As a teacher, she asks her students to look at images of pain. She knows there is 'no perfect image of pain that might make the viewer feel the urge to enter and put right the world'. She knows that 'every photograph taken of another's suffering is insufficient and so too every response'. But she is passionate in her belief that they, and we, must see. When her students ask what they can do in the face of such pain, she replies that she does not know. Yet she knows, having been inspired by Fred Wilson's installation Mining the Museum, that what is made by humans can also be unmade. She knows that, 'Words can take away humanity, and words can give it back.' Her contribution to unmaking the darkness is to write.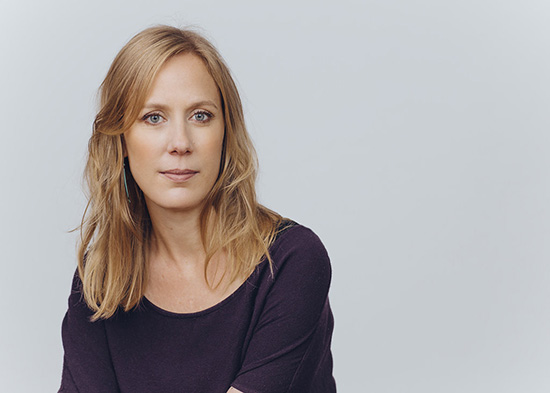 Sarah Sentilles (photograph by Gia Goodrich/VEV Studios)
Howard's finished violin was sixty years in the making. It was not until 2004 that his grandson found a violin maker prepared and able to put the various mismatched pieces together – to make it whole. The photograph that captured Sentilles's attention was taken when Howard was first handed the violin on his eighty-seventh birthday. It was the moment just before it was played for the first time. The violin – its genesis, gestation, and fragmentary nature – serves as an apt metaphor for this book. Sentilles's many fragments, each crafted from disparate material, come together to make something beautiful in the face of violence. The book's epigraph from Bertolt Brecht reads: 'In the dark times / Will there also be singing? / Yes, there will also be singing / About the dark times.' Draw Your Weapons is a song, a hymn, for the victims of war and equally for all of us who have the potential to make our world a better place.