Book Talk
ANU Press's thousandth title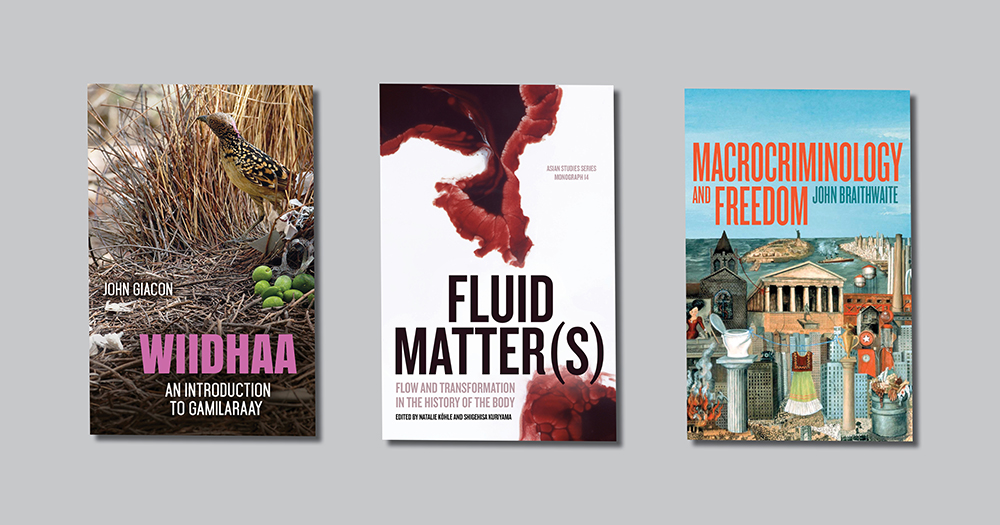 Australia's first and largest open-access press, ANU Press, has hit the massive milestone of publishing one thousand titles. Reaching this benchmark in just under twenty years is a big goal for such a small press.
The original Australian National University Press was founded in the 1960s, with a traditional publishing model focused on book sales. It published important academic research for more than three decades before it was wound up in the early 1990s.
The new, progressive model of open-access publishing, focusing mainly on free ebook distribution with print-on-demand sales as a sideline, kicked off as an experiment in 2003 – and the Press has since gone from strength to strength. ANU Press now achieves more than five million downloads of its books annually worldwide and publishes more than fifty titles each year.
'Our readers cover the length and breadth of the world,' deputy manager Emily Tinker said. 'To be able to provide access to such important research for free, to people from all around the world, is a real privilege. While our books are accessed by some of the best institutions in the world, they are also read by the people the research is about – Papua New Guinea, for instance, is a significant area of research for our authors and PNG is often in our top ten countries for downloading our books.'
The wide range of disciplines published by ANU Press is also impressive, covering everything from Asia-Pacific studies, Indigenous studies, humanities and social sciences, to law and science.
The thousandth title was Professor John Braithwaite's Macrocriminology and Freedom, an 800-page 'magnum opus' that 'weaves together all the main themes of [Braithwaite's] influential work … to produce an elegant and ambitious explanatory normative account of crime as freedom-threatening domination'.
While its core publishing program focuses on academic monographs, ANU Press also prides itself on innovative publishing, incorporating videos, voice recordings, and interactive elements into many of its works. Wiidhaa: An Introduction to Gamilaraay is one such publication, aiming to revive the Gamilaraay language through the use of sound files in the textbook. Fluid Matter(s): Flow and Transformation in the History of the Body is another: a digital humanities publication that relies on the fluidity of electronic publishing to conceptualise its content.
Other key titles published by the Press recently include History Wars by Doug Munro, an analysis of the Peter Ryan–Manning Clark controversy; Honouring a Nation by Dr Karen Fox, the first history of Australia's honours system; and Sound Citizens by Dr Catherine Fisher, on the history of female broadcasting in Australia and its contribution to the feminist movement at large. Each of which received wide circulation and praise in Australian media, as well as impressive download results.
Through its fully open-access ethos and commitment to publishing works based solely on academic merit rather than potential sales, ANU Press continues to seek and explore new ways to communicate research, history, and stories to inform people and policy and to create a better world.
'ANU Press proudly celebrates its contribution to increasing knowledge throughout the world with its 1000th volume,' said University Librarian Roxanne Missingham, who is the division director of ANU Press. 'With over 5.7 million downloads in 2021, the Press fulfils the University's vision of communicating scholarship and fostering innovation through its open-access publishing. A recognised world-leading press, it is timely to acknowledge the importance of the transformation made through ANU Press' leadership in new forms of publishing.'
ANU Press is holding an exhibition at The Australian National University's Menzies Library from now through to the end of May 2022. It showcases the past, present, and future of the Press. Find out more about ANU Press or download any of their titles free on their website here: https://press.anu.edu.au/