Book Talk
Two new poetry series
MPU and the year of the pandemic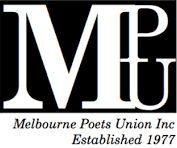 When I became editor-in-chief of Melbourne Poets Union Inc (MPU) in January 2019, there was an opportunity to take its publishing program in new and exciting directions. MPU, a Melbourne-based arts organisation whose raison d'être ever since its inception in 1977 has been poetry, had published anthologies and chapbooks. The Union Poets Series of chapbooks was a staple of its annual publishing program. It was an evolving situation as I rethought its chapbooks and other possibilities. Any change could not be cosmetic. As I completed work on MPU's 2019 Union Poets Series, I envisaged other possibilities, more ambitious and ecumenical. The chapbooks needed a new, elegant look and to reflect the interests, preoccupations, and diversity of contemporary poets.
MPU has always sought to nurture poets, through readings, workshops, lectures, publications, and other ways. As a member, I have been a feature reader, but as its workshop coordinator when I joined the committee in 2017, I organised workshops, inviting well-known poets to present on topics as diverse as prose poetry and climate change, the latter workshop via Zoom during the lockdown. Its monthly readings, which Covid-19 scuppered in 2020, have featured members and well-known poets. Its annual international poetry competition, judged by a different poet each year, is a highlight of its programming.
As editor-in-chief, I wanted to honour its legacy of publishing first-time poets in chapbook form through its Union Poets Series. Steve Smart (president of MPU) and I also wanted to honour established Australian poets with a chapbook series. We received enough submissions for what became the Blue Tongue Poets to face any publisher's dilemma. So much good poetry, but how to publish it all? I made a long list and then a short one. I had reserved the right to solicit manuscripts. A publishing program must have excitement generated by the risks it takes.
While I worked simultaneously on what eventually became the last two chapbooks in the Union Poets Series, I decided the series needed a fresh look. Enter Libby Austen, a book designer with many years of experience designing poetry collections. I had researched the history and design of the chapbook in the English-speaking world and had learned that sacrosanct ideas about chapbooks were speculative. Their design and content had varied according to place and time. It emboldened me to take risks. Libby and I wanted each series to have a complementary but distinctive appearance, one that sat between the immediacy of the chapbook and the elegance of the book. I also made a call for first-time poets to submit. A small number did, and I drew up another short list. By early 2020, I was seriously debating whether MPU should take advantage of its new look and close the Union Poets Series by replacing it with a new series to complement the (still unnamed) Blue Tongue Poets.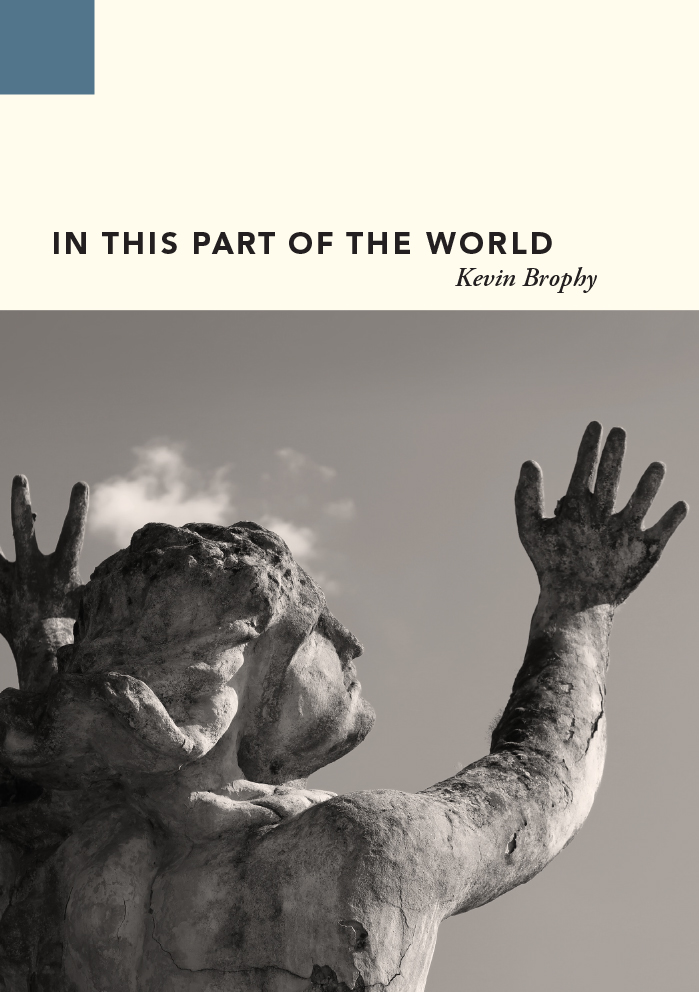 In This Part of the World by Kevin Brophy
Over coffee at King and Godfree in 2019 and early 2020, MPU patron and Emeritus Professor Kevin Brophy, Steve Smart, and I discussed strategies, pored over quotes, and tossed around names for the two series. The naming took some creative effort. Finally, we settled on the Blue Tongue Poets in 2019 and then the Red-bellied Poets in 2020, our desire being that the names should reflect the design of each one, the blue square on the cover of the Blue Tongue Poets and the red on the Red-bellied Poets. It was at our 2020 meeting, and after much discussion, that we decided to close off the Union Poets Series and launch the Red-bellied Poets in its stead.
In the Blue Tongue Poets, MPU published the first prose poetry collection of Ouyang Yu, Living After Death. It also published Jeltje Fanoy's My Mother and the Cat, which explores migration and the mother–daughter dyad. An opening poem in a manuscript can so grab hold of the imagination that there is no question of not publishing the collection as poem after poem lives up to the initial promise. Such was the case with In This Part of the World by Kevin Brophy, and we launched the Blue Tongue Poets with it. As for Dominique Hecq's Kaosmos, the intellectual and creative play of this long poem made publication imperative. In the Red-bellied Poets, science and poetry met in a bold visual display in Michael J. Leach's Chronicity. A lifetime of thinking made Linda Adair's The Unintended Consequences of the Shattering more than a début collection. David Munro's Wearing My Father's Hat, edited by Kevin Brophy, and with which we launched the Red-bellied Poets, impressed with its honest apprehension of suffering and meaning.
MPU works with poets to produce the best possible manuscript. I wanted to continue this tradition of providing deep editorial support, and as editor of individual manuscripts I had the opportunity of doing so. I had wanted to build a team of editors, but as Covid-19 spread I began to work with the poets via Skype or phone. As the pandemic unfolded, MPU cancelled gigs and other activities. Nonetheless, it was imperative to maintain the publishing program. Apart from our contractual obligations, the poets were looking forward to books that deserved MPU's support.
I liaised with poets, designer, Kevin Brophy, and printers. I was grateful to Kevin for taking some pressure off by offering to edit David Munro's Wearing My Father's Hat. Before Kevin took up his Australia Council writer's residency in Paris in 2019, I had worked with him on his chapbook In This Part of The World, which I had chosen because of the meditative quality that distinguishes his poetry, but which I grew to love for other reasons, such as his subtle turn of phrase and line. We later refined his manuscript and discussed artwork via email.
A launch is a celebration of the book for both poet and publisher. It is also an opportunity for the latter to recoup costs. Like other publishers in 2020, Covid-19 affected MPU's planned revenue, a reality of the business side of poetry as a publishing endeavour. As other publishers had already done, MPU turned to online launches, with unexpected benefits. People interstate or overseas could attend our launches, which also became more interesting as audience members asked questions of the poets. Recording launches and uploading the videos to social media increased exposure for both poet and publisher. Online launches have generated sales, albeit modest ones. Without online launches, works would have disappeared into a vacuum or been made to compete with next year's releases. Richard Mudford produced book trailers which were posted to social media. For Jeltje Fanoy, he produced in place of a trailer a video poem.
As outgoing editor-in-chief, I am amazed at what MPU has achieved with its two new chapbook series, during a pandemic. Ultimately, MPU is all about its membership. Since its inception more than forty years ago, MPU has continued to feature in the lives of poets. It is also remarkable that, despite Covid, MPU has seen its publishing program grow and develop.