Art
Light: Works from Tate's Collection
The power of illumination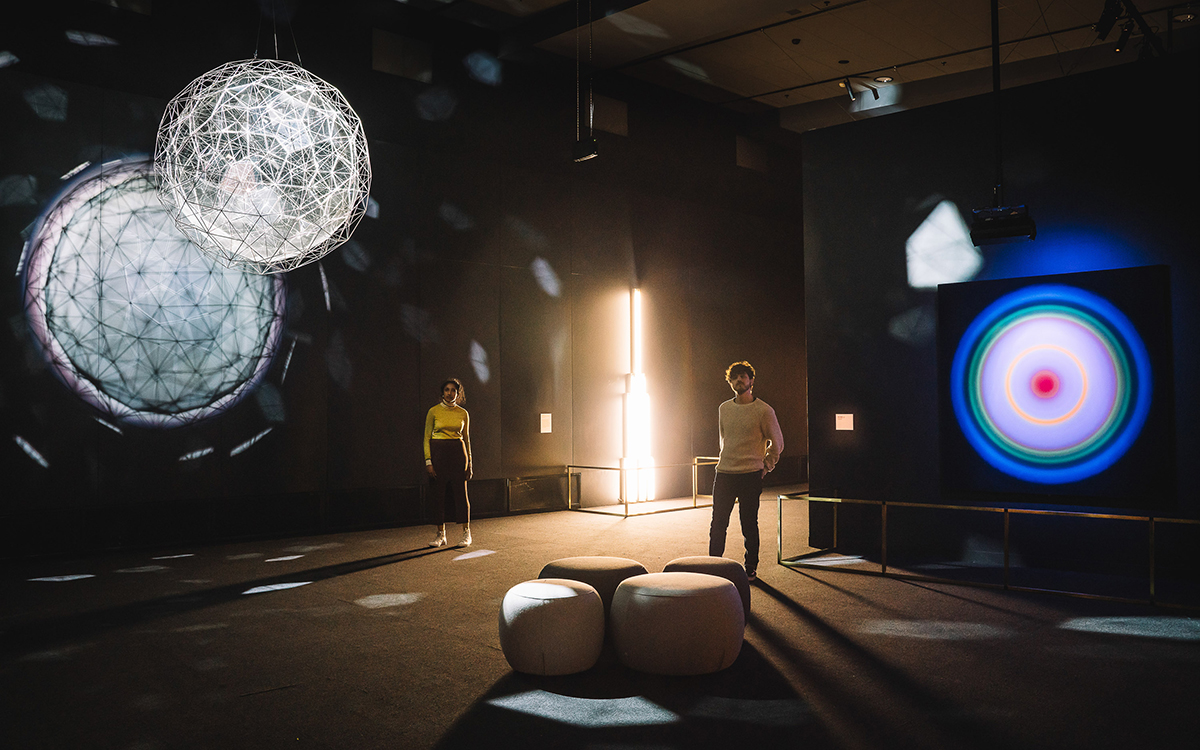 The allegory of the cave in Plato's Republic represents Western metaphysics' defining narrative on the nature of light. In this famous fable of shackled prisoners, humankind is confined to a realm of falsity and shadows from which they can only escape by breaking free into the light of day, where the power of illumination reveals the truth of the world.
Without overt reference to this foundational treatise yet implicitly congruent with its elevation of light, Light: Works from Tate's Collection presents seventy-two works from the London gallery's permanent collection linked to the subject. It fractures the unity of light into sections, offering sub-thematics including Spiritual Light, Scientific Light, Interior Light, and Expansive Light, each typified by works from a small number of artists.
Descending the stairs at ACMI, one first encounters the zone of Spiritual Light, encapsulated by George Richmond's The Creation of Light (1826): a small jewel-like tempera, gold and silver painting on wood. Figuratively and stylistically redolent of William Blake, the painting portrays a muscular anthropoid God suspended mid-air in the divine act of summoning into being celestial light. This Blakean scene firmly sets the exhibition's Anglocentric tone, its view of light as radiating out from a Romantic core.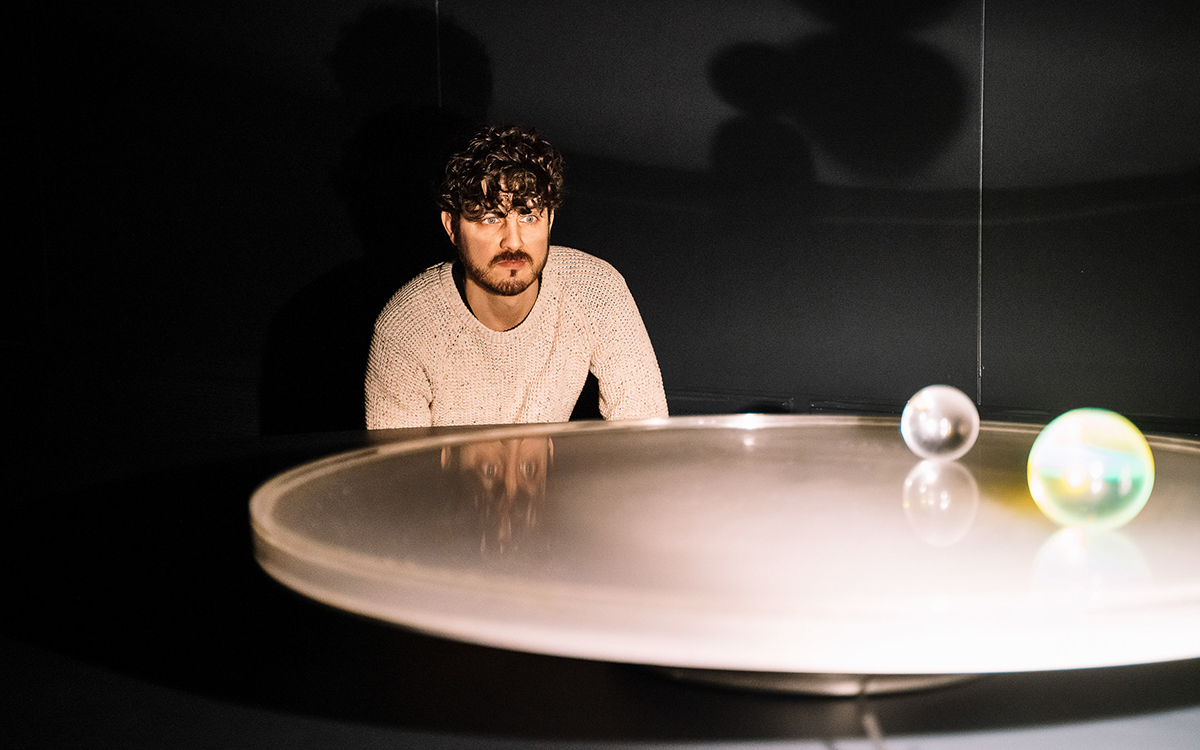 Liquid Reflections (1968) by Liliane Lijn (photo by Phoebe Powell)
The exhibition is heavily weighted towards renowned eighteenth-century British painters such as John Constable and Joseph Wright of Derby, whose paintings rendered skies and mountains as behemoths of nature, sometimes temperate but mostly blistering and wild. Wright epitomises the section on Sublime Light as a textbook example of philosopher Edmund Burke's aesthetic category of awe-inspiring vastness. Sublime Light leaps into the twentieth century with Liliane Lijn's Liquid Reflections (1968): a kinetic sculpture of transparent Perspex balls rolling on a spinning disc whose continually circulating trajectories cast fluctuating lines of light – although it's actually more meditative than sublime.
Curiously, the exhibition nominates the British painter J.M.W. Turner as the exemplar of Scientific Light. Turner's landscapes, radical at the time, depicted maelstroms at sea, obliterating delineations of form into fields of vaporous mist. The Romantic tumult of Turner's veils of water and light seems antithetical to the cool lens of science. But a handful of works on paper reveal another side to Turner: three Lecture Diagrams (c.1810) sketch reflections in transparent glass globes as close studies of perspective, curvature, and light.
The section on Light Impressions adheres closely to the movement of French Impressionism, with works by the predictable figures of Monet, Pissarro, and Sisley. Here, once again, the exhibition betrays its Eurocentrism. What of explorations of light in landscapes of the Southern Hemisphere? Australian Impressionist painters like Arthur Streeton, Clara Southern, and Jane Sutherland also painted plein-air, vigorously attempting to capture the dry, chalky qualities of Australian light. Obviously, the exhibition draws on works from the Tate's collection and cannot show what it does not have, but it raises broader questions around the acquisition policies of major institutions and the peddling of art historical narratives that in their narrowness have become somewhat worn.
The exhibition's standouts are indisputably the lens-based works, in particular the Hungarian artist and theorist György Kepes's photographs and photograms from 1939–41. Five distinct images show the play of reflections across the surface of water and plants, dematerialising the natural forms into glowing patterns of light. As dual investigations into the technical possibilities of analogue photography and the drama of natural light, they are dazzling.
A parallel inquiry is also visible in László Moholy-Nagy's Lightplay Black-White-Grey (1930), a short 16mm black-and-white film (transferred to video and screened on a small monitor) focusing on his own inventive kinetic sculpture, the Light-Space Modulator (1922–30). This extraordinary object – made of interlocking perforated metal panels, transparent acrylic discs, light bulbs and mirrors – is filmed in such a way as to draw out rotating components' complex choreography of illumination. It is a forcefield of flickering shadows and light.
The section on Expansive Light is dominated by Olafur Eliasson's Stardust Particle (2014), a slowly spinning suspended orb of stainless steel and mirror glass, externally lit so that its faceted structure casts reflections into the surrounding darkened space. Auratic and planetary, it too shows how the movement of light can create a field of aesthetic intensity.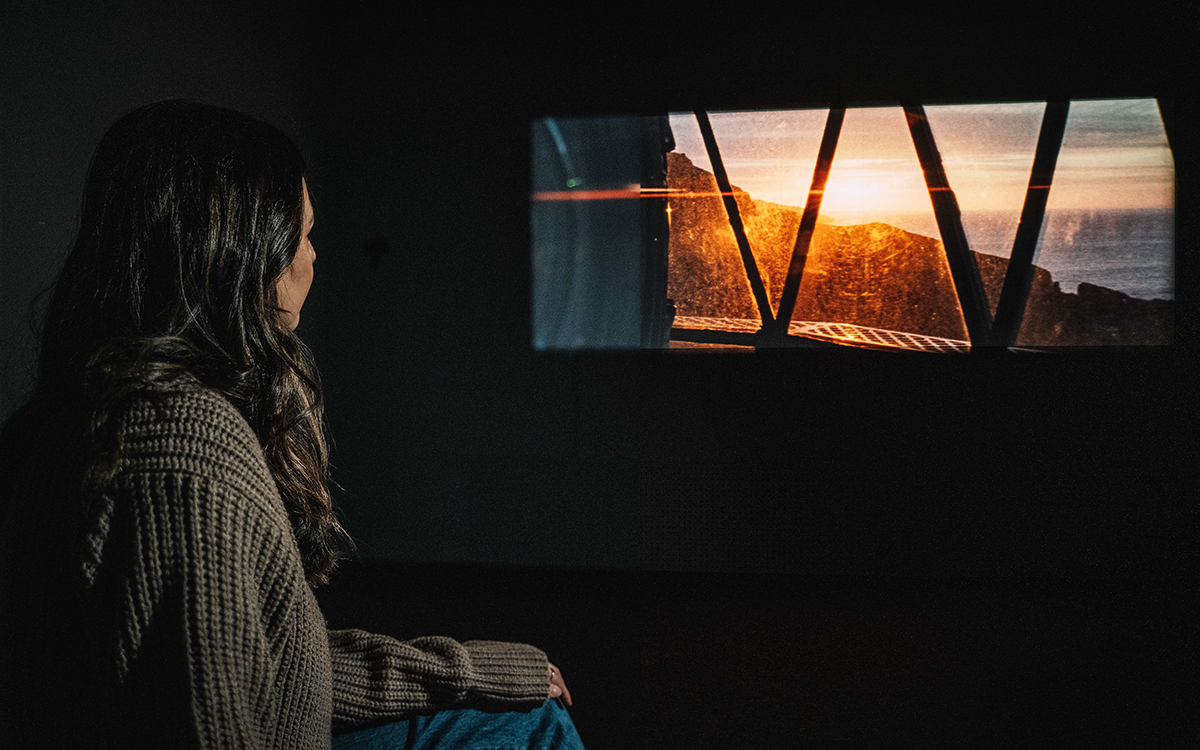 Installation shot of Disappearance at Sea (1996) by Tacita Dean (photo courtesy of Phoebe Powell)
If light in motion is the exhibition's strong suit, the apogee is undoubtedly Tacita Dean's fourteen-minute 16mm colour film, Disappearance at Sea (1996). Unlike the digital transfer of Moholy-Nagy's film, this is projected in its original 16mm celluloid format to lustrous effect. Inspired by amateur British sailor Donald Crowhurst's failed attempt to sail around the world – a tragic tale of hubris and human frailty – Dean's film offers the patient viewer a profound experience of the 'dying of the light'. A stationary camera with an anamorphic lens perched atop St Abb's Head lighthouse at in Berwick-upon-Tweed at first seems to enter the lighthouse's inner workings, penetrating the glass and steel structure to find the epicentre of light, before dissolving into an extended sequence of mesmerising circular refractions. Eventually, the camera pans out and we see edges of the North Sea in syrupy darkness as dusk falls. The incremental shifts of light from day to night are accompanied by the distant sound of seagulls and ocean waves. It's so vivid and subtle that you feel as if you're there, as though Dean has enveloped you in a rare moment of distended time, of literal and metaphoric reflection.
Despite the exhibition's pedagogic tone – and its forcible boxing of artworks into categories which they mostly exceed – Light: Works from Tate's Collection offers a handful of images which reveal light's resplendence. In an unselfconsciously ironic turn, ACMI's underground gallery becomes an upended Plato's cave wherein darkness reveals the light, its subterranean depths exalting light's transcendent properties.
---
Light: Works from Tate's Collection (ACMI) continues until 13 November 2022.
This article is supported by the Copyright Agency's Cultural Fund.