Theatre
The Curtain
fortyfivedownstairs
A boarding house, late evening. Two elderly men pace fretfully, unable to settle. They are, we learn, waiting for their landlady to return home. She goes out rarely; tonight she is later than usual.
Should they play cards? No, says one, I always lose. I'll let you win, says the other. Then there'd be no point in playing, rejoins the first.
Daniel Keene's play The Curtain is about loneliness and co-dependence. As with many of his works, it takes the absurd and commonplace in life to illuminate the human condition in all its pathos, courage, and bleak humour.
Leon (Gil Tucker) and Francis (Paul Weingott) are very different, as the pugnacious and well-read Leon is eager to point out. 'We can't have a conversation, because we have nothing in common,' he says during a largely one-sided bicker with his querulous, confused housemate. This is Francis's fault, he opines: Francis lacks confidence, eats too much, is aimless, has no inner life.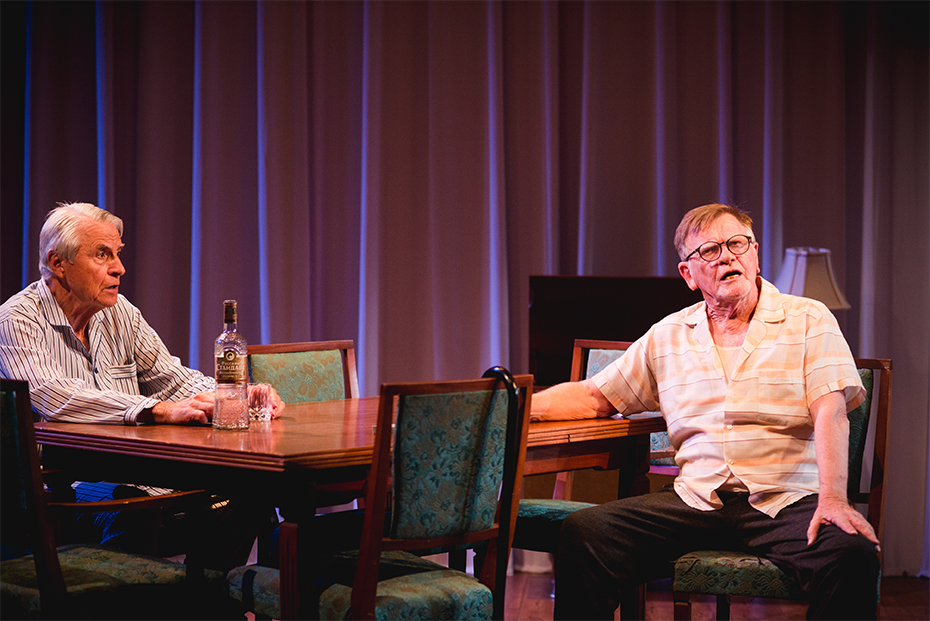 Paul Weingott and Gil Tucker in The Curtain (photograph by Theresa Harrison)
Leon is a cruel bully, but in a way reminiscent of someone in a toxic marriage rather than of a friendship of equal power and agency. Just like Francis, he is trapped by circumstance. Fond of quoting poetry – Yevgeny Yevtushenko and W.H. Auden are part of his repertoire – Leon enjoys pointing out his own and Francis's loneliness and lack of belonging in a society that is indifferent to those on the margins.
Dreamed I saw a building with a thousand floors,
A thousand windows and a thousand doors:
Not one of them was ours, my dear, not one of them was ours.
Auden's poem 'Refugee Blues' was written in 1939 from the perspective of a homeless Jewish couple denied asylum. Is Leon Jewish? We don't know. Is he comparing the couple's plight to that of two men who have never had families or who have become uncoupled from them? We are never sure.
In one sense it might seem tasteless to suggest parallels between the lives of the quietly desperate in a dull provincial town and the frightened flight of millions, but Leon, as with Keene, is fond of casting the specific in the context of a general, more dramatic condition. Life is rushing over us like a river, he suggests at one point. Yet both men are seeking a refuge from that current, before life sweeps them towards the final curtain. To continue the fluvial metaphor, they both have a nostalgia for the oxygen and the sense of meaning that once came from being in a fast-moving flow, part of the purposeful mainstream. Life is not so much rushing over them as rushing by as they bob along, forgotten, at the scummy edge.
The arrival of their landlady, Ada – Milijana Čančar – introduces a character with greater agency but whose insouciance masks a profound despondency. Her arrival threatens to drive them back into the current, and a game she initiates, where they imagine their best, could-have-been selves, underscores the disappointment and sense of failure at the heart of theirs and many people's lives.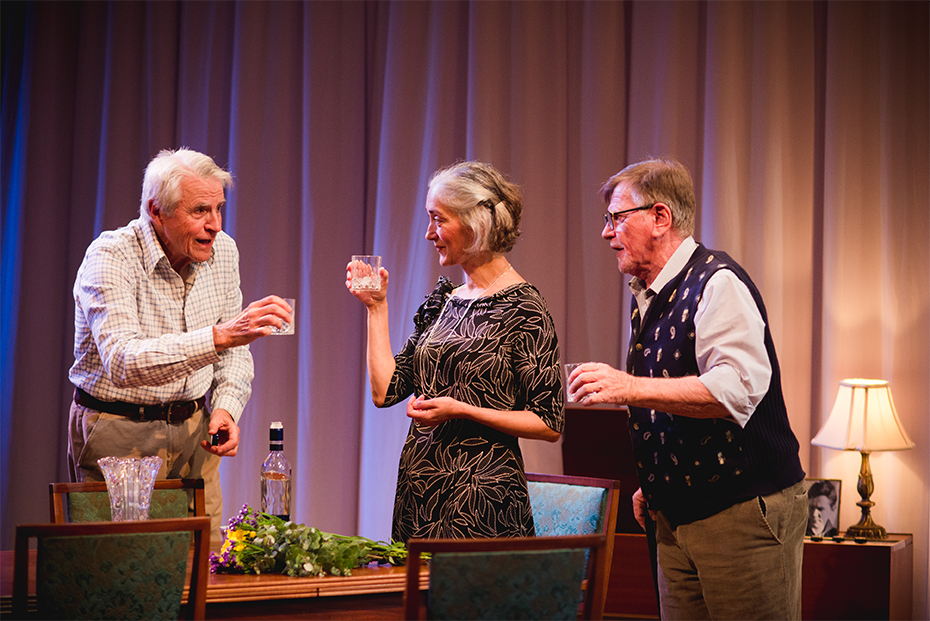 Paul Weingott, Gil Tucker, and Milijana Čančar in The Curtain (photograph by Theresa Harrison)
For those familiar with Keene's work, this is well-explored territory; many of his plays, monologues, and film scripts concern loss and longing and are about those whose marginalisation ensures that they're never going to be invited to sit at life's banquet. How societies treat the fragile and dispossessed, how individuals negotiate a place in societies that reject them, have been constant themes over forty years of writing for the stage.
The Curtain is at fortyfivedownstairs, an independent theatre space in the centre of Melbourne where several of Keene's works have been staged before. Beng Oh directs The Curtain with a sense of pathos and a pace necessary in a play with many words and little action. In doing so he's ably assisted by a trio of actors who give performances of great emotional insight. Oh was instrumental in getting this play before an audience after directing Keene's play Wild Cherries at La Mama in 2019.
The latter is another small independent theatre famous for launching careers. While there is a welcome sense of connection between actors and audience when seeing intimate works of this nature in small venues, it's depressing that a playwright of Keene's stature should have been overlooked by the state companies for most of his career.
The Curtain was commissioned by the Melbourne Theatre Company alongside another play, Life Without Me. Unlike the latter, which was staged in 2010, The Curtain was never performed, being aired only as a reading in 2012. Part of the problem is that although Keene's writing sits well with judges of Australian literary and theatre prizes (he has won several), Keene doesn't write plays that are deemed appealing to mainstream Australian audiences.
In Europe, especially France, where he was created a Chevalier de l'ordre des Artes et des Lettres by the French Ministry of Culture in 2016, it's a different story. His works are regularly studied in schools and universities. Since 2000 there have been eighty main-stage productions of his plays and many more small-scale stagings.
Keene's work has frequently been compared to Samuel Beckett, another Anglophone playwright who found a home for his work in France (Waiting for Godot was staged first in French). Like Beckett's, Keene's dialogue is pared back and lyrical. He has an acute ear for the absurd and a preoccupation with the existential condition. And like Beckett, you don't go to a Keene play for a nifty plot, but for his poetic strength and acute psychological observations. The Curtain has both in spades.
---
The Curtain is at fortyfivedownstairs until 15 March 2020. Performance attended: February 27.