In the beginning there is the sound of deep breathing and heartbeat. Woman, the electric Jennifer Vuletic, lies writhing on a rock, splayed as if for sacrifice. Is she in a state of anguish or ecstasy? My Dearworthy Darling ushers us into a space fraught with uncertainty, the kind where questions beget more questions. Fortunately, we are in the deft hands of THE RABBLE, a feminist theatre collective that rejects theatre as a comfortable form of entertainment. The play is an amalgam of the 'holy theatre' that Peter Brook wrote of in his ground-breaking work The Empty Space (1968) and the deconstructing feminist gaze of Caryl Churchill.
Directors Emma Valente and Kate Davis have positioned My Dearworthy Darling as a highly embodied work; Vuletic is ablaze with the physicality of her role. But language is its anchor and its wings. Alison Croggon – poet, dramatist, author, critic – has produced a radical new work, one that merges realms of the sublime and the prosaic. As Woman confesses, 'I've lost the words / I don't know if I ever had the words.' And yet, this is a play fecund with them. Words are feverish with visions and poetry. Devotional words in Middle English are recited as incantations by a cowled Chorus. Words are accusatory weapons that obliterate.
And then there are the words that would make one howl with laughter, if only their deadening emptiness weren't the kind we have come to hear from world leaders on a daily loop. As messenger of these statements, Woman's sister, Natalie Gamsu (Ladies in Black) delivers them with great relish. 'They reckon history is coming back … I mean that it stopped for a while and now it's started again.' This natural register of speech appears in conversations between Woman, her husband, and her sister, most of which operate on different frequencies. Ben Grant (Hir), as a seething husband with a fading career as an insurance agent, a man riddled with incomprehension – of the world, of his wife – is frightening in his white hot rage, even as he is hyperreal.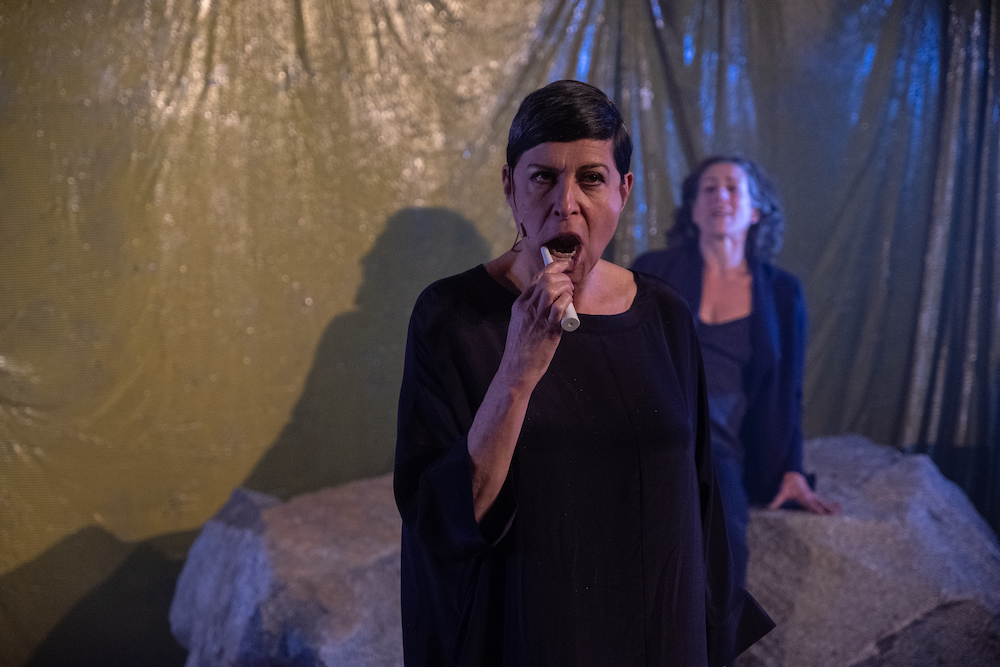 Natalie Gamsu in My Dearworthy Darling (photograph by David Paterson)
Croggon's mastery of suspense, evident in many of her novels, is on display here; the play's mounting sense of dread is intensely discomfiting. The domestic scenes are invariably interrupted by signs and sounds of the domestic; the low-level pitch of an electric toothbrush, the abrasive noise of a vacuum, the slurp of a drink through a straw. A crescendo of discordant sound descends; any sense of harmony is absent from these relationships.
And yet, not all is dissonant. My Dearworthy Darling is haunted by rapturous states. Woman experiences visitations. There may be another Woman, one from centuries earlier, also played by Vuletic, or they may be one that is merged. The work is porous, courageously so, open to the audience's interpretations. Blood, burning, and madness appear as leitmotifs.
Croggon was inspired by what she terms as 'mystic women', particularly fourteenth-century Margery Kempe, whose book is known as the first autobiography written in English. Kempe dictated it to various scribes. Alongside descriptions of her daily life, it describes her visions of Jesus. Sections of this text are worked into the script, woven into the Chorus's chants, lit up by surtitles which display them whole and fragmented. Perhaps if we pay close enough attention to the sound – which is strangely beautiful – and the sight of these Middle English phrases, revelation will follow. When Vuletic breaks out into glorious song accompanied by the Chorus (played by Monash University performers), which surrounds her, the scene, with its use of Christian iconography, feels like a fearsome encounter with the sublime.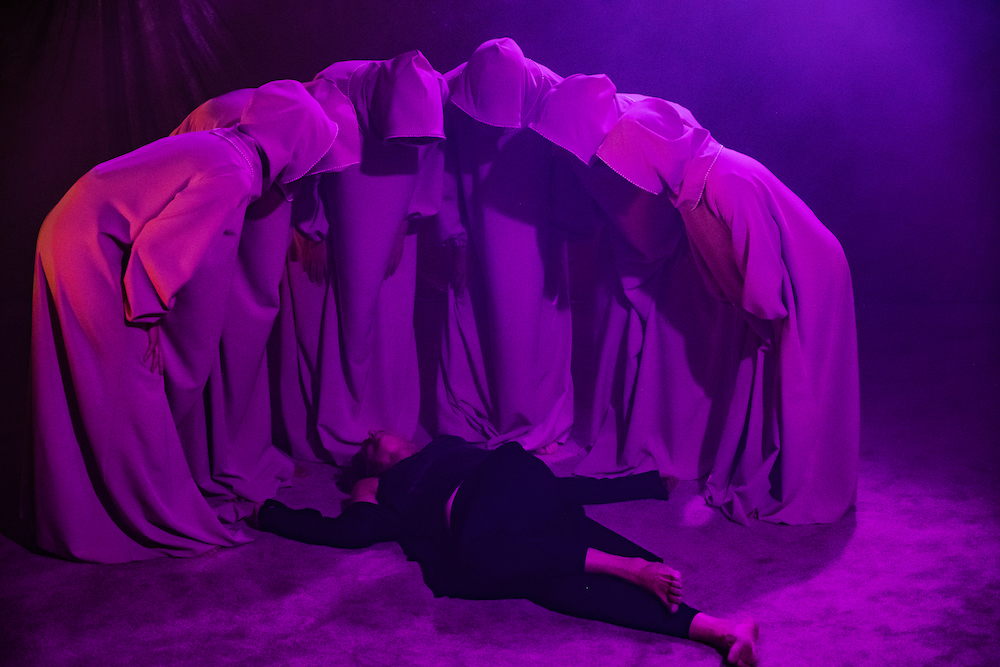 Jennifer Vuletic in My Dearworthy Darling (photograph by David Paterson)
Kempe's words speak of desire, of a body marked with pain, of love and devotion. Her experiences dovetail Woman's confessions, 'How my desire scorches me a flame forcing open every portal of my body.' In their book of correspondence, The Feminine and the Sacred (1998), Julia Kristeva and Catherine Clément explore notions of the feminine sacred and give much attention to the visions of saints. Kristeva claims, 'Until modern times, women's familiarity with their intense and evasive body made their religious experience a confrontation with abjection precisely, and with nothingness … the sacred was the space where woman could give free rein to that abjection and to that pleasure, to nothingness and its glory.' Eroticism, the deeply embodied experience, is deeply embedded in the religious language of devotion. Croggon and THE RABBLE channel this with their visual and textual language.
For much of the play's duration, the set is framed by aluminium glomesh. It acts as both a shimmering frame or a screen and is suspended above the stage. Theatre notes tell us that it 'weighs approximately 240 kilograms', undoubtedly impressive. But the device itself only becomes a thing of splendour when, by a clever design execution, it morphs into something else entirely. In a coup de théâtre, Woman is birthed out of it revealing that 'Beginnings are brutal'. Indeed they are, especially when rebirthing is required for survival.
Throughout the play, the husband and sister attempt to discredit and undermine Woman. The former confronts her with ,'Would you really know? Your memory is shot.' Her sibling tells her that she's 'not normal'. Woman professes, 'I open my mouth and the world goes deaf.' This ultimately is all of their fates; they each feel unheard, rendered voiceless by societal structures – their workplaces, the corrupt and emasculating systems around them. Woman is the only one attempting to listen, even if she must place a glass above the earth's surface to do so. In opening herself up to these otherworldly voices, she experiences a kind of ecstasy, a transfiguration. As a work of theatre, My Dearworthy Darling is itself transfiguring.
---
My Dearworthy Darling, written by Alison Croggon and directed by THE RABBLE, continues at the Beckett Theatre, Malthouse Theatre, until 18 August 2019. Performance attended: August 7.