Opera
Fidelio
West Australian Symphony Orchestra/Asher Fisch
'For a moment let's imagine a world entirely unlike ours,' asks narrator Eryn Jean Norvill as she sets the scene for this thrilling concert performance of Beethoven's Fidelio. And yet, 250 years after the composer's birth, political prisoners are still detained, and worse, for daring to tell truth to power. And lovers? 'Everyone is imprisoned within their own misdirected desires. Just like real life,' continues Alison Croggon's text, written as part of this WASO and Perth Festival commission presented in association with WA Opera, conducted by principal conductor Asher Fisch and directed by Black Swan State Theatre Company's Clare Watson.
The course of true love never did run smooth. Beethoven's beloved operatic only child, Fidelio, went from three acts to two acts, and from one version to three versions, between 1805 and 1814, as the composer wrestled with a multitude of creative and performative issues. But what does one expect of opera, or more properly Singspiel, born of revolutionary fervour and lofty ambition?
As Croggon writes in her program note, 'Underneath [the] plot are themes of freedom, liberation and political persecution which all remain relevant today. Writing this narration, I wanted to bring political and philosophical considerations to the forefront. I thought about the underlying meanings. What is freedom? What does it look and feel like?'
Beethoven completed Fidelio in 1805, to a libretto by Joseph Ferdinand Sonnleithner (the 1806 revision was by Stephan von Breuning, the 1814 revision by Georg Friedrich Treitschke) after Jean-Nicolas Bouilly's Léonore, ou L'Amour conjugal, itself apparently based on a true story.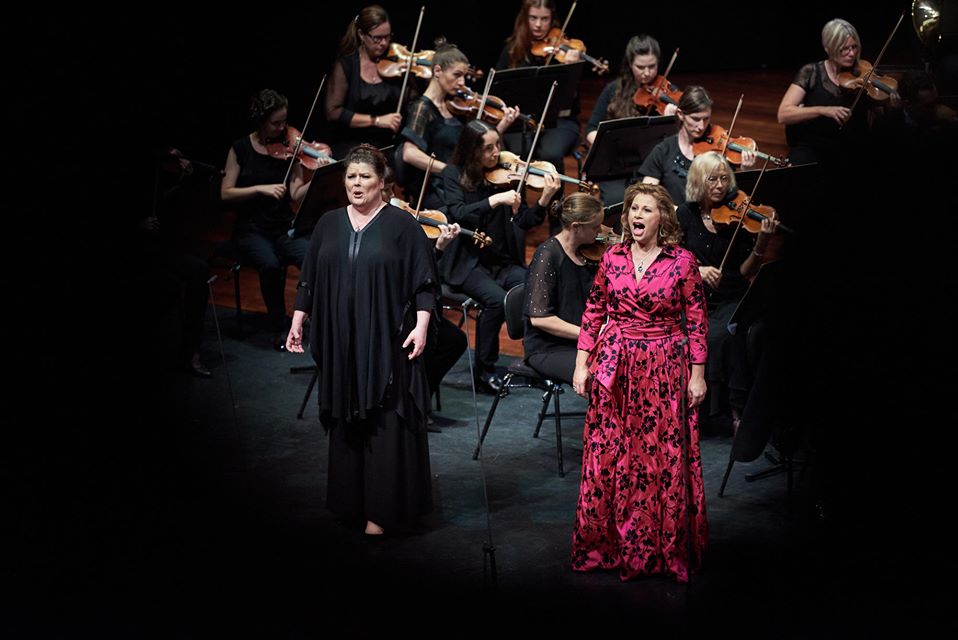 Christiane Libor and Felicitas Fuchs in Fidelio (photograph by Rebecca Mansell)
Leonore, disguised as Fidelio (soprano Christiane Libor), is a turnkey working in a Spanish prison in the sixteenth century. She hopes to find her husband Florestan (tenor Tomislav Mužek), held there for nefarious reasons by the prisoner's governor Don Pizarro (baritone Warwick Fyfe). Leonore has caught the eye of Marzelline (soprano Felicitas Fuchs), daughter of jailer Rocco (bass Jonathan Lemalu). Marzelline, in the finest buffa tradition, has attracted the attention of Rocco's handsome young assistant, Jaquino (tenor Andrew Goodwin). The opera's tone darkens considerably when Don Pizarro attempts to enlist Rocco's help in doing away with Florestan ahead of a visit by nobleman and minister Don Fernando (bass Adrian Tamburini). Fortunately, Leonore manages to delay the murder until the latter's arrival, heralded by an offstage trumpet, and the couple are finally reunited.
Musically, this Friday opening night performance could hardly be faulted. Asher Fisch, a fine exponent and passionate advocate of Beethoven's music, has been working for a number of years on refining WASO's approach to the master's symphonies and concertos. We had a taste of Fisch's way with Fidelio last year in a WASO recital by Gun-Brit Barkmin, who sang Leonore's Act I recitative and aria 'Abscheulicher! Wo eilst du hin?' as part of a meaty program that also included the 1814 revision's overture. Neither Fisch nor the orchestra disappointed then. And they didn't on this occasion, rendering Beethoven's score with an astonishing chiaroscuro deftness and scintillating fluency.
Nor, indeed, did the soloists or combined forces of the WASO Chorus and WA Opera Chorus falter. Fuchs, Lemalu, Libor, and Goodwin were outstanding in the sublime Canon Quartet, 'Mir ist so wunderbar!', while Fyfe, recently heard in the same role in Melbourne Opera's revival of Hugh Halliday's 2013 production, was unashamedly villainous throughout as Don Pizarro. In Act II, Tamburini, who sang Rocco in the same Melbourne revival, was a dignified, benign, and mellow-voiced Don Fernando, while Mužek, in Florestan's opening recitative and aria Gott! Welch' Dunkel Hier!, was as painfully expressive as it was moving. And Libor? Whether in ensemble, ecstatic duet with Florestan, or vituperative fury in full solo flight, her Fidelio/Leonore was a force of nature, a true kick-arse heroine for the twenty-first century as much as for the nineteenth.
Not to be outdone, the chorus, in memorable moments such as the all-male Prisoner's Chorus and the final effulgent chorus with orchestra and ensemble, featured some of the best singing I've heard from these two choirs. (Bouquets, also, to First Prisoner Matthew Lester and Second Prisoner David Dockery.)
Fisch is right when he says that Fidelio contains some of the finest music Beethoven ever wrote. He is also right when he says that dramaturgically it has weaknesses. Shorn of most of the opera's spoken text, it was, according to Perth Festival director Iain Grandage, Fisch's idea to sew 'a narrated text around the musical numbers, built around the moments where spoken text occurs in the original'. It's a terrific concept that did not always work in practice. Many of us are used to modern opera productions set in different times and places to the original in order to make a political or aesthetic point. Croggon is an exceptional writer across many disciplines, and her narration has many beautiful ideas, lyrically expressed, such as her unseen garden motif. Elsewhere, she forgets the 'show don't tell' rule. I doubt there would have been anyone in the audience who needed to have the parallels between the nightmarish Piranesi-like world of Fidelio's prison and today's immoral detention of political prisoners pointed out in such obvious terms.
Perhaps it's too strong to say that, thinking of Croggon's narration and its effect on the whole, we arrived at this performance free yet left in chains. But interpretations, literary or musical, can also become prisons. Poetry, like music, should always be about freedom. And mystery.
---
Fidelio, presented by the West Australian Symphony Orchestra, was performed on February 28 and March 1. Performance attend: 28 February 2020.