Theatre
Krapp's Last Tape
Red Line Productions/Old Fitz Theatre
'Be again. (Pause) All that old misery. (Pause) Once wasn't enough for you.' Reminiscing is rarely a happy experience for Samuel Beckett's characters, least of all for that most autobiographical of his creations, Krapp. In reply to a friend who had sent him a letter mentioning their good old days in pre-war Paris, Beckett brusquely wrote that there were neither good old days nor good new days. There were no good days at all. As his biographer Deirdre Bair puts it: 'to yearn for anything in life, past or future, was unrealistic and a waste of time'.
In 1957 Beckett met the actor Patrick Magee, who was performing in Beckett's radio play All That Fall. Attracted by Magee's distinctive voice, Beckett decided to write a radio play for him, a play about time, memory, and the mutable personality. But with Waiting for Godot and Endgame already causing waves, Beckett's attention was firmly fixed on the theatre, and Krapp's Last Tape became a work for the stage, perhaps to be performed in tandem with Endgame.
Krapp is a sixty-nine-year-old wreck whose only connection to a past he has forgotten is a verbal diary he has kept on a vast series of tapes. He may not remember quite why, but he knows that he needs to hear the tape from box three, spool five. This, it turns out, is Krapp on his thirty-ninth birthday, thirty years earlier, reminiscing about himself as a young man.
The reminiscences are very personal. Beckett writes about his mother's death and his infatuation with his cousin Peggy Sinclair, while the older Krapp bitterly recalls the disaster of the French publication of Beckett's novel Murphy. 'Seventeen copies sold, of which eleven at trade price to free circulating libraries beyond the seas.' But the younger man's memories are counterpoints to the older Krapp, who relives them as the tape remorselessly rotates. Occasionally, he cuts them off as he retreats to grab himself another drink. Gradually, we realise that the reason box three, spool five has remained lodged in his brain is because it contains a memory of a brief, might-have-been moment of tenderness.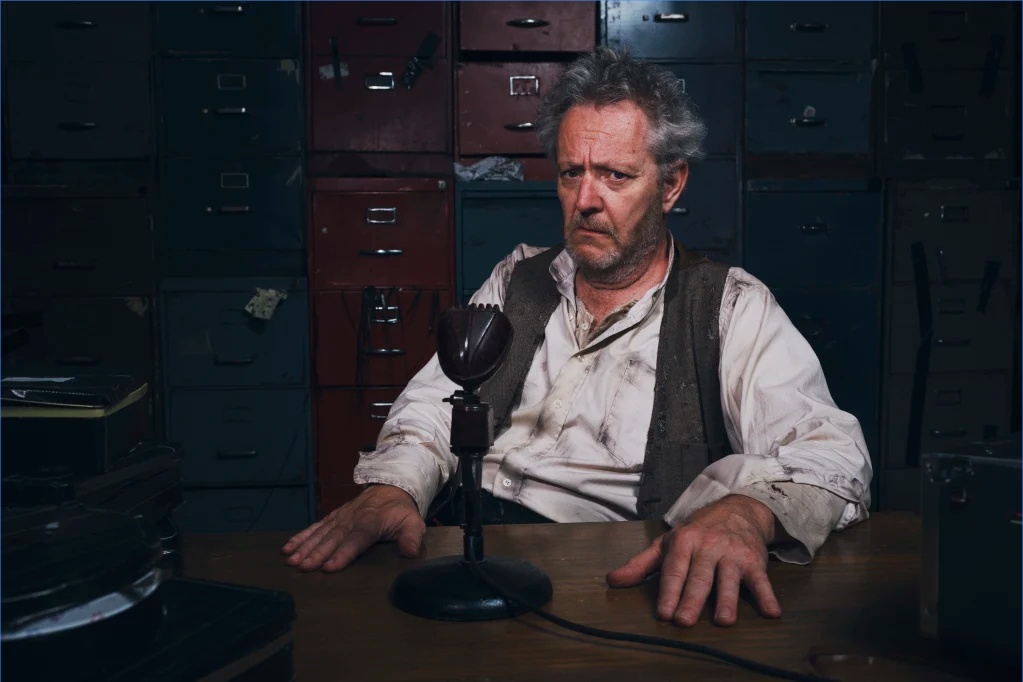 Jonathan Biggins as Krapp in Krapp's Last Tape (photograph by James Brickwood)
Beckett was notorious for treating his actors as automata; he drilled them in each movement and inflection with maniacal precision. 'The best possible play,' he wrote, 'is one in which there are no actors, only the text. I'm trying to find a way to write one.' Ironically this sonata for man and tape recorder depends on the individuality of the performer, one that Beckett was determined to stamp out in other plays. A quick scan of YouTube will show you Magee's mournful resignation contrasted with Harold Pinter's emotional numbness occasionally shattered by flashes of pain.
Now, dwarfed by Brian Thomson's wall of battered filing cabinets and directed by Gale Edwards, Jonathan Biggins takes on this gruelling role. Biggins's Krapp, wild of hair and with a red nose that suggests both the clown and the alcoholic, is sprightlier than the usual shambling fossil. He scrambles up and down a ladder in search of a banana and at one point executes an alarmingly acrobatic pratfall on the Old Fitz's tiny stage. His obvious bewilderment when he reads his covering notes on the tape in question changes as his younger voice prompts a flood of memories. Some are too painful or too boring and get fast forwarded or cut off so that he can grab another drink to anaesthetise the pain. A resolution to cut back on the booze causes a bitter laugh.
There are moments almost of contentment. Playing with the word 'spool', Biggins elongates it into something that sounds like an excerpt from Chinese opera. He attacks a dictionary with relish in search of the meaning for the word 'viduity', which Krapp's pretentious younger self used. But the underlying emotion to Biggins's performance is anger. This is one Krapp who will not go gentle into that good night. When, finally, he begins his sixty-ninth-birthday recording, it is an explosion of fury and disgust. He stops it. Even this volcanic response is meaningless. 'Ah, finish your booze now and get to your bed. Go on with this drivel in the morning. Or leave it at that.' But he can't leave it. He has to listen one more time to that moment when he leant over a young woman in a boat and gazed into her eyes, knowing that their affair was ending and that his one chance of happiness was gone.
As Biggins listens to this, the anger subsides and is replaced by a gut-wrenching tenderness and desolation – an extraordinarily moving finish to a magnificent, lacerating performance.
---
Krapp's Last Tape, directed by Gale Edwards, is presented by Red Line Productions and continues at the Old Fitz Theatre until 14 December 2019. Performance attended: November 30.