Opera
Norma
Melbourne Opera
Norma, Bellini's 1831 two-act tragedy, includes one of opera's grand soprano roles. Requiring great vocal and acting ability, the role is up there with Lady Macbeth, Brünnhilde, and Turandot. An outstanding Norma arrives infrequently. Rosa Ponselle, Maria Callas, Montserrat Caballé, and Joan Sutherland all had that indefinable something extra to enliven the role. Australia has produced another wonderful exponent in Helena Dix.
I have been a keen observer of Dix since I first saw her in Melbourne Opera's Roberto Devereux and, more recently, in Verdi's Requiem with the Zelman Symphony and Melbourne Bach Choir. To hear her soar above the Town Hall's leaden acoustic, a hundred-voice choir, and an orchestra at full blast was a rare treat.
As with Donizetti's Lucia di Lammermoor, it is the title role in Norma that excites audience expectations. Can she do it? Woe betide the hapless soprano if she can't. Dix has an astonishing range: accurately placed soft high notes as well as a strong chest register used effectively in the scenes requiring bitterness and anger. Dix dominated the stage whenever she appeared. Even when it was necessary for her to be still, the character's emotions were conveyed by a twitch here, a flicker of the eyes there, and at one point a toothy sneer.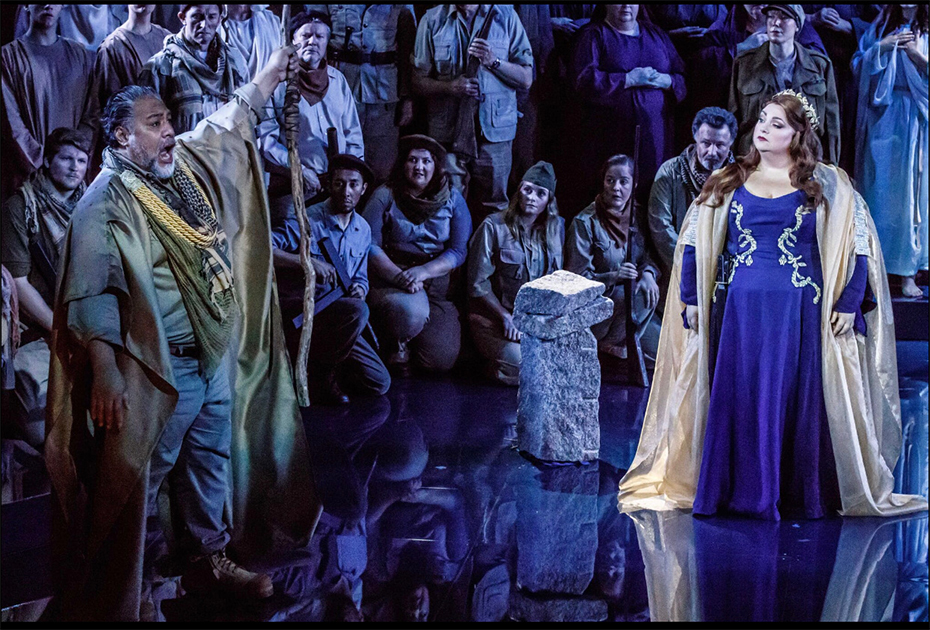 Eddie Muliaumaseali'i and Helena Dix in Norma (photograph via Melbourne Opera)
Norma demands three other principals who possess powerful, flexible voices and considerable stage presence. On this occasion Melbourne Opera was able to secure the services of such performers. Norma's confidante, Adalgisa, was sung by mezzo-soprano Jacqueline Dark, whose voice reminded me of the late Margreta Elkins. The women's voices intertwined to great effect with Dix lowering her volume to accommodate Dark as required.
The duet 'Mira, O Norma' in Act II requires bel canto abilities of the highest order from both soprano and mezzo. The result was one of the highlights of the evening. Dark's warm, accurate voice and convincing acting revealed Adalgisa's anguish at betraying Norma and her own religious vows. As it happens, Dark also performed with Dix in the recent Verdi Requiem. Clearly, the women know how to intertwine and complement their voices.
The success of any staging of Norma is the ability of the principals to convey conflicted emotions. Norma's unfaithful lover, Pollione, was sung by tenor Samuel Sakker with a clear, ringing tone and a commanding stage presence. Pollione is supposed to be a Roman pro-consul, a military man of substance. Unfortunately, Sakker's costume, which looked like daggy RAAF 'grey' adorned with some sort of fascist symbol, failed to convince me.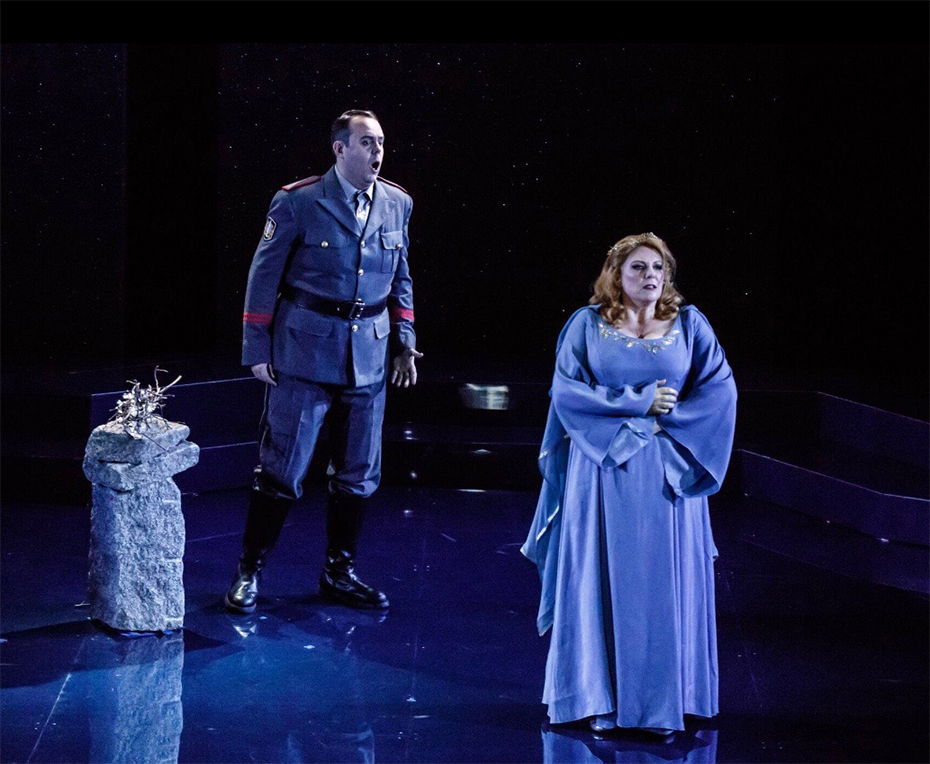 Samuel Sakker and Jacqueline Dark in Norma (photograph via Melbourne Opera)
Oroveso, Norma's father and high priest of the Druids, was sung by bass Eddie Muliaumaseali'i. This role suits his big, dark voice admirably and impressed in the solemn opening of the opera, as well as in his aria 'Ah! del Tebro' in Act II.
The supporting roles of Pollione's friend, Flavio, and Norma's maid, Clotilde, were well handled by Michael Lapina and Rebecca Rashleigh.
The Athenaeum Theatre and orchestra pit constitute a challenging venue. Norma is both intimate and huge. The drama of the love triangle is domestic, the setting of the work momentous, representing as it does a clash of civilisations: the old and the new. If you know one 'tune' from Norma, it will be 'Casta Diva', sung as Norma makes her first entrance in Act I – a showstopper for any soprano. Dix gave full measure to Bellini's long melodic reach, which requires Norma to soar above chorus and orchestra.
The Melbourne Opera Chorus, taking advantage of the many opportunities afforded them, coped with the limitations of the small stage and produced penetrating volume when required and a soft melodic sound to support the principals. The choral scene in Act II, when the Druids prepare for war, was especially vigorous. Indeed, I was struck throughout by the sheer physicality of Norma, rather different from the static, classically derived story I had thought it to be.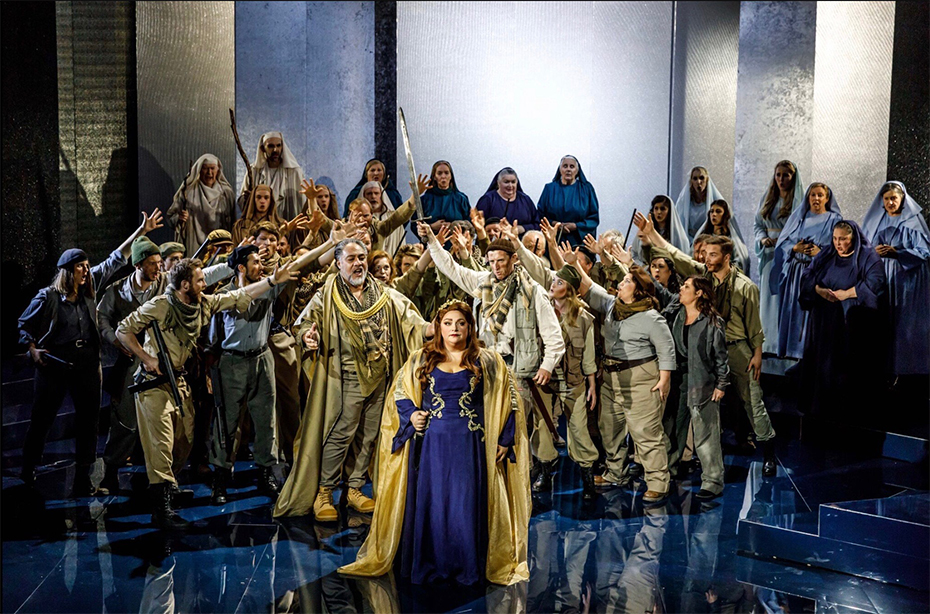 Helena Dix and cast in Norma (photograph via Melbourne Opera)
Raymond Lawrence's brisk conducting gave a lift to the various melodic lines and enlivened the march tempi. Overall, the orchestra played well and the woodwinds in particular deserved their ovation at the end.
It has become de rigueur to update nineteenth-century operas in the name of modern relevance. For me, the staging of this production was dissonant. On the one hand, Druidic costumes, on the other, a chorus dressed variously (some choristers even carried mock machine guns). I am aware this approach is fashionable overseas. Bellini's audience would have understood the 50 BCE setting and interpreted the resonances.
Nonetheless, I must congratulate Suzanne Chaundy on her clever direction. The last scenes were spectacular, powerful, dramatic, and poignant. And after all, grand opera is about the voice, the voice, the voice.
Bellini was just thirty when he composed Norma; it was an era of rising nationalism and revolutionary fervour that would go on to redefine Italy, Germany, and other parts of Europe. Later masters provided the popular melodies for the cry of freedom, Verdi in particular. But Bellini showed the way. You can hear Verdi and Wagner in Norma. How sad that Bellini died in 1835. Who knows what he might have achieved in addition to Norma, Puritani, and Sonnambula?
---
Norma, presented by Melbourne Opera, is repeated at the Athenaeum Theatre on September 19, 21 (matinee), and 24. Performance attended: September 17.