Opera
Andrea Chénier
Opera Australia
A few weeks after that memorable Peter Grimes from the Sydney Symphony Orchestra, Sydney and Melbourne audiences were treated to another concert version of an opera, this time a very different and much less cerebral work: Umberto Giordano's sole enduring success, Andrea Chénier (if we discount the tilting Fedora, occasionally mounted for a famous soprano à la Callas or Freni).
Giordano's four-act opera – long eclipsed by its exact contemporary, La bohème (1896) – is not without detractors. Andrew Porter, ever a potent sceptic, was one of them: 'Formally, harmonically, emotionally, and in its political thinking, the work is all over the place – a sprawl of the ingredients that four years later Puccini tied into Tosca.'
There's no point denying that Chénier contains some commonplace melodies or that the plot is patchy. Certain passages (it is set before and after the French Revolution) are over the top. But each of the three principals has some ringing music, and even the smaller roles are fully characterised. Opera companies go on programming Chénier because of its lush settings and its 'storehouse of purple patches', to quote William Mann. Writing in the indispensable Opera on Record 3 (Hutchinson, 1984), Mann went on: 'The longueurs are, as the Irishman said, pretty short; there's always a succulent passage waiting round the corner.'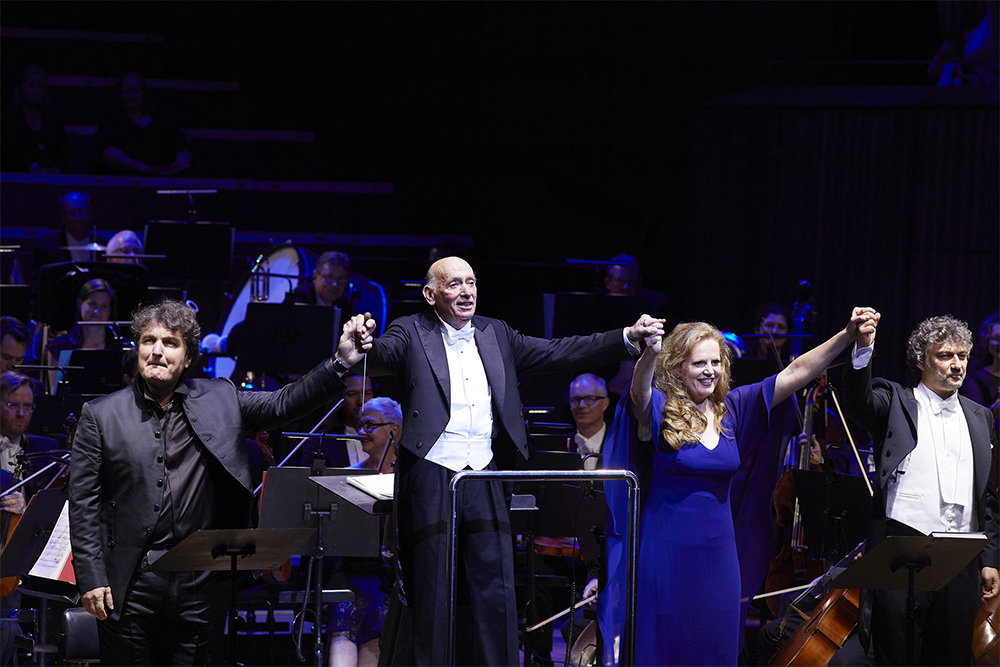 Ludovic Tézier, Pinchas Steinberg, Eva-Maria Westbroek and Jonas Kaufmann in Opera Australia's production of Andrea Chénier (photograph by Keith Saunders)
Giordano, after his studies at the Naples Conservatoire, had an early success with the textbook-verismo opera Mala Vita (Evil Life), which had its first performance in Rome when he was twenty-two. Then Giordano had some good fortune. His friend, the older composer Alberto Franchetta, 'in a moment of altruism' (according to Giordano) allowed him to take over the libretto of Andrea Chénier written by Luigi Illica (co-librettist of Tosca and La bohème). Rich, vivid, colourful, this became the first verismo opera to treat historical subjects while still adhering to the genre's core themes – love and jealousy.
The première took place at La Scala on 28 March 1896, a difficult time for the house after a succession of flops. The opera enjoyed an immediate success – there were twenty calls for the composer and his singer. The young singer Giuseppe Borgatti, in the demanding title role, had to repeat his first-act aria, the so-called Improvisso – not something that many tenors would agree to do today.
Illica's libretto is based on the life of André Chénier (1762–94), who came to be regarded as the most gifted French poet of the eighteenth century. Born in Constantinople of a French father and Greek mother, Chénier lived in France from the age of two and became an opponent of the excesses of the Ancien Régime. At first he welcomed the French Revolution, only to reject its own violent excesses. A noted orator and journalist, he joined the Feuillants and attacked the Jacobins in the Journal de Paris. He lay low during the Terror, retreating to Versailles and living in solitude for a year, but Robespierre ordered his arrest and Chénier was held in prison for some time, only to be executed two days before Robespierre's downfall.
Chénier was unknown when he died – his poetry wasn't published until 1819 – but he became a hero of the Romantics, poetically and politically. In his Oxford Companion to Literature in French, Peter French writes: 'Chenier's surviving work is like a great sculpture yard, full of unfinished sketches … His scorn for modern decadence and triviality was fuelled by an admiration for ancient simplicity and grandeur; he knew Greek literature especially well … The Iambes, written in alternating alexandrines and octosyllables just before or during his imprisonment, leave an unforgettable picture of the Terror seen by its most eloquent victim.'
Chénier – 'belonging to no party and scorning the crowd' (Peter French) – was the beau ideal of verismo's new political bent, perfect material for Giordano's dramatic opera. Tenors like Beniamino Gigli, Franco Corelli, Mario del Monaco, and (pre-eminently) Plácido Domingo have flourished in the role.
A seasoned Chénier, Jonas Kaufmann's was making his third appearance with Opera Australia following memorable recitals in 2014 and a concert version of Parsifal in 2017. The great German tenor seemed less ebullient than usual – visibly distracted by a cold or tricky throat – but his singing was exceptional notwithstanding. Chénier has much exhilarating music, and Kaufmann is peerless in the Improvisso and 'Come un bel dì di maggio', which precedes the flamboyant duet in Act IV and demands the utmost elegance and control. The highlight came in Act III (the best act in the opera). Kaufmann's singing of the heroic declamatory solo 'Sì, fui soldato', during the trial scene, was ardent and consummately shaped.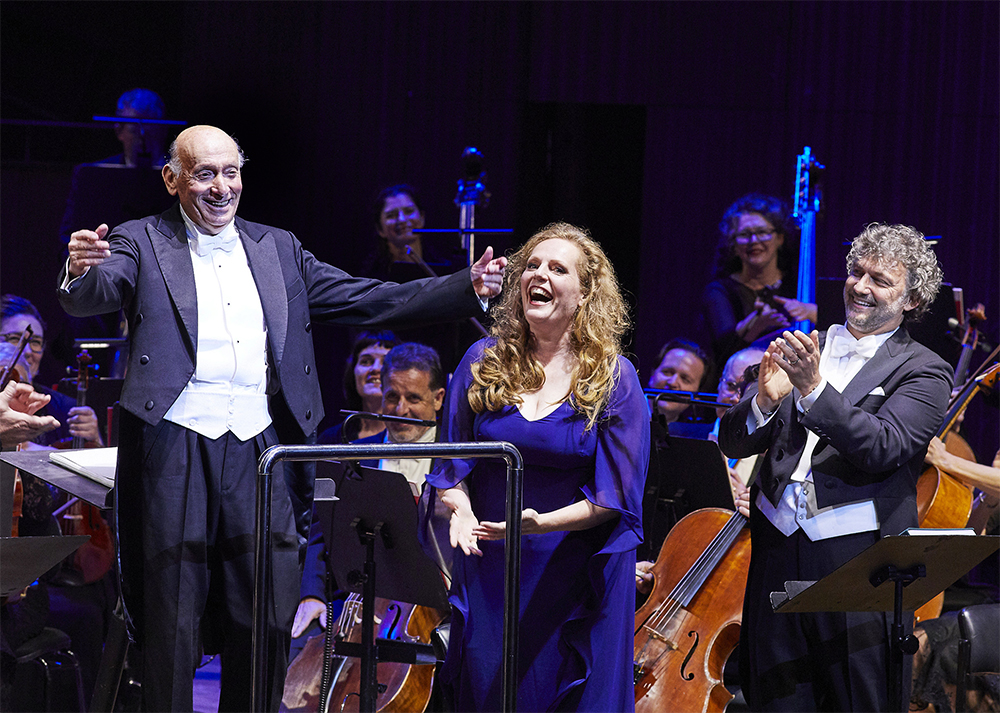 Pinchas Steinberg, Eva-Maria Westbroek and Jonas Kaufmann in Opera Australia's production of Andrea Chénier (photograph by Keith Saunders)
Eva-Maria Westbroek sang here in 2018: a resounding Sieglinde in the Melbourne Symphony Orchestra's performance of Act I of Die Walküre. Here, the Dutch soprano was in even better voice; this is clearly a favourite role of hers. Maddalena de Coigny is not a massive sing – two duets and an immense aria in Act III. Westbroek, always in character, was at her finest, only briefly taxed, and economical, during the scorching heights of 'La mamma morta'.
Kaufmann and Westbroek, frequent partners, can be heard and seen together on the DVD of David McVicar's production of Andrea Chénier for the Royal Opera house (2015). In Melbourne, the duet 'Ecco l'altare', which ends the first act, brought out the best in these two long-time colleagues; it won a huge ovation. The duet that concludes the opera – when Maddalena, impersonating a young mother, opts to follow Chénier to the guillotine – requires immense vocal resources and daring from the performers, and they were both inspired.
Ludovic Tézier, a Frenchman, has excelled in roles like Posa in Don Carlos, di Luna in Il Trovatore, and the title-role in Simon Boccanegra. Earlier this year, he starred in an acclaimed new La Forza del Destino at Covent Garden, which also featured Kaufmann and Anna Netrebko. After the reviews of the Sydney performances, there was much anticipation about Tézier's company début. The promise was triumphantly fulfilled. For once, the hyperbole is deserved; Mark Pullinger, writing for Bachtrack in March 2019, spoke of Tézier's 'nobility of sound' and described him as 'one of today's great Verdi baritones, celebrated for his burnished tone and silky legato'.
Thrilling it was to hear a youngish Verdi baritone of this scale, ring, clarity and dramatic power. It brought back memories of Sherrill Milnes. Carlo Gérard, Tézier's character, a disillusioned servant in the house of the Countess de Coigny (Dominica Matthews), virtually opens the opera with his denunciatory aria 'Son sessant' anni', in which he lambasts the aristocrats. From the outset, Tézier's legato singing and expressive force were riveting. Gérard's finest moment comes two acts later, with Nemico della patria. Here, Tézier sang with sonorous authority and an impressive stage presence. This was a magnificent performance from the French baritone.
The rest of the cast was fine, especially Sian Sharp as La Bersi and Anna Dowsley as an improbably young and glamorous Madelon, the old woman who sings of the sons she has lost fighting for France.
As in 2017, when he conducted an assured Parsifal, Pinchas Steinberg was an authoritative and responsive conductor, always sympathetic to his singers. Both the Opera Australia Chorus and Orchestra were in good form.
Happily, Opera Australia produced a thorough and informative program – a fine souvenir of a major night.
---
Andrea Chénier was presented by Opera Australia at the Sydney Opera House on 9 and 11 August 2019 and at Hamer Hall, Arts Centre Melbourne, on August 13. Performance attended: August 13.