Notwithstanding the riches that follow in the final two acts (Wotan's Farewell, the Ride of the Valkyries, the Todesverkündigung), Act One of Richard Wagner's Die Walküre offers perhaps the greatest hour of music in German opera. It is ideal for discrete, unstaged performances, and as we know from last week's sensational WASO Tristan und Isolde in Perth, the pleasures of concert performances are considerable, especially when fine singing actors and a symphony orchestra are available. If this is the only way we can hear masterly works of this kind every few years rather once every three decades (Rings being as expensive as they are), all the better. Still, they pose challenges for marketing teams, as we saw on Saturday.
MSO has performed Act One of Die Walküre three times in the past fourteen years – first with Oleg Caetani (2004), then with Markus Stenz (2012). Stuart Skelton was a magnificent Siegmund in 2012, and one can only imagine how extraordinary this concert might have been had Skelton joined Westbroek. (They were meant to sing together in Perth, but Westbroek withdrew from the concert.)
Andrew Davis knows this music intimately, and his rapport with this orchestra is profound: he has raised the ensemble to a new level. The playing throughout was superb, and all the glories of the score were accentuated. David Berlin's cello solo was notable, and the horns were exceptional.
Eva-Maria Westbroek, as Sieglinde, sang magnificently, despite her recent indisposition. She has performed this role in some of the major opera houses, including Bayreuth, the Met, and the Royal Opera House. Tall, long-haired, in a dark sequined gown, she was in character from the start, even as she hunched on her chair throughout the storm that batters the hut she shares with Hunding and that signals the arrival of Siegmund, exhausted and fleeing his enemies. Westbroek sang with immense power and verbal clarity. Heeding Wagner's text, we 'listened carefully to what she had to tell us' when Sieglinde, in 'Der Männer Sippe', recalled the stranger who interrupted her bleak wedding feast and embedded the sword in an ash tree. 'Du bist der Lenz' was sung with equal force and absorption. This was a glorious performance from the Dutch soprano.
After his Trumpacious romp in Melbourne Opera's Der Rosenkavalier, Daniel Sumegi was on securer ground as Hunding (a role he sang here in concert with the MSO and Markus Stenz in 2012). The voice is huge and secure, the diction impeccable, and Sumegi was of course always expressive – suitably incensed when Sieglinde, newly rebellious, rebukes him and says that only cowards fear someone who travels alone and unarmed.
Dutch singer Frank van Aken has sung Siegmund at La Scala and the Met. His talents were intermittently on show during this concert. He began well but the beat in his voice soon became pronounced. He was at his best in the third scene when Siegmund, left alone, recalls the sword his father told him would rescue him when he was most forlorn ('Ein Schwert verhiess mir der Vater'). 'Winterstürme wichen dem Wonnemond', Siegmund's great aria, began confidently, but Van Aken soon ran out of voice and he was in real trouble by the end. Still, he rallied for the gruelling scene when Siegmund, relishing his new name, draws the sword from the ash tree and claims Sieglinde as his sister and bride.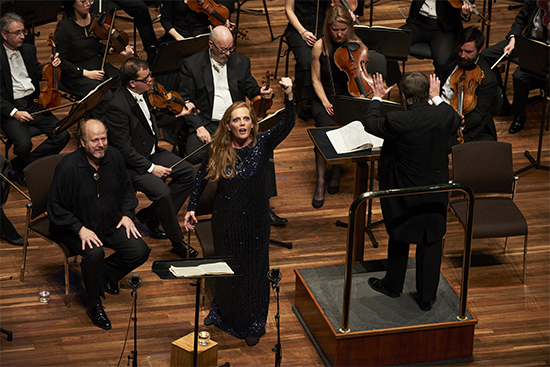 Eva-Maria Westbroek performing in Die Walküre (photo by Tim O'Connor)
Van Aken, who is married to Westbroek, relied on his score, while the other two singers were confident in their roles and thus able to move freely, engage, to register emotion uninterruptedly. Surely it's not asking too much of a professional – given one or two years' notice – to re-memorise a short role like this, however demanding it is. It felt distracting, untheatrical, and old-fashioned. Compare Frank van Aken's performance with Simon O'Neill's phenomenal (scoreless) performance as Siegmund in a 2016 concert version with Westbroek, the Berlin Philharmonic, and Simon Rattle, available on Berlin Philharmoniker Digital Concert Hall. There, the rapport between Westbroek and the New Zealand tenor is electrifying. (If you don't subscribe to Digital Concert Hall, an indispensable resource, ask your father to give it to you on Father's Day. Isn't that what fathers are for?)
The first half was short but choice: Wagner's symphonic poem, the Siegfried Idyll, his exquisite domestic offering to his new wife, Cosima, who woke to the music on Christmas Day, 1870. Thirteen musicians (future conductor Hans Richter among them) played the Idyll on the Wagners' staircase at Tribschen, then the composer presented Cosima with the score – quite a birthday gift.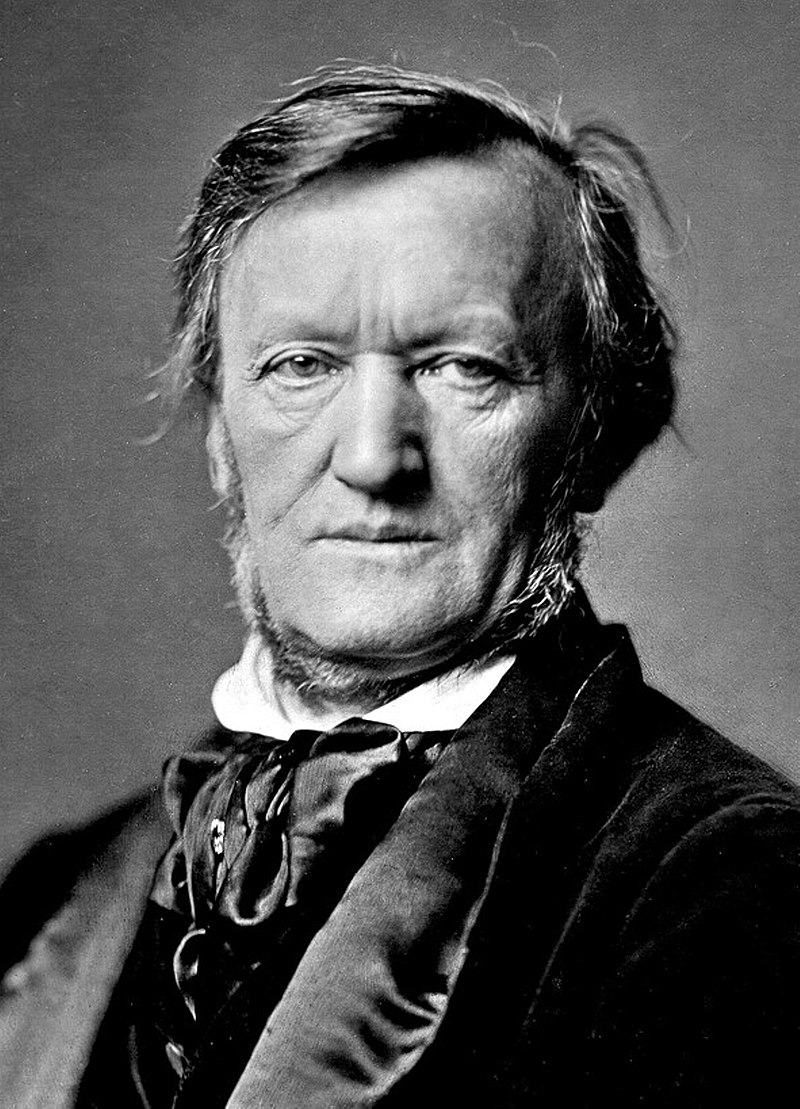 Richard Wagner, Munich, 1871. (Credit: Wiki Commons)Concertmaster Dale Bartrop opened the Idyll most feelingly, and this set the tone for a cultivated performance – one that eschewed Romantic excesses and accentuated the piece's chamber music qualities. The Idyll was taken slowly, even inwardly, and the great melody from the middle section was introduced with real delicacy. Along the way we heard themes from the opera Siegfried, among them the Woodbird and the final love duet. As in the first act of Die Walküre, the wind players were superb.
Andrew Davis has conducted the Idyll before with the MSO. This was back in 2009, a few months after Oleg Caetani chose to perform it during the opening concert at the Melbourne Recital Hall, a concert that was memorable in at least two ways, coming twenty-four hours after Black Saturday, and performed in front of a miniscule audience.
Apropos of which, what a shame that Saturday's concert (given only once) was so poorly attended. The vast balcony was closed, the stalls and dress circle by no means full. Perhaps MSO's advertising agency should have named their glamorous import when they used her image in ubiquitous newspaper ads for this concert. Eva-Maria Westbroek may be one of the world's most famous sopranos, but she is not a household name in this city – and it was her Melbourne début after all. Let us hope that Hamer Hall is full when Ms Westbroek returns in August 2019, for Opera Australia. It should be: Westbroek will be singing Maddalena opposite Jonas Kaufmann's Andrea Chénier in Giordano's opera.
Die Walküre, Act One was performed by the Melbourne Symphony Orchestra at Hamer Hall, Arts Centre on 25 August 2018.
ABR Arts is generously supported by The Ian Potter Foundation and the ABR Patrons.