Art
The Update - October 23, 2018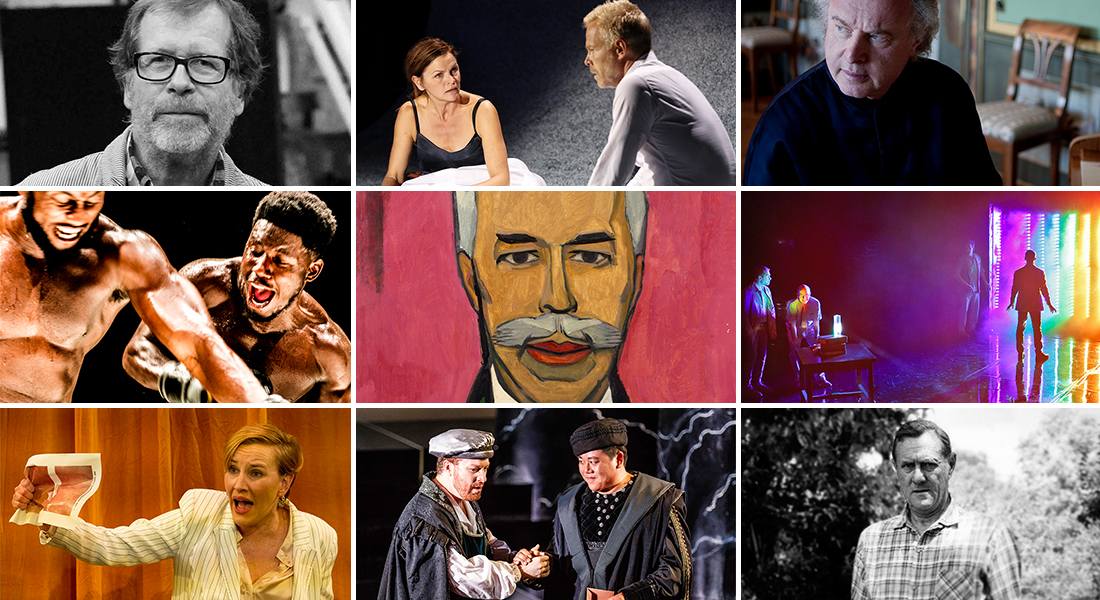 Recent ABR Arts reviews:
Masters of Modern Art from the Hermitage (Art Gallery of New South Wales)
Nearer the Gods (Queensland Theatre Company) ★★★★1/2
Otello (Melbourne Opera) ★★★★
Scenes from a Marriage (Sydney Opera House) ★★★1/2
Prize Fighter (La Boite Theatre Company) ★★★★1/2
An Enemy of the People (Belvoir St Theatre) ★★★1/2
András Schiff (Melbourne Festival) ★★★1/2
The Dressmaker: A Musical Adaptation (Monash University) ★★★1/2
Coming Up in ABR Arts?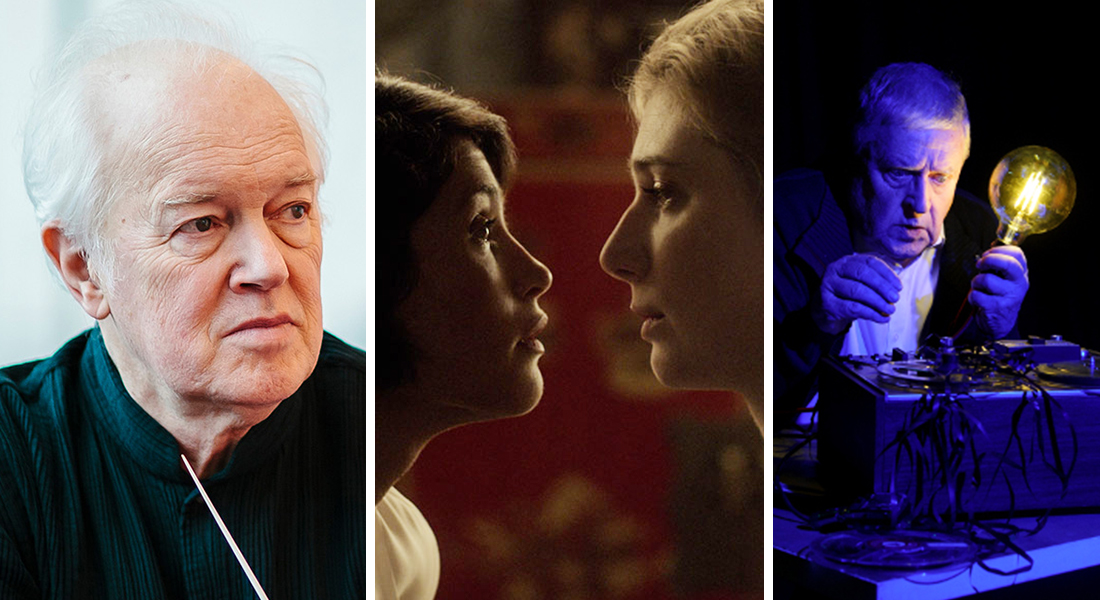 Upcoming in ABR Arts: Edo de Waart conducts Beehoven Nine with the Sydney Symphony Orchestra; Vita and Virginia, a film on the love affair between Vita Sackville-West and Virginia Woolf; and Krapp's Last Tape, Samuel Beckett's one-act play.

There's plenty of quality ahead in ABR Arts. Zoltán Szabó is reviewing Beethoven Nine by Sydney Symphony Orchestra, Anwen Crawford reviews Vita and Virginia at the British Film Festival, and James Ley reviews Samuel Beckett's one-act play Krapp's Last Tape at fortyfivedownstairs.
Arts Highlights of the Year

We know that our readers, like the ABR editors, love this time of year, when a range of experts nominate their favourite productions and publications, often pointing us to works we have somehow overlooked.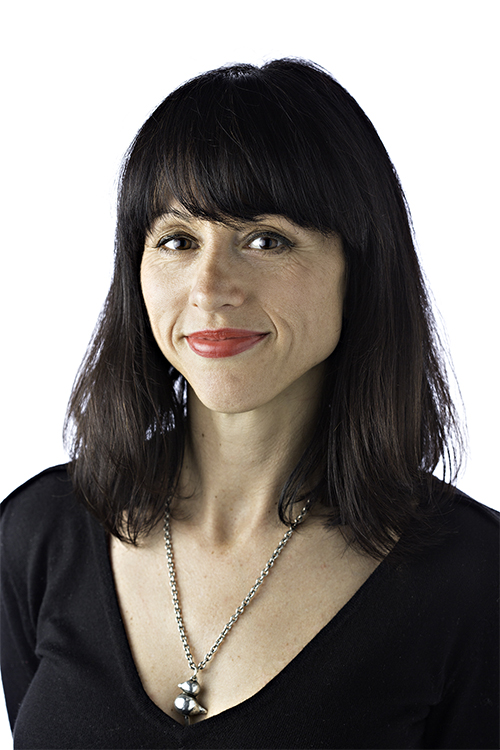 Gabriella Coslovich (photo by Selina Ou, National Gallery of Victoria)In our November issue, twenty-nine critics and arts professionals nominate some of the 2018 plays, films, operas, concerts, television, television, dance, and exhibitions they liked most. Our critics include Anwen Crawford, Kim Williams, Paul Kildea, and Gabriella Coslovich.
Elsewhere in this issue, Ms Coslovich, in her ABR début, examines a major new book on Australian culture and the tyranny of measurability. What Matters? Talking value in Australian culture (Monash University Publishing) is written by Julian Meyrick, Robert Phiddian, and Tully Barnett – all at Flinders University. In her review, Gabriella Coslovich asks: 'What do [attendance numbers] tell us about the exhibition itself? … It's effect on civic well-being? Nothing.' Her own book, Whiteley on Trial (reviewed by Johanna Leggatt in our November 2017 issue), has won the 2018 Walkley Arts Journalism Award.
Meanwhile, Paul Kildea – musician, conductor, Benjamin Britten's biography, author of the new book on Chopin's Piano – reviews Stephen Walsh's biography of Claude Debussy, a substantial contribution to the Debussy centenary.
Meanwhile, nominations for our 'Books of the Year' feature are starting to arrive, with the usual broad range of approbations. Join us in December to find out what people like Andrea Goldsmith, Felicity Plunkett, Glyn Davis, and Frank Bongiorno consider the most successful and enjoyable books of the year.
Neil Armfield on David Hare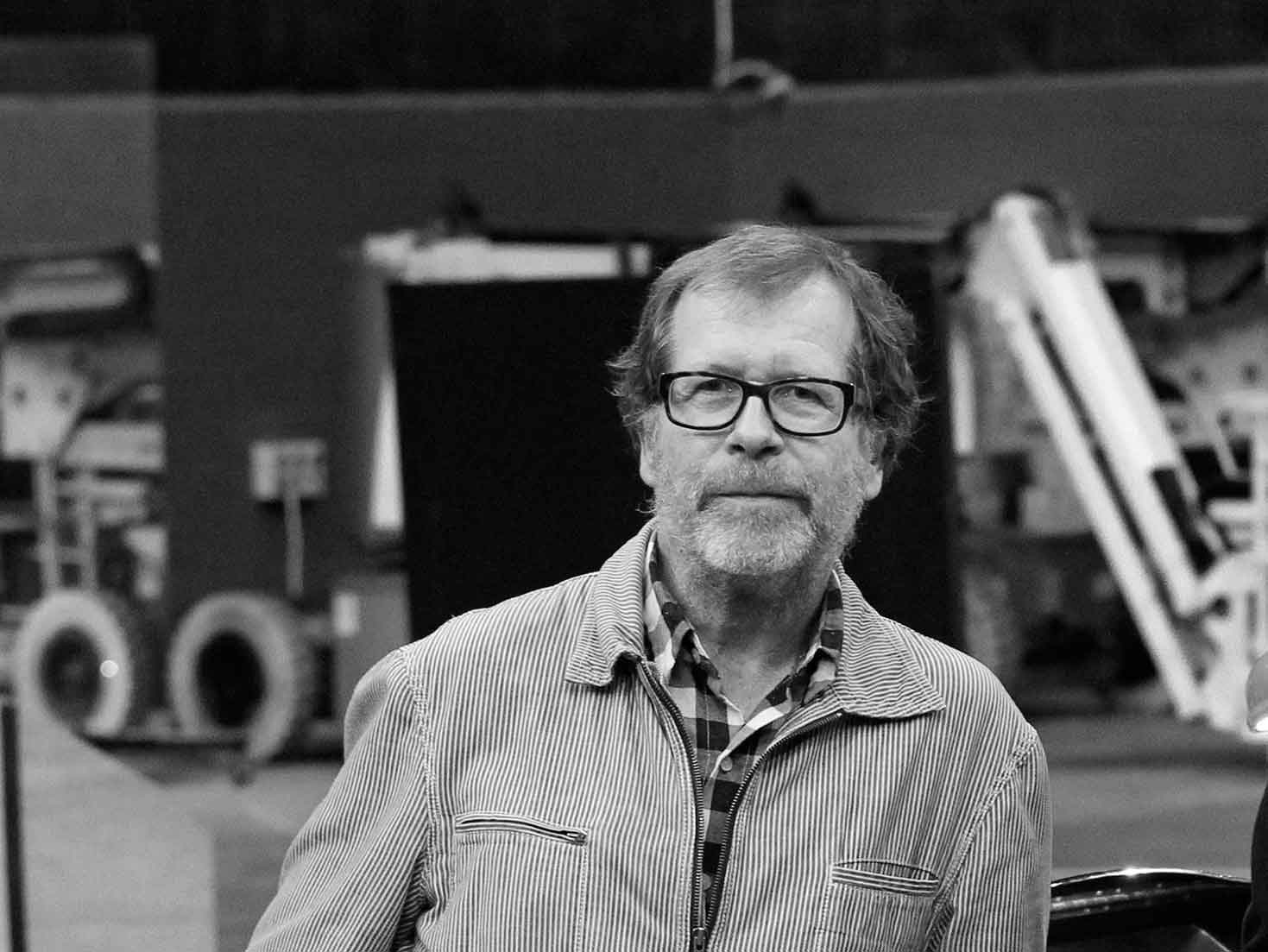 Neil Armfield (photo via the Opera Blog)
I'm Not Running, David Hare's new play (his seventeenth), currently playing at the National Theatre in London, is set in 2018 and concerns the political ambitions of a young doctor (played by Siân Brooke) who contemplates standing for office.
Neil Armfield – Adelaide Festival Joint Artistic Director – who directs the new production, has a long artistic association with the British playwright. They first met in 1982. Armfield has directed the Australian premières of five of Hare's works.
ABR Arts asked Neil Armfield about I'm Not Running, which is his first entirely new production for the National Theatre.
Your association with David Hare goes back more than thirty years, and you have directed many of his plays. What attracted you to Hare's new play?
I read it a year ago and loved its ideas and energy. The story is a mosaic that moves across twenty-one years in its characters' lives. You have to work at piecing it together. In a way it's like eight short plays gathered in a discontinuity that you then reframe to find the emerging narrative.

Ultimately, I love the fact that it asks how do we use all of our strength, our human potential, to make the world a better place? What is our responsibility? And do we go it alone or joined up with others? Do we work within or outside existing political structures?

Threading through it is the brilliant central character, Pauline Gibson, who barely leaves the stage. It's Siân Brooke in a tour de force performance of one of David's greatest roles.
What can you tell us about the production itself?
The set is designed by Ralph Myers, with whom I last worked on Brett Dean's opera Hamlet at Glyndebourne and the Adelaide Festival. It's an open corner, a magic box, that turns and transforms into each of the rooms of the story's life. Like the play, it's both intimate and epic, set in the mysterious theatrical/industrial landscape of the exposed Lyttelton stage. Its movement is propelled by the music of Alan John, my colleague who has collaborated on each of my productions of David's plays over the years at Belvoir in Sydney: The Judas Kiss, My Zinc Bed, Stuff Happens, and Gethsemane.
What are the special challenges of working in a vaunted theatre like the National Theatre?
My National Theatre debut was the 2001 world tour of our production of Cloudstreet, which played in the Olivier, but this is the first time I've directed a show from scratch inside those 'vaunted walls'. The Lyttelton is a difficult theatre to crack – we had to find ways to keep the action well forward, right in the audience's face, as it were. Ralph and I designed the show five times (three of which were after the commencement of rehearsal!) before we were happy with the solution. The company was brilliant. For an organisation with such a massive output of productions, every department was nimble and generous, apparently focused only on satisfying our needs and interested only in making the best art.
Collected Works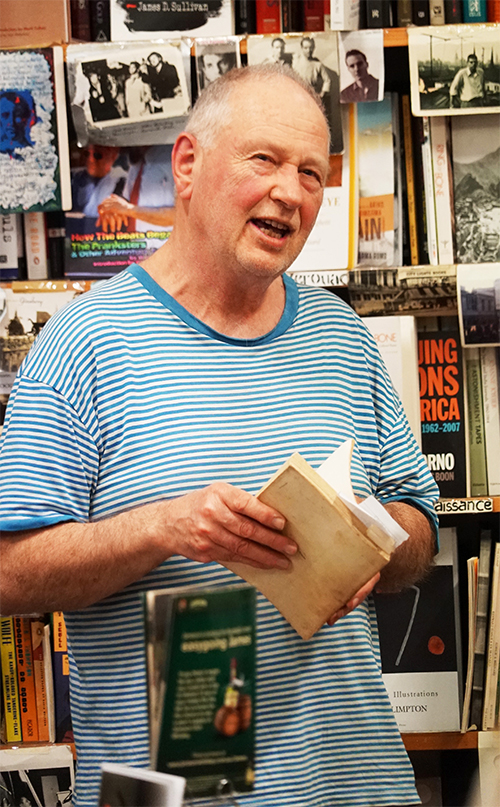 Kris Hemensley at an ABR function at Collected Works in October 2017The loss of a great bookshop reverberates like the felling of an immense gum tree or the death of a beloved canine. Where will be go on our walks now? Especially along Swanston Street.
Collected Works, which will cease trading at the end of November, is a precious resource for poetry lovers, and one of the noblest retail undertakings in Melbourne. First based in Collingwood, it moved to the Nicholas Building on Swanston Street many years ago. Kris Hemensley, a noted poet himself has owned and managed it with his partner, Retta. Together they have subsidised the business for years. Hemensley told Fairfax: 'The pincers of the internet and real estate affect all small business, even though we don't have a business imperative.'
Kris and Retta's legendary goodwill and generosity are hugely appreciated in the literary community.
STC's Patrick White Playwrights Award and Fellowship Open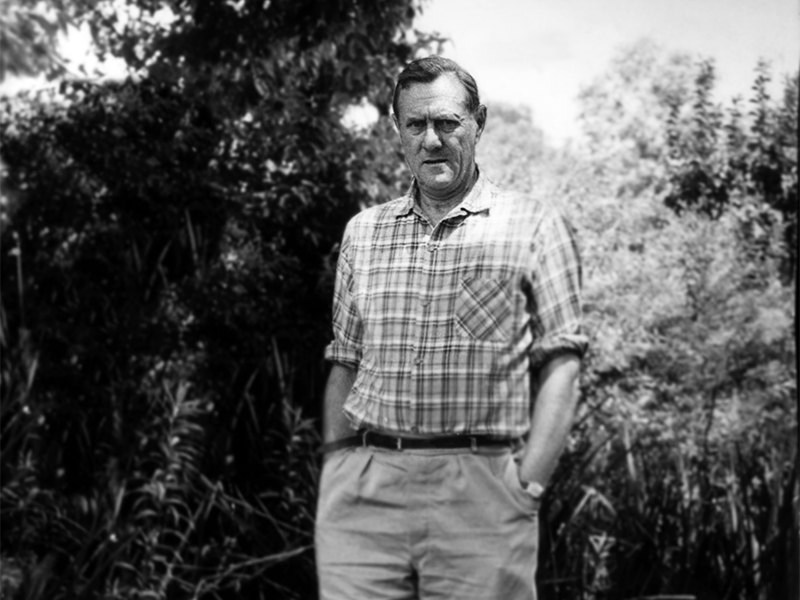 Patrick White (supplied)
Sydney Theatre Company seeks applications for both the Patrick White Playwrights Fellowship and the Patrick White Playwrights Award, with a combined prize pool of $32,500.
The Fellowship aims to propel the career of a professional playwright whose work has been produced professionally within the last four years. The chosen playwright will receive $25,000 to further produce their work, including a commission from STC.
The Patrick White Playwrights Award is open more broadly to all playwrights of any professional stature over the age of eighteen. It will offer $7,500 for a full-length unproduced play of any genre, particularly those that are original and ambitious.
Entries for both the Award and Fellowship close on 16 November 2018. For more information, visit the STC website.
Melbourne Prize for Literature
The finalists have been announced for the 2018 Melbourne Prize for Literature. The $60,000 Prize is awarded triennially to a Victorian author whose body of published work has made an outstanding contribution to Australian literature and to cultural and intellectual life. This year's finalists are Tony Birch, Gideon Haigh, Alison Lester, Christos Tsiolkas, and Alexis Wright.
The finalists for the Readings Residency Award (worth $7,500) and the Best Writing Award (worth $30,000) have also been announced and can be found on the Melbourne Prize website.
The winners of all three prizes will be announced on November 14, while a free public exhibition of the finalists' work will be held at Melbourne's Federation Square from 12 to 26 November.
Voting is now open for the Civic Choice Award (worth $4000). The winner will be announced on November 30. Voting is open to the public. Visit www.melbourneprize.org/vote to cast your vote.
ABR Arts Issue Launch at Wangaratta Jazz and Blues Festival
Come and celebrate with ABR as we launch our November Arts issue! We're delighted to be hosting the event this year for the first time at the Wangarrata Jazz and Blues Festival, which ABR would never miss. Des Cowley, who will review the festival for ABR, lauds it for its long history of 'paying homage to a previous generation of musicians and to ushering in the next'.
The Arts issue contains many notable features, including Arts Highlights of the Year, as nominated by twenty-nine leading critics and arts professionals. Find out which films, plays, operas, dance, concerts, and exhibitions people like Leo Schofield, Anwen Crawford, and Gabriella Coslovich most enjoyed this year.
The Arts issue will be launched by long-time ABR contributor Geoff Page, poet and jazz aficionado. Everyone is most welcome. The event will take place at St. Patrick's Hall in Wangaratta from 5.30 to 6.30 pm on Saturday November 3, with beverages available at the Society Bar.
Meanwhile, if you can't get along, purchase your copy of the November issue or subscribe to the magazine using this link.
Full information about the 2018 Wangaratta Jazz and Blues Festival is available here.
Where: 40-52 Ovens St, Wangaratta VIC 3677
When: 5.30 to 6.30 pm, Saturday November 3 2018
Bookings:
This is a free public event, however bookings are requested. To book for the event,
This email address is being protected from spambots. You need JavaScript enabled to view it.
.
Masters of Modern Art from the Hermitage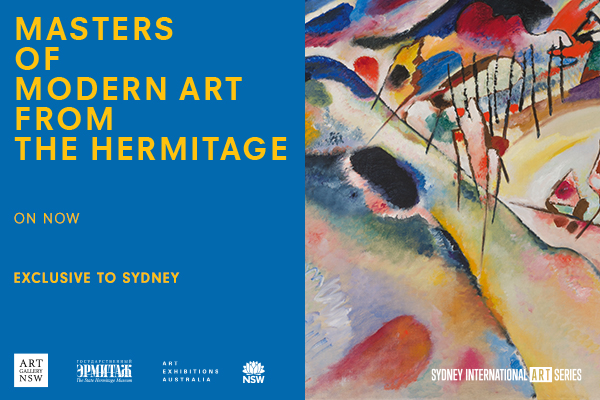 Masters of Modern Art from the Hermitage, now showing at the Art Gallery of New South Wales, is a superb exhibition of some of the greatest modern painters. Drawn from collections at the State Hermitage Museum in St. Petersburg, Russia, the exhibition includes 65 works by artists such as Manet, Cézanne, Gauguin, Picasso, Rodin, and Pissaro.
Morag Fraser, who reviewed the collection for ABR Arts, said, 'If you want a Cook's tour of twentieth-century political history as reflected in art, or in Impressionism, Expressionism, Fauvism, the Nabis, the Symbolists, Cubism, or in any of the other subdivisions of Modernism, this Masters of Modern Art from the Hermitage exhibition is an exhilarating place to start.'
ABR is delighted to be able to offer five new or renewing subscribes a double pass to the AGNSW Hermitage exhibition. See the giveaways section below on how to enter.
Masters of Modern Art from the Hermitageis running at the Art Gallery of New South Wales from 13 October 2018 to 3 March 2019.
Digital Writers' Festival 2018 Program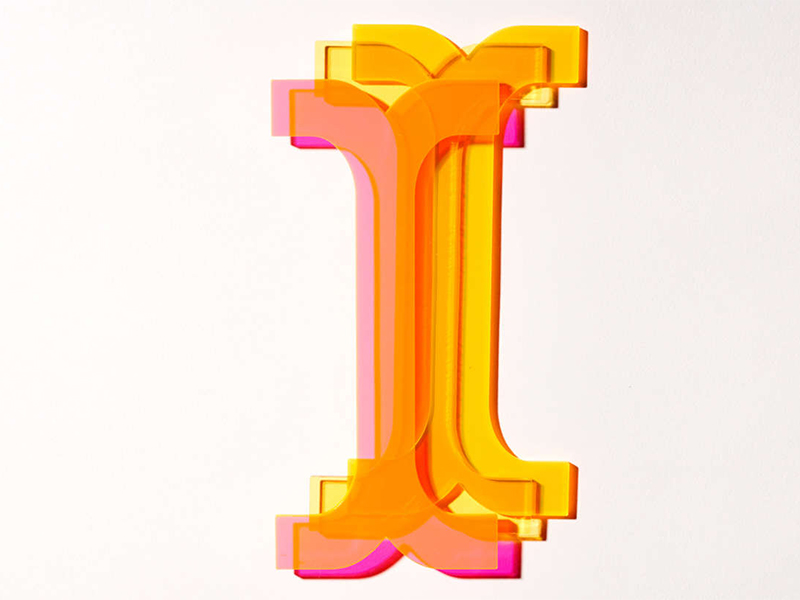 The 2018 Digital Writers' Festival
The 2018 Digital Writers' Festival (DWF), which runs from 30 October to 3 November, has announced its program. The festival is presented entirely online, including more than 140 guest writers and artists, who will participate in a series of lectures and interactive projects. This year, DWF is incorporating more innovative means to connect with their audience, with one lecture being available in interactive virtual reality (VR).
There are many great writers and editors volunteering their time to share their knowledge with the DWF audience, including Anupama Pilbrow (co-editor of The Suburban Review), Mira Schlosberg (editor of Voiceworks), and Lur Alghurabi (winner of the 2017 Scribe Nonfiction Prize for Young Writers). Be sure to have your computer ready!
The 2018 Digital Writers Festival runs 30 October to 3 November 2018. For more information about the festival and its program, visit the DWF website.
Giveaways
Masters of Modern Art from the Hermitage
Thanks to the Art Gallery of New South Wales, five new or renewing subscribers will win a double a pass to Masters of Modern Art from the Hermitage (13 Oct 2018 – 3 Mar 2019).
Beautiful Boy

Thanks to Transmission Films, ten new or renewing subscribers will win a double pass to Felix Van Groeningen's Beautiful Boy, starring Steve Carell and Timothée Chalamet. (In cinemas October 24.)
How to enter: To be in the running please email Grace Chang at This email address is being protected from spambots. You need JavaScript enabled to view it. with your full name and contact details. Preference is given to subscribers who have not received a giveaway in recent months. To be eligible for these giveaways, you must be a current or new paid subscriber to the print edition of ABR or to ABR Online.