Advances
The Update - January 30, 2018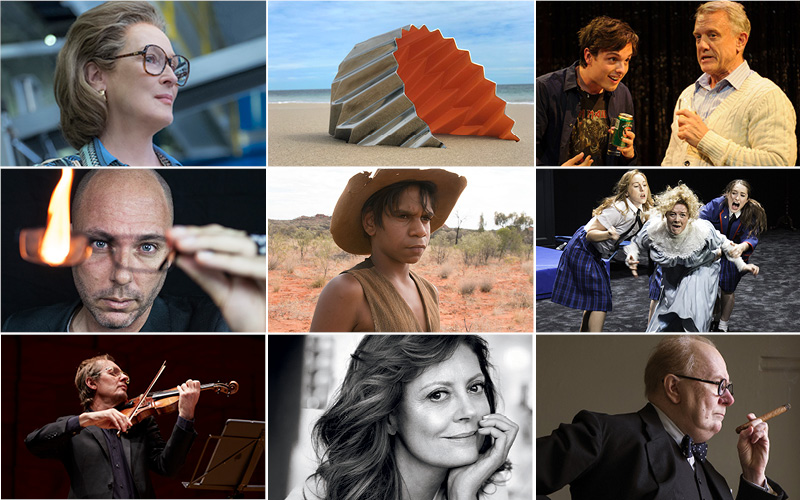 Recent ABR Arts reviews
Picnic at Hanging Rock returns to the Malthouse Theatre
It has been over half a century since Joan Lindsay's haunting Picnic at Hanging Rock was first published, yet it still resonates today through film and stage adaptations, and through countless dissertations. In 2017, Marguerite Johnson, the ABR Gender Fellow, dissected the novel by drawing on studies of Classics, gender, and sexuality in her Fellowship essay 'Picnic at Hanging Rock fifty years on' (ABR 12/17). Tim Byrne reviewed Tom Wright and Matthew Lutton's stage adaptation at the Malthouse Theatre for ABR in 2016, describing it as 'creepy and lush', and noting that 'there is little to fault in the production'. Picnic at Hanging Rock will return to Melbourne's Malthouse Theatre in February 2018 following a successful run at the Barbican in London in 2017.
Thanks to Malthouse Theatre, two new or renewing subscribers to ABR will receive double passes to Picnic at Hanging Rock on 10 February 2018. See our giveaways section below for more details on how to enter.
Landfall: The 2018 Lorne Sculpture Biennale
The theme for the 2018 Lorne Sculpture Biennale (LSB18) is 'Landfall', an exploration of 'pressing global issues of nature and endangerment'. Now in its sixth iteration, the festival will feature works by forty-one artists and will run over three weekends in March and April. Lara Nicholls, who also curates nineteenth century Australian Art at the National Gallery of Australia, will curate this year's Biennale.
Twenty-five artists, including Ritchie Ares Doña (Phillipines), Aldo Bilotta (Italy), and Ashika Marek Ostapkowicz (Poland), will exhibit their works along the four-kilometre Sculpture Trail. Other pieces will be site-specific, including The Living Stage, a 'recyclable, biodegradable, edible, and biodiverse' installation and performance space; Nicole Voevodin-Cash's 'inflatable temporary tree museum'; and Breakwaver by Shirin Abedinerad (Iran), 'a curved wall created from broken televisions, their screens replaced with mirror glass reflecting the ocean, visitors, and light'.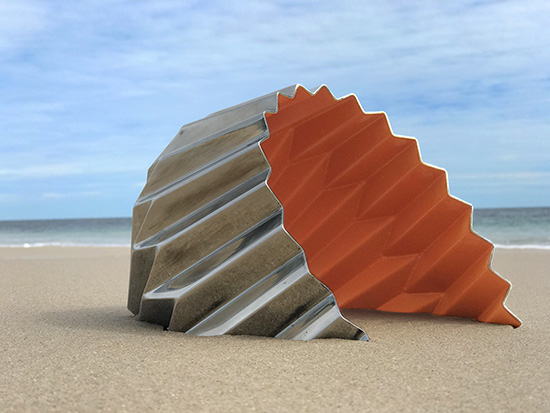 Openings by Karl Meyer
'There is a great energy transference that occurs when inspired artists create works in concert with nature, especially in a space as precious as where the Otway Ranges meets the wild Bass Strait', said Lara Nicholls, who was born in the seaside town of Lorne.
A number of awards will be presented to exhibiting artists, including The 'Landfall' LSB18 non-acquisitive award ($20,000); Sculpturescape Land Art Award ($10,000); Emerging Artist Award ($10,000); the People's Choice award ($3,000); the Small Sculpture Award ($3,000) as well as the Ken Scarlett Award ($3,000), for writers. The judges will be Charlotte Day (Monash Gallery), Max Delaney (Australian Centre for Contemporary Art), artist Callum Morton, Maudie Palmer (Heide Museum of Modern Art and TarraWarra Museum of Art), Jason Smith (Geelong Gallery), and Lara Nicholls.
Tognetti, Tchaikovsky, Brahms
In their first national tour of 2018, Artistic Director Richard Tognetti will lead the Australian Chamber Orchestra (ACO) in a program that pairs two nineteenth century giants, Tchaikovsky and Brahms, with two modern composers. Brooklyn-based composer Missy Mazzoli will present the world première of Dark with Excessive Bright, performed by ACO Principal Bass Maxime Bibeau, and UK/US composer Anna Clyne will present the Australian première of Prince of Clouds, performed by ACO violinists Ike See and Glenn Christensen. These new works will be paired with Tchaikovsky's serenade for Strings and Brahms's String Sextet No.2 (whose slow movement was memorably used in Louis Malle's film Les Amants).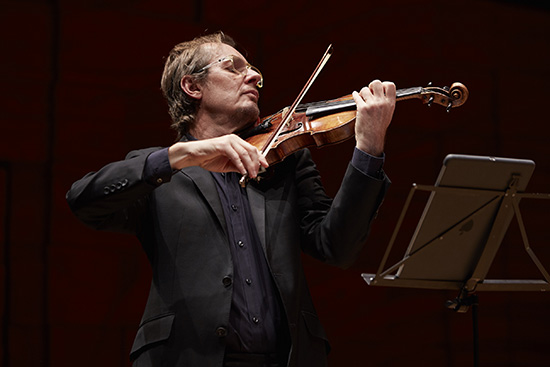 Richard Tognetti (photograph by Zan Wimberley)
Tognetti, Tchaikovsky, Brahms will tour Wollongong, Canberra, Melbourne, Adelaide, Sydney, and Brisbane on 1–16 February 2018.
Thanks to the Australian Chamber Orchestra, a new or renewing subscriber to ABR will receive a double pass to the recital at City Hall, Sydney on 10 February (7 pm). For more details on how to enter, see our giveaways section below.
The Ones at fortyfivedownstairs
As Thomas Bernhard said, 'Absurdity is the only way forward.' Join The Highly Strung Players for a rehearsed reading of the final three duologues in Peter Rose's work The Ones. This follows a highly successful performance of the first two duologues at fortyfivedownstairs in 2017. Peter Rose's two characters – married publishers – are back for more banter, flirtation and absurdist disquiet. Peter Rose and Francesca Sasnaitis will perform The Ones. This is a joint production with ABR and fortyfivedownstairs. Monday, 26 February at 6 pm, fortyfivedownstairs, 45 Flinders Lane, Melbourne.
For tickets, visit the fortyfivedownstairs website.
Susan Sarandon at Tropfest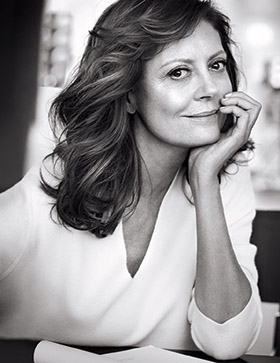 Susan Sarandon (photograph by Austin Hargrave)Academy Award-winning actress Susan Sarandon (most recently seen as Bette Davis in the FX series Feud: Bette and Joan) will head the 2018 Jury for the short film festival Tropfest.
'There is an enormous amount of film talent down under, so I'm looking forward to watching all of these amazing short films showcasing Australia's vibrant diversity,' said Susan Sarandon, who will take part in festivities in the week leading up to the Tropfest main event on Saturday 17 February. The ABC will broadcast the main event live on the ABC Comedy channel, which can be accessed via ABC iview, the ABC Comedy Facebook page, and the ABC Comedy YouTube channel globally.
MWFF
Tickets are now on sale for the Melbourne Women in Film Festival (MWFF). The festival, which includes over thirty films, including new releases, Australian screen classics, short films, as well as Q&As and panels, celebrates the work of women screen practitioners across all disciplines in the industry.
The MWFF program opens with the 1996 film Love Serenade, which was written and directed by Shirley Barrett, starred Miranda Otto, and featured an all-female creative team behind the scenes. Love Serenade won the Golden Camera at the 1996 Cannes Film Festival, and was nominated for two AFI Awards. Other films include Pretty Good Friends, written and directed by Sophie Townsend; emerging filmmaker Sophie Mathisen's crowdfunded début feature film, Drama; and the 2017 AACTA nominated film Don't Tell, directed by Tori Garrett and starring Jack Thompson and Rachel Griffiths.
The festival will run from 22–25 February 2018. For a full program, visit the MWFF website.
Perth Writers' Week
More than 100 international, national, and local writers will take part in the Perth Festival's Writers' Week. Highlights of Guest Curator Will Yeoman's program, which includes more than 160 events, are the pairing of Helen Garner and Kim Scott, a preview of Tim Winton's next novel The Shepherd's Hut, and a closing address by William Yang.
'Seeing art in a new light means finding new ways to talk and write about art, which is part of the art of story. What's new is the invitation to embrace mystery and play; to explore different spaces and levels of intimacy ... to see language in a new light,' said Will Yeoman.
Perth Festival Writers' Week will run from 19–25 February 2018. For a full program visit the Perth Festival website.
David Stavanger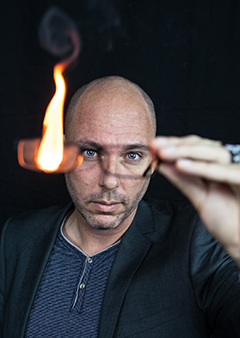 David Stavanger (photograph by Thomas Day)The Regional Resident of the Melbourne Visiting Poets Program for 2018 is poet, performer, and cultural producer David Stavanger. In 2013 David won the Arts Queensland Thomas Shapcott Poetry Prize, which resulted in the release of The Special (UQP), his first full-length collection of poetry which was also awarded the 2015 Wesley Michel Wright Poetry Prize. David was the Co-Director of the Queensland Poetry Festival (2015–17). He is also one of six poets featured in series two of ABR's States of Poetry Queensland anthology.
David, who will be visiting from his home in Myocum in northern New South Wales, will be working with the program to deliver a series of public activities in April. Past residents include Lionel Fogarty, Natalie Harkin, and Ellen van Neerven.
Melbourne Theatre Company's new major partner
Luxury adventure travel company Abercrombie & Kent will be Melbourne Theatre Company's new Opening Night Partner.
'When we talk to [our travellers] about the cultural experiences they value most, or how they would like to spend their time in Melbourne, MTC comes up again and again,' said A&K Managing Director Sujata Raman.
Abercrombie & Kent was the winner of two World Travel Awards in 2017: World's Leading Tour Operator and World's Leading Luxury Safari Company. The three-year partnership will be officially launched at the opening night of MTC's Abigail's Party in March.
Giveaways
Tognetti, Tchaikovsky, Brahms
Artistic Director Richard Tognetti will lead the Australian Chamber Orchestra (ACO) in a program that pairs Tchaikovsky and Brahms with modern composers. Thanks to the Australian Chamber Orchestra, a new or renewing subscriber to ABR will receive a double pass to the recital at 7 pm on Saturday 10 February 2018 at City Recital Hall, 2–12 Angel Place, Sydney.
Picnic at Hanging Rock (Malthouse Theatre)
In 1900 three Australia schoolgirls escaped their teacher's watchful gaze and headed towards the enigmatic Hanging Rock – never to be seen again. In Tom Wright's adaptation of Joan Lindsay's 1967 novel, 'five performers struggle to solve the mystery of the missing girls and their teacher ... Euphoria and terror reverberate through Appleyard College as the potential for history to repeat itself becomes nightmarishly real.' Two new or renewing subscribers to ABR will win a double pass to Picnic at Hanging Rock at 7.30 pm on Saturday 10 February 2018 at the Merlyn Theatre, Malthouse Theatre, 113 Sturt St, Southbank, Victoria.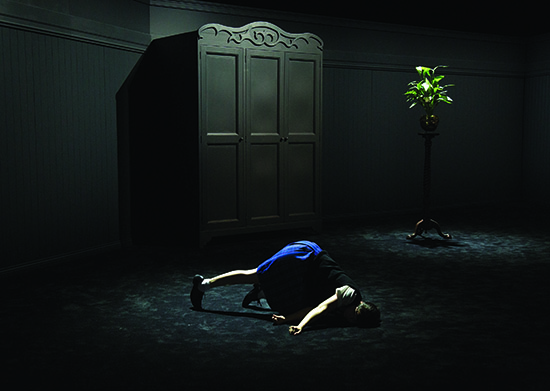 Picnic at Hanging Rock (photograph by Pia Johnson)
Winchester (StudioCanal)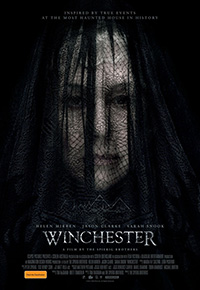 Thanks to StudioCanal, ten new or renewing subscribers to ABR will receive double passes to the film Winchester, inspired by true events at the most haunted house in history. Winchester is directed by Michael Spierig and Peter Spierig, and stars Helen Mirren (in cinemas 22 February 2018)
To be eligible for these giveaways, you must be a current or new paid subscriber to the print edition of ABR or to ABR Online. To be in the running please email Grace Chang at This email address is being protected from spambots. You need JavaScript enabled to view it. with your full name and contact details. Preference is given to subscribers who have not received a giveaway in recent months.