Gay theatre, or at least identifiably queer theatre, has never had much of a presence in Australia; most of what we consider canonical has come from overseas. The Elizabethan stage had Marlowe's Edward II and Shakespeare had two characters named Antonio, in Twelfth Night and The Merchant of Venice, who are fairly obviously queer. Since then, most quintessentially gay theatre has come from the United States. Tennessee Williams perfected the unspoken queer subtext, often tying himself in knots to speak clearly what remained unspeakable. But it took Tony Kushner to produce the first openly gay theatrical masterpiece in the two-part Angels in America (1991–92). Anyone who caught last year's production of Angels at fortyfivedownstairs will know just how vital and electrifying the piece remains as a touchstone of gay representation on stage.
Cameron Lukey, who produced that version, returns to this space for another revival, Australian playwright Tommy Murphy's Strangers in Between, first seen at Griffin in 2005. Murphy is best known as the adaptor of Timothy Conigrave's memoir Holding the Man (1995), both for stage (2006) and screen (2015). Strangers in Between draws heavily on Murphy's own experiences when he moved from a country town to the big smoke (Sydney's King's Cross). His main character is Shane (Will King), an impossibly innocent young gay man who has ostensibly run away from home, but manages to set himself up in an apartment and is working at the local bottle-O. On his opening shift he meets Will (Guy Simon) and Peter (Simon Burke); one is sexy and a potential partner; the other is older, and anything but.
The play riffs hard on the theme of intimacy, depicting Shane's burgeoning relationship with Will as a delicate manoeuvre, a push me–pull me dance of intention that leads inevitably to sex but not necessarily to anything deeper. Shane's relationship with Peter is similarly unsettled and multi-layered; a platonic mentoring dynamic is complicated by an underlining desperation at the heart of these two characters, as if a longing for connection can only be understood as a physical manifestation of desire. A scene where the sixteen-year-old boy almost has sex with the fifty-something older man is beautifully realised, neither prurient nor judgemental. It's an admirable trait from a playwright who refuses to stoop to stereotype.
The second act sees Shane's older brother Ben (Guy Simon again) turn up unannounced, suggesting violence but also the possibility of redemption and a return to the family fold. It's here that the play takes a rather severe dramatic turn, and feels in danger of losing itself to competing ideologies. Sexual abuse, suicide, and sibling assault are such intense and complex issues that they have a tendency to overwhelm the play's central theme, or at least bend it beyond recognition. The fact that director Daniel Lammin has cast Simon as Shane's lover and brother only muddies the waters further; it is hard to separate the playwright's intentions from the production's, given the labyrinthine connotations involved. It also turns an unwanted spotlight on the deficiencies in the character of Will, who is reduced to little more than a sounding board as the play progresses.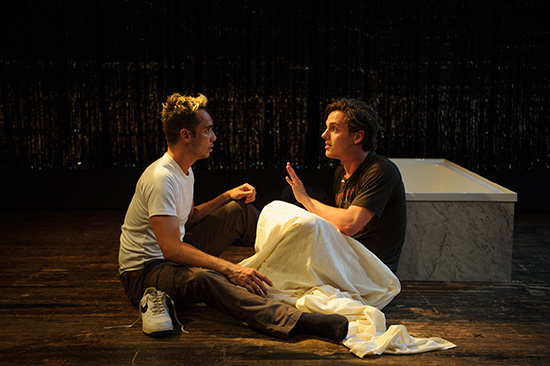 Guy Simon and Will King in Strangers in Between (photograph by Sarah Walker)
Lammin has a clear affinity with this play, and has wisely decided to strip it of its set and most of its stage business in order to concentrate on the performances. The actors don't let him down. Burke is a sheer delight as the mature gay man who has seen it all before and wants nothing more than to share his wisdom. Simon manages the tricky balancing act of desire and repression that is Will and Ben with ease, filling out the underwritten part of the brother without losing the pained ambivalence of the lover. King is the heart of the piece though, and if he overdoes the wide-eyed innocence – at his most naïve, he resembles nothing less than a Thunderbirds puppet – he handles the character's abrupt shifts into rage and resentment with admirable confidence. King is an actor to watch.
Technically, the production is uneven. The set (Abbie Lea Hough) consists of a shimmering plastic curtain that conjures the dirty glamour of King's Cross, and the lighting (Rob Sowinski) explicitly evokes the play's setting with a giant Coke sign glimpsed throughout. Lammin has stripped back the scenic design, but the bath in the centre that only comes into play in the final scene feels rather superfluous, awkward, and under-utilised. The static blocking doesn't help, either; this quiet play needs more dynamism than it receives here.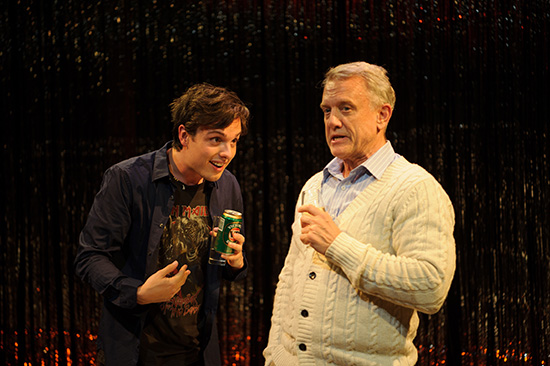 Will King and Simon Burke in Strangers in Between (photograph by Sarah Walker)
Lukey's pairing of director Gary Abrahams, one of the strongest text-based directors in the country, with the dazzling scope and intellectual heft of Kushner's play was inspired. His pairing of the emerging Lammin with an Australian playwright's early work is perhaps more admirable than effective. Murphy's focus is narrow and rather dated: a young man moving to Sydney is brought down by sexually transmitted warts in a play that never once mentions HIV. Written in 2004, this gay play often feels as if it could have been written in the 1950s. If we are hoping for the kind of searing devastation that the queer American playwrights brought to their work, we should be looking for more ambition and anger than can be found here. Though by no means bad, Strangers in Between is hardly a gay fantasia on national themes.
Strangers in Between (fortyfivedownstairs), written by Tommy Murphy and directed by Daniel Lammin, continues until 11 February 2018. Performance attended: 25 January.
ABR Arts is generously supported by The Ian Potter Foundation and the ABR Patrons.