Who knows why, but there have been at least three films in recent months focusing on the Dunkirk evacuation: Lone Scherfig's Their Finest, Christopher Nolan's magisterial Dunkirk. and now Joe Wright's Darkest Hour. Unsurprisingly in view of this, we have also seen a lot of Winston Churchill on our screens. It is a role that attracts formidable acting talents. Wright's film juggles the personal and the political with some skill. His Churchill is concerned to fight to the end, with his eye on victory rather than peace, and this might be said of his dealings with colleagues as well as with the enemy.
Darkest Hour is necessarily talky. This is not essentially an action piece, or at least not the kind of action which might have been suggested by the opening black-and-white images of military men and ammunition. Much of the film's drama is in the talk, which will inevitably makes its way via 'toil, tears and sweat' to the ultimate 'We shall fight them on the beaches' and so on, until 'We shall never surrender'. But it works more subtly than this might suggest. Much of the talk is about matters that require argument: for example, the deposing of Neville Chamberlain following his misplaced appeasement venture and bringing Churchill on in the wake of this; or dealing with the idea of Italian mediation between Britain and Germany; or in the actuality of preparing for the Dunkirk rescue operation and how the situation in France has determined this.
So, there will be masses of debate, in and out of Parliament. But Joe Wright is not the sort of director who will allow all this to degenerate into a long dull series of speeches and conversations; rather, he makes drama of these. His film also avoids any sense of merely re-ploughing familiar ground. Those familiar with his adaptations of Pride and Prejudice (2005), Atonement (2007), and Anna Karenina (2012) can testify to his capacity for quite daring transformation of revered works. We may feel we know enough about Dunkirk, but, working from Anthony McCarten's screenplay, he makes us privy to the machinations of getting Churchill into place so that the evacuation can be effected. In doing so, and in this 'darkest hour' there is still scope for touches of humour, as when Churchill toasts to 'Not buggering up!', as he raises his ever-present whisky glass. He even allows Churchill, when an issue relating to the 'Privy Seal' is spoken of, to reply that, at the moment, he is 'sealed in the privy'. It's not Congreve, but it seems to belong to the irascible protagonist.
The film achieves for the most part a satisfying balance between the depiction of Churchill and of the larger affairs of dangerous times. Wright registers the initial precariousness of Churchill's situation: Parliament may have felt an urgent need to be rid of Chamberlain's leadership, but there is by no means universal or exuberant welcome for Churchill as his replacement. His party realises that he is 'the only one the opposition will accept'. The shadow of his role in the Gallipoli disaster, twenty-four years earlier, still hangs over him, and it requires of him more patience than comes naturally to him in dealing with an even more precarious situation: that of British troops' being encircled by German forces bent on pushing them to the French coast. In Gary Oldman's brilliant incarnation of the man, we are constantly aware of the tensions operating between these two situations – Churchill's and the nation's.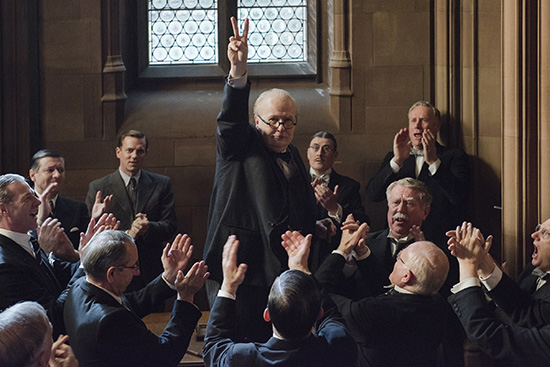 Gary Oldman as Winston Churchill in Darkest Hour (Universal Pictures)
As to personal relations, Wright brings perception and wit to the varying kinds of rapport – or non-rapport – Churchill achieves. Having decided that the film has to be more than just a matter of political manoeuvrings, he has cast his film carefully so as to create a fuller understanding of Churchill's behaviour in what is for the nation, even for Europe at large, a perilous time. With Kristin Scott Thomas's elegant Clemmie, he enjoys an often humorous bantering that can lead to a shouting match on occasion. Scott Thomas and Oldman imbue their scenes together with warmth and appropriate sense of long-standing interdependence. Even more dramatically effective is his relationship with George VI, the latter superbly evoked in a career-best performance from Ben Mendelsohn, almost the last actor I would have expected to fetch up in this role. He maintains, in physical bearing and vocal delivery, an uncanny resemblance to the real thing, without resorting to mere impersonation. A different sort of interpersonal connection is that between Churchill and Lord Halifax, played with unflinching disapproval by Stephen Dillane, speech impediment and all (has a single film ever included more of them?). In fact, the cast is studded with some of Britain's finest, including Ronald Pickup as a frayed-looking Chamberlain and Samuel West as a dependable Anthony Eden, and there is an engaging rendering of Churchill's sometimes-bullied amanuensis, Elizabeth Layton, from Lily James.
Darkest Hour doesn't go in for large-scale action episodes. It's not that Wright couldn't handle these, as his memorable tracking-shot version of Dunkirk in Atonement showed. Much of the film is taken up with dialogues in settings either parliamentary or domestic, but there are still moments of visually striking awareness of the larger picture. There are a hauntingly evoked sequence of people walking bleakly through London's sandbagged streets, a majestic shot of the boats headed for France against the background of the Dover cliffs, and a deservedly triumphant moment as Parliament rises to its feet to acknowledge what has been achieved at Dunkirk.
In Oldman's Oscar-worthy incarnation of the man, we can accept the accolade on which the film ends: 'He's mobilised the English language and sent it into battle.'
Darkest Hour (Universal Pictures), 125 minutes, directed by Joe Wright, in cinemas 11 January 2018.
ABR Arts is generously supported by The Ian Potter Foundation and the ABR Patrons.