Advances
The Update - December 5, 2017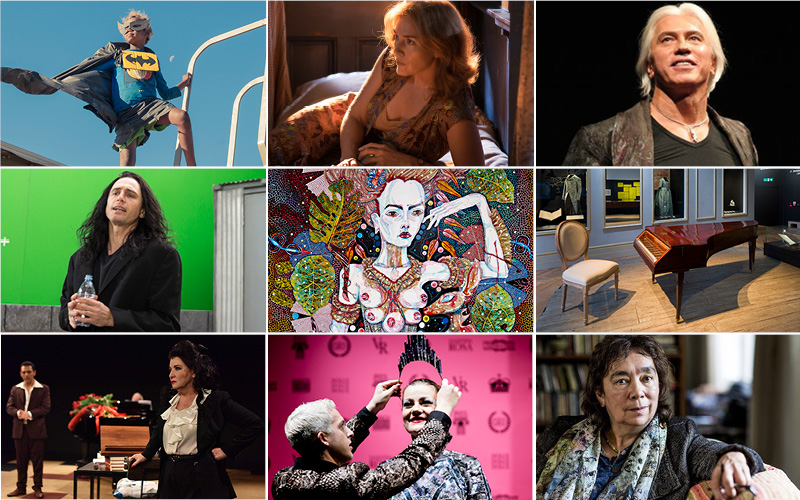 Recent ABR Arts reviews
Vale Dmitri Hvorostovsky (1962–2017)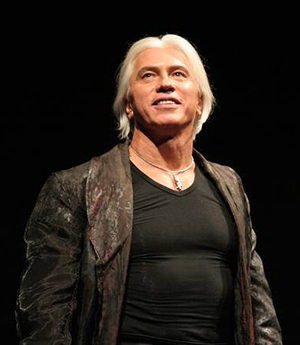 Dmitri Hvorostovsky (Flickr)Dmitri Hvorostovsky, one of the world's greatest baritones, has died at the age of fifty-five after a two-year battle with brain cancer. Hvorostovsky came to international prominence in 1989 when he won the BBC Cardiff Singer of the World competition (besting Bryn Terfel in the final round). His greatest roles included Don Giovanni, Eugene Onegin, Germont, Rigoletto, and the Count di Luna. He toured Australia memorably in 2006. He was a magnificent Verdian and a great exponent of Russian songs. Over twenty-three years he gave 180 performances at the Metropolitan Opera. His final appearance was in May 2017 when, though visibly unsteady, he sang Rigoletto's 'Cortigiani, vil razza dannata' at a gala concert, drawing a huge ovation.
The Met suspends James Levine
James Levine, another stalwart of the Metropolitan Opera – perhaps its most important artist in the past four decades – has been suspended by the company following multiple allegations of sexual abuse. Four men have now accused Levin of molestation in the 1960s, 1970s, and 1980s. Maestro Levine has long been the subject of rumours, and the Met was alerted to a police investigation in 2016. Levin led 2,500 performances at the Met and was music director from 1976 to 2016.
Queensland Theatre's record-breaking season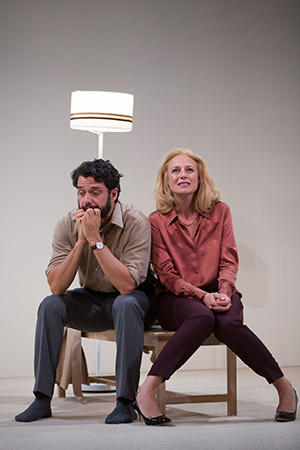 Ben Winspear and Marta Dusseldorp in Queensland Theatre's Scenes from a Marriage (photograph by Rob Maccol)
2017 was a particularly good year for Queensland Theatre. 'We've created our highest selling show ever in Brisbane [Scenes from a Marriage], our highest selling year ever in the history of the company, and the highest number of subscribers in twenty years,' said Sam Strong, who has completed his first year as QT's Artistic Director.
Queensland Theatre's 2018 season includes Kate Mulvany's adaptation of Craig Silvey's 2009 novel Jasper Jones, Nakkiah Lui's Black is the New White, and a production of Twelfth Night featuring original songs by Tim Finn.
LPA Centenary Awards
To mark its centenary, Live Performance Australia (LPA) has awarded 2017 Centenary Awards to ten Australian arts leaders at a ceremony at the Sydney Opera House on 1 December. As part of the Helpmann Awards, LPA presents The J.C. Williamson Award for five performers who have made a significant contribution to live entertainment in Australia, and the Sue Nattrass Award, which recognises the contribution of five arts administrators and technicians.
The winners of the the J.C. Williamson Award are: ABR Laureate Robyn Archer, Reg Livermore, Robyn Nevin, Archie Roach, and Jim Sharman. The winners of the Sue Nattrass Award are: Carrillo Gantner, Ian McRae, Rhoda Roberts, Susan Provan, and Frank Van Straten.
Terror Nullius
The Australian Centre for the Moving Image (ACMI) and the Ian Potter Cultural Trust will present the world première of Terror Nullius, a moving image work by art collective Soda_Jerk.
'Terror Nullius is a sample-based film which reconstructs Australian cinema to create a political revenge fable in three acts. It is our un-writing of Australian mythology ... It's arthouse meets grindhouse,' commented Soda_Jerk.
Terror Nullius is the third Ian Potter Moving Image Commission (IPMIC), a ten-year program which provides $100,000 for the creation of new works by mid-career Australian artists. The film will be showing from 20 March to 1 July 2018.
Prime Minister's Literary Awards 2017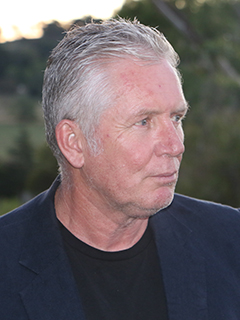 Anthony Lawrence (photograph by Julie Manning)Anthony Lawrence, winner of ABR's 2010 Peter Porter Poetry Prize and runner-up in the 2016 Elizabeth Jolley Story Prize, is among a number of winners in this year's Prime Minister's Literary Awards. Lawrence's Headwaters (Pitt Street Poetry) won the prize for Poetry. Other winners included Ryan O'Neill's Their Brilliant Careers (Fiction), Atomic Thunder: The Maralinga story by Elizabeth Tynan (Australian History), and Quicksilver by Nicolas Rothwell (Nonfiction).
The winners were announced at a ceremony in Canberra on 1 December, and will each receive $80,000.
Copyright Agency First Nations Fellowships at Varuna
A new program of fellowships developed by the National Writers' House Varuna, Magabala Books, Sydney University, and the Copyright Agency's Cultural Fund, have opened for Indigenous writers.
Thanks to a $30,000 grant from the Eleanor Dark Foundation over three years, both unpublished and published Indigenous writers are invited to apply for a one-week residency at Varuna, set in the Blue Mountains of New South Wales. Each residency includes full board and accommodation, a room and writing studio for each writer, and all travel expenses to and from Varuna.
'Indigenous writing is important because we are the original storytellers for this country ... we would like to continue with our practices in an environment that will help support and nurture creativity,' said Rachel Bin Salleh, Publisher at Magabala Books.
For more information, visit the Varuna website. Applications close on 15 December 2017.
Picnic at Hanging Rock at the Barbican
London's Barbican Theatre will present Malthouse Theatre and Black Swan Theatre Company's production of Picnic at Hanging Rock, directed by The Malthouse's Matthew Lutton. It follows a run in Melbourne in 2016 (reviewed by Tim Byrne in ABR Arts) and Edinburgh's Lyceum Theatre in January.
Matthew Lutton's Picnic at Hanging Rock is a retelling of Joan Lindsay's 1967 novel. Marguerite Johnson's ABR Gender Fellowship essay examines the novel fifty years after its publication, drawing in studies of gender, sexuality and Classics. It was published in the December 2017 issue of Australian Book Review.
Dark and Dangerous Thoughts
Hobart's Museum of Old and New Art (MONA) has announced 'Dark and Dangerous Thoughts' (DDT) a new showcase of 'literature, film, and ideas' for Dark Mofo, its annual winter solstice festival. DDT's incoming Program Director will be Laura Kroetsch, a former director of Adelaide Writers' Week.
"We'll be looking at a broad range of issues, but it's unlikely we'll stray too far from the core themes of fucking and killing,' said Dark Mofo Director Leigh Carmichael of DDT's ideas for discussion.
The line-up for DDT will be announced in April 2018, along with the Dark Mofo program. Dark Mofo 2017 was reviewed by Dilan Gunawardana for ABR Arts.
Alexis Wright
Award-winning novelist Alexis Wright has been appointed as the Boisbouvier Chair in Australian Literature at the University of Melbourne.
'I hope that I can do some justice to the position by sharing my experience, knowledge, and vision as a practising writer of over thirty years,' said Alexis Wright, whose 2006 novel Carpentaria won the 2007 Miles Franklin Award.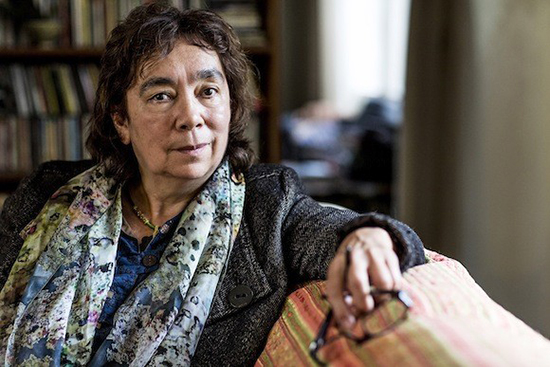 Alexis Wright (photograph by Vincent Long)
The Boisbouvier Chair in Australian Literature was established in 2015 thanks to a $5 million gift from John Wylie AM and Myriam Boisbouvier-Wylie. Richard Flanagan was the inaugural chair in 2015.
Giveaways
Thanks to Melbourne Theatre Company, two new or renewing subscribers will receive double passes to Masterclass on its opening night at 7.30 pm on Saturday 6 January 2018.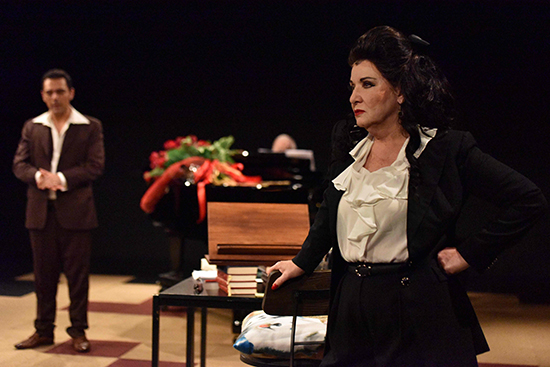 Amanda Muggleton in Masterclass (photograph by Kate Ferguson)
This month, thanks to Entertainment One, we have five double passes to Wonder Wheel, starring Kate Winslet and Justin Timberlake (in cinemas 7 December) for new or renewing subscribers. We also have ten double passes to The Secret Scripture, starring Rooney Mara and Eric Bana (Transmission Films, 7 December), and five double passes to Breathe starring Claire Foy and Andrew Garfield (Transmission Films, 26 December).
To be eligible for these giveaways, you must be a current or new paid subscriber to the print edition of ABR or to ABR Online. To be in the running please email Grace Chang at This email address is being protected from spambots. You need JavaScript enabled to view it. with your full name and contact details. Preference is given to subscribers who have not received a giveaway in recent months.