Advances
The Update - March 14, 2017
Marten Bequest Scholarships - $600,000 in total
The Marten Bequest Scholarships for young emerging Australian artists – created in 1975 – have come a long way. Until recently they were worth $20,000 each. Now, thanks to a new three-year partnership between the Australia Council for the Arts and Perpetual, twelve scholarships, each worth $50,000, will be offered to successful artists across music, dance, visual arts, theatre, literature, and architecture.
The charitable trust is the enlightened legacy of John Chisholm Marten (1908–66), an author, performing artist, and philanthropist. Previous recipients have included Tim Winton, Delia Falconer, Judith Bishop, and Sarah Holland-Batt.
Tony Grybowski, CEO of the Australia Council, has welcomed the new partnership with Perpetual, which will provide further means for 'Australian artists to explore collaboration, build networks and develop their practice'. Applications close on Monday 10 April 2017. More information can be found on The Australia Council's website.
The Faith Healer
It's a bumper time for fine, searching theatre, as shown in recent editions of ABR Arts, with reviews of new productions from our major state theatre companies and from Bell Shakespeare. Fittingly, the Melbourne Theatre Company is currently presenting Judy Davis's production of Brian Friel's The Faith Healer, first seen at Belvoir St Theatre in October 2016.
Friel's play, first seen in 1979, comprises four long searing yet often very funny monologues. It calls for bravura acting from the three players, and that is what we saw on opening night (9 March). Colin Friels and Alison Whyte – both in magnificent form – return as Frank and Grace; Paul Blackwell replaces Pip Miller as the long-suffering Teddy.
Read Ian Dickson's review of the Belvoir St Theatre season.
Bill Henson at the NGV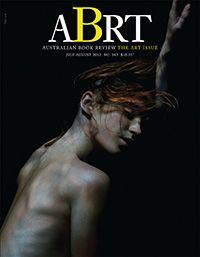 ABR July–August 2012Bill Henson was only nineteen when the National Gallery of Victoria mounted his first solo exhibition in 1975. Forty-two years later, his new exhibition at the NGV International is part of the inaugural National Gallery of Victoria's Festival of Photography (10 March–27 August 2017). It replaces the usual salon-style display usually found in that room. Henson has selected twenty-three works created between 2008 and 2011, encompassing his ever-enigmatic 'portraits, nudes, museum interiors, and landscapes'. As you would expect from this perfectionist, it is beautifully displayed.
The NGV Festival of Photography will also include solo exhibitions by William Eggleston, Zoë Croggon, and Ross Coulter. It will also feature new and recent acquisitions of international and Australian photographers, including Sophie Calle, Polly Borland, and Thomas Demand.
The Balnaves Award
Belvoir St Theatre is seeking applications for the Balnaves Foundation Indigenous Playwright's Award. This prestigious award, now in its sixth year, is open nationally to writers of Aboriginal or Torres Strait Islander descent. The $25,000 award includes a $15,000 commission for a new play and a cash prize of $10,000.
Last year's winner was actor, writer, and singer Ursula Yovich, who was commissioned to write a play that 'touches on traditions and rituals in Indigenous culture that are little known to the non-Indigenous community'. The inaugural recipient of the Balnaves Award was Nakkiah Lui, whose new show Kiki & Kitty has been given the green light by the ABC, Screen Australia, and Porchlight Films, and will commence filming soon, in Sydney.
For more information on the Balnaves Award, visit the Belvoir St Theatre website.
Art for Epilepsy
Bidding for Epilepsy Action Australia's online auction, 'Art for Epilepsy', will be closing at on Sunday, 26 March 2017 (International Epilepsy Awareness Day). More than 160 emerging and prominent artists have contributed original works of art – all featuring the designated colour purple for epilepsy awareness – that include 'water colours, abstracts, and illustrations'.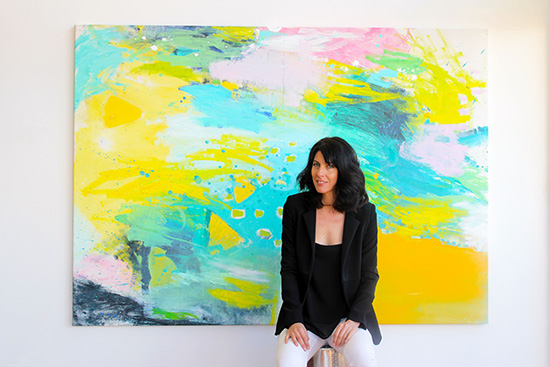 Mia Oatley
'I've lived with epilepsy myself for over twenty years,' said Sydney Artist Mia Oatley, an ambassador for Epilepsy Action Australia, 'it's so important that we share our stories and help to break down some of those really frustrating misconceptions about the condition.'
All proceeds from the auction will go towards the delivery of programs and services by Epilepsy Action Australia. For more information, visit the Art for Epilepsy website.
Castlemaine State Festival
This year's Castlemaine State Festival, one of Victoria's many regional arts festival', will be launched on 17 March 2017 with The Future of Things Past, an opening night 'spectacular' featuring more than 200 performers, including 'acrobats, dancers, robots, clowns, and brass bands'. Among music, theatre, film, and visual art will be literary talks by Fiona Parker, Michelle Smith, and Tony Wilson on the novels of Harper Lee; and Andrew Long, Trace Balla, and Christie Nieman on writing the Australian landscape.
The festival runs until 26 March.
Giveaway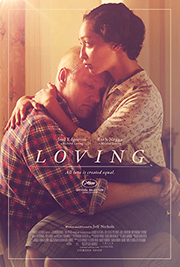 This month, thanks to Entertainment One, five new or renewing subscribers will receive double passes to Loving starring Ruth Negga and Joel Edgerton. In cinemas 16 March.
To be eligible for this giveaway you must be a current or new paid subscriber to the print edition of ABR or to ABR Online. To be in the running please email Grace Chang at This email address is being protected from spambots. You need JavaScript enabled to view it. with your full name and contact details. Preference is given to subscribers who have not received a giveaway in recent months.