Music
Judas Maccabæus (St. George's Cathedral Consort)
Airings of Handel's Judas Maccabaeus are now so rare it is easy to forget that it was, in the composer's day and along with Messiah and perhaps Samson, among his most frequently performed oratorios. Nobody present at this electrifying account by a stellar quartet of soloists, the St George's Cathedral Consort, and The Musicians' Table orchestra under the direction of Joseph Nolan would have been left doubting it deserves to regain its former popularity.
Handel wrote Judas Maccabaeus in 1746 in praise of Prince William, duke of Cumberland, who had led the Hanoverian armies to victory over the Jacobite rebels at the Battle of Culloden in April that year. Reverend Thomas Morell's libretto, which draws largely on I Maccabees, recounts the people of Judea's struggle, after the death of their rebellious priest Mattathias and the assumed leadership of the latter's son Judas, to throw off the yoke of the Seleucid Empire's occupying forces. Judas Maccabaeus received its first performance on 1 April 1747 at Covent Garden and was an immediate success.
After the customary French overture, the oratorio's three parts move swiftly through various combinations of recitative, aria, duet and chorus from the people's mourning Mattathias' death and his sons Simon and Judas' successful attempts to rally them (Act One), through victory then despondency as the Seleucids swear revenge (Act Two), to further victories and an offer from Rome of an alliance against the Seleucids which will ensure a lasting peace (Act Three).
There are four vocal soloists and SATB choir. On this occasion, soprano Sara Macliver sang the role of Israelitish Woman; mezzo Fiona Campbell, Israelitish Man and First Messenger; tenor Richard Butler, Judas; baritone Andrew Foote, Simon and Second Messenger; the St George's Cathedral Consort, the Chorus of Israelites and, during the famous chorus 'See the conqu'ring hero comes', the Chorus of Youths and Chorus of Virgins.
The instrumental scoring is a rich one, with recorders, flutes, trumpets, horns and timpani complementing the core strings, oboes, bassoon and keyboard continuo (harpsichord and organ). Here, recorders were omitted and mostly modern instruments were used throughout. The majority of the members of The Musicians' Table, led by the superb violinist Paul Wright, are drawn from the West Australian Symphony Orchestra.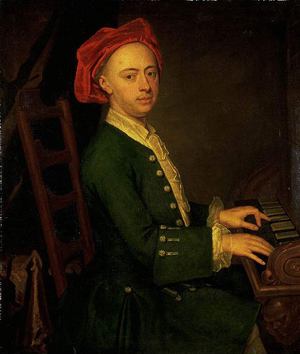 The Chandos Portrait of Georg Friedrich Händel (artist unknown, Händel House via Wikimedia Commons)
A former student of Marie-Claire Alain and Gillian Weir and an internationally acclaimed recording artist, the English-born Joseph Nolan was made Organist and Master of the Choristers at St George's Cathedral in 2008. Since then he has set about transforming an already fine medium-sized mixed-voice choir into an exceptional one. So it came as no surprise that The St George's Cathedral Consort was real star of this concert.
This was as evident in the supple handling of the ascending and descending scales with which Handel paints the words 'Resolv'd on conquest, or a glorious fall' in Act Two's final chorus 'Hear us, O Lord' as it was in the crisp ferocity and nuanced dynamic shading in the following chorus 'Fall'n is the foe'. And while Act Three's 'See the conqu'ring hero comes' was even more of an astonishing set-piece for the luminous transparency of the female voices combining with the boy trebles who joined the consort just for this moment, the final blazing chorus 'Rejoice, O Judah' with its refulgent 'Hallelujah! Amen' seemed, thanks to Nolan's overarching conception, like some kind of angelic peroration of all that had gone before.
Of the soloists, Sara Macliver was the most consistently satisfying. Hers is a light, agile soprano with a fairly rapid, unobtrusive vibrato; this, combined with considerable dramatic gifts and a flair for that extempore ornamentation so essential to Handel's da capo arias made, to take but one example, the fioriturae of 'So shall the lute and harp awake' so much more integral to the word-painting and less surface decoration.
Fiona Campbell is an intelligent artist with a broad dramatic range, but along with a rich, powerful, multi-hued mezzo she has a fairly wide vibrato which she seemed on this occasion unable to rein in and apply, in good baroque style, with discretion. Having said that, her 'Father of Heav'n! From Thy eternal Throne' was one of the highlights of the evening, as lovely and expressive an account as one could wish for, as was her duet with Macliver, 'O lovely peace, with plenty crown'd', which boasted the additional attraction of Andrew Nicholson and Georgia Lane's pastoral flutes.
'He has set about transforming an already fine medium-sized mixed-voice choir into an exceptional one'
Sydney-based English singer Richard Butler as Judas negotiated Handel's fiendishly fast runs and leaps with frightening accuracy; though his is a light tenor and I am not certain it possesses the heroic qualities necessary for this role; in addition, he often seemed vocally insecure, as though labouring under a cold. Only in his Act Three air 'With honour let desert be crown'd' did he seem finally to rally and turn out a performance as riveting as it was astonishing in its brilliance.
Although having less to do than the other three soloists, Perth baritone Andrew Foote brought great dignity and presence to the role of Simon, with the richness of tone and clarity of diction in 'The Lord worketh wonders' typical of all his contributions.
Throughout, the orchestra, supported by Stewart Smith on organ and harpsichord, responded to Nolan's vigorous, precise direction with gusto and brilliance. At the risk of seeming invidious, I especially enjoyed oboists Leanne Glover and Stephanie Nicholls's playing.
Many commentators cite Judas Maccabaeus's lack of action and narrative drive as reasons for its fall in popularity since Handel's time. This utterly compelling performance demonstrates that the fault lies not in the work but in a paucity of imagination on the part of certain performers and listeners – among whom, it is needless to say, Nolan is not.
Judas Maccabæus, St George's Cathedral, Perth, 8 December 2015.
Arts Update is generously supported by The Ian Potter Foundation.