It was a bold move by Stonnington Jazz to program an all-female/non-binary performance for the Festival's opening concert: War Cry. Jazz, like much else, has come in for its fair share of criticism in the #MeToo era, its historical icons – bar a few exceptions – made up mostly of male musicians. The issue was highlighted during the recent International Jazz Day Global Concert held in Melbourne, which, aside from singers, featured only one female instrumentalist amongst the forty or so musicians appearing. If it were just a numbers game, a case of positive affirmation, there would be room for debate. But the fact is, there is a wealth of female jazz artistry in this country – from elders like Sandy Evans, to mid-career artists like Andrea Keller, to emerging talents like Cheryl Durongpisitkul. Henceforth, festival programmers who ignore this issue will do so at their own peril.
War Cry is a new work, commissioned by the Festival, that paired six singers with a sextet of young musicians in a program that embraced jazz, blues, soul, funk, rap, and spoken word. Combining original songs, as well as celebrations of politically motivated artists like Nina Simone and Abbey Lincoln, it took the form of a set of powerful statements, by turn political, angry, and loving, that literally shook the house. Highlights included Rita Satch's searing cover of Gregory Porter's modern classic '1960, What?'; Odette Mercy's upbeat take on Nina Simone's 'Ain't Got No, I Got life', a late-sixties freedom song that Simone carved from several innocuous pieces from the musical Hair; Indigenous rapper Racerage's strident 'Black Girl Magic'; and Michelle Nicole's virtuosic rendering of Abbey Lincoln's 'The Music is the Magic'. Even the ensemble's all-in finale of Shane Howard's 'Solid Rock', performed before a projected image of Uluru, managed to sidestep obvious clichés, delivering instead a rousing Australian anthem that united both performers and audience alike.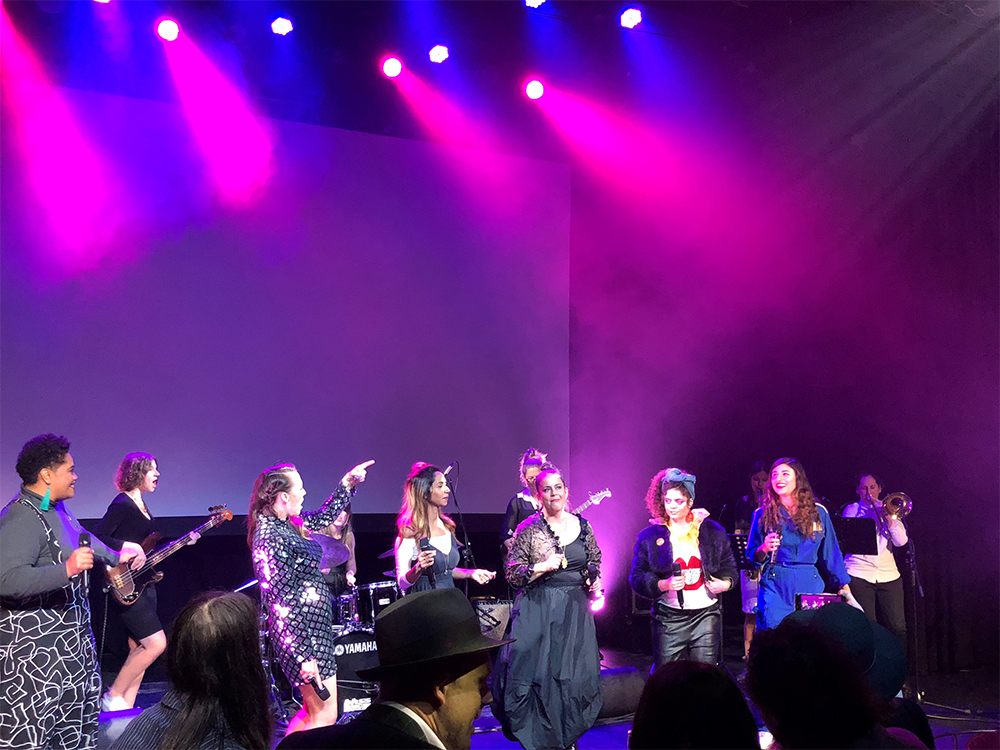 War Cry (photograph by Susan Millard)
While this year's Stonnington Festival programmed a range of community events, its true heart lay in a series of performances, held at Chapel Off Chapel, by mid-career and emerging musicians and composers. Chief among these was the Australian première, performed by the Australian Art Orchestra (AAO), of Peter Knight's The Plains, inspired by the Gerald Murnane novel. It has been fascinating, in recent years, to observe the way Knight has forged the AAO into a very different ensemble since taking over as artistic director from founder Paul Grabowsky in 2013. Gone are the gargantuan large-scale works like Passion or Into the Fire, replaced by an emphasis on smaller works that stress innovation, electronics, and a tightly knit unison. If anything, the current AAO is reminiscent of the late Pierre Boulez's Ensemble InterContemporain, which was dedicated, laboratory-like, to the development of new chamber works.
For this performance, the AAO reprised two compositions premièred at last year's Wangaratta Festival of Jazz & Blues: Andrea Keller's exquisite 'Hurry Slowly II' and Knight's 'Sharp Folds'. Sandwiched between these was Knight's twenty-five-minute work The Plains, which endeavoured to render into music the enigmatic qualities of Murnane's prose. The piece was structured as a single arc, its lines and figures incrementally building to form mesmerising patterns that strove for a musical equivalence to Murnane's sparse landscapes. Andrea Keller's piano set up repetitive motifs, Tilman Robinson's electronics evoked short-wave radio, while Aviva Endean's bass clarinet and James Macaulay's trombone brooded and worried persistently. The glue that bound this performance was Simon Barker's inventive percussion, always ahead of or behind the beat, intentionally de-stabilising the more formal and rigid qualities of the composition. Toward the end, Georgie Darvidis's voice intoned lines from Murnane's book: 'Anyone surrounded from childhood by an abundance of level land must dream alternately of exploring two landscapes – one continually visible but never accessible and the other always invisible even though one crossed and recrossed it daily.' The AAO's performance of these recent works, composed and developed specifically for this ensemble, proved a highlight of the Festival.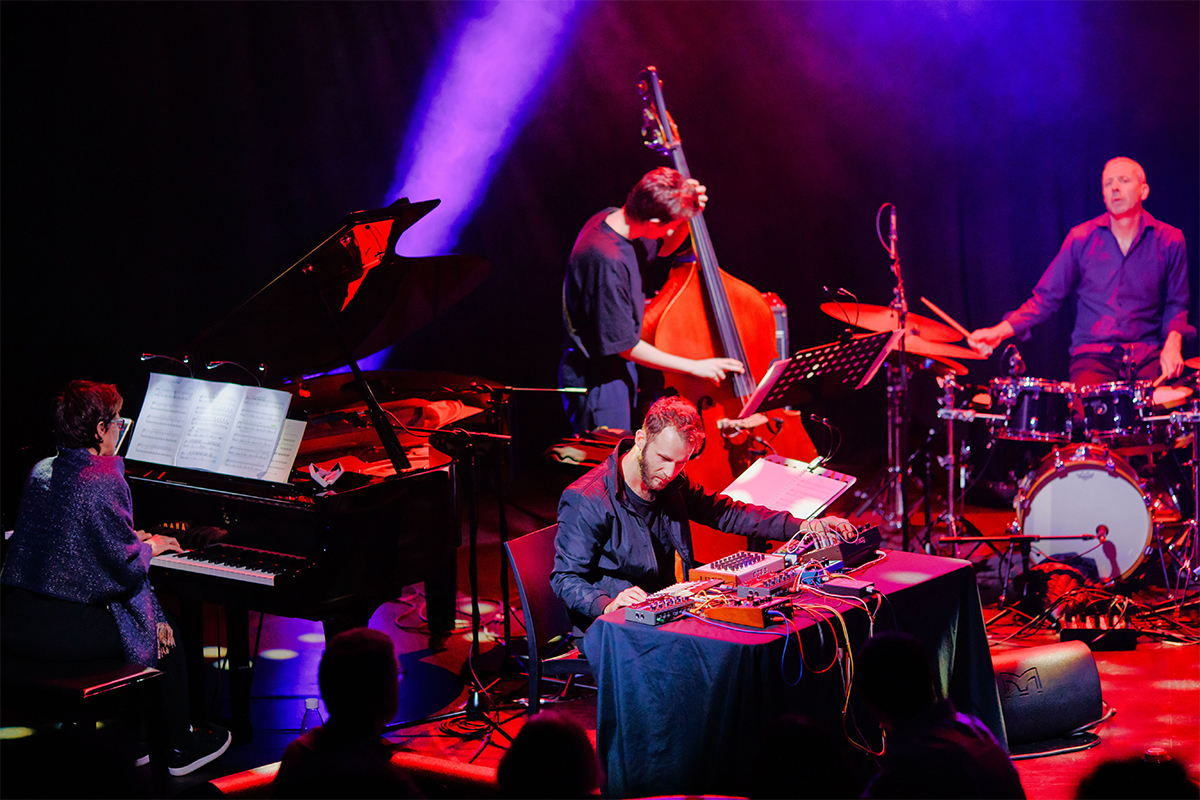 Image of Australian Art Orchestra (photograph by Tim Burgess)
Increasingly in recent years, Australian jazz composers have tended toward ambitious long form works, such as Andrea Keller's Still Night: Music in Poetry (2016) or Paul Grabowsky's Moons of Jupiter (2018). Pianist and composer Barney McAll has been an integral part of this vanguard. For his Stonnington appearance, he was scheduled to perform his award-winning album Hearing the Blood (2017). A genuine maverick, McAll chose to entirely recast his suite, reordering the pieces, changing the sound and dynamic, inserting new compositions, to the point where I found myself questioning whether he'd reneged on the program's promise. Unlike the recording, which featured more than a dozen musicians and singers, McAll brought just four musicians to the stage, supported by guest vocalists Belle Bangard and Rita Satch. Despite this radical trimming, it was, for the most part, a louder, rougher-round-the-edges, more aggressive version of Hearing the Blood than previously heard, powered by tenor saxophonist Mike Rivett, winner of the 2016 National Jazz Awards, who played with unbridled ferocity throughout. Guitarist Theo Carbo, not yet out of his teens, furnished an incredible array of sounds, emphasising colour and abstraction over standard notes. McAll was thunderous on piano, playing massive chords reminiscent of McCoy Tyner; even, at one point, cheekily weaving in a snippet of a Monk tune as if played by Cecil Taylor. For the concert's penultimate piece, the quintet performed 'Love is the Blood', with Carbo laying down exquisite lines over which Satch and Bangard wailed, beautifully tying together the two gospel songs that bookended the concert.
The smaller Loft space at Chapel Off Chapel was the setting for three concerts by young emerging artists: Flora Carbo, Cheryl Durongpisitkul, and Kathleen Halloran. Saxophonist Carbo's trio, with Isaac Gunnoo on bass and Maddison Carter on drums, highlighted music from her recent album Erica (2018). She displayed a deep lyricism throughout, nowhere more evident than on the gorgeous ballad 'Never Let Me Go', recalling the work of the great altoist Lee Konitz. Saxophonist Cheryl Durongpisitkul fronted the trio Koi Kingdom, made up of the uncommon instrumentation of sax/bass/guitar, a format pioneered by the Jimmy Giuffre 3 back in the late 1950s. Koi emphasised improvisation and group dynamics, as the three instruments literally danced around one another in the absence of a traditional timekeeper. Guitarist Kathleen Halloran expanded her regular trio by adding pianist Andrea Keller, who has acted as her mentor and inspiration. Keller's rhythmic playing provided the perfect backdrop for Halloran's improvisatory flights, which ran the gamut from melodic phrasing to occasional gnarly outbursts. Regularly switching guitars, Halloran demonstrated an impressive range of technique, at times conjuring the jaunty breeziness and light touch of Pat Metheny.
The final two events at Chapel Off Chapel Loft featured performances by the Sam Anning Sextet and by Adam Simmons's Origami trio. Bassist Sam Anning's recent album Across a Field as Vast as One (2018) is a genuine marvel of Australian jazz. Turning his back on rhythmic complexity, Anning composed a series of melodies that strive for sheer simplicity and beauty. His Sextet, which boasts a stellar cast – Andrea Keller, Julien Wilson, Mat Jodrell, Carl Mackey, and Danny Fischer – uniformly gave over their musical personalities in service to this music, as if endeavouring to find their way inside these compositions. Throughout the performance, Anning and pianist Keller appeared locked into the tightest groove, a gentle and delicate thrum, while brass and sax floated gracefully above. The album's title track, dedicated to Anning's mentor, the late drummer Allan Browne, conjured a warm breeze and summer sun. Is it too far-fetched to believe there is something decidedly Australian about this music, its laconic tempo and generous heart? And while there were few traditional solos as such, Jodrell and Wilson, especially, seemed capable of squeezing deep-seated beauty from just a few notes. The performance ended with Anning's 'Sweethearts', a piece destined to join the roll-call of classic Australian jazz compositions like Bernie McGann's 'Spirit Song', Paul Grabowsky's 'Angel', Julien Wilson's 'Rebellious Bird', and Andrea Keller's 'All the Colours Grey'.
The final night's performance by Adam Simmons was arguably the standout performance of the Festival. Fresh from his ambitious cycle of five large-scale performances at fortyfivedownstairs during 2017–18, Simmons reprised his Wu Xing (2017) project, based on the five elements – wood, fire, earth, metal, and water – underpinning Chinese philosophy. Augmenting his Origami trio with Wang Zheng-Ting on sheng, a traditional Chinese instrument, and Pete Lawlor on electronics and percussion, they performed the sixty-minute suite, journeying ever so slowly from the near-audible breath of Simmons's bass clarinet though to intense squawks and howls as Zheng-Ting and Simmons squared off against each other. This was music of dreams, full of space and ethereal sounds, magisterial, that floated and danced in a darkened room, lit only by Jean Poole's dramatic video projections that served to heighten and intensify the experience.
With the Wangaratta Jazz Festival in hiatus for 2019, and the Melbourne International Jazz Festival prioritising international acts, the genuine significance of this fourteenth Stonnington Jazz Festival, billed as '100% Australian jazz', should not be lost on us. Far from a local community festival, Stonnington has strategically positioned itself as one of our pre-eminent jazz festivals. Artistic Director Chelsea Wilson has a clear vision for the Festival: to deliver a state-of-the-art snapshot of innovative jazz in this country, with a keen eye for emerging artists. On the strength of this year's Festival, it is a vision that bodes well for this music.
---
The Stonnington Jazz Festival ran from 9 May to 19 May 2019.