I don't watch the World Cup or even Wimbledon, so I may have some Australian gene missing. But by the time the string quartet winners were announced at the end of the Melbourne International Chamber Music Competition last week, I had become a fan, almost a barracker. I was rooting for the Eliot Quartet, whose Beethoven Opus 132 A minor quartet in the finals was extraordinary. When they came in second to the Goldmund Quartet (who were fine but never produced a sound as wonderful as that of Eliot's first violin, Maryana Osipova), I was first indignant and then downcast that they didn't pick my guys. That is not a reproach to the excellent jury led by Wilma Smith, but a comment on the oddness of chamber music as a spectator sport. The whole point of going to a football match is to be a partisan and shout out in joy or disappointment at the result. It's the same with the MICMC, held every four years since 1991 as a competition for the best string quartets and piano trios of all nationalities whose members are under the age of thirty-five, and this year for the first time produced by Musica Viva. The difference with chamber music is that you probably don't go in as a fan of a particular group, but rather become one in the course of the competition as it moves from heats to semi-finals to finals.
Going to a concert to hear a string quartet is an odd activity at the best of times. Chamber music was traditionally written to be played at home with friends, a conversation with each other rather than a performance for strangers; and the string quartet is the epitome of the intimate genre. (Jeffrey Tate once remarked: 'The most perfect expression of human behaviour is a string quartet.') So what is it doing in the concert hall? Can the quartet players still be talking to each other, once they are communicating with an audience as well? Are performance flourishes, like the dramatically raised bows at the end of a piece that have recently become popular with younger groups (including a few of the MICMC entrants), appropriate for the genre? Writing in The Australian of 9 July, Eamonn Kelly bemoaned the 'onset of competition mode, whereby groups trade sincerity for showmanship'. I wouldn't go that far, at least not about raised bows. Still, it's hard to imagine an amateur quartet playing for the love of it at home ending with such a bravura flourish, and not just because when you're playing in someone's living room there usually isn't enough space.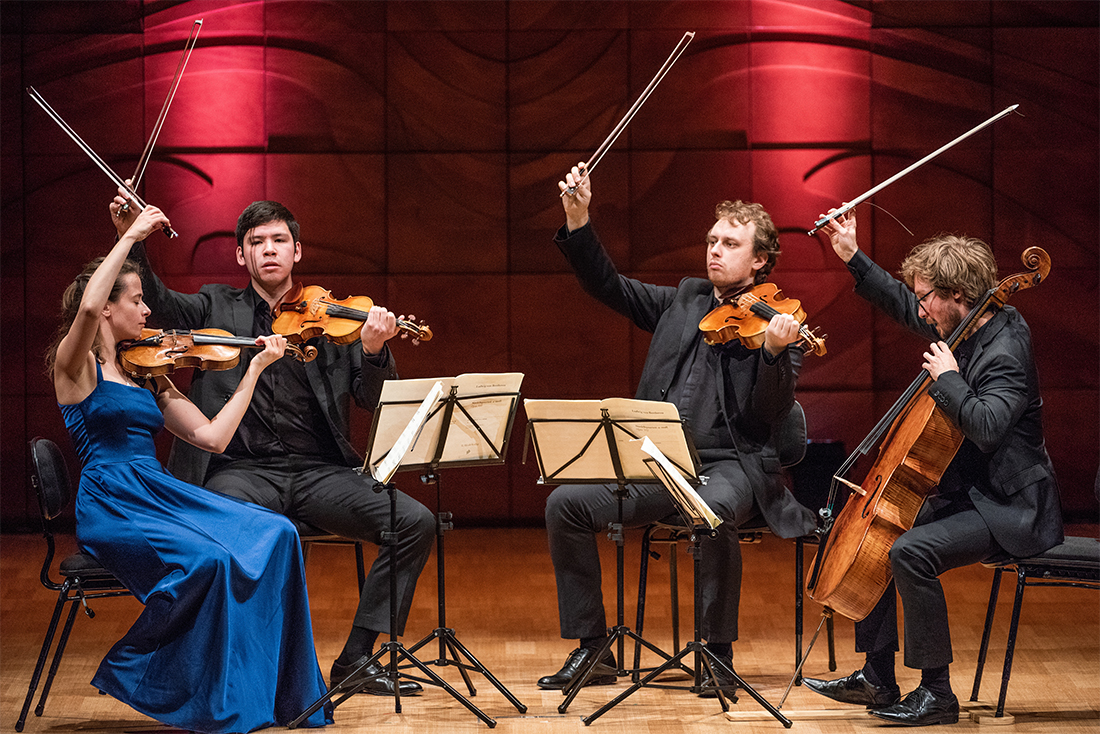 The Eliot Quartet: (from left) Maryana Osipova, Alexander Sachs, Dmitry Hahalin, and Michael Preuß (photo by Michael Keating)
That's not the only anomaly about professional performance of chamber music. The professionals now are so good – never a muffed entry, scarcely a note even slightly out of tune or a phrase out of time, tremendous ensemble, faultless dynamics, virtuoso technique, and so on. Haydn, Mozart, and Beethoven would never have heard their quartets played as well as they routinely are in contemporary concert halls. The technical level of their groups – which often included the composers themselves, playing with their friends – was probably closer to good amateur in current terms than to professional, let alone top-flight quartets on the international circuit. Of course, that started to change in the twentieth century. Bartók's and Shostakovich's quartets can be tough for amateurs, and they'd have real trouble with Jörg Widmann's third (Hunting) quartet (beautifully played last month by the Australian String Quartet in its recent series), partly because you need a second-best bow at the ready to be cracked like a whip at the beginning, not to mention shouting out occasional hunting cries along the way.
I once asked a composer why the string quartets he wrote were so technically challenging, more so (in my opinion) than the musical content warranted. Didn't he want to reach all those keen amateur quartets that are eager to play, for example, works like Elena Kats-Chernin's that are easy enough to read through? You don't understand, he said, there are all those young professional string quartets out there who want to show off their techniques, and it's such fun to push them to the edge of what's technically possible. The sudden appearance of all those young virtuosos reflected the great string quartet boom of the 1990s, when, for the best conservatorium graduates, chamber music started to look like a possible career choice, along with the traditional solo, orchestral, or teaching options. This was the time when the Kronos Quartet were pioneering crossover, and the Pacifica Quartet, whose first violin Simin Ganatra was on the jury for this year's Melbourne competition, was starting out with a 'quartet in residence' gig at the University of Chicago (which meant I had the good luck to be coached by her). I asked Simin after the competition how life had changed for string quartets since the mid-1990s when the Pacificas were launching themselves. 'Social media,' she unexpectedly replied. As a quartet player with a following, you don't just have to schedule, rehearse, and perform any more, you also have to write your blog or post on Twitter.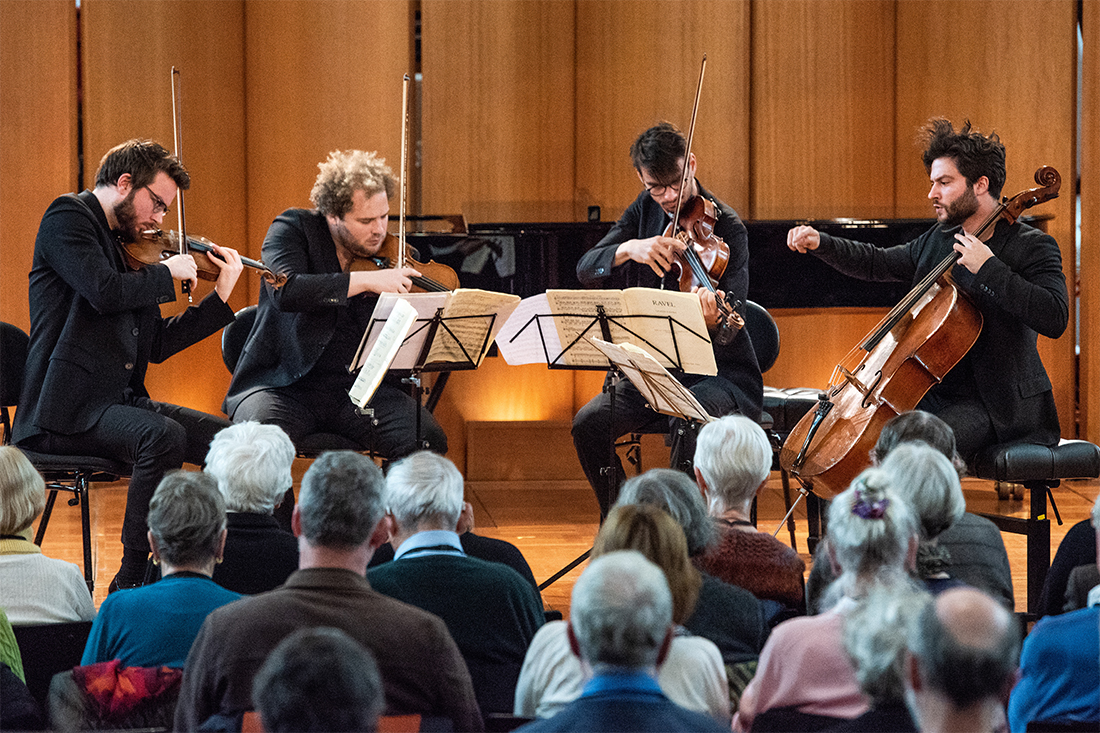 The Goldmund Quartet: (from left) Florian Schötz, Pinchas Adt, Christoph Vandory, and Raphael Paratore (photo by Michael Keating)
Sonia Simmenauer, another member of the MICMC jury, is the founder and director of Impresariat Simmenauer in Berlin, agent for some of the great international quartets like the Alban Berg, and Guarneri Quartets in the past, and the Arditti, Belcea, Modigliani, and Jerusalem Quartets in the present. The first quartets Sonia worked with were what she calls 'quartets in exile' – displaced European Jews who made up quartets like the English-based Amadeus and US-based LaSalle Quartets, not to mention our own Richard Goldner, founder of Musica Viva back in 1945. They are all gone now, but Sonia remembers nostalgically the string quartet audiences of that era, grey-haired amateur violin players and cellists with foreign accents and scores in their hands. She thinks the audiences are different now, but I'm not so sure. There are still a lot of grey heads in the audience at chamber music concerts; and, when I looked around at the audience for the MICMC semi-finals, I recognised many of them as amateur chamber music players. True, it's not usual to bring a score to concerts now, but the amateur musicians often know the work – or at least their violin, viola, or cello part – well enough not to need one. In New South Wales, such people (including a number who had come down from Sydney for the competition) meet to play chamber music at Kirribilli and Wollongong; in Victoria, they hang out for a week during the Mount Buller off season, being coached by professionals like Wilma Smith. People always think the chamber music audience, along with the community of amateur chamber music players that is a part of it, is about to die out, but this may be too pessimistic. People play when they're young, as students at the conservatorium, and then, if they don't become professionals, they often drop out because of children and careers, but in middle age they are likely to come back to playing themselves and attending chamber music concerts.
So back to the original question: should chamber music be a performance art or competitive sport? Tolstoy held that it was indecent for a man and woman to play Beethoven's Kreutzer Sonata in public, so erotically charged did he find the work. But in the 1920s, when the Czech composer Leoš Janáček entitled his first quartet Kreutzer Sonata and his third Intimate Letters, he undoubtedly meant them to be performed, even if they were written for his mistress. Shostakovich's quartets, with their self-quotations and repetitions of a personal musical motto, were written as semi-disguised intimate statements, which is one of the reasons for their immense popularity with audiences. If listening to Janáček or Shostakovich makes us all voyeurs, so be it. I personally would not give up the happiness of attending as many chamber music concerts as I can from the extraordinary array on offer in Australia's big cities: in Sydney, the list starts with Musica Viva, the Australian Chamber Orchestra, the Australian Brandenburg Orchestra, the Australian Haydn Ensemble, the Sydney Mozart Society, Kathryn Selby and Friends, and the Australia Ensemble (including the Goldner String Quartet, named for Musica Viva's founder), and it stretches on, with apologies to those I have overlooked. The choices, incidentally, are as great as or greater than what were available in Chicago when I lived there in the 2000s.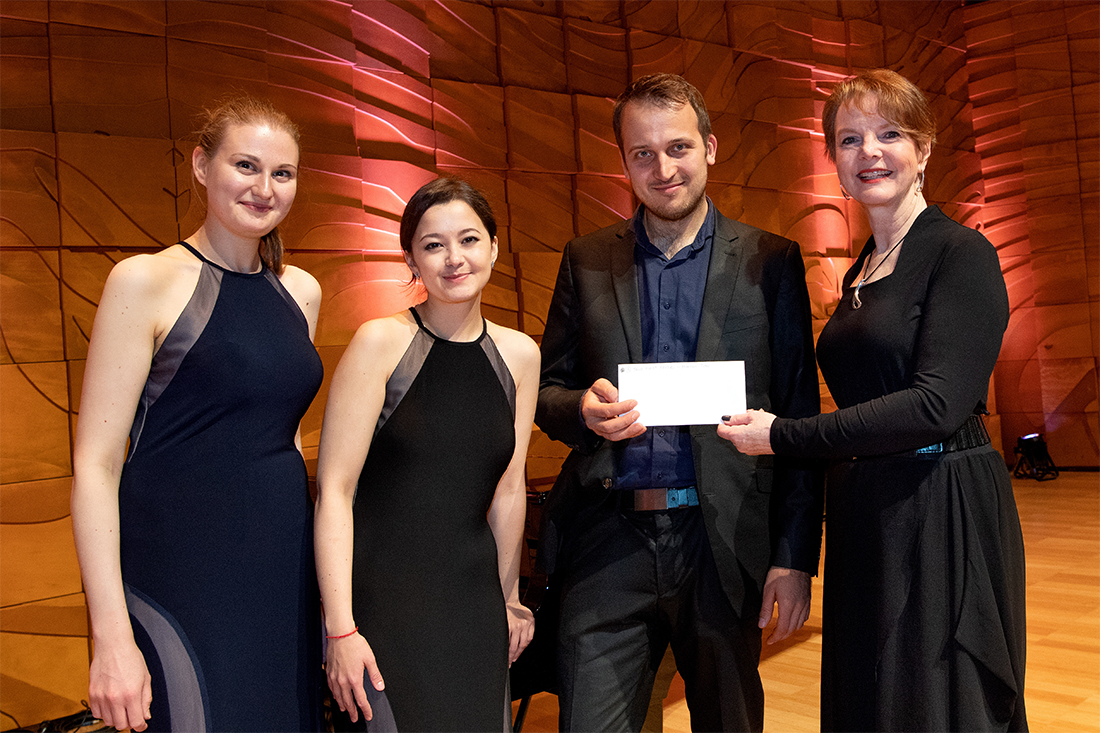 Musica Viva CEO Mary Jo Capps with Trio Marvin, Grand Prize and First Prize winners in the Piano Trio division. (From left) Marina Grauman, Vita Kan, and Marius Urba (photo by Michael Keating)
As for showmanship, I admit to being initially disconcerted, on returning to Australia in 2012 and attending my first ACO concert, to find that not only were the female players trendily dressed in floaty black over-blouses and tights, but there was actually a credit in the program to the couturier. But then the ACO, which fills three sittings of the Sydney Recital Hall for each of its programs, has managed to go beyond the familiar cohort of grey-haired music lovers and amateur players, and bring in younger listeners, so more power to them. And more power to Musica Viva and the original organisers of the International Chamber Music Competition, not to mention the ABC, which broadcasts the whole thing as it happens. Australians have always loved sporting events, and why should its music lovers be short-changed? But I still think the Eliots should have won.
The Melbourne International Chamber Music Festival, hosted by Musica Viva, ran from 1 to 8 July 2018.
ABR Arts is generously supported by The Ian Potter Foundation and the ABR Patrons.