Art
Masterpieces from the Hermitage: the Legacy of Catherine the Great (NGV International)
Eight galleries of NGV International have been radically reshaped to host Masterpieces from the Hermitage, invoking the world of unbounded opulence of Russia's Catherine the Great (1729–96). The installation, designed by the NGV's Ingrid Ruhle, is dazzling, mimicking as it does the grand style of the State Hermitage Museum and incorporating some of its decorative designs. The floors reproduce patterns which the designer studied on a special visit to the Hermitage. The wallpaper in the China gallery is a reprint of one in the NGV's own collection; it emulates a similar design at the Hermitage itself. The dominant wall colours, changing from gallery to gallery, invite constant shifts in visual perception, as do the projected images of palace corridors, ever approaching and ever vanishing, their glowing patterns based on designs by Raphael for the Loggia at the Vatican.
The entry into the exhibition is through the first gallery – the green room – which serves in effect as an audience chamber for Catherine the Great, whose portrait by the Swedish artist Alexander Roslin dominates the room. The Empress wears an embroidered dress, with a diamond buckle fastening her imperial silk and ermine mantle. She holds in her right hand the Romanov imperial sceptre, with the celebrated large Orlov diamond. Her imperious stance is daunting, yet as she confided in a letter of 1781 to her friend Friedlich Melchior, Baron Von Grimm, 'Roslin depicted me as a Swedish cook, coarse and simple.' This is a portrait she did not really like.
The placement of art works, architectural drawings, and other treasures in this room introduces both the public and private passions of Catherine. In alcoves on either side of Roslin's portrait of Catherine are marble busts of two of her distinguished and influential western devotees, Voltaire and Diderot. Of Voltaire the Empress said: 'He is my master; it was he, or rather his writings, which formed my mind.' Diderot, so Catherine declared, was 'a man of inexhaustible imagination'; 'I consider him one of the most extraordinary men who ever lived.' A prodigious reader and passionate educational reformer, Catherine devoured the writings not only of these two men but of d'Alembert, Montesquieu, Locke, Bayle, Buffon, all the great figures of the Enlightenment. Voltaire in turn was captivated by Catherine: 'I glory at being a scribe at the dictate of her powerful genius,' he wrote in a letter to her. He had been a great admirer, too, of Tsar Peter the Great, founder of the Russian Empire, and had supported the Tsar's reforms: in particular the introduction of secular education, the development of the sciences, technology, and fine arts, together with the spirit of free enquiry: 'the achievements of the human spirit', as Voltaire called them.
'A prodigious reader and passionate educational reformer, Catherine devoured the writings ... of all the great figures of the Enlightenment'
Catherine vigorously endorsed and extended the reforms of Peter the Great, sharing his admiration of European models. In the words of Dr Mikhail Piotrovsky, Director of the Hermitage Museum, she 'knew and understood that the greatness of a state is determined not only by its political power, but also by its development of great art collections'. She acquired entire collections of books and paintings from European and British owners, such as the Walpole collection in 1779. Diderot's entire library she purchased in 1765, Voltaire's in 1778.
Alexander Roslin, Portrait of Catherine II, 1776–77 (The State Hermitage Museum, St Petersburg)
Looking into Tsar Peter's cabinet of curiosities, Catherine found a cup with cameos attached to it. She removed the cameos and turned them into brooches. So began her passion for collecting these treasures, which she continued to gather throughout her reign. Some of her exquisite cameos are exhibited in one of the alcoves in the green room, together with perfectly crafted cabinets for their storage. In a nearby alcove a banqueting table sparkles with pure gold cutlery, designed to complement the Sèvres porcelain service of 797 blue and gold pieces. This 'Cameo Service' (as it came to be called) – originally commissioned at great cost for Catherine's lover, Grigory Potemkin, to use in his Taurida Palace in St Petersburg – took its name from the unique copies of cameos in porcelain that adorn each piece.
Walking through the collection of Italian art in the second room (with its grey tonings), one enters the third room (decorated in a festive pink) devoted to Flemish art. Next comes the Dutch room (in a deep red). Here the outstanding work is Rembrandt's Portrait of a Scholar. Peter the Great had been a keen collector of Dutch art; in acquiring this painting, Catherine was adding to his stock. Yet its subject, the pursuit of knowledge, must nevertheless have been of particular interest to her. Rembrandt painted this formal portrait while in the service of Hendrick Uylenburgh, who had a large workshop in Amsterdam. It is typical of Rembrandt's early period, with its fine, almost invisible, brushstrokes, which give the portrait its smooth finish. The scholar is seated in a darkened interior, softly illuminated by golden highlights. The massive tome he reads is meticulously detailed, its successive pages, from which silk ribbons protrude, being built up with thinly applied paint.
Next comes a room of pale green devoted to 'Catherine and her world'. Houdon's marble bust of the Empress is at its centre, surrounded by a group of fine drawings. At one end of this gallery is the superlative drawing, Bacchus, Venus and Ceres (1606) by Hendrick Goltzius, the leading Dutch printmaker of the late sixteenth century. This is a large-scale drawing of complex, overlapping, fine lines in pen and ink, which gives the illusion of an engraved surface, but it is drawn on primed canvas. The artist includes himself in this brilliant drawing, standing amongst his mythological subjects with his engraver's tools.
'Catherine vigorously endorsed and extended the reforms of Peter the Great, sharing his admiration of European models'
On the opposite wall are six powerful line drawings in red and black chalk, studies for Jean- Baptiste Greuze's Filial pity of 1763, recommended to Catherine for acquisition by Diderot, and reflecting the contemporary cult of sensibility of which Diderot himself was so fond. It depicts a family gathered around a dying father, lying in a gloomy room. The theme may have had a particular association for Catherine, who acquired the work directly from the artist. As a young girl of fifteen, summoned from Germany to Russia for her arranged marriage, she had been forbidden to return to Germany to be with her own father as he lay on his own deathbed.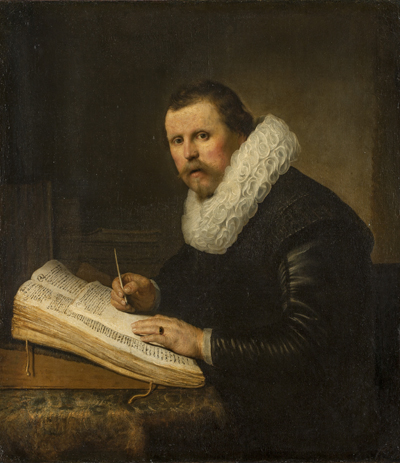 Rembrandt Harmensz. van Rijn, Portrait of a scholar, 1631 (The State Hermitage Museum, St Petersburg)
In the French gallery, with its deep red walls, are two paintings by Charles van Loo which reflect Catherine's interest – stimulated perhaps by her reading of Montesquieu's Persian Letters – in exotic themes. They depict languorous days in the harem, though their subject is in fact Madame de Pompadour, dressed in Turkish costume, reaching for a cup of coffee and working on her embroidery. Both works represent a style of rococo intimisme that van Loo successfully exploited.
Exoticism of another kind is evident in the China room, where a number of delicate objects are displayed. Dearest to Catherine's heart must have been the small Chinese toilet mirror that belonged to her as a young girl: an exquisite work with fine decorations in wood, silver, silver gilt and baroque pearls that she embellished further by adding 423 diamonds.
A further room, decorated in deep red, shows selected items from the Walpole collection of the 204 works that Catherine acquired, including several portraits by Rubens' brilliant student, Anthony Van Dyck – the greatest portraitist who ever lived, according to Sir Joshua Reynolds. Here Van Dyck's portraits of King Charles I and Queen Henrietta Maria (both painted around 1638), though not on a prominent wall, at once demand our attention. These are towering works (220 x 131 cm) of great painterly virtuosity. Charles stands majestically tall in shining armour by a table covered in rich cloth, his hand resting lightly on the hilt of his sword, the accoutrements of royalty scattered around him. His consort, in an equally dominant stance in her pink shimmering gown, is portrayed as a woman of great beauty and elegance. Yet the King was in fact a small man and his Queen barely five feet tall. When Henrietta Maria's niece, Princess Sophia – whose image of her aunt had been shaped by this portrait – first met the Queen in 1641, she found to her surprise that she 'was a little woman with long lean arms, crooked shoulders, and teeth protruding from her mouth like guns from a fort'. Van Dyck knew how to make a beautiful image from less than perfect materials. Had he been around in Catherine's own time, he might have produced a portrait of her that the Empress actually liked.
There are 477 works selected for this exhibition, not all of them supreme examples from the Hermitage collection. Yet this lavishly displayed exhibition is also a slice of Russian history and is not to be missed.
Masterpieces from the Hermitage: The Legacy of Catherine the Great, National Gallery of Victoria International, runs from 31 July to 8 November 2015.