Theatre
The Goat, Or Who Is Sylvia?
Edward Albee's 'comedy of horrors'
Sydney Theatre Company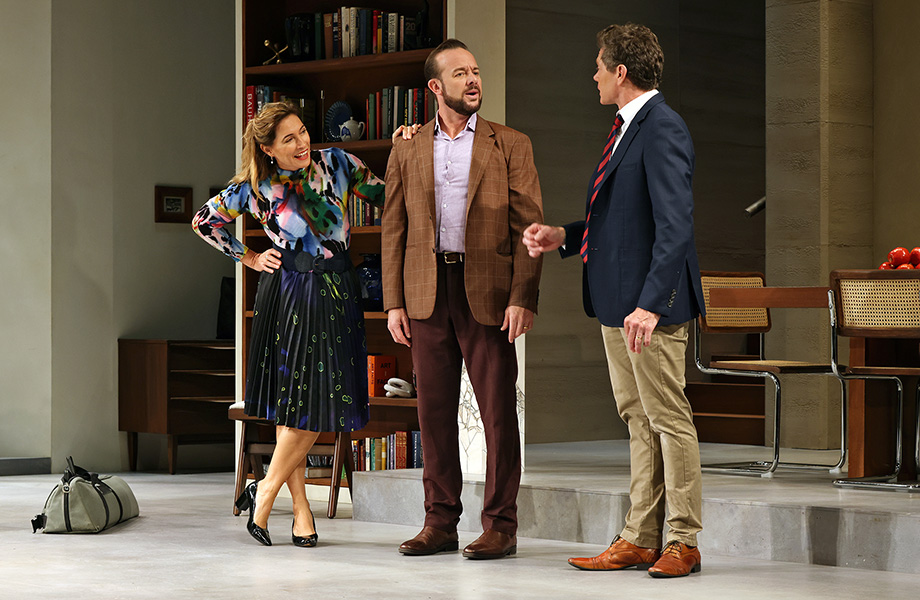 In a tastefully designed, beautifully arranged living room, a couple are engaging in the sort of mildly erotic verbal jousting in which long and happily married couples might indulge. They are Martin Gray, a Pritzker Prize-winning architect, just turned fifty, who has been chosen to design a futuristic, two-hundred-billion-dollar World City and his, in his words, bright, resourceful, intrepid wife, Stevie. They are preparing for the arrival of Martin's old friend, Ross, who is to interview him. Although on the surface all seems fine, there are slightly ominous undercurrents. Martin is concerned that his memory might be failing, and Stevie is mildly suspicious when he pulls out of his pocket a card with a woman's name on it that he claims not to remember receiving. Stevie has every justification to be wary of, as she says, 'the old foreboding. The sense that everything going right is a sure sign of everything going wrong, of all the awful to come.' She is, after all, a protagonist in a play by Edward Albee.
Having been raised, or more accurately ignored, by emotionally distant adoptive parents, Albee had a less than idyllic view of marriage. From the out-and-out prize fighting of George and Martha in Who's Afraid of Virginia Woolf (1962) to the sterile, empty union of Tobias and Agnes in A Delicate Balance (1966) and the bewildered, regretful affection of Charlie and Nancy in Seascape (1975), Albee's couples continually torture and misunderstand each other. But none of these relationships is tested to the extent that Martin and Stevie's is. James Thurber's phrase, 'a comedy of horrors' has been used to describe Who's Afraid of Virginia Woolf, but it is an even more accurate description of The Goat, or Who Is Sylvia? (which was first performed in 2002).
Continue reading for only $10 per month. Subscribe and gain full access to Australian Book Review. Already a subscriber? Sign in. If you need assistance, feel free to contact us.