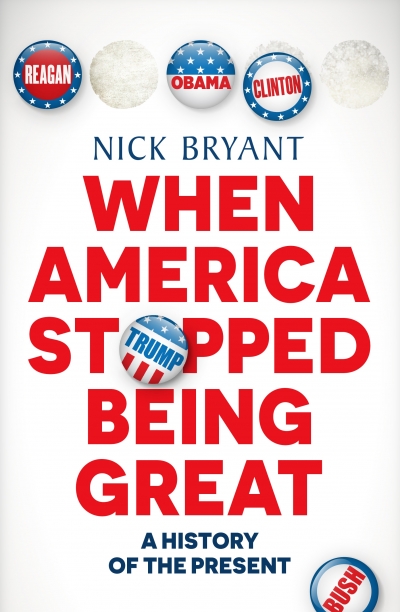 When America Stopped Being Great: A history of the present
by Nick Bryant
Viking, $34.99 pb, 423 pp
History
Requiem for America
The inevitability of grievance
It was obvious that Nick Bryant's insightful new book would be a requiem for American greatness. More revealing is its history of Trumpism, which long predated the man's presidency.
Donald Trump's policies, slogans, and style have preludes and precursors going back to the 1960s. His presidency is over, but as of late November almost 74 million Americans had voted for him, the second highest presidential vote tally on record. Even in defeat, Trump cleaved away great segments of the working-class, the immigrant, and even the gay vote from Democrats.
Joe Biden had a solid win in the electoral college, but the Democrats are weaker and more divided on ideology than at any time in the past forty years. Trump's influence will taunt Biden's administration, which will need to balance its two factions: the social-democratic left versus what you might call the social media left. The former will hope that Biden summons up his instincts of half a century and prioritises unions and workers' rights; investment in infrastructure, such as roads, bridges, and his beloved Amtrak; higher taxes on the super-rich; the protection of Medicare, Medicaid, and Social Security; and the incremental expansion of health care. The latter, channelling its energy through Vice President Kamala Harris, will demand attention to group rights based on ethnicity, sex, sexuality, and gender. Biden and Harris have about eighteen months to make it work before a bruised but defiant Trumpism stirs again.
Bryant captures brilliantly the history of the forces arrayed against Biden. Their roots go back to 1964 when Republican presidential candidate Barry Goldwater, boasting of his anti-government 'extremism', was crushed by Lyndon B. Johnson. Sixteen years later, Ronald Reagan turned this lost cause into a stunning victory, campaigning on the slogan 'Let's Make America Great Again'. Reagan's temperament was sunny, not snarling, but he deliberately launched his campaign in a town in Mississippi where in 1965 the Ku Klux Klan had martyred three civil rights workers. He then concocted the story of a black, Cadillac-driving 'welfare queen'.
A celebrity president, Reagan had his own cast of right-wing think tanks and televangelists. Where Trump had the alt-right publisher Steve Bannon to craft his message, Reagan had the conservative speechwriter Pat Buchanan. In 1992, Buchanan would himself seek the Republican nomination with a crude but electrifying speech declaring that America was in 'a religious war'. At the same election, the eccentric billionaire businessman H. Ross Perot would challenge the orthodoxy on free trade. Running as an independent, Perot would win twenty per cent of the vote, and his spokesman would later declare, presciently, 'The next time round the man on a white horse comes, he may not be so benign. He could be a real racial hater or a divider of people.'
The 1992 election did not just sharpen ideological lines; it began the cheapening of politics that would ultimately benefit Trump. Democrat Bill Clinton, having had the media excavate his sex life, would later tell an MTV audience he preferred briefs to boxers. A quarter century on, Trump would boast about the size of his penis. A Republican congressman, Newt Gingrich, would become Speaker of the House of Representatives by declaring Democrats not simply opponents but enemies – enemies of 'normal Americans' – and then perfect the art of rejecting whatever they proposed. The die was cast.
Bryant has written a fine book, with two blind spots. The first depends on your definition of it, but was a country that denied full citizenship to African Americans until the mid-1960s and that has led the world in the concentration of obscene wealth by the top 0.1 per cent ever really great? The United States was certainly powerful, and feared, but it was late in entering both world wars and then bullied its way into wars that should never have happened: Vietnam, Central America, Afghanistan in the 1980s, Iraq in 2003.
The second oversight is that while Bryant recognises that Trump is merely the latest in a line of ideologically deviant right-wingers, he concedes only grudgingly the reason for Trump's ascendancy in the first place: the political orthodoxy in US and Western politics failed long ago. Bill Clinton and Barack Obama were supposed to bust the economic cartels that produced the recessions of the early 1990s and 2008. Instead, they acquiesced to the worst moneyed interests. Clinton declared 'the era of big government is over' and deregulated Wall Street. Obama, perhaps wilfully, squandered an opportunity to bring the wealthy to heel. In the first days of his presidency, he formed a human shield around the greed and crimes of bank CEOs, telling them: 'My administration is the only thing between you and the pitchforks. I'm not out there to go after you. I'm protecting you.'
As the Greek intellectual and politician Yanis Varoufakis argued recently in the Guardian, if this is normalcy under the Democrats, spare us the return to it. President Biden will want to unify the country, but, as Varoufakis says, many Americans will say, 'I don't want to be united with, or tolerant of, those who got rich by shoving me in a hole.'
Bryant may have winced when Trump foamed about 'American carnage', but many Americans heard their economic pain acknowledged. Trump did nothing to alleviate it, cutting taxes even more for the super wealthy, but he never called voters 'deplorables' as Hillary Clinton did during the 2016 campaign, and he never scoffed behind his hand, as many self-styled progressives do, at the 'poorly educated'. He embraced them.
Perhaps most refreshing to those who have long questioned American 'greatness', Trump, usually a serial liar, was honest about American power. As Bryant recalls, when asked by Fox News host Bill O'Reilly about accusations that Russian president Vladimir Putin had ordered people to be killed, Trump replied: 'There are a lot of killers. You think our country's so innocent?'
The Trump presidency has scarred America. But someone like him, who recognised that grievance was a natural and legitimate force in politics, was destined to emerge. The real tragedy is that Trump's opponents, even in victory, still struggle to explain their own purpose or to define what American greatness might look like.