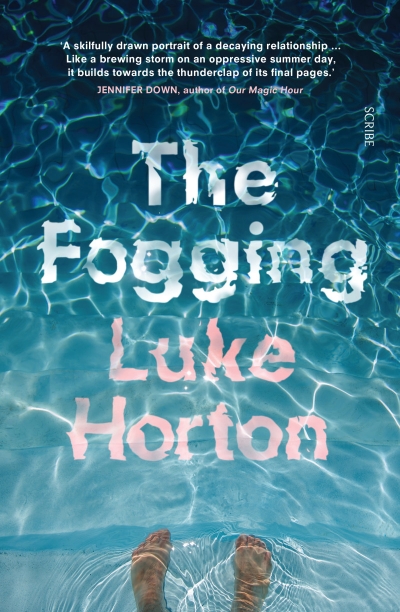 The Fogging
by Luke Horton
Scribe, $29.99 pb, 240 pp
Fiction
The Fogging
by Luke Horton
Luke Horton's novel The Fogging opens with a panic attack. Tom, the book's protagonist, begins to tremble and sweat when the flight he is on – from Melbourne to Denpasar – hits turbulence. Tom is travelling with his long-term girlfriend, Clara, on a holiday they have organised more out of duty than from any real desire for travel, having booked their flights to use up his mother's Frequent Flyer points. The turbulence wakes Tom's 'ringing nerves' and anxiety starts 'chewing his insides', making him 'shimmer' and 'pulse'. He panics, or comes close to panicking, a number of times throughout the novel. Horton's handling of this – directly, sensorially, compassionately – is remarkable. Tom's panic attacks are always vivid and bodily, and they always feel true to life. It's rare to see this achieved so well in fiction.
Tom's anxiety, his illness, is ever-present in The Fogging, always sitting just below the surface of the text, or, to use the book's own metaphor, always hovering in the air and clouding both Tom's judgement and the perspective he offers the reader. Tom is rarely comfortable and easily embarrassed, acutely aware of his own body and the impression he is surely making on others, always alert for humiliation and shame. So much of what happens to him happens internally – the reader is privy to this in considerable detail – and this comes at the expense of any clear-eyed appraisal of what is going on around him.
---
Already a subscriber?
Sign in
to continue reading. If you need assistance, feel free to
contact us
.