Fiction
Mammoth
by Chris Flynn
Everything about Chris Flynn's Mammoth – the characters, plot, and structure – should not work. But it does, and beautifully so. Mammoth is narrated by the fossilised remains of a 13,354-year-old extinct American Mammoth (Mammut americanum), who likes to be addressed as Mammut. On 24 March 2007, the eve of his sale at the Natural History Auction in New York, Mammut finds himself in a room with Tyrannosaurus bataar (who prefers to be called T.bat).
Time, especially deep time, is a major preoccupation in the novel. Mammut is an infant from the point of view of T.bat (who lived around seventy million years ago), but because Mammut walked the Earth with ancient humans and has lived as a fossil among humans for more than two hundred years (T.bat was only unearthed in 1991), he has experience other fossils do not. To pass the time on the night before the auction, Mammut tells the tale of his life, his death, and his reawakening as a fossil travelling the world at the whims of Homo sapiens (whom all characters refer to as hominids).
Mammoth is absurdist and full of humour. Early in the work, Mammut addresses the reader and says, 'Man versus beast. Those were heady times. We lost, of course. But we gave you a run for your money.' Soon after, Mammut and T.bat discuss what Homo sapiens would taste like and whether T.bat (a carnivore, don't forget) would have tried to eat a mammoth had they ever lived in the same time period. Then there is the running joke of T.bat's tiny hands. As the ever polite Mammut notes, 'It's okay for a Tyrannosaurus to joke about the size of his hands but if anyone else does it's body shaming.'
Mammut recounts the extinction of his species, partly a result of hominids and partly a result of catastrophic climate change. When remembering those ancient humans, Mammut notes, 'Their numbers were few at first, but we immediately knew they would be trouble … [They] singled out mature bulls such as myself for our tusks. They fashioned them into thrones for their chieftains. My species was being wiped out so their leaders would have somewhere nice to sit.' Times, of course, haven't changed much.
Over the course of the evening, a prehistoric penguin (Palaeosphenisucs patagonicus, but call him Paleo for short), the severed hand of an Egyptian mummy (who happens to be Pharaoh Hatshepsut, and she wants everyone to know), and a prehistoric pterodactyl (Pterodactylus antiquus) join the conversation as they await their auction. The absurdism ratchets up a notch, as Paleo and Hatshepsut bicker, T.bat acts like a teenager (there is a hint of Jurassic Park about him), and the pterodactyl – the oldest by a few hundred million years – remembers deep time.
The reflections on hominids provide an endless stream of social commentary and the failings of humans. When talking about the artwork depicting his excavation, Mammut notes 'the image is a confection, of course, as is most human art'. Mammut is aware of his reputation (and that of his descendants, elephants) as a species with long memories. He considers his kind storytellers, and at several points the reader is treated to his thoughts on writing – 'no-one gets into the writing game for money these days. No-one in their right mind, at any rate.'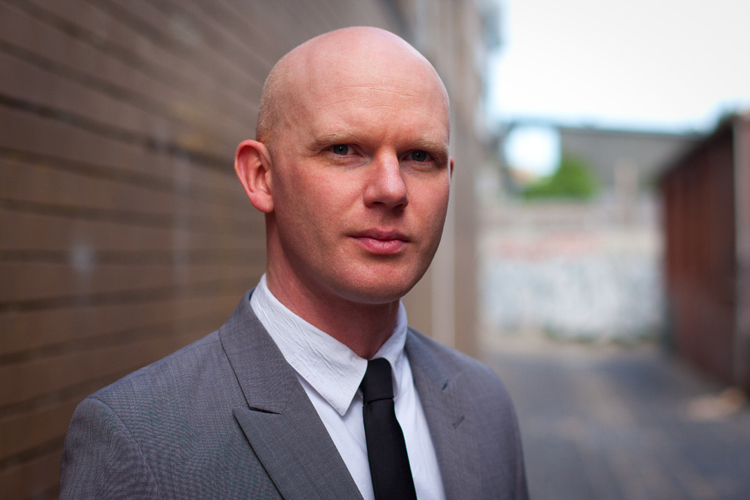 Chris Flynn (photograph supplied)
Flynn's wit is on best display when critiquing Americans and their never-ending belief in their own exceptionalism. Mammut, after all, notes that he has witnessed 'forty-one of the forty-three Commander in Chiefs. Let me tell you, and I say this as an original American, nothing compares to this nation's willingness to promote patently false notions about itself in order to create a myth of American potency.'
Human foibles – and the ever-present desire among humans to steal and possess old things – means Mammut was traded and stolen in post-revolutionary France, the failed Irish Rebellion, and even a part of Lewis and Clarke's expedition into the American Midwest. The point is clear: hominids may have, to date, avoided an extinction-level event, but we have not learned from our mistakes.
There are two epilogues. The first is from the narrator (which one suspects is close to the real voice of Flynn). Here we learn there was indeed an auction at the Natural History Auction in New York on 24 March 2007; on sale were the tusk of an American Mammoth, the severed hand of an Egyptian mummy, and the skull of a Tyrranosuarus bataar, as well as the remains of a fossilised prehistoric penguin and pterodactyl. In keeping with the absurdity of the tale, the narrator reveals that in real life the actor Nicholas Cage actually bought the skull (outbidding Leonardo di Caprio) and was forced to return it when the skull was proven to have been illegally smuggled out of Mongolia. Americans and their penchant for large old things!
The second epilogue offers an alternative ending, and it is here that the reader is left with hope. We hominids may be one of the most intelligent but least sophisticated species to have ever walked the planet, but we still have a choice to stop the destruction we wreak.