Short Stories
Liminal encounters
Short story collections by Paige Clark, Merlinda Bobis, and Luke Johnson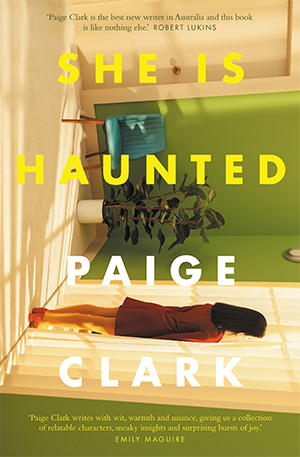 She Is Haunted by Paige Clark

Allen & Unwin, $29.99 pb, 264 pp
Paige Clark's She Is Haunted opens with the story 'Elizabeth Kübler-Ross', a title that alludes to the five stages of grief – denial, anger, bargaining, depression, and acceptance – that inform the rest of her début collection. Clark doesn't explain why the narrator feels anxious about the survival of her unborn child and its father. The reader is left to assume that the prospect of too much undeserved happiness impels her to embark on a series of amusing and escalating bargains with a capricious God. That the narrator bears the losses with equanimity is indicative of the deadpan humour with which Clark deflects serious matters.
Clark's Chinese-American heritage is apparent in the location of her stories and in the cultural tropes that are pivotal to her exploration of relationships and familial entanglements. In the title story, the dead narrator enjoys her status as invisible observer and recipient of such privileged information as the moon being 'nothing like a brie or a Jarlsberg […] more like a Grana Padano'. Her reaction, 'I'm lactose intolerant', is another of the droll one-liners that pepper Clark's narratives. What this ghost wants most, however, is to finally understand her family, in particular her mother. What she learns is disappointing. Her mother's private persona is as self-obsessed as her public face: 'She grieves the only way she knows how – with extreme self-pity.' The second half of the story is narrated by her grandmother, a hungry ghost whose dissatisfaction with life and her 'ungrateful' children leaves her starving. Confined to hell, except for the month when hungry ghosts are free to roam the earth, she is on friendly terms with the Devil, a far more benign character than God. The racist slurs she endured growing up in America as the child of Chinese parents provide a disquieting refrain to her litany of complaints, a shift in tone that belies the story's fairytale quality. Clark's conversational and comic approach to emotionally charged subjects and to subconscious fears and desires is more affecting than one might expect, and more entertaining.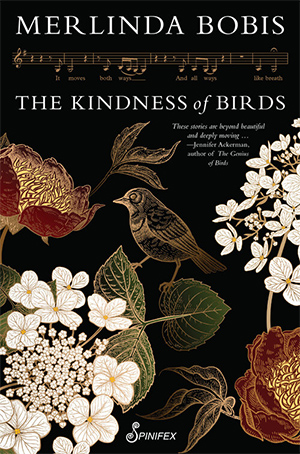 The Kindness of Birds by Merlinda Bobis

Spinifex Press, $26.95 pb, 230 pp
Of the fourteen stories that make up Merlinda Bobis's latest collection, The Kindness of Birds, more than half focus on Nenita and her experience of migration from the Philippines to Australia with her ne'er-do-well first husband, her happier second marriage to Latvian-Australian Arvis, the deaths of both her parents in the Philippines, her own brushes with mortality, and her friendships. The remaining six stories follow Filipino migrants and their interactions with the gamut of ethnicities that constitute Australian society: Malaysian, Italian, Irish, German-Jewish, Indigenous, and Anglo. Narratives slip effortlessly between continents as characters find connection in memories of different cultures, times, and places.
Bobis was born in the Bikol region of the Philippines. The cadences of the Bikol, Filipino, and Spanish phrases that punctuate her text add lyricism to her prose and speak to the effects of colonialism: inequality, revolution, and sacrifice. That each story ends on a positive note, however, overstates Bobis's message of reconciliation. The motifs of kindness and birds as messengers of grace and solace lose potency with repetition. In the title story alone, orioles, rosellas, a tame magpie, two types of duck, galahs, a cormorant, fairy-wrens, moorhens, a lone black swan, a pied fantail, and sparrows provoke memories of parents lost, gardens, flowers, places in Australia and overseas, and memories both cherished and bitter. For Nenita, this plethora of life-affirming birds is associated with the quaint colloquialism 'she'll be apples', as if reminders of joy are an antidote to sorrow. Nenita's anthropomorphising is remarked upon by a friend, but she argues that even if birds sing not out of kindness, that is how they are perceived. And for that she is 'forever grateful'.
A fully rounded picture of Nenita's travails gradually emerges in poignant recollections of the heartbreak of separation, the strain of cultural displacement, and her fraught relationships with family members. In the final story, 'Ode to Joy', Nenita remembers the panic attacks provoked by a potentially nasty stalker and the fear that is alleviated simply by being addressed as 'love', a careless endearment that 'blew her away the first time she heard it'. For Nenita, the expression represents 'a fleeting love that helped her find her feet quick-smart on this road, despite the fear planted by the man'. Bobis is undoubtedly sincere, but she oversteps the fine line between sentiment and sentimentality too often for her stories to remain credible.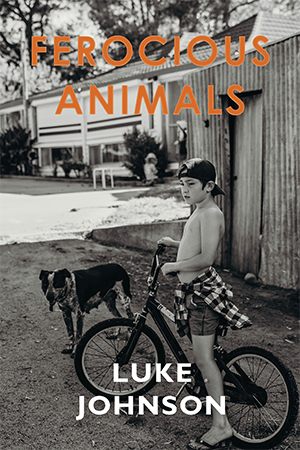 Ferocious Animals by Luke Johnson

Recent Work Press, $27.99 pb, 224 pp
Another first collection, Luke Johnson's Ferocious Animals, is, by contrast, all grit. Inhabiting a regional Australian town where abuse and violence go unremarked, Johnson's adult characters have a limited capacity for self-reflection. They bumble through critical moments in life with little understanding, and even less empathy. Children are neglected and usually left to negotiate their own way through tragedy and loss.
In 'The Names of Dead Horses', a train's emergency stop is the springboard for a story within the story narrated by Neville, the henpecked husband of a woman whose self-assurance and authority never falter. Once a panel beater in charge of the town's vehicle impound yard, Neville remembers another accident: the death of a young girl while riding, and the children who arrived at his yard, not out of morbid curiosity but 'drawn by the obligation of having known the girl before she died'. Neville provides these youngsters with an opportunity to commemorate their dead friend. Far from being the 'idiot listener' to his wife's certainties, Neville proves to be a silent but compassionate man.
Most of Johnson's male characters do not fare so well. In 'The Garden of Earthly Delights', a married salesman aggressively insists that the prostitute he has picked up finish a plate of pancakes she doesn't want. Later, as she's sneaking out of the hotel, the prostitute passes a television screening the finale of a Formula One race. As young women try to shield themselves from the spray of champagne, the winning driver whips 'the bottle up and down like he was ringing a church bell. Or flogging a horse.' After recounting her telling exchange with the waitress who served them, the narrative shifts to the waitress and her relationship with an equally unpleasant boyfriend. The reader can infer from these vignettes of thoughtless or deliberate humiliation that women are powerless to do anything other than comply. Johnson's female characters are often 'visibly worn', like the mother in 'The Secret Spot', the impressive last story in the collection.
The ferocious animals of the title story are, of course, human beings. In the preparations leading up to a local grand final, a father and son decorate the house with their team colours. The 'men' have not yet breakfasted, but the father is already swigging beer. The mother is indifferent to these festivities. They are 'a traditional household in this way'. When a passing car gives a prolonged horn blast of disdain, the father throws his beer bottle at the driver: 'It sailed from beneath the veranda with beer spiralling from the open top like a Molotov cocktail and exploded on the road just behind the car.' As one might expect, the situation escalates. Johnson has taken the creative writing dictum 'show, don't tell' to heart, slipping significant details into his stories without obvious signposting. 'Ferocious Animals', like his most successful stories, has the effect of a parable, a lesson in how not to behave.
Death, loss, and grief are common to the human condition and, not surprisingly, provide the authors of these three disparate short story collections with a varied palette from which to draw. What is more disturbing is the picture of contemporary Australian society that emerges, rife with casual racism, brutality, and domestic violence.