From the Editor's Desk
News from Australian Book Review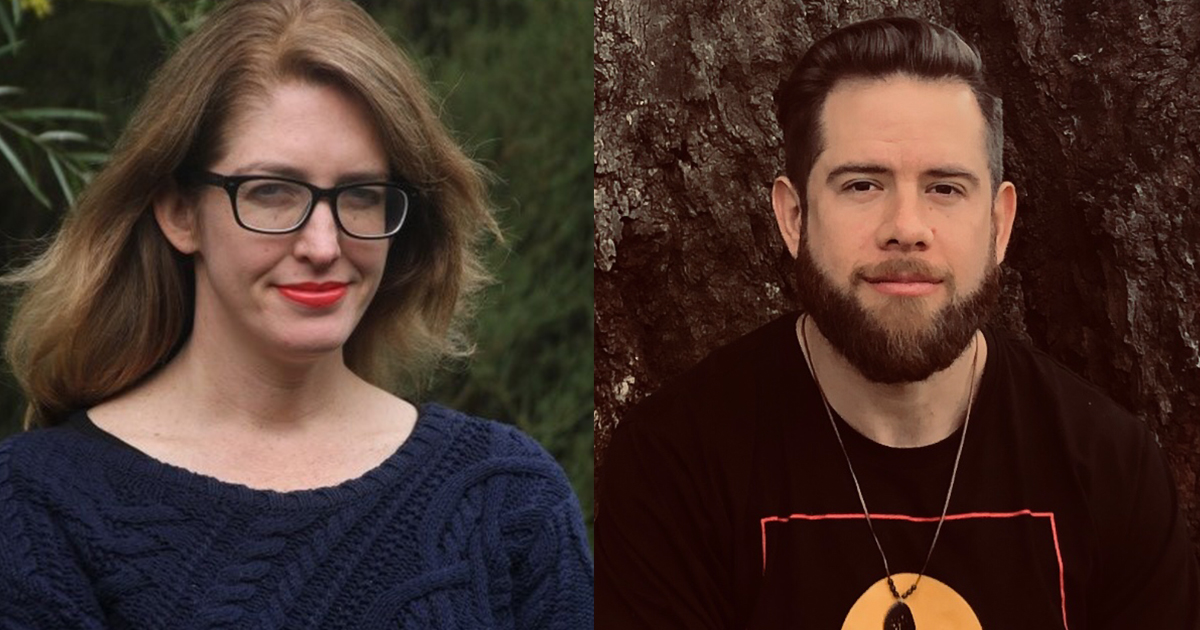 Johanna Leggatt and Declan Fry, two newly appointed ABR Board members
Changes at ABR
At our recent Annual General Meeting, we farewelled three long-serving members of the Board and introduced two young writers/journalists whose contributions have enriched the magazine in the past couple of years.
Colin Golvan AM QC joined the Board in 2005 and served as Chair from 2015–20. Colin's contributions to the magazine have been many and invaluable. He has been the principal supporter of the Calibre Essay Prize since 2013, when Copyright Agency's Cultural Fund's seeding funding of Calibre came to an end.
Ian Dickson, who joined the Board in 2012, is our single most generous donor and the sole sponsor of the ABR Elizabeth Jolley Short Story Prize. Sarah Holland-Batt, Chair of ABR, commented at the AGM: 'It is inspirational to consider how many Australian writers have benefited from Ian's generosity, and the many ways in which he has transformed the magazine's potential.'
Professor Rae Frances AM – Dean of the College of Arts and Social Sciences at the ANU – joined the Board in 2016 when ABR and Monash University (of which she was then Dean of Arts) became partners, an ongoing creative association that has introduced dozens of Monash academic staff and students to our readers.
Our two new Board members, both well known to ABR readers, bring distinctive expertise and experience. Johanna Leggatt is an accomplished senior journalist with broad expertise in communications, public relations, and media management.
We also warmly welcome Declan Fry, an essayist, critic, and poet of Yorta Yorta descent who is a current Rising Star at ABR, a role in which he has contributed a number of incisive pieces of criticism and commentary. Declan has a background in law as well as literature.
An extra ABR
This year, in June, we will add an eleventh issue to your print subscription – at no extra cost. Henceforth there will only be one double issue per annum (January/February).
To celebrate this milestone, the June issue will be slightly different from other issues, with more commentary, longer review essays, and more creative writing. The focus will be on younger writers and essayists, several of whom will be new to the magazine.
We've long wanted to add an eleventh issue. Now it is possible because of a generous donation from Matthew Sandblom's and Wendy Beckett's Blake Beckett Fund. Here, once again, support from philanthropists enables us to expand and innovate. Readers, authors, and their publishers will benefit from this added content – not to mention ABR contributors.
The national interest
Monash University Publishing has launched a new publication series called In the National Interest. Covering the major issues of our time, it offers accessible and ambitious thinking on subjects such as government, policy, and governance. Interviewed in The Age, Margaret Gardner – President and Vice-Chancellor of Monash University – spoke of the need to allow academic staff and public intellectuals to 'reflect in what I call the extended essay about matters that are important to the national interest, where you bring evidence to bear and you have questions about what would be the programs or policies that we should think about'.
There are seven volumes in the first tranche. They include Simone Wilkie on the technological age in The Digital Revolution: A survival guide ; Martin Parkinson on climate change policy in A Decade Adrift; and Don Russell on the disconnect between politics and policy in Leadership.
Visit the Monash University Publishing website for more details.
Three trail-blazing women
Mandy Sayer – the tenth recipient to date – has been awarded the $15,000 Hazel Rowley Literary Fellowship. Sayer will write a biography of sisters Paulette, Isabelle, and Phyllis McDonagh, three Australian silent filmmakers who wrote, produced, directed, and even acted in a series of films in the early twentieth century.