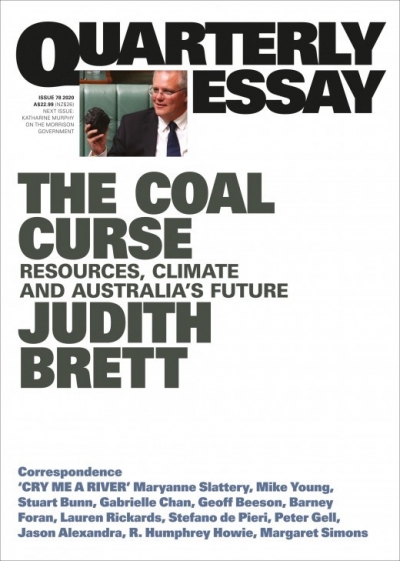 The Coal Curse: Resources, climate and Australia's future (Quarterly Essay 78)
by Judith Brett
Black Inc., $22.99 pb, 136 pp
Journals
The Coal Curse: Resources, climate and Australia's future (Quarterly Essay 78)
by Judith Brett
The dual crises of the recent bushfires and the Covid-19 pandemic have exposed structural weakness in Australia's economy. Our export income is dominated by a few commodities, with coal and gas near the top, the production of which employs relatively few people (only around 1.9 per cent of the workforce is employed in mining). The unprecedented fires, exacerbated by a warming climate, were a visceral demonstration that fossil fuels have no role in an environmentally and socially secure future. Global investors are abandoning coal and, in some cases, Australia. Meanwhile, industries that generate many jobs – education, tourism, hospitality, arts, and entertainment – have been hit hard by efforts to reduce the spread of the virus.
---
Already a subscriber?
Sign in
to continue reading. If you need assistance, feel free to
contact us
.