Body Count: How climate change is killing us (Second Edition) by Paddy Manning
Simon & Schuster, $32.99 pb, 349 pp
Environmental Studies
Body Count
by Paddy Manning

&

Fire

by Stephen J. Pyne
Last spring, as the harbingers of a dangerous season converged into a chorus of forewarning, I decided it might be a good idea to keep a diary of the period now known as 'Black Summer'. The diary starts in September with landscapes burning in southern Queensland and Brazil. Three hundred thousand people rally across Australia, calling for action on climate change. I attend a forum of emergency managers where, during a discussion about warning systems, a senior fire manager declares: 'We need to tell the public we cannot help them in the ways they expect, but we're never going to tell them.' Next week, Greg Mullins, the former NSW fire and rescue commissioner, comments on ABC radio, 'We're going to have fires that I can't comprehend.' Federal politicians assure the nation that we are resilient.
Victoria and South Australia then experience the hottest October days in eighty years. At the beginning of November, several people having lost their lives in fires, Prime Minister Scott Morrison offers his 'thoughts and prayers'. Like some of those affected, journalists link the fires to climate change and the deputy prime minister is quick to remind everyone that 'we've had fires in Australia since time began'. Friends in Melbourne and Sydney text me about 'PM2.5' and 'N95' masks. Hospital presentations for asthma rise throughout south-east Australia. After a brief trip to Hawaii, the prime minister announces the need to focus on 'how we manage native vegetation' to avoid future infernos. Much of eastern Victoria is soon alight. My diary entries become sporadic.
Continue reading for only $2.50 per week. Subscribe and gain full access to Australian Book Review. Already a subscriber? Sign in. If you need assistance, feel free to contact us.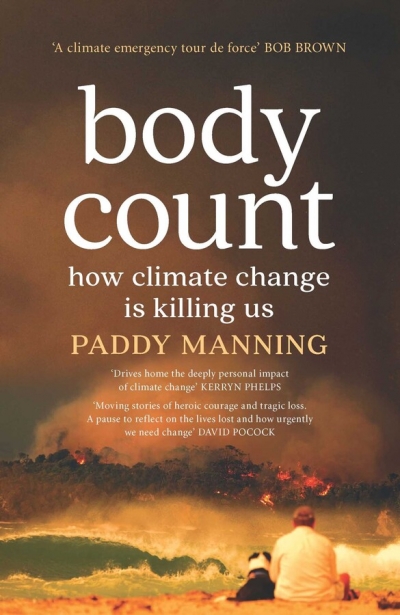 Body Count: How climate change is killing us (Second Edition)
by Paddy Manning
Simon & Schuster, $32.99 pb, 349 pp