Trials and Transformations, 2001–2004: The Howard government, Volume III by Tom Frame
UNSW Press, $39.99 pb, 464 pp
Politics
Trials and Transformations, 2001–2004: The Howard government, Volume III
by Tom Frame
Queensland MP Charles Porter's book, The 'Gut Feeling' (1981), relates the story of former prime minister Billy Hughes being pressed in the 1940s to pass judgement on a Liberal Federal Council statement on an industrial issue. 'No bloody good,' he pronounced. 'Not sufficiently ambiguous!' If, as Hughes implied, ambiguity is a key virtue needed for political survival, then by 2001 the Howard Liberal–National Party Government appeared to have embraced it. Indeed, any objective analysis of the Howard era is fraught with difficulties because of these two factors: the verbal, unrecorded nature of some political incidents, and the emotive left-versus-right culture war that marked John Howard's prime ministership (1996–2007).
Trials and Transformations is the third in a projected series of four books on the Howard years edited by historian Tom Frame. Like its predecessors, it is the product of a conference in which academics, public servants, commentators, and former politicians were invited to discuss a specific time period in Howard's term in office. Contributors have provided essays that cover the thirty-seven months between August 2001 and September 2004.
Continue reading for only $2.50 per week. Subscribe and gain full access to Australian Book Review. Already a subscriber? Sign in. If you need assistance, feel free to contact us.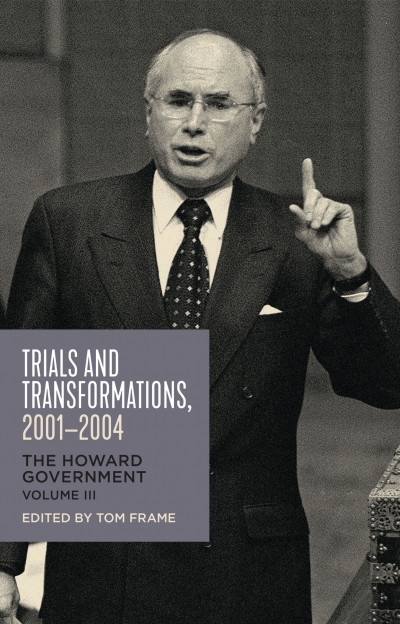 Trials and Transformations, 2001–2004: The Howard government, Volume III
by Tom Frame
UNSW Press, $39.99 pb, 464 pp