Commentary
Notes on a pandemic: How society has responded to Covid-19
Listen to this essay read by the author.
---
I was operating when it arrived. Between patients I read the email hastily. It concerned an article from surgeons at Stanford University. Along with colleagues in the United States, Italy, China, and Iran, they were reporting an increased risk of death from Covid-19 among otolaryngologists, neurosurgeons – and ophthalmologists, like me. Surgery around the nasal passages or other mucous membranes of the face seemed to release a potentially lethal aerosolised load of the SARS-CoV-2 virus. Among the casualties were surgeons in their thirties.
I thought of Dr Li Wenliang, the thirty-three-year-old Chinese ophthalmologist who died from Covid-19 after blowing the whistle on the outbreak in late December 2019. I closed my inbox and focused on the next patient. Amid the din in the theatre, a new alarm sounded a worrying thrum.
Cycling home, I pedalled faster than usual. My wife, also a doctor, was in her third trimester of pregnancy; she was posted in Accident and Emergency at the time. Her commitment to work both impressed and concerned me. So far, Covid-19 had only affected pregnant women in a mild to moderate degree, with no cases of in utero transmission to newborns. Some babies had been affected by maternal illness after delivery, causing fever, respiratory distress, and, in one case, neonatal death. My wife and I considered the evidence – a tug of war of uncertainty, risk, and the limits of her duty to medicine. Soon afterwards, three MV Artania cruise-ship passengers, confirmed as Covid-19 positive, were transferred to A&E during her shift. That night, there were tears and hugs at our home.
At work, in both public and private hospitals, the impact came in waves, each one bigger than the last. New infection-control measures rolled in daily: screening stations, thermometers, personal protective equipment (PPE), wall-to-wall public health announcements. The undertow swept away hundreds of non-urgent appointments, all rescheduled to a later date in order to depopulate waiting rooms, maintain physical distancing, and preserve PPE. For deferred ophthalmic patients, there was, and remains, the small but significant risk of vision loss.
After deliberation, I postponed a medical trip to Kalgoorlie, where I regularly perform outreach clinics and eye surgery for patients from the Goldfields. While these patients needed treatment, Covid-19 was proving to be, at least in Australia, a traveller's disease. We also knew from China that up to sixty per cent of people carrying the virus had no symptoms. Health-worker visitors from the city, where most of the outbreak was clustered, could unknowingly bring the pandemic into remote regions. In Western Australia, two ophthalmic colleagues contracted Covid-19 and whole medical teams had to self-isolate. Hundreds of kilometres from Perth, with limited flights, large Aboriginal communities, and no intensive care unit (ICU) beds, how would country towns cope with an outbreak? These were lose–lose scenarios, with inadequate information and unknown unknowns. Speculatively, we began to trade away sight in exchange for life.
Duty-bound to care for emergency patients, we now risk becoming the victims, and spreaders, of this pandemic. In our not-for-profit institute, the workload – safeguarding, compliance, rescheduling – has increased, while revenue continues to shrink. When the reckoning is a bright-red bottom line, it turns out that medical institutes differ little from other workplaces. Loyal staff have been stood down. The halls, formerly bustling, are now eerie and unfamiliar, medicine's new ghost towns. In the words of one colleague, 'I've never seen so few patients or felt so exhausted.'
On January 25, Australia confirmed its first case of Covid-19, joining a handful of countries outside China to do so. A week later, the federal government announced that foreign nationals returning from China would be quarantined in a third country. By March 1 we had twenty-nine cases and one death. The virus then hit its straps. By March 12, the rolling five-day growth factor had reached 1.39, equating to a doubling of cases every three to four days. Unabated, this suggested that we would have 153,000 cases by Easter.
By March 17, twenty-nine cases had become 543; ten days later we surpassed 3,000 cases, with fourteen deaths. Australians learnt the meaning of 'exponential' as the curve of new cases careened towards vertical. There was panic in pharmacies and supermarkets; garden centres ran out of seeds, poultry breeders out of chooks. Social and news media inundated us with horrific images from hospitals in Italy, Spain, China, and the United States. The pandemic gathered pace, and with it, the nation's attention turned to the preparedness of our emergency departments and ICUs.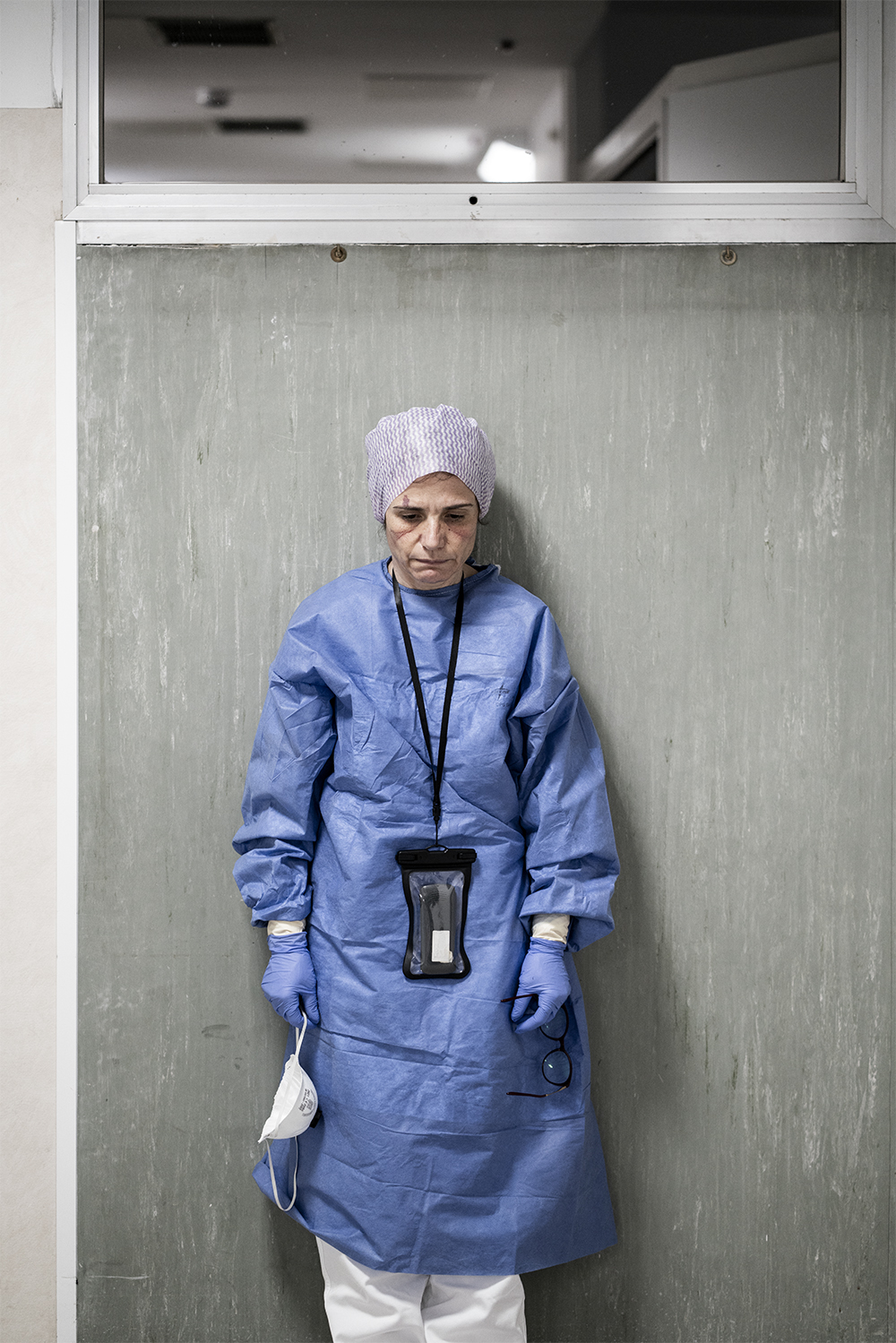 Margherita Lambertini, a first-aid surgeon doctor in Pesaro, Italy, at the end of a long shift. Italian photographer and journalist Alberto Giuliani took a series of photographs in the hospital.
Dr Michelle Johnston, a consultant emergency physician and author, was among the frontline workers preparing for the impact. Coincidentally, her first novel, Dustfall (2018), is set in a country town plagued by asbestos-related lung disease. Now, faced with a real-life respiratory pandemic, she spoke about the frenetic activity at the Royal Perth Hospital (RPH).
'We're reinventing ourselves every daybreak. It's utterly unpredictable. The speed of information means policy on the fly, to stay ahead of the curve.' As with most public hospitals, her department is split into two sections. A new Acute Respiratory Investigation Zone, or ARIZe, was created for patients with respiratory symptoms. Staff in a triage tent at the entrance 'sieve and sort' patients into different cohorts. An ICU outreach team was formed, and intubation simulations, with medical mannequins and critical-care scenarios, began.
Stockpiling of PPE was a major concern. Fortunately, supplies have been respectable, bolstered by government procurement of extra stock. Nationally, sixty million face masks have been added to the stockpile, with another one hundred million set to arrive within weeks. There have been private and unexpected sources, too. In Perth, Clough Engineering, an oil and gas company, donated 3,000 masks.
At RPH, doctors, nurses, and radiology staff work in common areas to ration supplies. There has been some disagreement between frontline workers and the executive about the scope of use for PPE in routine clinical care, outside of the ARIZe. An uneasy balance has been struck, with masks not officially recommended for routine work, yet used by staff on the A&E floor without penalty.
The night before her first shift in ARIZe, Michelle was sleepless. In the past twelve months, she had contracted influenza A, influenza B, H1N1 swine flu, and typhoid fever. She didn't trust her immune system. Dressed in full PPE, she was the first doctor to see a patient in ARIZe. 'I didn't want to die,' she recalls. 'I have children who need me.'
What was needed was a heightened awareness of the risks, without becoming 'blinkered' and 'overwhelmed' (Michelle's description). 'Being in PPE is awful. The masks are painful, it's hot, you can't take a [clinical] history. It changes the way you practise,' Michelle said. The Covid cases came from cruise ships. Strangely, many of those affected were 'happy hypoxics', meaning that they sat and spoke comfortably, despite having blue lips and dangerously low blood-oxygen levels. These patients were prone to crashing rapidly, but ARIZe teams were trained for scenarios transcending usual critical care.
The scale of the upheaval has come at a cost. Michelle describes 'an existential problem, where our core business is put at risk'. The 'frequent flyers' to A&E, including the homeless, drug addicts, Indigenous people, and other vulnerable patients, are at risk of losing their lifeline. They are redirected to acute medical units, which are less equipped to care for them. Michelle worries about the compromises. 'There are biases at play here, with no right answers, and probably some wrong ones. We're making decisions on best principles, trying to predict the greatest good for the greatest number. The problem is we don't know when we're getting it right or wrong.'
I know of health workers being verbally abused, even spat on, by members of the public. The New South Wales government has introduced a $5,000 on-the-spot fine for those spitting or coughing at essential workers. (Victoria has extended this to those working in supermarkets.) To date, Michelle's experience has been different. Emergency staff have been applauded, food delivered to tearooms, a huge gift of chocolate received from Lindt.
Michelle finds the support gratifying, yet ironic. 'We're being recognised by society as essential, but there's a disconnect – we've always been doing this work!'
Throughout March, public concerns grew over the Morrison government's response to the pandemic. Were we testing enough people? Should schools and businesses be closed? Could we acquire enough PPE and ventilators? Was our strategy tough enough? Given the horrors in Italy and with New Zealand going into lockdown, the writing seemed to be on the wall. What the hell were we waiting for?
On March 17, more than 3,500 doctors addressed the debate in an open letter sent to state and federal governments. Warning that Australia was on a worse trajectory than Italy, they called for strict lockdowns. In Western Australia, on March 21, a similar letter was sent to Premier Mark McGowan. Led by Dr Astrid Arellano, an infectious diseases specialist in Perth, it stated: 'People will forgive the imposed hardships … but they will not forgive us if we, knowingly, do not act now.' The national Australian Medical Association (AMA) distanced itself from these petitions, while the AMA's WA president, Dr Andrew Miller, and ABC broadcaster Dr Norman Swan vocally supported them. An unprecedented case of doctors versus doctors played out in public, exacerbating the confusion in the community.
Around this time, I received a phone call from Dr Nick Coatsworth, a friend of mine since we were at medical school. At university, Nick's ambition and flamboyance belied an uncomplicated, generous spirit. Since then he has specialised in respiratory medicine and infectious diseases, and served as president of Médicins Sans Frontières Australia and as director of the National Critical Care and Trauma Response Centre in Darwin. The father of three children, he's refreshingly humble and relaxed.
In conversation, I asked Nick about his secondment to Canberra as a Deputy Chief Medical Officer to Professor Brendan Murphy, part of the Office of Health Protection's Covid-19 response team. Nick described the National Incident Room as a scene of 'pressure, but not tension'. Hives of staff were organised into cells: epidemiology, logistics, procurement, and liaisons with DFAT. The bulk of the department's resources had been reoriented to the pandemic. There was a virtual briefing each morning, led by public-health experts, not bureaucrats. Decisions were consensus-based. Massive screens displayed global data from the embattled World Health Organisation (WHO) and from Australia's National Notifiable Disease Surveillance System. Despite being no stranger to emergency management, Nick was impressed.
I asked him about the concerns of doctors' groups, and admitted to having signed the WA doctors' petition. 'In Australia, this has been a social media pandemic, as much as an infectious one,' he said, choosing his words carefully. 'With some exceptions, public-health clinicians have not advocated for rapid lockdowns. The loudest voices have come from frontline staff, who bear the greatest risks.'
Horrific images from overseas had led to a doctors' version of 'Dr Google', where the reality – minimal community transmission – was distorted by incomplete information and the rapid pace of change. The steepening curve was mainly attributable to thousands of returning Australian travellers. Canberra was confident the curve could be flattened through quarantining, isolation, contact tracing, and travel bans, all of which were quickly imposed. Once community spread began, notably through cruise ships, the response was escalated to include stringent social distancing.
'At every step, the approach has been proportional and scalable, in line with public-health principles, and the Australian Health Protection Principle Committee,' Nick stated, explaining that decisions are driven by data, their impact on society the foremost consideration. 'Take schools, for example. Data from China showed a one per cent rate of infection in children, four per cent in adolescents, and ninety-five per cent among adults. Children didn't appear to be spreaders. Transmission is mainly coming from adults. We couldn't justify giving advice to shut down the entire school system. Ultimately, a non-immune population means a philosophical decision between the welfare of individuals and society, where there won't be a right or wrong answer. You have to make decisions, stand by them, and then move on.'
As I complete this article on April 22, the curve has indeed flattened. I wonder if this in fact reflects an unexpected synergy between the disparate voices coming from the federal, state, and frontline – even armchair – levels. Has the nationwide clarion call been clearer somehow than its separate notes? Whatever the case, it's Australians themselves who have changed, complying with the drastic changes to their lives. For now, at least, it's working.
Nick Coatsworth warns that it's too early to celebrate. 'One in ten Covid cases has no known contact history,' he observes. Left unchecked for a month, one case can result in 400 people being infected. 'We need breathing room. If you flatten the curve enough, you can decide which restrictions to lift and also put in place serious sentinel monitoring.' A phased lifting of restrictions, in steps that can be measured and reversed, requires large numbers of reliable testing kits. In addition to existing PCR swab tests, which detect viral genes, there is a potential saliva-based antibody test in the pipeline. In late March, the government announced the procurement of 1.5 million 'point-of-care' finger-prick blood tests, which can return results in as little as fifteen minutes. At the time of writing, more than 420,000 tests have been conducted throughout Australia. Reportedly, 10,000 tests are being conducted each day. Nick is confident that we are among the world leaders in tests per 1,000 people, though this is a difficult claim to verify, given the disparity in how testing is performed and reported in different countries.
As we wrapped up our conversation, Nick reflected on the past few weeks. He spoke of the support he's received from well-wishers. A former patient of his was among them. Twenty years ago, hers was the first baby he delivered. She's emailed him now, with photos of her daughter, to say that he's doing a good job. 'It makes it worthwhile,' he said.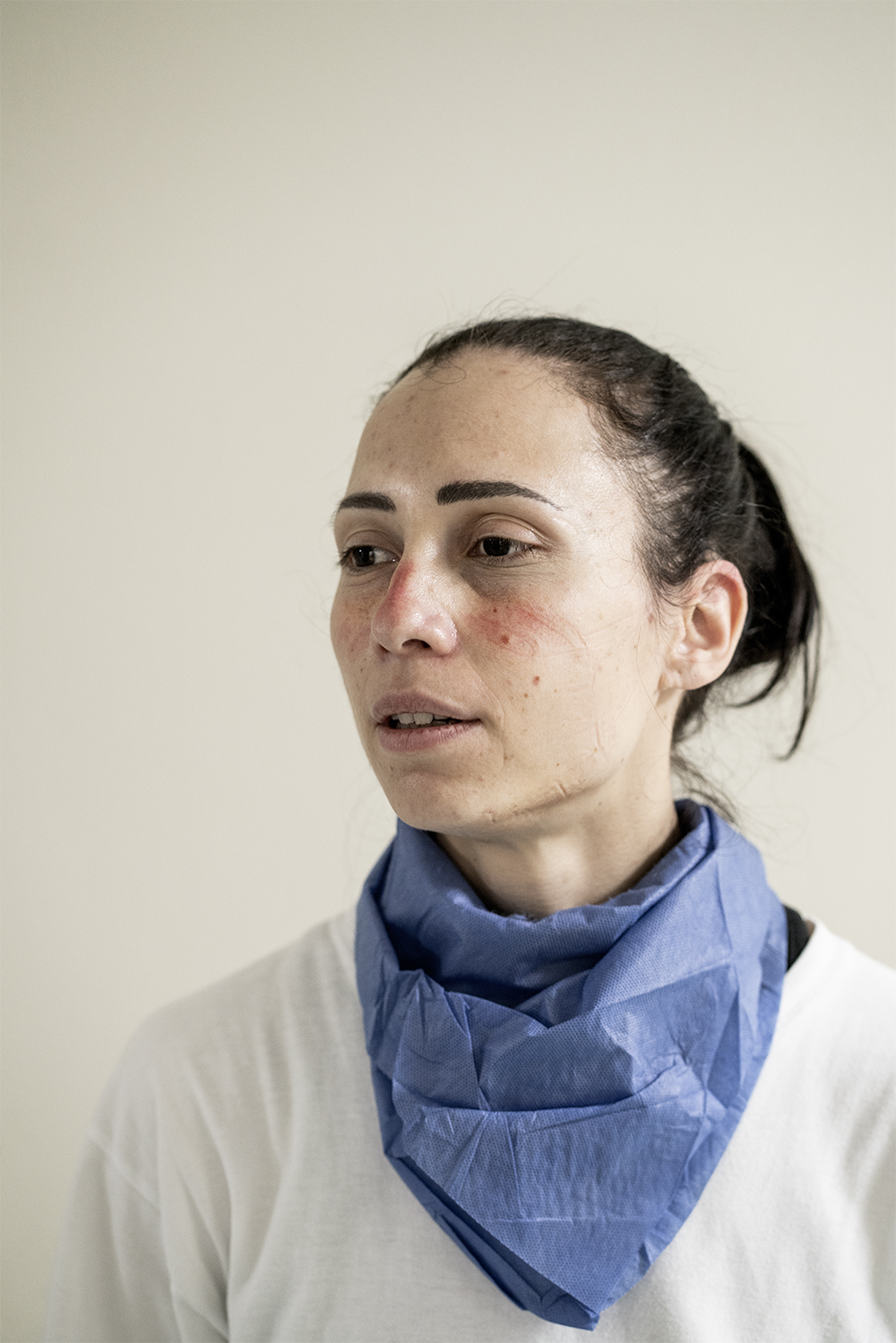 Silvia Giulianelli, an intensive care nurse in Pesaro, Italy, at the end of a long shift. Italian photographer and journalist Alberto Giuliani took a series of photographs in the hospital. The marks on her face were caused by the protective mask she wears.
In Australia, travellers returning from Iran were among the earliest reported cases of Covid-19. As the pandemic evolved here, my family and I fretted about Iran, our country of origin. Since February, Iran had become a global epicentre for the pandemic, beginning in the city of Qom. As the largest centre for Shia Islamic scholarship in the world, trade and travel through Qom, including with China, is heavy. From Qom the virus spread with frightening speed, yet the government refused to quarantine affected areas or to restrict travel.
On February 25, Iraj Harirchi, the country's deputy health minister, sweated profusely during a press conference while reassuring reporters that the outbreak was under control. Hours later, he tested positive for Covid-19. A dozen or more Iranian politicians have since died from the virus. Nonetheless, the government has repeatedly denied allegations of mismanagement or cover-ups.
In late February, I attended the funeral, in Perth, of a close family friend. Aged in her sixties, she had been visiting Iran when she became unwell. The official cause of death was 'respiratory illness', but her family suspects Covid-19. Having worked with doctors in Iran, I can attest to their talent and robust medical training. I worry, however, about the Iranian health system and its bureaucracy, the limited testing capacity, and the lack of synchronised protocols. Across Iran, unprepared hospitals have sent unprotected staff to the frontline. By early April, more than one hundred doctors and nurses were among the death toll of more than five thousand Iranians.
In early March, in an incredible and typically Iranian act of resilience, health-care workers in full PPE danced exuberantly to popular Persian tunes in defiance of a regime that has long banned public dancing. The video went viral, briefly buoying Iranians.
Between March 9 and March 17, in an effort to quell transmission, Iran took the extraordinary step of temporarily releasing a reported 209,000 prisoners. I spoke with my Uncle S, himself a former political prisoner of the Iranian regime. Uncle S is currently stranded here in Perth. He has many concerns. 'The official death toll in Iran is under-reported,' he told me, echoing the concerns of humanitarian groups. 'The government's advice has been delayed and confusing. People are afraid, and have taken matters into their own hands.'
The response from the country's religious orthodoxy has been alarming at times. We discuss the video clip, now famous, of a worshipper in the city of Mashhad licking the shrine of Imam Reza. In cities like Qom, the devout have broken locks and entered mosques to congregate and pray. The nation's Supreme Leader, Ayatollah Khamenei, has nominated a bank account number and sought public donations, purportedly for redistribution to the people. A one-off payment, roughly equivalent to AU$100, is on offer to families, but only as a repayable loan. It's a far cry from Australia's $200 billion economic rescue package.
From Tehran, Auntie Z texts me a WhatsApp video. In it, a council official, standing on the back of a utility van, hoses down a neighbourhood road with a garden-style sprayer. The sprayer's chemical contents are unknown. But for the gravity of the situation, the 'remedy' would be comical.
Auntie Z thinks it's a lazy PR exercise. 'Inja vaz kheili bade, hich emkanati nadarim,' she writes. 'Things are really bad here; we have no facilities.'
In late March, a thirty-four-year-old colleague of mine whom I shall call X became unwell at home. Over five days, their symptoms progressed from mild fatigue and muscle soreness to a fever over 39oC. Next came breathlessness, loud enough to be heard by their partner in the next room. A swab test delivered the verdict: X had Covid-19. They were separated from their family and admitted to hospital for oxygen therapy, prophylactic antibiotics, and monitoring. Blood tests showed spiking inflammatory markers. A little knowledge can be a dangerous thing, and X mistakenly believed that these results predicted death. Highly anxious, X fell into a cycle of hypoxia and panic, similar to that seen in altitude sickness and other 'air hunger' illnesses. 'I was panicking that I'd die, and wouldn't live to see my six-year-old child grow up,' X recalls.
The precise cause of hypoxia – indeed of much of the Covid-19 disease – remains obscure. The basics of transmission – droplets, aerosolised micro-droplets, contaminated hands and surfaces – seem clear enough. Once in the lungs, however, the virus appears to enter a second, murkier phase. Autopsies of victims indicate that it directly attacks alveoli, the tiny air sacs in our lungs. There is a resulting drop in surfactant, the normal soapy covering that keeps alveoli inflated. Consequently, alveoli, and whole sections of lung, begin to collapse. Breathing becomes laboured, blood-oxygen levels drop. Patients can abruptly deteriorate, requiring intubation. The body's immune response kicks in through its army of around two trillion lymphocytes, a subset of our protective white blood cells. Activated lymphocytes help to reduce viral titres, but there is collateral damage in the form of inflamed, boggy tissue, causing patients to 'drown' in their own waterlogged lungs. Bacteria – lovers of warm, wet environments – can move in, causing superinfection. At this stage, anti-viral, antibiotic, and immunosuppressive treatments may help some patients. While death from respiratory failure can occur, many patients will recover.
For others, there is a sinister third phase, known as the 'cytokine storm'. Here, the immune system spirals into an unregulated storm, possibly from an inability to remove infected cells from surrounding tissues. Cytokines, which are small signalling proteins, are churned out in excessive amounts. Unchecked, they raise an indiscriminate, headless army in the form of lymphocytes and other white cell 'soldiers'. This army infiltrates damaged and healthy cells, leading to 'disseminated intravascular coagulation', or blood clotting, throughout the body. By now, patients will be mechanically ventilated and in need of high doses of steroids, plus stronger medications to suppress the immune system. Despite this, vital organs can fail. Ultimately, a diagnosis of cytokine storm bears the grim likelihood of mortality, accounting for the global fatality rate of two to three per cent of all cases with Covid-19.
X never entered the third phase of Covid-19. A chest X-ray showed healthy lungs, and X returned home to recover fully. A week later, two repeat swab tests were done. X admits to 'shitting bricks' while waiting for the results. Both came back negative: X was cleared of the disease. 'I wouldn't wish this disease on anybody,' X says. 'The mental trauma that you go through … I count myself as an agnostic, but those four days made me pray.'
I'm struck that a shred of genetic material, wrapped in a fatty capsule, 3,000 times smaller than a grain of salt, and not, strictly speaking, even alive, is turning people to religion, and bringing civilisation to its knees. On the heels of the bushfire season, as if further proof was needed, our utter fallibility in the face of nature is writ, underlined, and capitalised, larger than ever.
Throughout the pandemic, we've heard time and again about the need to ramp up our hospitals' ICU capacity and to stockpile ventilators. State and federal governments, hospitals, and ICU departments themselves have responded to this call. Still, misconceptions remain about the role of ICU in Covid-19.
Dr Cyrus Edibam has been the Head of ICU at Fiona Stanley Hospital (FSH) in Perth since its inception in 2014. 'The public perception is that "if you've got a ventilator, you'll be OK",' he explained. 'This is far from the truth.' In the United Kingdom, the survival rate for patients on ventilators in ICU has been a harrowing fifty per cent. Cyrus observes that the respiratory failure from Covid-19 is similar to, and less severe than, the H1N1 swine flu of 2009. Likewise, the management of hypoxia – with mechanical ventilation, inhaled nitric oxide, and prone positioning of patients – is well within the capacity of most well-trained ICU staff. Therein lies the catch.
'The disease, one on one, is not that lethal,' he explained. 'With some exceptions, the mortality is accentuated by the imbalance between workforce and workload. It takes seven staff, for example, to turn one unconscious patient onto their front.' Cyrus contends that, at FSH, more lives would be saved with 130 well-staffed ventilators than with the 400 ventilators that could conceivably be rounded up. In China, ophthalmologists were called into ICU despite minimal expertise – a frightening prospect. 'This is why flattening the curve is important, so that we maintain the caseload at a slow trickle.'
I ask Cyrus about his personal experience in ICU. 'I was supposed to be away on long service leave,' he said, 'but the heroes here are the nursing staff.' While doctors flit between beds, sometimes making decisions from outside the room, nurses spend up to twelve hours a day beside a single patient. 'Any decision I make has to have the nurses on board,' he remarks.
Amid all this uncertainty, there is a stark human need for hope, succour, even revitalisation. At her workplace, Dr Michelle Johnston finds it 'similar to the Bali bombings – this is what we've trained for … we're in it together'. She goes to work on rostered days off in order to dispense coffees and chocolates. Other colleagues in A&E have volunteered for extra shifts. The Pan Pacific, a luxury hotel in Perth, is trialling a program to house twenty homeless people. At my own workplace, staff have banded together to accelerate projects in digital records and medical research. Many work productively from home. Telehealth and online teaching have been scaled up. We travel less, teleconference more – Zoom is everywhere. Work has been trampolined into the future. I wonder which of the changes will stick.
Here, Dr Tim Dunlop comes to mind. Author of Why the Future is Workless (2016) and a columnist for the ABC and The Drum, Tim is an international leader in these spaces. On FaceTime from Melbourne, he opens with a scene from his home: his son Noah, a professional ballet dancer, is restricted to dancing on their balcony. It's a self-isolation spectacular, a free show with applause from onlooking neighbours.
I ask Tim about my hunch: is there lemonade in these lemons? Tim describes this moment as a 'big, real-time experiment', a catalyst to smarter technology use, reduced waste, and more flexible industrial awards for wage earners. He observes a levelling effect, whereby governments, previously reluctant, are forced to address the needs of the working poor. The $1,500 JobKeeper allowance, and the supplement to the rebranded JobSeeker, exposed Newstart's inadequacy. Who, now, would argue that Newstart met people's basic needs?
Tim anticipates other changes, more disruptive ones. To buffer against pandemics, corporations will increase capital investment in automation, at the expense of labour. The adoption of artificial intelligence will accelerate; some businesses will need fewer employees. These changes won't be uniform. In Singapore, business rescue packages incentivise a pivot towards capital, while in South Korea, the opposite is happening. Tim is yet to observe a definite trend, one way or the other, in Australia.
How will people survive a post-Covid future? 'The whole idea of paid work as the norm needs to be questioned,' Tim contends. In its place, he poses the notion of a Universal Basic Income. The UBI is an old idea, dating back to Thomas More's Utopia in the sixteenth century. More recently, its champions have been Economic Nobel laureates Peter Diamond and Christopher Pissarides, tech magnates Elon Musk and Mark Zuckerberg, and healthcare bodies such as the Canadian Medical Association.
According to Tim, 'A basic income provides a new "floor", owed to you as a member of society.' Conceivably, it's a pre-emptive version of today's Covid-19 allowances, with nominal dollar values ranging from $1,000 to $3,000 per month. But unlike rescue packages, a peacetime allowance would be planned and sustainable. Funding sources could include tax reform for listed corporations (thirty-two per cent of which, we know from the ATO, pay no tax in Australia), annual dividends from a sovereign wealth fund (as practised in Norway and Alaska), and royalty payments from tech companies for mining our personal data – small individual fees applied to the richest corporations in human history.
In Australia, Covid-19 has been characterised most distinctly by its very uncertainty: the shadow over health and economic impacts, the timelines for the exit points, the efficacy of the off-ramps. As Australian case numbers have slowed, the clouds have lifted, but only slightly. Our southern winter is coming, and Singapore has taught us much about the threat of a second wave of the disease.
As viruses always do, SARS-CoV-2 has been busy, meanwhile, mutating itself. The mutations have been small and so far inconsequential, but epidemiologists frame the next pandemic in terms of when, not if. The news is mixed, but not all bad. Though inconclusive, the available genomic data suggests a progression towards an 'S' type of the virus, which, if anything, is less infective than the 'L' type, first seen in Wuhan. While Covid-19 is highly contagious, it is much less fatal than the SARS (Severe Acute Respiratory Syndrome), MERS (Middle East Respiratory Syndrome), and Ebola pandemics, whose estimated fatality rates were fifteen, thirty-four and fifty per cent, respectively. Still, these outbreaks were ultimately contained.
History is more instructive. Since 1700 there have been nine major influenza pandemics, roughly three per century. The timing has been irregular, with intervals as short as three years and as long as fifty-six. Predictions of the next 'due date' are thus unreliable, if not misleading. The most severe pandemic was the Spanish influenza A virus, which infected an estimated 500 million people, a third of the world's population. It killed between seventeen and fifty million people, putting the 170,000 deaths attributed to Covid-19 so far – tragic though they are – into perspective. The Spanish flu occurred a hundred years ago, in the wake of overcrowding and mass movements after World War I. We're hardly comparing apples with apples, but nor should we underestimate our collective will to solve problems, re-emerge, and flourish.
One strategy for doing so revolves around the promise of a vaccine. Currently, there are 115 vaccine candidates in development, backed by a reported US$2 billion fund, under the auspices of the Coalition for Epidemic Preparedness Innovations (CEPI). Bill Gates is said to be 'optimistic' about the creation of a vaccine by the end of 2021. But a successful vaccine has never been made for a coronavirus before, including SARS and MERS, for reasons that include the unique immune characteristics of our respiratory tracts and the paradoxical risk of worsening lung disease from a misdirected, crossover immune response to the vaccine. CEPI itself estimates a success rate of ten per cent for vaccine candidates in 2020.
While we await a vaccine, the Morrison government's exit strategy is one of suppression. I consulted Nick Coatsworth again. 'Suppression means low enough levels of disease in the community, so everybody who needs care gets it, and the health system is not overwhelmed,' he told me. When restrictions are eased, our ramped-up sentinel testing and contact tracing provide, in theory, for surges in infections to be swiftly detected and controlled. Nick and I compared notes on timelines from the Doherty Institute in Melbourne and Imperial College London. Assuming that our low rate of community transmission is maintained, the best guesses for substantial lifting of restrictions fall between October 2020 and January 2021.
I put New Zealand's eradication strategy – eliminating the virus altogether – to Nick. 'It's not Covid that's keeping me up at night, it's the effect of restrictions on society as a whole,' he replied. He cited rising mental illness, domestic violence, and alcohol-consumption levels; the possibility of a generation of high-school dropouts; the loss of treatment for non-Covid patients with chronic diseases; the huge toll on a nation in captivity. Eradication, he thinks, represents a narrow view of a single disease, overlooking the other maladies growing around it. With the Australian growth factor down to 0.85, meaning a downward trend in the number of new cases, the numbers appear, tenuously and for the minute, to be on his side.
In early April, I learned of the death, from Covid-19, of a twenty-eight-year-old nurse in the United Kingdom. Five days earlier, her baby daughter was delivered by emergency caesarean section, and survived. Vividly attuned to this story, I calculate that, by the time this article goes to press, our firstborn daughter – assuming she agrees to the schedule – will be one month shy of delivery. Her mother has stopped all patient-facing clinical work; she's answering a Covid-19 hotline instead. I meanwhile have taken the imperfect decision to undertake an outreach trip to Kalgoorlie in early May. The virus lurks in the grass, always present, but all's well at home for the moment.
I contemplate the world our daughter will join. Will social distancing permit me in the delivery room? Will her grandparents be able to hold her? Years from now, what shapes, real or virtual, will her school and social lives take? Rational or not, my gestalt view – climate change notwithstanding – is that she'll be fine. In a geographically isolated and prosperous nation, with a well-resourced health system overseen by an apparatus that grows more vigilant daily, her chances are enviable.
In late April, a thin sense of security seems to stretch, gossamer-like, across the nation. Our daughter, too, will be an Australian, a member of the world's most privileged, and perhaps safest, minority.