Society
Breaking News: The remaking of journalism and why it matters now
by Alan Rusbridger
When Alan Rusbridger was a young journalist on the Cambridge Evening News, he fell in love with a university leturer. One night, after they moved in together, there was a knock on their door. A reporter and photographer from the Sunday Mirror wanted to tell the story of their romance to the four million people who bought the British tabloid each week. Why? The lecturer's late father had, years earlier, been on television. Rusbridger imagined the headline: 'Daughter of quite famous man has affair.'
The Sunday Mirror team didn't react well to being politely turned away. 'We can do this nice or we can do it nasty,' said the reporter, who sat outside the house for twenty-four hours, occasionally leaning on the doorbell. A week later, he and the photographer returned and tried again. The story was never written, but for Rusbridger – whose career thus far had involved covering council meetings and flower shows – the experience was eye-opening. As he says in Breaking News: The remaking of journalism and why it matters now, he had learned 'what it was like to have journalism done to you'.
Rusbridger would go on to become one of the UK's great crusading editors. During his twenty years at the helm of The Guardian, from 1995 to 2015, he and his reporters broke a series of sensational stories – revealing industrial-scale phone-hacking by the British wing of Rupert Murdoch's media empire, for instance, and collaborating with whistle-blower Edward Snowden to expose police-state-style surveillance of American citizens by the US National Security Agency. Rusbridger's book is in part a behind-the-scenes account of this exacting but thrilling work.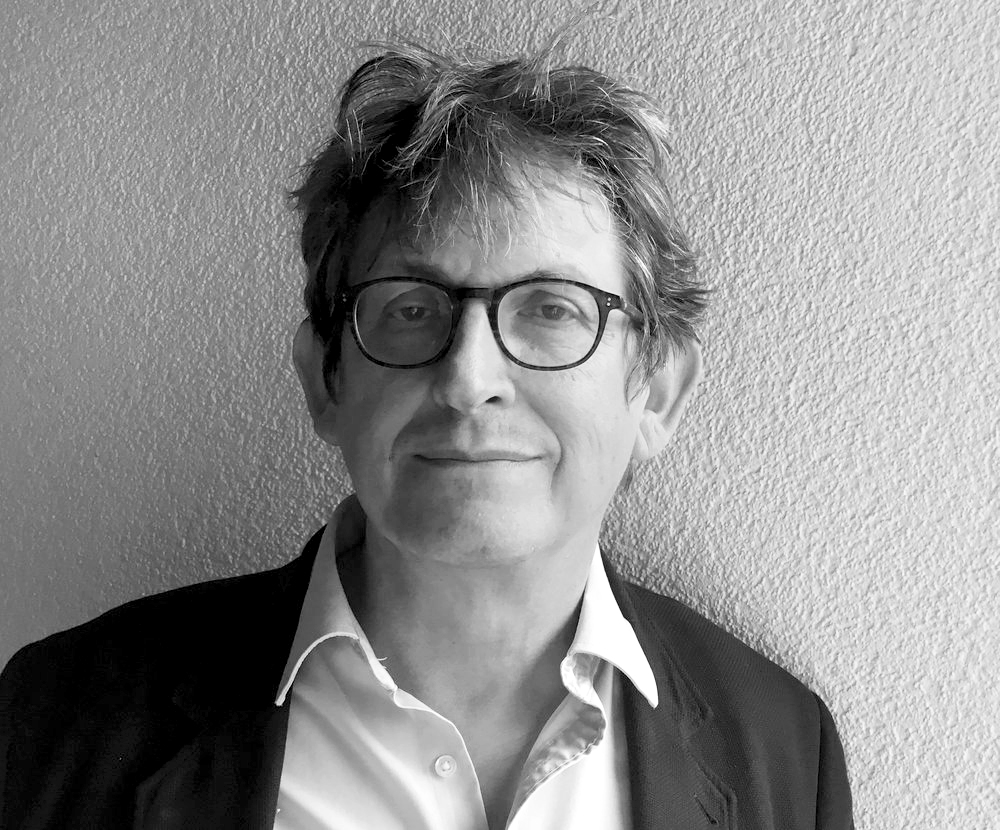 Alan Rusbridger
It is also the story of how it felt to be at the centre of an industry forced to rapidly and completely reinvent itself. He points out that, at the start of his editorship, most journalists had only just discovered they could use a phone to send text messages. Two decades later, more than half their younger audience were using phones to read their news. The internet and so-called 'social media' (a pallidly inadequate term, in his opinion) have revolutionised the way news is gathered, distributed, and consumed. Much about this has been liberating and exciting. But now that news is everywhere, on our phones and in the ether, nobody wants to pay for it. As a result, the centuries-old craft of journalism is in danger of being lost.
Rusbridger is tall and owlish, with a mop of floppy hair. In recent photographs, he looks like a sixty-five-year-old version of Harry Potter. His reserve and his unflappability are legendary. Harold Evans, another distinguished British newspaperman, said when Rusbridger stepped down from The Guardian editorship that he had 'enhanced the worldwide reputation of a great newspaper without apparently breaking a sweat'.
We discover in the book just how thoroughly his sangfroid was tested. 'I listened with interest and a faintly raised heartbeat,' he writes of a conversation in 2009 with star reporter Nick Davies, who had been looking into the criminal practices of private investigators hired by tabloid newspapers to ferret out personal information about celebrities, politicians, and the royal family. A reporter on Murdoch's News of the World had been jailed for intercepting voicemail messages on the phones of three people who worked at Buckingham Palace. Murdoch's executives had dismissed the phone-hacking as an aberration, but Davies told Rusbridger this was not true. Thousands of phones had been hacked, he said, and dozens of Murdoch staff were implicated.
The investigation by The Guardian led to resignations, arrests, the closure of the News of the World, and the setting up of the Leveson Inquiry into the culture and ethics of the British press. At the outset, Rusbridger was certain of only one thing: taking on one of the most powerful corporations in the world would be tough. 'I did look in the mirror that night and ask myself if I was up for it, which is something I thought only happened in airport thrillers,' he writes.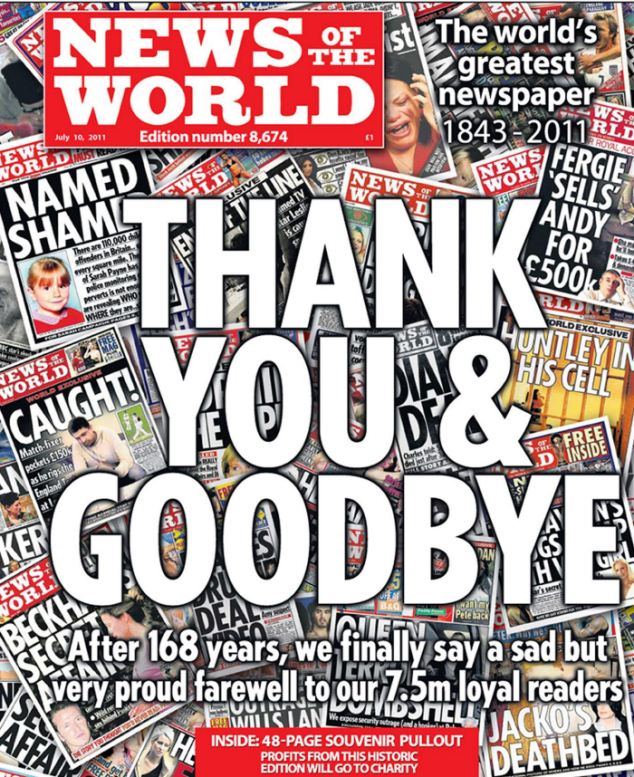 The final edition of News of the World, dated June 10, 2011 (photograph via Wikimedia Commons)
Rusbridger's commitment to journalism had never really been in question. When he left Cambridge University with a degree in English literature in 1976, he went straight up the road to the office of the Cambridge Evening News. One week he was analysing the modernist poetry of Ezra Pound, the next he was bashing out wedding reports on a clattery old typewriter. He knew he had found his calling. 'I felt, for the first time in my life, like a duck in water,' he says. Three years later, he moved to London to join The Guardian, a left-leaning daily that was owned by a trust and run for the public benefit rather than profit.
The paper had been founded in 1821 by Manchester businessman John Edward Taylor, who realised the need for the kind of journalism that held the powerful to account after he witnessed what became known as the Peterloo Massacre, an attack by troops on a rally of unarmed citizens in 1819. The Guardian, originally called The Manchester Guardian, has always been widely regarded as a little too worthy for its own good. The early twentieth-century politician Lord Robert Cecil described it as 'righteousness made readable'. But Rusbridger loved the paper, and rose quickly through the ranks: after stints as a reporter, columnist, and feature writer, he launched a Saturday magazine and a daily features section, then, at the age of forty-one, took the editor's chair.
On his watch, The Guardian repeatedly swept the British Press Awards and, in 2014, became the first UK newspaper to win the Pulitzer Prize, for its coverage of the Snowden revelations. By then, Rusbridger had transformed it into an international media force, having launched an online news site – and subsidiary sites for Australian and US readers – recently ranked by Amazon as the fifth most popular in the world (after Reddit, CNN, The New York Times, and Google News). As he notes with a mixture of satisfaction and mild surprise, he did all this without resorting to publishing intrusive stories about people's personal lives.
In a sense, this book is a cliffhanger. We don't know yet whether serious journalism will survive into the future. The old business model is broken and the scramble to find a satisfactory substitute is ongoing. What Rusbridger does, in his quiet and compelling way, is remind us how important it is that the quest succeeds.