Fiction
So You Don't Get Lost in the Neighbourhood
by Patrick Modiano, translated by Euan Cameron
Patrick Modiano's most recent novel, published just before he was awarded the Nobel Prize in 2014, is his twenty-sixth to date, though one of a great number to arrive almost all at once in the English-speaking world. In the post-Nobel flurry to translate Modiano into English, the past two years have marked a shift in the author's status from practically unknown to international renown.
Critics often remark that Modiano keeps reworking the same material, encouraged by the author's own stated 'impression' of having written the same novel for the last thirty years. But just like the ostensible clues found in his work, such remarks should be taken with a grain of salt. There is much more at play than simple repetition. Rather than be the one to tell you something, Modiano is more likely to throw you off the scent.
Modiano is a writer of atmosphere – brooding, cinematic atmosphere conjured up by the most minimal means. So You Don't Get Lost in the Neighbourhood, begins with the words, 'Presque rien' – 'Almost nothing', a stark Beckettian opening that perfectly captures a style that has become increasingly purified and condensed over the decades.
The setup is classically Modianesque. The protagonist, writer Jean Daragane, bearing a considerable degree of resemblance to the author himself, is plunged into a mysterious investigation, obliged to play the amateur sleuth. The subject of the search remains tantalisingly – or excruciatingly, according to one's tolerance for ambiguity – just out of frame. It all starts with a phone call out of the blue from a certain Gilles Ottolini, who has found Daragane's address book and wishes to return it. This is no innocent good turn; Ottolini has identified someone in the address book about whom he hopes to extract some information. The problem is that Daragane can't – or won't – remember anything about the individual in question.
After setting up the initial mystery, the investigation leads to a more personal and distant search, leaving the first case more or less in limbo. It involves a woman from Daragane's past, Annie Astrand, in whose care he was left as a child. It is no spoiler to say that Annie vanishes only to reappear years later, raising the questions of why, where did she go, and did she really go to prison. Layers of stories within stories are recounted so evocatively that, although you think you know what has happened, when you try to pin anything down it falls away like sand.
On the surface, Modiano's novels appear quite straightforward, which is partially due to his minimalist prose, but the structure loops and folds through complex temporal layers that can create a sense of vertigo. And not just within the space of one novel; Daragane describes a recurring dream about being cross-examined over his suspected involvement in a serious event in the past, but he is incapable of answering his interrogators' questions. This scene, while perfectly coherent here, refers back to an earlier novel, After the Circus (1992), which begins with an oddly similar inter- rogation.
Readers already familiar with Modiano's novels will note the reappearance of the couple from Out of the Dark (1996), Van Bever and Jacqueline, here renamed Chantal and Paul, as well as Colette Laurent, who appears in Afterimage (1993). There is also the village based on Jouy-en-Josas, the setting of Suspended Sentences (2006), among others. These are just some of the fibres of a rich and complex tapestry weaving back and forth across the length and breadth of Modiano's literature. While this is one of his shorter novels, it is also one of his densest; with each Modiano novel, the intertextual richness increases further.
The novel sets in motion the complicated relationship we can have with our own past selves. Daragane is consumed in a tug of war between holding on and letting go, the desire to discover the truth. and the desire to allow things to remain in silence. This tension and ambivalence is symbolised by a suitcase stuffed with mementos from his childhood and adolescence: 'He could not part with it, but he was nevertheless relieved to have lost the key.'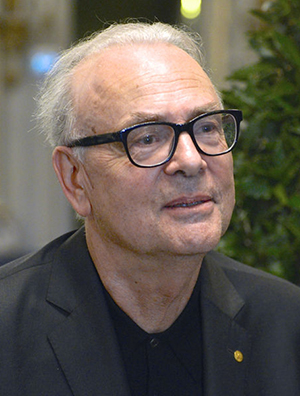 Patrick Modiano (photograph by Frankie Fouganthin, Wikimedia Commons)Modiano's novels often refer to the Occupation. Here, this dark period in France's history is not quite absent, but is now at a greater distance. The space left is taken up with meditations on time, the perception of its incongruity and, fleetingly, its annihilation. Eras and epochs are described as layers of cello-phane, fragile and transparent.
In what is otherwise a smooth and faithful translation of deceptively simple prose, there are a couple of awkward features. Cameron tends to emulate the French preference for negative formulations, and at times the use of the pluperfect is clumsily navigated, resulting in a number of 'had had' formulations, as well as this zinger: 'If anyone were to have asked him nowadays which writer he might have wished to have been, he would have replied ...' The novel's vague temporal flux is not only created through shifts in tense and these need not be slavishly followed. These features may come down to a stylistic or ideological decision, choosing to reproduce French syntax and linguistic propensities. Cameron is free to make such choices; however, the overall effect is somewhat laborious and, more galling, it departs from the purity and sparseness quintessential to Modiano's style.
At the end of the novel, having started with presque rien, we seem to conclude with even less. While unanswered questions and ellipses remain, both the opening phrase and the novel's title reappear, revealing their full, poignant significance. Modiano reaffirms an unsettling trope of circularity which falls short, naturally, of closure.