YA Fiction
Mike Shuttleworth reviews 'The Flywheel' by Erin Gough, 'A Small Madness' by Dianne Touchell, and 'For the Forest of a Bird' by Sue Saliba
Publishers Hardie Grant Egmont established The Ampersand Project in 2011 as a platform for new writing. Erin Gough's suburban drama/comedy The Flywheel ($19.95 pb, 306 pp, 9781742978178) is the second book to appear under the Ampersand banner. It is a contemporary slice-of-life tale painted with broad comedic strokes. Set in Sydney's inner-west, the novel follows three months in the life of seventeen-year-old Delilah. Her father's extended holiday in the Mongolian desert has him out of contact, while her mother, who has long since moved to Melbourne, seems even less available. The Flywheel of the title is the café that Delilah's father has left in the care of an Irishman. When the latter is deported after visa problems, Delilah is left alone and in charge. Her challenges include, but are not limited to, jump-starting a relationship with neighbouring flamenco instructor Rosa; keeping the café afloat; fending off bullying girls at school; and appearing in court as a witness for her feckless friend Charlie who is up on assault charges.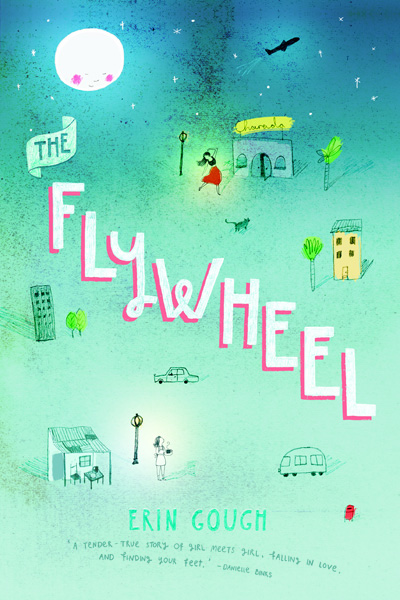 The Flywheel by Erin Gough
The first-person voice offers writers immediacy, but can allow the narrator to become something of a witness to events and less of an actor in them. Erin Gough doesn't completely escape this difficulty, and it is in Delilah's wish to be with Rosa that the problem seems most acute. Since Delilah makes it plain to the reader that she wants to be with Rosa, it is a let-down when Rosa makes the first move: situation solved, but plot-wise something of a deus ex machina. Things become more complicated, and more interesting however, when Rosa tells Delilah that she can't be open about their relationship, as she lives with her conservative extended family, and Delilah rejects Rosa. But ultimately Delilah is forced to confront her responsibilities to others and not just her own wants. A key theme of The Flywheel is this need to see through our tendency to idealise others and learn to live with imperfection. The Flywheel celebrates individuality and community in an enjoyable and accessible way.
Continue reading for only $2.50 per week. Subscribe and gain full access to Australian Book Review. Already a subscriber? Sign in. If you need assistance, feel free to contact us.