P.L. Travers (1906–96) did her best to keep her private life private. Perhaps her reservations harked back to the days before she penned Mary Poppins (eight novels, 1934–88) when she was a human interest columnist for a daily newspaper. As a writer of both journalism and fiction she knew as well as anyone that hearsay and speculation were quite different from myth and fairy tale. Still, Travers's life has been the subject of tabloid sensationalism intermittently over the years. Often ignoring the magic and mysticism that flew into the Banks' lives along with her character Mary Poppins, the press was interested in secret and scandal. There was coarse commentary on the author's adoption of Camillus Hone, the twin whose brother she neither wanted nor took in, along with her alleged affairs with older men and with women, as though these issues ought to alter public opinion of her literary achievements.
But for all their conjecture, her only true adversary was Walt Disney. Made rich but miserable by his 1964 musical film adaptation, Travers went to great lengths after the fact to ensure that her beloved Poppins would never again be reduced to a singing sentimentalist: her final will and testament stipulates that no American is ever to be involved in any future Mary Poppins projects. Unfortunately, Travers went to no such lengths to protect herself. Aimed squarely at the Disney audience, Saving Mr Banks tells the story of how Disney acquired the rights to Mary Poppins, and in so doing makes a success where the tabloids failed, attacking Travers's personal character with aplomb.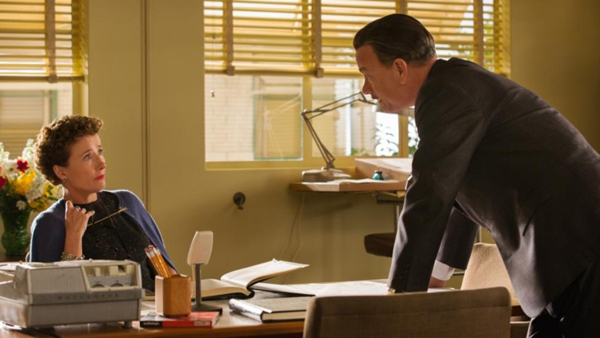 Emma Thompson and Tom Hanks in Saving Mr Banks
Before the narrative even begins, the Walt Disney Pictures logo appears accompanied by the Sherman brothers' original score. There's no mistaking that this is Disney's version of events. Opening onto perfectly formed clouds, the camera floats down to reveal a young girl soaking up the Australian sun in Maryborough, Queensland. The young girl looks happy, unlike the middle-aged woman the film quickly cuts back to. The narrative timeline is split in two, flitting back and forth between Travers's (Emma Thompson) childhood in Australia, included to illustrate the closeness of her relationship with her alcoholic father (Colin Farrell), and back to the 1960s when an adult Travers flies from her London home to California to consult with Walt Disney (Tom Hanks) and his creative team. Travers arrives resolute: she will either control or thwart Disney's determination to turn Mary Poppins into a movie.
'There's no mistaking that this is Disney's version of events.'
Australian writer Sue Smith (Mabo, 2012) had originally written the script as a biography of Travers until British co-writer Kelly Marcel, (script editor, Bronson, 2008), decided they should focus on Travers's trip to Burbank and her emotional journey from self-righteousness to relinquishing the rights to her books. American, John Lee Hancock (The Blind Side, 2009) directs. With Australian, British, and American creative input, the allegiances ought to be evenly divided. Romanticising her Australian upbringing however through the lens of nostalgia, her English affectations – such as 'milk in first' when making tea – are characterised as absurd. America, and Disney, by default, becomes the comparatively neutral ground.
Though her stiff upper lip is occasionally endearing, her character is ultimately one-dimensional, written and performed to be read as hard and horrible; she dislikes and dismisses children, sweets, soft toys, song and dance, cartoons, California and Disneyland, which, according to its tagline, is 'The Happiest Place on Earth'. Conversely, Walt Disney is always smiling; he is kind to his staff and softly spoken. Any use of a firm hand to get his way is only employed because it concerns the joy of children, specifically his children, to whom he has made a promise that he will bring Mary Poppins to life onscreen.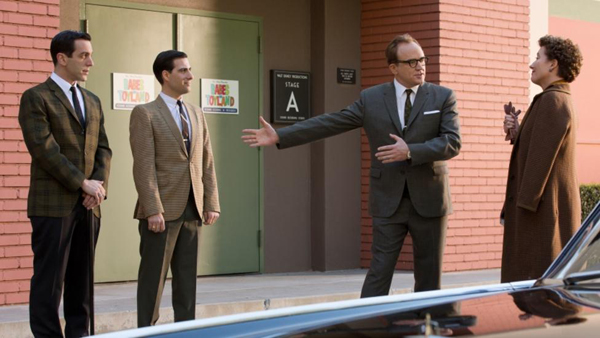 B.J. Novak, Jason Schwartzman, Bradley Whitford, and Emma Thompson in Saving Mr Banks
This promise is the film's emotional hook; he tells Travers in no uncertain terms, 'A man cannot break a promise he made to his kids. That's what being a daddy is all about.' The film goes to great lengths to illustrate how much Travers loved and admired her own father, who died prematurely owing to his alcoholism, breaking the very promise of fatherhood. Dramatically, Disney's words hit home. Still, she holds out for as long as she can, until, in the film at least, she is seduced by song and sentimentality.
Non-Disney sources indicate that she finally signed over the rights for financial reasons and contradict the tidy ending where Travers and Disney sit down to a pot of tea and make amends. Though Saving Mr Banks leaves the question of her love affairs and adoption well alone, what it attacks is far worse. In the books, Mary Poppins is a no-nonsense woman. P.L. Travers believed 'she is me'. Both women have been softened for the screen. Much like the morals in his movies, apparently Walt Disney can melt the heart of even the hardest villain. So says the global brand of myth and fairy tale, our greatest source of hearsay and speculation.
Saving Mr Banks, directed by John Lee Hancock. 125 minutes. Released 9 January.