Memoir
White Beech: The Rainforest Years
by Germaine Greer
Melbourne historian Ian Britain has commented that Germaine Greer's The Female Eunuch (1970) – her first and still best-known work – was 'a book of outrage: an exposé, a jeremiad, a manifesto'. More than forty years after the Eunuch made Greer an instant international celebrity, her latest book is written in a different mood. Still spirited and sparring (could Greer ever be otherwise?), it is a sober, meditative, deeply moving account of her efforts to regenerate sixty hectares of scarred rainforest at Cave Creek in the Numinbah Valley in the Gold Coast hinterland not far from the northern border of New South Wales. It is a cry too, not just for one small patch of earth but for country, every bit as passionate and anguished as that of poet turned environmental campaigner Judith Wright before her.
Strangely, Greer seems unaware that her own work – impressive, ambitious, and supremely well-organised as it is – builds on a tradition of advocacy and activism by other Australian women, singly or in groups, in defence of the same ends. The battle for Kelly's Bush in suburban Sydney in the 1970s and 1980s is just one example. Still, Greer is a powerful and persuasive advocate for the environmental cause through the microcosm of her larger and more intensely personal forest regeneration scheme. She has been spending her own money in not inconsiderable sums.
For years, Greer tells us, she had wandered Australia with an aching heart: 'Everywhere I had ever travelled across the vast expanse of the fabulous country where I was born I had seen devastation, denuded hills, eroded slopes, weeds from all over the world, feral animals, open-cut mines as big as cities, salt rivers, salt earth, abandoned townships, whole beaches made of beer cans.' But at Cave Creek, Greer – in her early sixties when the project began – found her chance 'to clean something up, sort something out, make it right'. She says she wasn't doing it out of altruism; nor did she think she was saving the world. Rather, she was in search of what she calls 'heart's ease', an implied place of repose and personal reflection; and, somewhat oddly, 'a good place to put my archive'. She is referring here to her accumulated papers, the documentary record of a life's work, sold recently to the University of Melbourne in a deal that will see the proceeds ploughed into what Greer has named the Cave Creek Rainforest Rehabilitation Scheme. The land she first saw in December 2001 and purchased shortly afterwards has now been vested in a charitable entity run by Friends of Gondwana Rainforest in the United Kingdom, soon to be transferred to an Australian not-for-profit company. Under this plan the healing of the forest that commenced under Greer's hand, and that she has nurtured with her full heart and commitment over thirteen years, will, she hopes, continue after her death.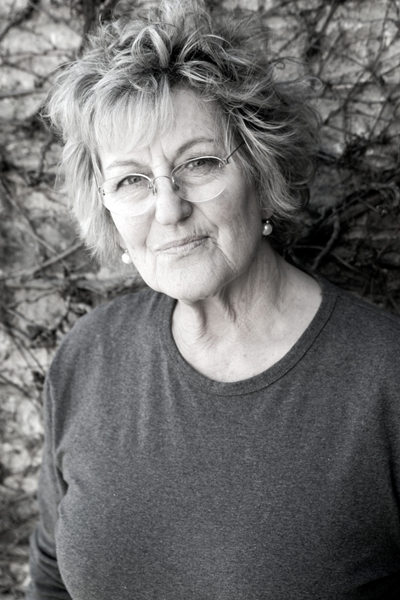 Germaine Greer (photograph by Jonathan Ring)
The degraded dairy farm of Cave Creek came late to Greer's notice after a number of unsuccessful efforts to locate a patch of Australian earth. In forays to Australia from England, where she still lives in the flat countryside of rural Essex, she had explored various options, including in central Australia and on the south coast of New South Wales. While the accounts of each of these failures makes interesting reading, establishing Greer's credentials as a self-taught botanist and a stern critic of Australian land and conservation management, they set the scene for the bigger story of Cave Creek. In her telling, she became the servant of the forest, just one more organism in the biomass, the sister of its mosses and fungi, its mites and worms. In her eloquent book, on public platforms, and in the media, she would become its interface with the world of humans, arguing its case and doing her best to protect it from exploitation and desecration.
'One of the many pleasures of this urgent and persuasive book is the power and lyrical beauty of Greer's close observation of the natural world from its smallest and seemingly most insignificant plants and creatures to the noble beech of her title.'
Heroic herself, in her gutsy, grumpy, scolding way, the emblematic hero she prefers for this narrative and the emerging triumph of the regenerating rainforest is a single magnificent tree (or tree species) called White Beech. Logged to near extinction in its natural forest habitat, the beech survives in street plantings and the median strips of carriageways. But at Cave Creek one of Greer's many epiphanies is the discovery of a single specimen surviving its near-suffocation by the invasive lantana. As the tree is eventually liberated, Greer exults in the signs of its slow renewal. She observes the seemingly half-rotten branches eventually pushing out furry new leaves of thick pastel green. Before the leaves had finished coming in, 'the great old tree sent up a silent shout of victory', gushing torrents of blossom, china-white cymes that turned violet-blue as they aged. In turn the tree produced its fruit in grand abundance. Now the White Beech has been propagated at Cave Creek – no mean feat in itself – with the first baby beeches planted in 2006, their growth contributing to the restoration of the depleted forest canopy. One of the many pleasures of this urgent and persuasive book is the power and lyrical beauty of Greer's close observation of the natural world from its smallest and seemingly most insignificant plants and creatures to the noble beech of her title. In the encompassing presence of the forest and its creatures, the loud, tetchy Greer is silenced, entranced, and moved. Tim Flannery has said that in this book Germaine Greer reveals herself as one of the great Australian writers of natural history.
Greer's personal investment in Cave Creek has been immense and has yielded significant results, but while, for understandable reasons (she is now seventy-four and her project remains a work in progress), she disdains the exhaustion and unwieldiness of political process and what she sees as the flawed structures of land and environmental management in Australian jurisdictions, it is difficult to agree with her conclusion that, if conservation is to be done at all, it will have to be done by dedicated individuals or organisations on privately owned land. Superb advocate though she is in pleading the forest's cause, her large task of cleansing and mending has been concentrated in one small patch of the assaulted Australian earth. Her efforts, and those of her workforce, are labours of love, but, if they are not to be lost or dissipated, it is vital that advocacy for change in public policy and better and more effective allocation of resources is undertaken with the same organisational flair and high intelligence that she has applied to her self-appointed task. Cave Creek is a remarkable exemplar of what can be done – and there are others like it elsewhere in Australia. But for all their achievements, these are piecemeal efforts. In the end, much more is needed.