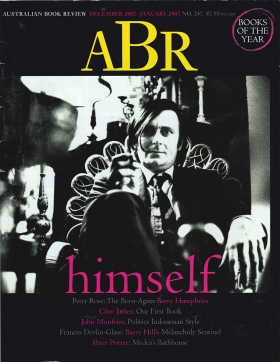 Welcome to the December 2002-January 2003 issue of Australian Book Review!
December 2002-January 2003, no. 247
Peter Rose
When Barry Humphries published his first volume of autobiography, many readers were left wanting 'More, please' – avid as gladdie-waving victims during one of his shows; voracious as the greedy polymath himself ...
Frances Devlin-Glass
It seems to be only a couple of years ago that my students declared gender and race to be the 'hot' topics in culture. Now, I confidently predict, they will relegate gender (still acknowledging its importance) and reformulate the second term by adding a third: race and its intersection with religion, in its broadest definition.