Snake Cradle: Autobiography of a black woman by Roberta Sykes
Allen & Unwin, $19.95 pb, 328 pp
Biography
Snake Cradle: Autobiography of a black woman
by Roberta Sykes
Snake Cradle: Autobiography of a black woman is the first published volume of a three-part life story from Australia's renowned black rights activist Dr Roberta Sykes. In Snake Cradle, Sykes chronicles the first seventeen years of her life in Queensland and gives us a generously open story in her legendary powerful and thought-provoking style.
After thirty years of activism, Sykes has become something of an icon of black rights in this country. Her reputation as an articulate and powerful woman grew in the 1960s and 1970s as Australia's Aboriginal leadership broke barriers of entrenched racism to change the backward policies of containment of Aboriginal people in this country.
Secrets swarm through Sykes' childhood in 1950s Townsville, then a rural north Queensland seaside town. Here in the 'Snakes Cradle' of colonial racism, Sykes and two younger sisters grew up with their white mother, Rachel Patterson, in a nest constructed of secrets and lies. Yet Sykes speaks fondly of her mother who was 'the minder and nurturer whom we suspected of having eyes in the back of her head, and who was the central and most powerful influence in our early lives. But did we know her? The answer is no.'
Sykes also draws upon the Carpet Snake totem, which was revealed to her by an old Aboriginal man who, recognising family resemblances, placed her in an Aboriginal ancestry. Throughout Australia, the knowledge of Aboriginal elders on such matters is uncanny and respected.
Sykes grew up in the assimilation era in Queensland, a period characterised by the policy of removing Aboriginal children from their parents. Her mother, Rachel Patterson, was determined to bring up her dark-skinned children by herself, 'As good as anyone else', to achieve the impossible dream-to be like white people and thereby be accepted by white people. In Snake Cradle, Sykes explores many questions about her mother and searches for answers about her father, questions which she put to her mother time and again as a child.
Often stricken with serious illness during her childhood, Sykes quenched a deep thirst for knowledge by reading encyclopaedias whilst sick in bed. She also lapped up her mother's invented stories about her absent father. But to the end her mother's life and secrets remained an unyielding mystery of 'truly fragmented pieces, a fearful kaleidoscope'. The woman whom Sykes remembers as 'always being there', also did not want to be found.
As the little helper in her mother's home-based laundry business, Sykes relished her childhood tasks and the work bonded the family together as they struggled to make ends meet. An episode of their mother's illness put Sykes and younger sister Dellie into St Joseph's orphanage in Rockhampton for a year. Here friction between the inmates was cruel and relentless. As she grew up in the 'Snakes Cradle' Roberta learnt to keep secrets too.
I came to understand that there are terrible secrets in this world, and that, for reasons which may have nothing really to do with the individuals, some people get to know about the secrets, and others don't.
St Anne's Church of England school, the mother's choice for young Sykes, was a complete disaster, where vicious little white girls taunted, pulled and shuffled to fill the gaps in the classroom so as not to let a dark girl stand beside them. Meanwhile, those in higher rows kicked young Sykes' head and shoulders while their faces looked impassively ahead. So it was off to St Joseph's Catholic School for Sykes and her sisters. After school the Patterson girls ran the gauntlet of racist abuse and stones from the migrant children from the nearby state school. Sykes became their fearless defender, keeping the roads safe for her sisters and going in to battle in fights that 'were by no means equal, even when they were one on one, which was rare'.
Hopes of becoming a doctor were dashed when the Catholic School pushed Sykes into domestic science subjects, then finally refused to allow her to finish high school when she had turned fourteen, because of fears about the moral standards of Aboriginal girls bringing the school' discredit and disrepute'.
Searching for her runaway sister Sykes left Townsville for Brisbane. There she experienced the terrible nightmare of being bashed unconscious, pack-raped and left for dead. This young black woman of seventeen then suffered the ordeal of fighting to bring four of the white rapists to justice.
Sykes explores the depth of the personal veneer surrounding every Australian who is, like it or not, part of the hidden history of black and white contact in this country. Secrets taken to the grave choke up every cemetery in Australia. A genuine national pride must also accept and accommodate the shame. Sykes's intricate and courageously honest story of her life may help us to understand why this needs to be so.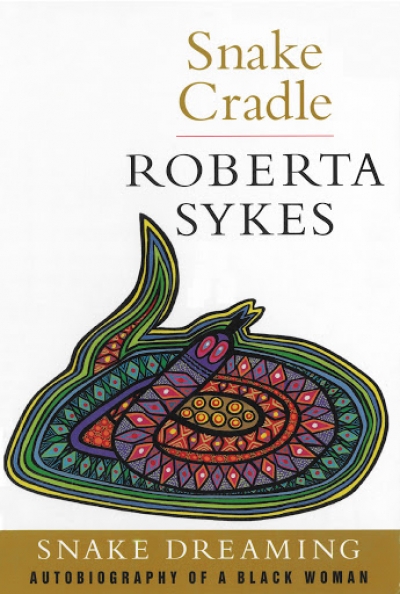 Snake Cradle: Autobiography of a black woman
by Roberta Sykes
Allen & Unwin, $19.95 pb, 328 pp