Fiction
On Jessica Anderson, Nene Gare, Michael Wilding, and Damien White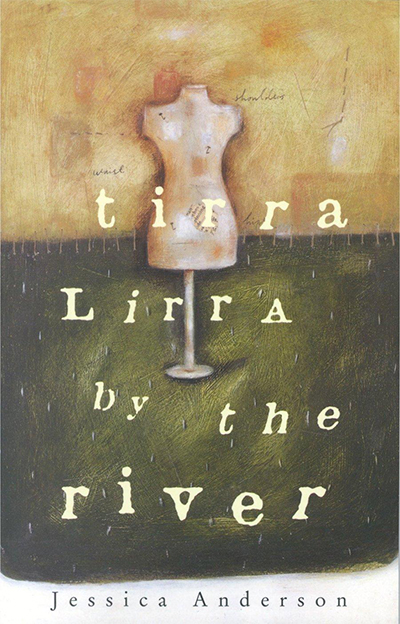 Tirra Lirra By The River by Jessica Anderson

Macmillan Australia, 141 pp, $8.95 hb, 0 333 25133 4In Tirra Lirra by the River, an elderly woman, Norah Porteou, returns to live in her childhood home in Brisbane after forty years as a 'London Australian'. The house is empty, so is her life. Norah is a 'woman whose name is of no consequence'. She is sensitive, vaguely artistic, slightly superior ('Mother,' she appeals in a childhood scene, 'don't let Grace call me Lady Muck.') The novel consists of a review of her past, with interruptions from half-remembered neighbours offering curious and resentful help.
Norah married late, lived through the Depression, divorced early, and had a love affair on the boat on the way to London and an abortion on arrival, thereafter giving up sex without regret – her most secure male thoughts. Nene Gare both belittles her characters and makes things impossible for the reader. Eventually, distinctions between characters blur and the surface detracts from the substance. A recurring character, Mrs Magdalen, is made to think thus:
Bend to the Wind by Nene Gare

Macmillan Australia, 129 pp, $8.95 hb, 0 333 25132 6'The peoples come let em come. She never bent the head ta nobody yet nor never would. Snorting ferociously, sighing a little when she wasn't looking. And anyway, philosophically, she reckoned there wasn't much chance of keeping them out if they wanted to come in. So that was that. 'An fa Gawd's sake don't start lookin fa trouble,' she admonished herself and everyone else. 'That trouble do all right by isself'
The Phallic Forest, according to its publishers, 'collects Michael Wilding's stories about sex – the ones that could never be collected before'. Despite this claim, sex with no holds barred is present in only five of the fourteen stories. (The author's literary instincts restrain him as a pornographer, just as they inspire his titles.) An Image of a Sort of Death the most sexually preoccupied and one of the best two stories in the book, focuses on the moral fastidiousness of the central character, Brook, in the midst of sensual plenty. As he approaches his goal of getting two women to bed at once, Brook is seen as 'an asymptote yearning for its infinitive conjunction. In the title story a girl named Julia provides an opportunity for Rousseau-like evocations:
'The phallic forest Julia walked in shot high soaring poplars to the damp soft clouds. Conifers grew in it groping upwards to the sky's convexity, each pine needle part of that vertical thrust. Palm trees sprang lithely, scaly but slender until they reached their clear height and then showered out in foliate triumph amongst ecstatic humming birds and honey eaters hovering there.'
Julia's mode of sexual satisfaction (playing a hose on the next door neighbour's erection showing through a knothole in the fence) bears little relation to known psychology, the reason being that she is not a real person at all, but part of an exhibitionist fantasy. Still, the humour and odd poetry of this story make it more than just that.
The society Michael Wilding writes about is narrow, the range of personalities even narrower. He hardly ever shows fully developed people. His world typically centres on a character who worries incessantly at his vanity.
A rare glimpse of a wider world comes in the (early?) story Don't Go Having Kittens, in which a girl's mother, drunk and mad, in the throes of a tirade reaches up and scratches her head – and is real then as she must have been to the young narrator, wonderfully vulgar. Although the closed world of Wilding's more recent stories (pub, kitchen, bedroom) matters less when the writing is intelligent and humorous, and although in general, as a craftsman, Wilding gives a lesson to the earnest toilers of Australian fiction, it is a pity that he seems to have chosen quite deliberately to restrict the range of humanity in his work.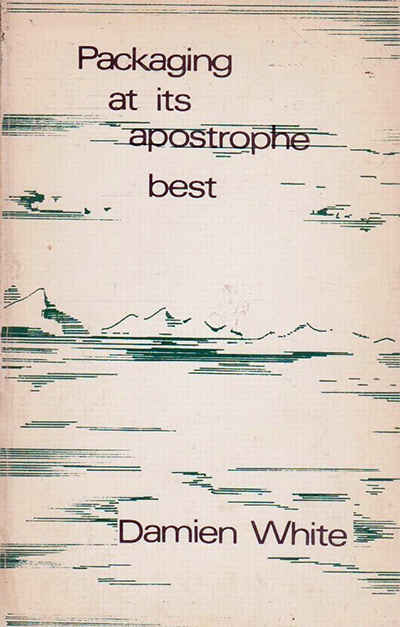 Packaging at its Apostrophe Best by Damien White

Moonshine Press, 95 pp, $2.95 hb, 0 908172 001'Packaging at its best' is the slogan on a folding cardboard ashtray produced by the Artcraft Printing Company where the narrator of Damien White's title story, a mathematics student, has a vacation job. He takes these objects home by the dozen and with his girlfriend obsessively plans a kind of sculpture made from 'eighty one or sixty-four of these ashtrays, with the five colours distributed randomly throughout the array.' The Cambridge Elementary Statistics Table is consulted for the pattern, and also (we are told) to give an order to the various sections of the story.
Variations on this method of writing – the contrasting of different bits of reality, often with signalled changes of point of view, switches of person, and so on – are characteristics of the stories collected in Packaging at its Apostrophe Best. It is a method that could easily be confusing, but mostly isn't.
The opening story, Landscape, fails badly because its element won't yield up a meaning; otherwise all the stories in this short fiction collection are entertaining. The book is worth buying for its picture of the aftermath of a conference or chartered accountants at the NSW Art Gallery, (a man seems to have 'exploded' in a lavatory booth) and for the carefully timed surprise in another story. 'Taking Jacky to the Shop', when it is revealed exactly what it is that a little boy is tugging along behind him on a piece of string.'