Opera
Il Trovatore
A tawdry production of Verdi's opera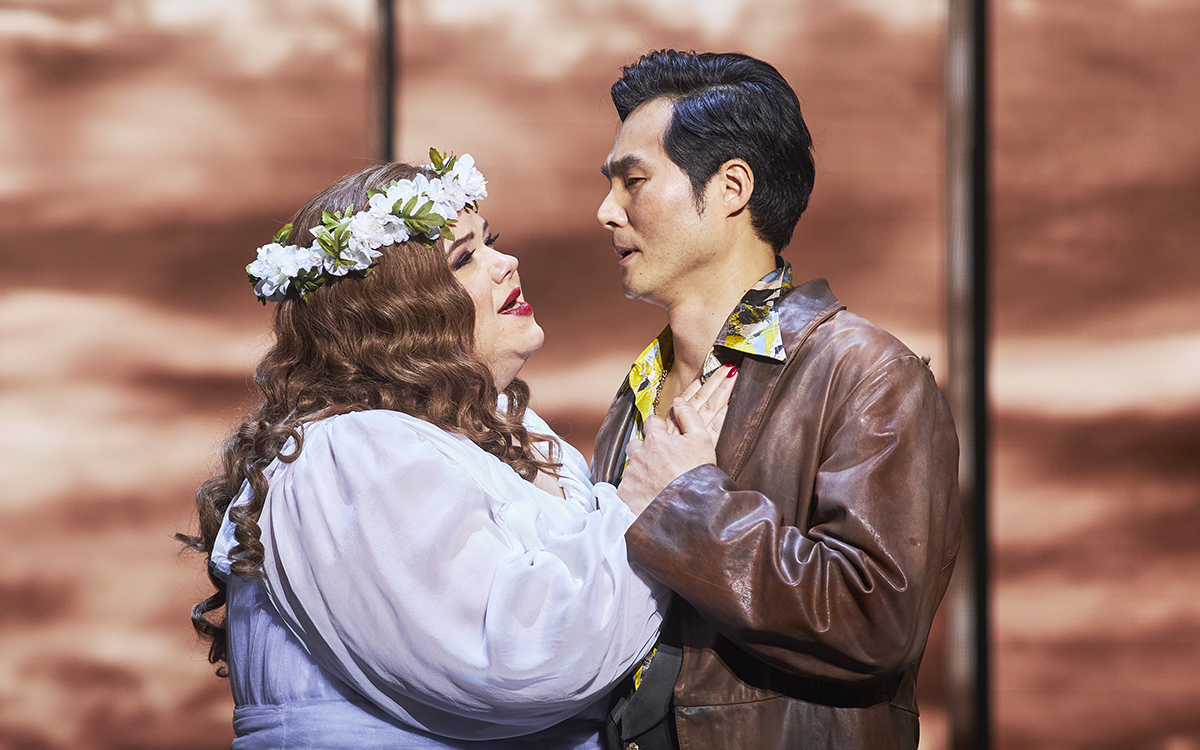 Whenever you hear a good performance of any one of at least half a dozen operas by Giuseppe Verdi, it's tempting to think: this surely he can never have surpassed. Il Trovatore, from his fecund middle phase, is one such opera. But then one recalls La Traviata and Don Carlo and Otello – on the list goes – and simply marvels at the variety and richness of his oeuvre.
Trovatore followed Rigoletto, which was given its première in Venice in March 1851. Verdi had returned to Busseto to face various personal problems arising from his notorious relationship with Giuseppina Strepponi, whom he would not marry until 1859. Agnostic and stubborn by nature, Verdi quarrelled with his parents, eventually relocating them to a house outside Busseto (his mother died in June 1851).
Domestic burdens apart, Verdi was rarely idle for long, certainly not in those years. Often drawn to Spanish subjects, he was attracted to El Trovador, a play by Antonio García Gutiérrez, first performed in Madrid in 1836. Gutiérrez, like Verdi, was a devotee of Victor Hugo. The play is a romantic melodrama set against the backdrop of a fifteenth-century Spanish civil war. Salvatore Cammarano – most acclaimed for his libretto for Donizetti's Lucia di Lammermoor (1835) – was the chosen librettist. He and Verdi had already collaborated on three operas: Alzira (1845), La battaglia di Legnano (1849), and Luisa Miller (1849).
As with other librettists before him, there were tensions between Cammarano and Verdi. The composer was unhappy with his treatment of Azucena, the gypsy woman who must endlessly relive her mother's tragedy. Verdi saw Azucena as the major character in the opera. In a letter to Cammarano he described her as 'strange and new'; he even thought of naming the opera after her. Verdi implored Cammarano to humanise Azucena, right to the end:
Don't make Azucena go mad. Exhausted with fatigue, suffering, terror and sleeplessness, she speaks confusedly. Her faculties are weakened, but she is not mad. This woman's two great passions, her love for Manrico and her wild desire to avenge her mother, must be sustained to the end. When Manrico is dead, her feeling of revenge overwhelms her, and in the utmost agitation she cries: 'Yes, he was your brother … Fool! … Mother, you are avenged!'
When Cammarano died in July 1852, he was replaced by a young Neapolitan poet, Leone Emmanuele Bardare, who would also collaborate with Verdi on an adaptation of Rigoletto (Naples, 1857).
The opera is customarily divided into four acts. Cammarano gave each a title: The Duel; The Gypsy; The Gypsy's Son; and The Punishment. The plot is famously complex – 'the acme of absurdity', according to Gustav Kobbé, though he went on to note: 'Il Trovatore is the Verdi of fifty working at white heat.' Verdi is said to have composed the score in one month (November 1852). By the time he was producing the première in Rome (it took place on 19 January 1853), he was already composing La Traviata.
We know that Trovatore is Verdi's darkest and most death-haunted opera. The libretto abounds with references to fire, flames, burning. In a letter to Clara Maffei, Verdi acknowledged the criticism of his opera as overly gloomy: 'But after all, in life isn't everything death? What else exists?'
Trovatore is an interestingly retrospective, even deterministic opera – virtually everything has happened before the curtain rises. In the first scene, Ferrando, captain of the guard, relates the story of how, long ago, a gypsy woman bewitched one of the sons of the old Count di Luna.
The opera teems with melodies, some quite brief. Herbert von Karajan, who conducted it often (including a famous EMI studio recording with Maria Callas), said: 'My conception of Il Trovatore is that here are what Jung calls archetypes – fear, hate, love. And, you know, there is not one dull moment in the entire opera.' Bernard Shaw, though considering it 'absolutely devoid of intellectual interest', was another admirer of the opera. Done well, despite its inherent preposterousness, Trovatore should breeze by: passionate, vigorous, unstoppable.
Charles Osborne, in his essential The Complete Operas of Verdi (1969), describes the opera as 'the veritable apotheosis of the bel canto opera, with its demands for vocal beauty, agility and range'. The role of Leonora (lady-in-waiting to the queen) demands the resources of a true belcantist, especially in her Act IV aria, 'D'amor sull'ali rosee', whose long lines are so reminiscent of Bellini's 'Casta diva', and in the supreme rising line of 'Prima che d'altri vivere' at the end, when Leonora is dying. Maria Callas, who sang the part from 1950 to 1956, restored its bel canto credentials. On YouTube there is a stupendous 'D'amor sull'ali rosee' from La Scala in 1953.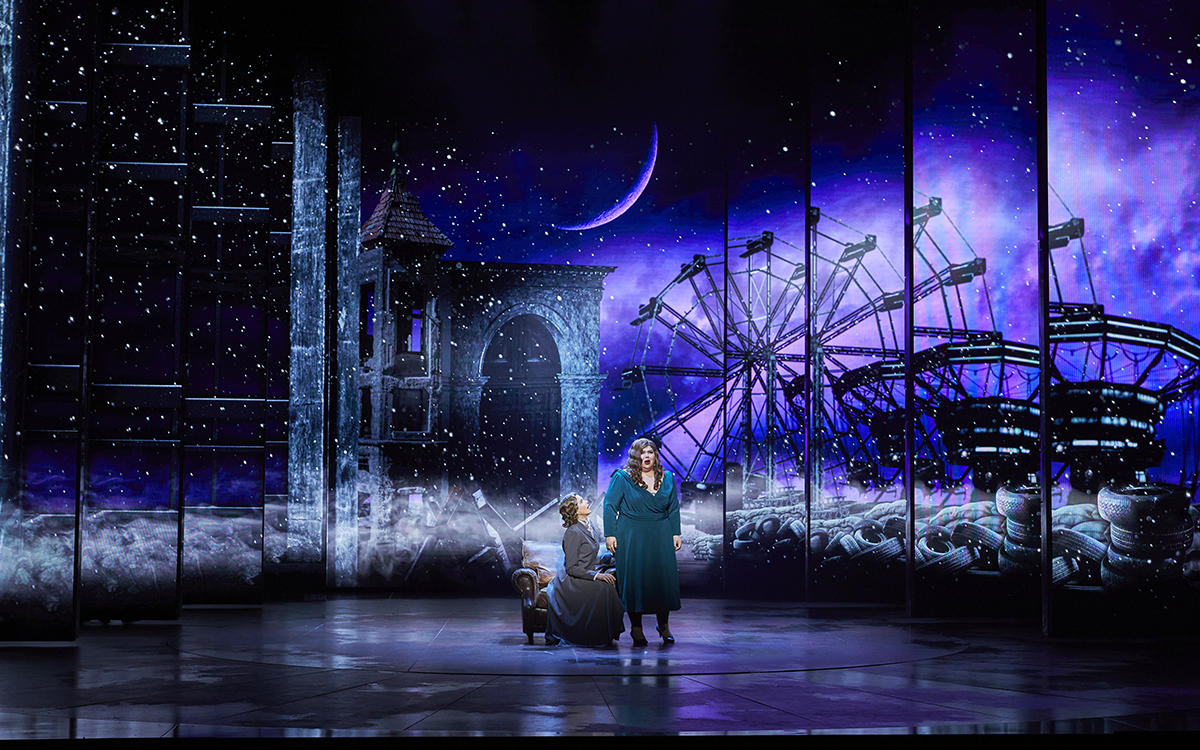 Sian Sharp as Inez and Leah Crocetto as Leonora in Il Trovatore (photo credit: Keith Saunders)
All the above counts for little in Davide Livermore's new production for Opera Australia, which must be one of the sillier and more irritating offerings from the national company in decades. Livermore's work is by now very familiar in this country. This is his fifth production for the company, and doubtless there will be more. With Giò Forma, his long-time designer, Livermore relies on what's described as 'cutting-edge' LED technology: seven-metre-high digital panels that are moved about on a busy automation system or bustled into place by busy choristers.
All three Livermore productions that I have seen (I missed Attila) have had their quirks (those ubiquitous beetles in Anna Bolena!), but the new production is utterly nonsensical. There is an endless sequence of bright and rarely integrated images. Any design student could come up with this kind of gaudy gallimaufry. Monty Python did it fifty years ago, and we see their work quoted here.
Goodness knows what someone seeing their first Verdi – first opera indeed – would make of this travesty. What a notion they might form of opera's essential silliness, glibness, irreverence, and obligatory camp.
Certain directors feel obliged to enlist some acrobats to rev up the audience and distract from the music. Olivier Py did it in Opera Australia's recent Lohengrin when he introduced a pointless acrobat to babysit the gratuitous child. Livermore does the same in the Anvil Chorus – not a bad scene really – and the audience duly whooped and applauded.
The most egregious of the many facile effects came at the end of Act II, set supposedly in a convent's cloister, but here a sort of hospital to which Leonora was about to commit herself. The Romani clan has become a band of circus artists who live (as Livermore writes in a sketchy director's note) 'in a sinister amusement park immersed in virtual environments that evoke scenarios of post-war destruction and the mystery of tarot cards, disturbing and wonderful … Unspeakable and unconfessable feelings are at stake.' Quite! The ungainly romp that followed disfigured this great scene and distracted our attention from Leonora's mighty music at the end.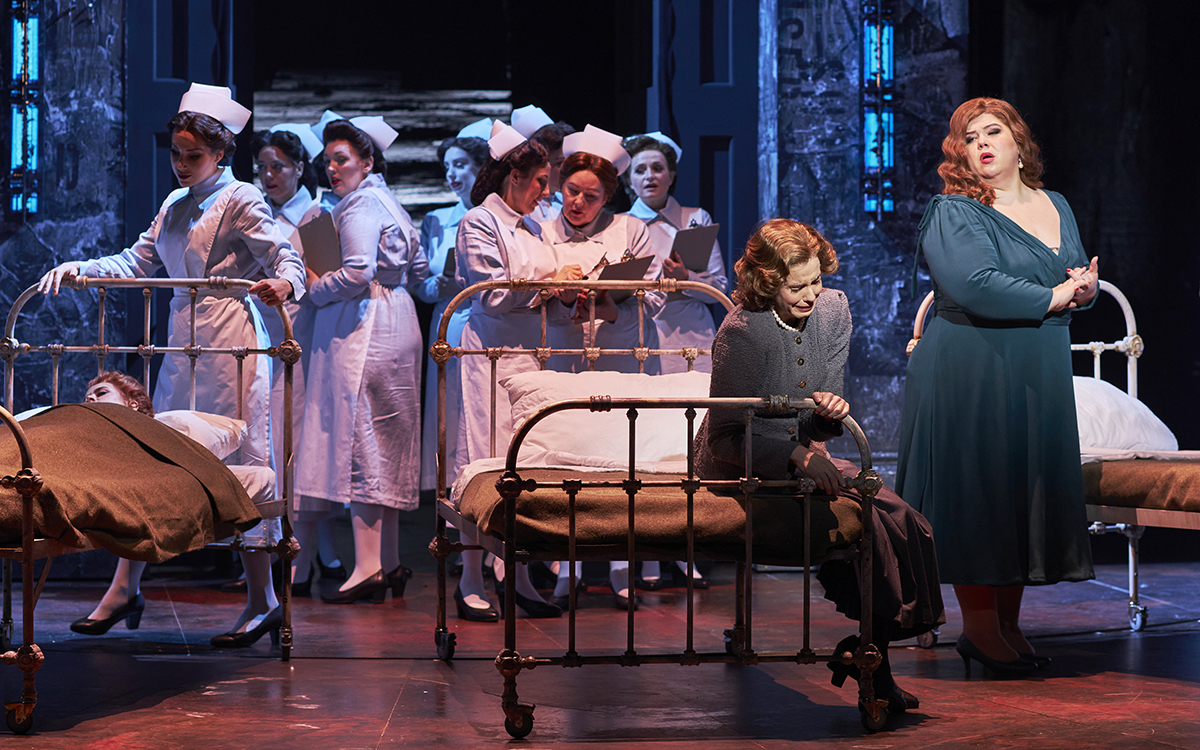 Sian Sharp as Inez, Leah Crocetto as Leonora, and the Opera Australia Chorus in Il Trovatore (photo credit: Keith Saunders)
The direction throughout was wanting – there was little engagement. Singers seemed stranded, cling though they did to the noisy revolve.
Il Trovatore, almost to the same degree as Don Carlo, calls for several major voices. On this occasion, the singing was very mixed. Manrico – Azucena's supposed son – is another of Verdi's tempestuous tenor roles. Ardent, loyal, ever mystified, he is quick to wrath and instantly misconstrues Leonora's pact at the end. He also has some exceptional music, notably the bodeful aria 'Ah si, ben mio coll'essere' in Act III. Yonghoon Lee, who recently sang Otello for this company, was in poor voice. He seemed physically ill at ease throughout and his voice had a pronounced bark-like quality. He cracked badly in Act II. Presumably he was unwell, though there was no announcement. Every tenor must secretly dread 'Di quella pira' in Act III, the cabaletta to end all cabalettas, as it has been described. Here Lee rallied, even sustaining – with a tremendous effort of will – the interpolated high C at the end that was not in Verdi's score.
Il Trovatore, according to Maria Callas, is really Leonora's opera, but then Callas said that of most of her roles. Certainly, Leonora has some of the loveliest music in Verdi's canon. The American soprano Leah Crocetto was making her third appearance with the company. First came Aida in 2021. Recently she sang Margherita in the concert version of Boito's Mefistofele. Crocetto, in Melbourne, was impressive in the lament 'L'altra notte in fondo al mare', but the true beauty and power of her voice was most apparent in the duet with Faust that followed. So there was much expectation. The coloratura, predictably, did not faze Crocetto, and she trilled freely. Crocetto has sung Leonora before, and she will doubtless sing it again. It's a part – as we're reminded whenever we hear it – that demands the utmost lyric assurance but also phenomenal legato resources. The finest music in the opera comes in Act IV, and Crocetto was at her best in 'D'amor sull'ali rosee' and the ensembles that followed.
The Count, insanely in love with Leonora, is one of Verdi's great creations for the baritone. He has a superlative aria in Act II: 'Il balen del suo sorriso'. Ferrando's companions tell us at the outset that jealousy gnaws at the Count's heart like a venomous serpent. Still, Charles Osborne reminds us that the Count is not Iago-like but 'a man whom desire has driven virtually to madness'. There is a degree of realisation at the end, when the Count acknowledges the extent of Leonora's sacrifice, and what he has perpetrated.
Maxim Aniskin sang with due accuracy but little power or engagement; he seemed permanently adrift on the stage, rarely engaging with the other singers, even during moments of putative passion and rage. So often with this company one thinks of local actor–singers who would be just right for these meaty roles.
Elena Gabouri – such a brilliant Ortrud in Lohengrin this autumn – was Azucena, that tormented, indomitable woman. We have seen some commanding Azucenas in this country: notably Fiorenza Cossotto in 1985, towards the end of her career; and Lauris Elms (sedentary and terrifying) at her finest in the Elijah Moshinsky/Sidney Nolan 1983 production, opposite Joan Sutherland, Kenneth Collins, and Jonathan Summers. Some of Azucena's best music comes in Act II, during her long and infinitely melodic scene with Manrico, but Livermore's conception was such a mess and Yonghoon Lee so uncomfortable and detached (casually lighting a cigarette during moments of revelation) that much of this was squandered. Gabouri was most compelling in the final trio with Leonora and Manrico, when Azucena, singing with beauty and tenderness, dreams of returning with him to the mountains and recovering their old happiness.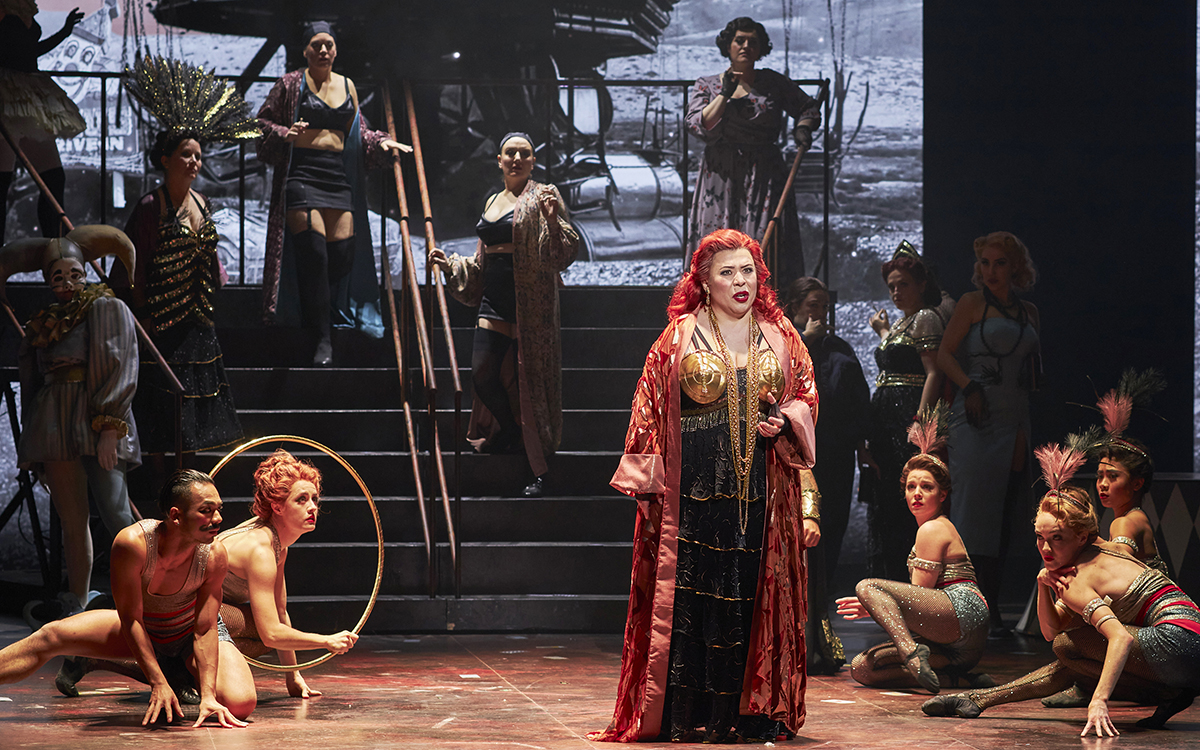 Elena Gabouri as Azucena in Il Trovatore (photo credit: Keith Saunders)
Gianluca Falaschi's costumes don't help the singers' cause; they are disparate and parodic – and deeply unsympathetic in Leonora's case.
Of the other singers, David Parkin stood out. He sang all the notes, including the trills – which can't be said of many Ferrandos. Perhaps it's time for this young bass to assume a major role with the company.
The chorus, one of the jewels of this company, sang with less assurance and impact than usual, possibly unsettled by the bizarre direction and ceaseless movement.
The orchestra seemed oddly muted and some of the tempi were leaden. Andrea Battistoni, who had conducted Mefistofele with force and élan in May, struggled at times to retain control of the action on stage; there were some serious lapses in timing.
Contrast this with the harmonious integration of the musical and the digital in A Winter's Journey, currently touring the nation with Musica Viva. Here we had another glory of Western music: Schubert's Winterreise, unforgettably performed by British tenor Allan Clayton, fresh from his recent triumphs as Peter Grimes and Hamlet. At no point did the digital projections of works by Fred Williams (a novel and potentially incongruous conceit) distract from this sorrowful, incomparable music. Nothing was flippant, gratuitous, or jarring. Instead we were offered a true marriage of meanings and artistic sensibilities, one that augurs well for Musica Viva under its new artistic regime. Some of these images will inform these tragic songs for years to come. (My colleague Michael Shmith reviews A Winter's Journey for ABR Arts.)
And before that, last Thursday, the Sydney Town Hall was almost full for the last of three performances of Richard Strauss's An Alpine Symphony, led by British conductor Mark Elder, whose association with the Australian Youth Orchestra goes back many decades. After all the vicissitudes of recent years – days even (two players pulled out with Covid on Thursday, generously replaced by their mentors in the Sydney Symphony Orchestra) – this was a stirring account of Strauss's final tone poem, with notable contributions from the brass and the principal oboe (Shana Hoshino). Here, in difficult circumstances, music was undertaken with seriousness, conviction, and fidelity. The comparison with what we had heard on Friday night was stark.
Later, at a gathering for supporters of this valiant orchestra, Mark Elder made an impassioned speech extolling the young players and exhorting people – in this philistine and refractory age – to actively embarrass politicians into supporting the cultural institutions that underpin our cultural and civic life.
The barbarians, he seemed to imply, are at the gates.
---
Il Trovatore (Opera Australia) continues at the Joan Sutherland Theatre, Sydney Opera House until 30 July 2022. Performance attended: 15 July.