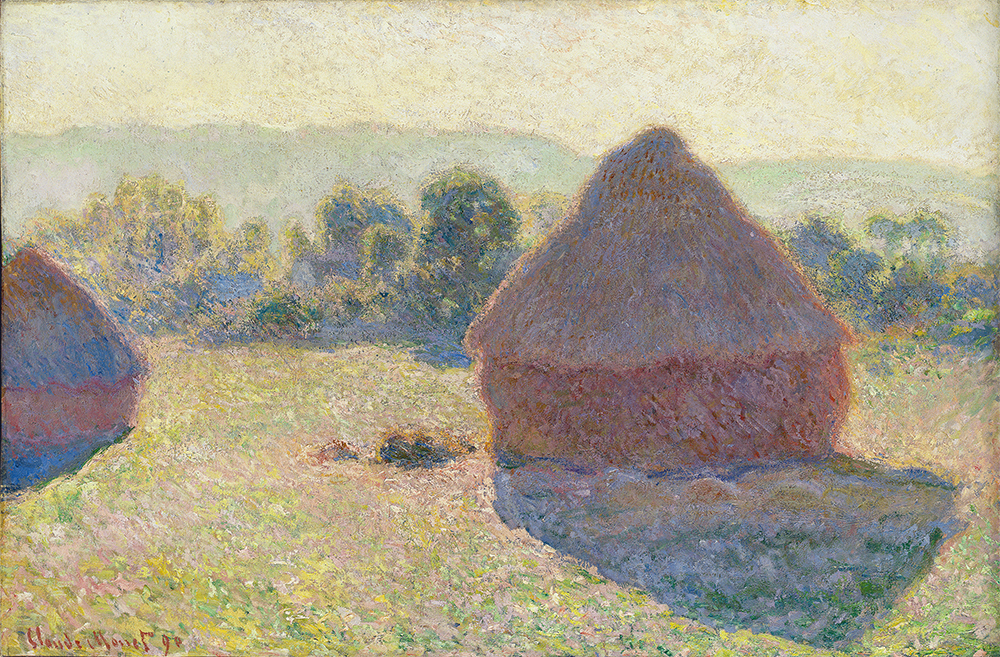 Claude Monet, Haystacks, midday [Meules, milieu du jour], 1890, oil on canvas, 65.6 x 100.6 cm (Purchased 1979 National Gallery of Australia, Canberra)
What makes this Monet exhibition different from any other Monet exhibition? This was the question at the forefront of my mind as I approached the National Gallery of Australia's exhibition Monet: Impression Sunrise. As one would expect, it is an exhibition about painting – colour, brushstroke, the rendering of light and dark by artists who went out into the landscape and sought to capture in paint what they saw and felt. It is undeniable that Claude Monet was an innovative painter whose canvases will continue to enthral audiences. Attractively organised – note how the works in the room featuring Haystacks, midday (1890) are colour coordinated; mauve dominates – Monet: Impression Sunrise is a reminder of the pleasures that come from experiencing Impressionist canvases firsthand.
Monet: Impression, Sunrise is a show in two halves. On first entering the exhibition, one encounters paintings by artists associated with the British School. Works such as J.M.W. Turner's Inverary Pier, Loch Fyne: Morning (c.1845), Whalers (boiling blubber) entangled in flaw ice, endeavouring to extricate themselves (exh.1846), and Stormy sea with dolphins (c.1835–40) anticipate Monet's Impression, sunrise in terms of the rendering of light, flattening out of form, free application of paint, and innovative use of colour.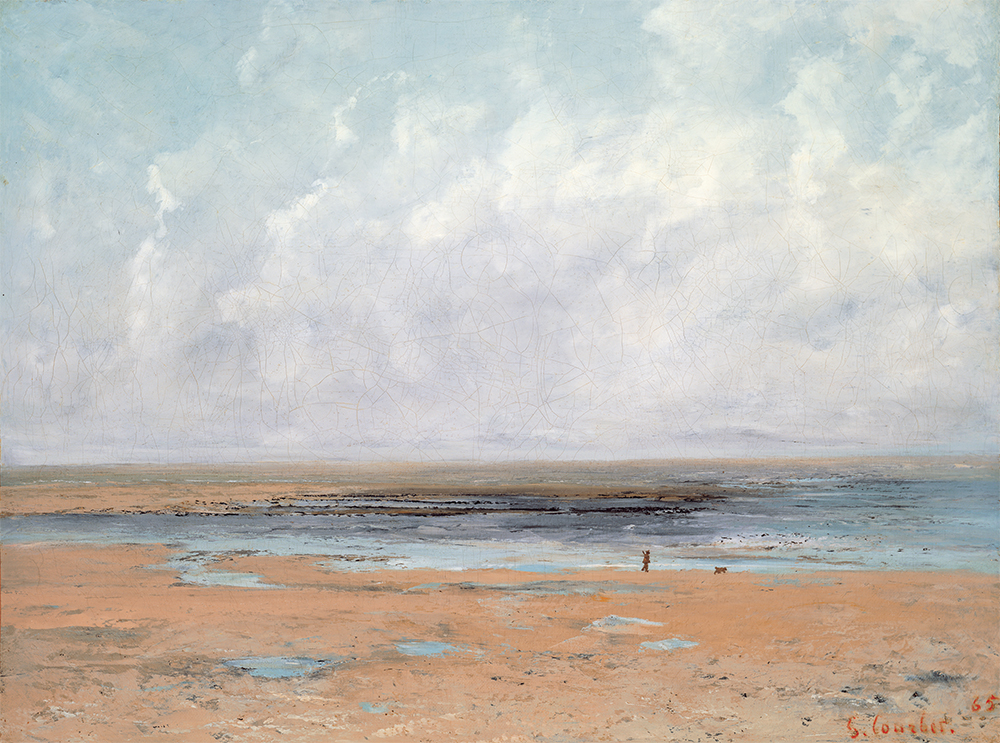 Gustave Courbet, Low tide, the beach at Trouville [La Plage de Trouville à marée basse], 1865, oil on canvas, 44.5 x 59.2 cm (Kerry Stokes Collection, Perth)
Across the way from the British School is situated the French Barbizon School. In this section, Gustave Courbet's Low tide, the beach at Trouville (1865) is worth close attention due to the artist's astounding rendering of a cloudy sky. Cloudy skies abound in this exhibition, as do rising and setting suns, beaches, harbours, and ponds. Lesser-known French artists who taught and mentored Monet, such as Charles-François Daubigny and Eugène Boudin, are well represented in the following section, and their inclusion comes as a pleasant surprise. The point is well made that Impression did not come out of a vacuum, and Monet was not the first artist to paint en plain air. While this idea is not new, it is certainly worth revisiting.
The central focal point of the exhibition is Monet's Impression, sunrise (1872). Never before has this painting reached Australian shores, and we are all grateful to the Musée Marmottan Monet for parting temporarily with one of its most prized artworks. Impression, sunrise was highly criticised when it was first exhibited in 1874 at the Société anonyme des artistes, painters, sculpteurs, graveurs, etc. It then fell into relative obscurity, only to re-emerge in the mid-twentieth century as a foundational Impressionist icon. At the very least, an examination of this painting and its critical reception offers an opportunity to consider why some artworks are canonised and others forgotten. That certain works are deemed 'masterpieces' is often based on the reputation (and gender, class, and race) of the artist, how the work was originally received (nobody likes an artistic success story; we'd rather our favourite artists die penniless and in obscurity), and the art-historical narratives we craft.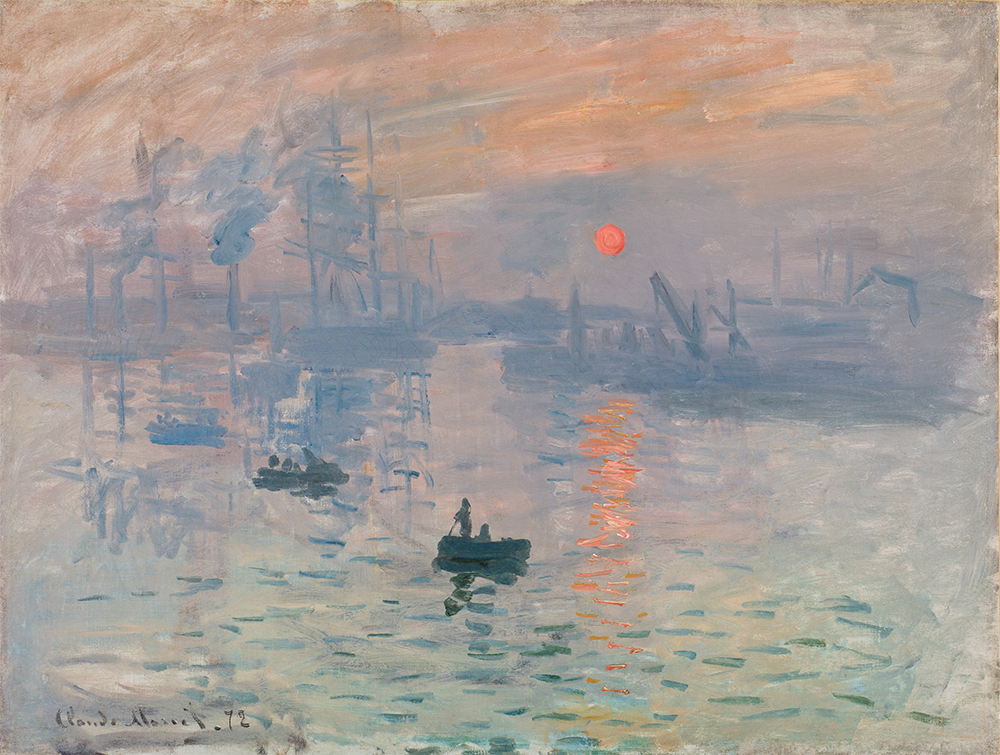 Claude Monet, Impression, sunrise [Impression, soleil levant], 1872, oil on canvas, 50 x 65 cm (Gift of Victorine and Eugène Donop de Monchy, 1940, Musée Marmottan Monet, Paris © Christian Baraja SLB)
Impression, sunrise exemplifies some of the most salient tenets of Monet's Impressionist style. The liberated brushstrokes used to indicate the reflection of the rising sun on the water, the fog or smog that gives the scene a sense of modernity and timelessness, the juxtaposition of nature and industry, and, of course, that bright red-orange sun all make this work worthy of attention. But other works by Monet on display, including the NGA's own Haystacks, midday and Waterlilies (c.1914–17) easily rival this 'showstopper', especially in terms of size.
If you came to see Monets, you'll find them in the exhibition's second half. In an adjacent room there are a series of impressionistic canvases by Monet and his contemporaries that feature depictions of the spaces of modern industrialised France and the impact of steam engines, including The train in the snow. The locomotive (1875), Stacks of Wheat (Sunset, Snow Effect) (1875), and The Pont de l'Europe. Saint‑Lazare Station (1877). These examples, much like Impression, sunrise, convey a sense of nostalgia in the face of the rapidly changing nineteenth-century French landscape and streetscape.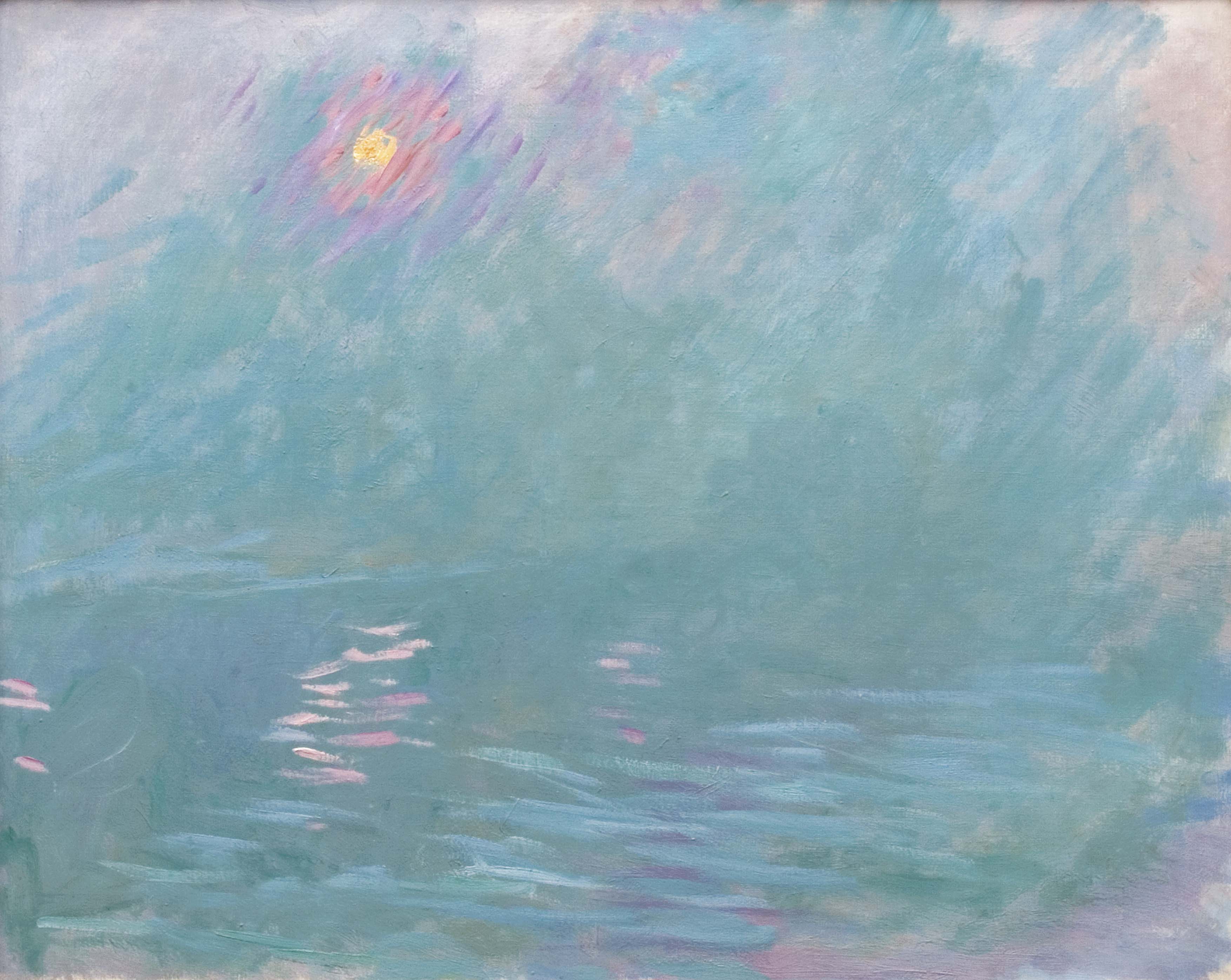 Claude Monet, Waterloo Bridge, 1899–1901, oil on canvas, 62.6 x 78.6 cm (Kerry Stokes Collection, Perth)
The relatively intimate size of the show will allow visitors the time and space to indulge the eye and linger over works that continue to reveal their layers of pigment and meaning the longer one looks. One approach would be to follow the bright red-orange pigment of the sun in Impression, sunrise (and the marketing material), from the erupting volcano in Joseph Wright of Derby's A View of Vesuvius from Posillipo, Naples (c.1788–90), via a couple of dots in Camille Corot's The fisherman: evening effect (c.1865–70), through to Monet's The waterlily pond (1917–19). (The significance of sparingly applied bright-red pigment recalls the tale of Turner's use of a blotch of red paint to outshine John Constable on Vanishing Day at the Royal Academy of Arts in 1832.) The bristles of Monet's brush can be seen caked into the surface of Waterloo Bridge (1899–1901), and The Japanese Bridge (1918–19) reveals the profound impact of Japanese prints on Monet's art. Again, this is nothing new. But there is pleasure in familiarity, and in seeing Hallmark cards in their original, colourful form.
---
Monet: Impression Sunrise continues at the National Gallery of Australia until 1 September 2019.