Louis Nowra's much-loved play Così is often held up as the archetypal great Australian comedy, a larrikin farce in the vein of Michael Frayn's Noises Off (1982). But as the years roll by and the play's sensitivities diverge from contemporary standards, it increasingly seems to share more in common with Shakespeare's 'problem plays'.
Since its première at Belvoir St Theatre in 1992, Così has earned an affectionate fascination for many, either through study at school, various stagings, or the 1996 film iteration (directed by Mark Joffe), with its extraordinary before-they-were-famous all-star cast. And yet, Così clings to several woefully dated ideals, particularly in its handling of mental health, that naggingly tug at its status as a revered classic.
Set in 1977, Nowra's semi-autobiographical story sees Lewis, a recent university graduate with little experience, tasked with directing a show with a ragtag collection of mental patients. With a burnt-out theatre and a few resources at his disposal, even the most basic undertaking would be challenging. But at the enthusiastic insistence of Roy, a patient with a diehard obsession with Mozart, Lewis must somehow mount a production of Così fan tutte, regardless of the sheer impossibility of success. If that weren't enough to contend with, Lewis is also beset by peer pressure to embrace all the political and social uprisings of the era, from communism to free love to the Vietnam War moratoriums.
The most immediately abrasive issue is also one of the most complex. Nowra's comedy hinges on hamming up the delusions of mentally ill people, counterpointed against the apparently infallible sanity of his central hero. This is not only problematic, for obvious reasons, but also hugely reductive, not to mention self-serving for Nowra and his protagonist proxy. The play does little to offer any meaningful window on mental disability, not that this was Nowra's ambition. Nor does it do much, except perhaps in passing, to explore the institutional pressures or emotional truths affecting these characters; they are just damaged enough to be a jolly good wheeze.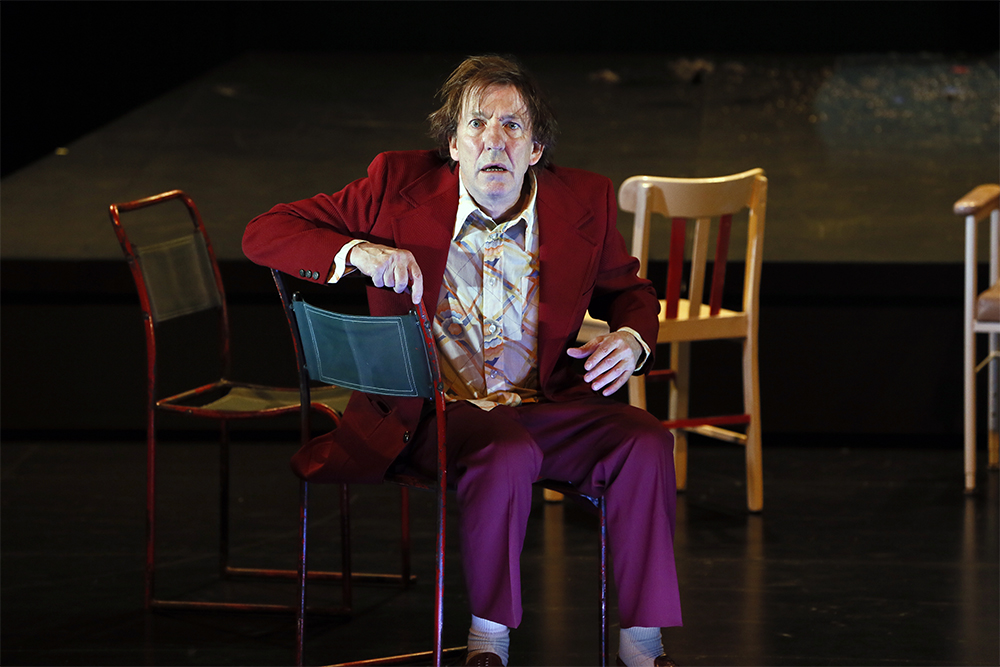 Robert Menzies as Roy in Così (photograph by Jeff Busby)
By any contemporary yardstick, to pen such exploitative depictions today would be outrageous, especially at a time when achieving better representation, diversity, and parity across a number of social biases within the arts are major concerns. But is Così ring-fenced from these higher standards as a historical artefact? Can we forgive its point-and-laugh attitude to mental health because it's of its own time?
There is a corroborating pedigree to be found in other Australian pop culture touchstones of the 1990s. Very similar in tonality to the film adaptation of Così, enduringly popular cult classics Muriel's Wedding and The Adventures of Priscilla, Queen of the Desert skip lightly over riper social rot while buddying up to characters on the fringes of society. Not unlike Così , they also trade in damaging stereotypes and oversimplifications of culture and experience just to add a bit of zest to their storytelling.
As part of a broader cultural vernacular, perhaps Nowra's apparent insensitivities make a little more sense, but this cannot totally absolve them. Much like the social and cultural schisms in Shakespeare's problem plays, be it the anti-Semitism in The Merchant of Venice or the misogyny in The Taming of the Shrew, navigating the offensive social mores of the past so that they are accessible to audiences of the present is the true measure of whether a work like Così is still relevant.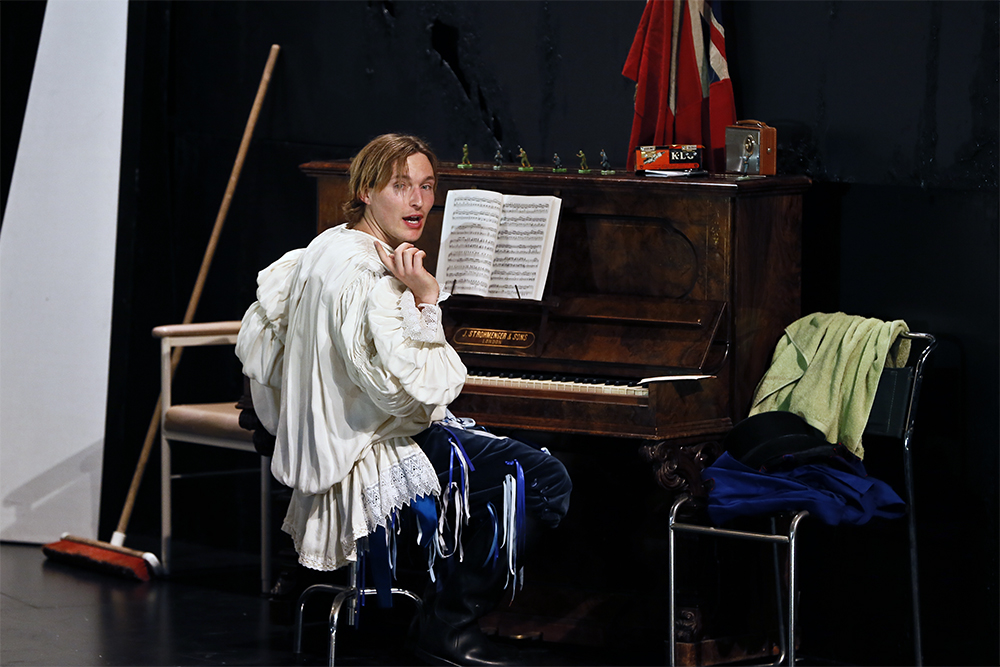 Sean Keenan as Lewis in Così (photograph by Jeff Busby)
It seems clear that Sarah Goodes, the director, has at least wrestled with this conundrum, if not resolved it. As if to defuse the notion that these asylum oddballs be drawn with any responsibility to clinical realism, she sets the action in a stylised, theatrically heightened world. Five doors around this abstracted setting, designed by Dale Ferguson, open to brightly lit spaces that at once nod to the antiseptic wards the patients belong to while also hinting at the hope of an escape to brighter futures.
Equally unreal are the colossal and caricatural performances of some of the patients, which in their own way, summon a surprising degree of pathos as well as humour. As the infatuated and easily riled Cherry, Bessie Holland is the life and soul of the party, almost to a fault as she amps up her shtick to a level her co-stars struggle to match. Rahel Romahn, as the lecherous pyromaniac Doug, adopts a similar tack with the OTT boganness of his characterisation.
As the insufferable thespian fantasist whose dream it is to stage Mozart's 'music of the spheres', Robert Menzies is undeniably masterful as Roy. The emotional anchor of this production, Menzies can turn from overbearing hilarity to the frailest vulnerability on a dime. His desperate yearning to escape both the misery of the asylum and the prison of his own mind is deeply, profoundly touching.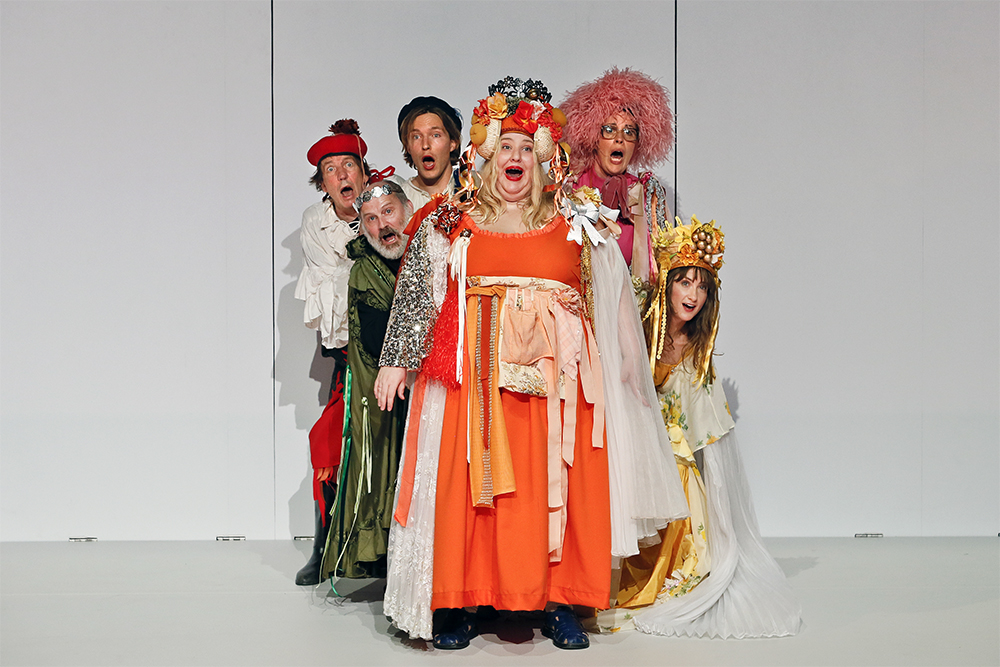 Robert Menzies, Glenn Hazeldine, Sean Keenan, Bessie Holland, Katherine Tonkin, Esther Hannaford in Così (photograph by Jeff Busby)
But there is also a sense of self-conscious restraint present that perhaps speaks to the issue of expecting these actors to portray such trivialised ideas about complex psychologies. Katherine Tonkin's Ruth exchanges her autistic-spectrum OCD for a more non-specific social awkwardness, while Esther Hannaford as the free-spirited junkie Julie confuses the mania of addiction for a teenage moodiness.
By contrast, Sean Keenan's Lewis is so 'sane' he seems virtually monotone next to such a lumpy range of performances. Ultimately, this makes his character difficult to connect with or to care about. And yet, as an ensemble, this wild variety almost works, particularly when the culmination of their efforts is presented in the strangely moving spoken-word Franken-opera.
Goodes's vision does much to paper over the cracks in this dated play, but the highs of this production aren't quite enough to cancel out its lows. There will, of course, be those who dismiss concerns about the psychological inaccuracies as unnecessarily PC and argue that the groundswell of social outrage we now feel in our political arenas shouldn't come to bear on Nowra's harmless comedy. There is something ironic about this defence, given the synergy of Così's political undercurrent; a young generation rejecting the rusted-on attitudes of an out-of-touch status quo.
Another irony springs to mind. Despite the myriad thoughts Così provokes about its relevance for today's audiences, perhaps the best way to engage with this play is to not overthink it.
---
Così is produced by Melbourne Theatre Company and showing at the Southbank Theatre, The Sumner, from 30 April to 8 June 2019. Performance attended: May 4.