Music
Ives Westlake Debussy
Australian String Quartet
Nigel Westlake's new quartet, Sacred Sky, commissioned by the Australian String Quartet, had its première before an enthusiastic audience at Sydney's Recital Hall on 4 September 2019. Westlake wrote it in honour of his sister, the artist Kate Westlake, who died of pancreatic cancer in January 2018. He is not the first composer to write a quartet on a sibling's death: Felix Mendelssohn did that for Fanny with his Opus 80, a quartet quite unlike any of his others – raw and tempestuous, with savage outbursts of anger and grief interrupting the short passages of tender lyricism.
I sent the Mendelssohn to my own younger brother last year, when he was dying of thyroid cancer on the other side of the world, but if I'd known Nigel Westlake's quartet at that time, I would have sent it instead. My brother, stoical himself, counselled me against anger. There is no anger that I can discern in the Westlake quartet, a work of great beauty that combines calm reflection with something like playfulness. The movements – 'Sacred Sky', 'Where the Spirit Dances by the Edge of the Sea', 'The Turning Tide', and 'The Journey Begins' – were inspired by four of Kate's serene seascapes.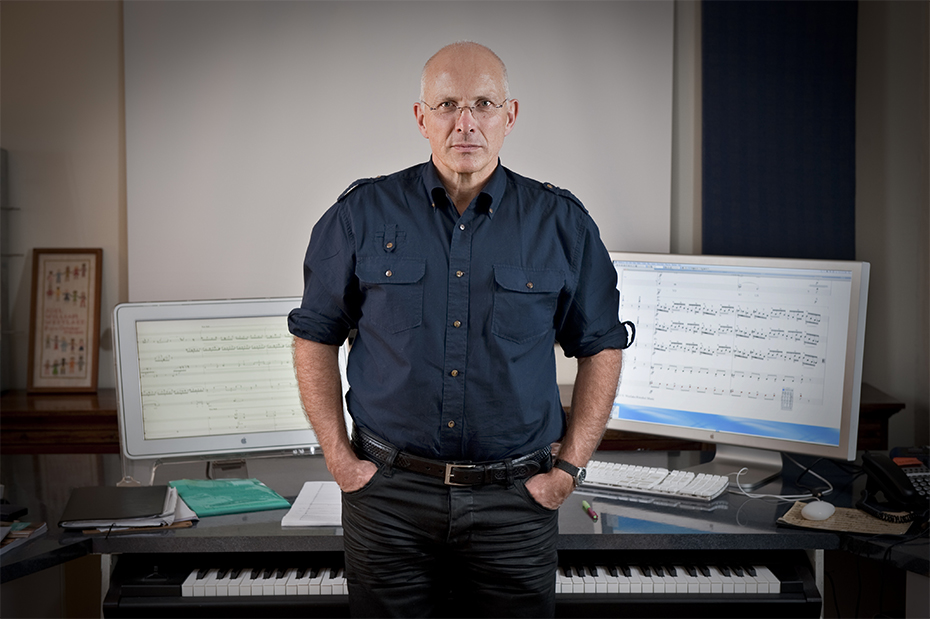 Nigel Westlake (photograph by Steve Forrest)
This is not Westlake's first piece honouring the dead. The first was the Missa Solis, a requiem for his son Eli, who was killed in a street accident aged twenty-one. First performed in 2011, Missa Solis is already on its way to becoming a classic. Scored for full orchestra, including two harps and six percussionists, chorus and male treble, it is a more monumental work than Sacred Sky. But the string quartet form, the most intimate of all musical genres, is perfect for the task of remembering and communing with the dead. Introducing the work in Sydney, cellist Sharon Grigoryan quoted Westlake's advice to 'talk about them, make them part of your life. Hold their spirits close.'
The quartet begins with an ethereal meditation from the first violin, beautifully played by Dale Barltrop above shifting muted chords, before the whole quartet joins in the dance. Nigel Westlake is a lucky man – he uses the word 'blessed' – to have found, with his music, a means of communicating with his dead.
Westlake has said that, before Eli's death and the writing of the Requiem, he hadn't thought much about music as a means of emotional connection. A clarinettist by training and sometime regular member of the Sydney-based Australia Ensemble, he got into composition by writing pieces for groups he played in. This led to commissions, including film and documentary scores. After a while, he found that there was insufficient time to play the clarinet professionally as well as to compose, and that – remarkably – he could actually make a living writing music from commissions, performance rights, and royalties. It's heartening to think that this is possible in twenty-first-century Australia, without the university 'composer-in-residence' back-up that is common in North America. On this new turn in his compositional practice, Westlake does his best to explain in words what it means to him – something he was 'compelled to do' to reach something like 'closure' – but the words come out hesitantly, as if he doesn't find them satisfactory. Why should he? Words are not his medium. Music is.
The ASQ gave a magnificent performance of the Westlake and then the Debussy quartets at the Sydney concert. (The account of Charles Ives's First Quartet, with its echoes of Salvation Army hymns as sung at camp meetings in his New England boyhood, was excellent, but it's a lesser work.)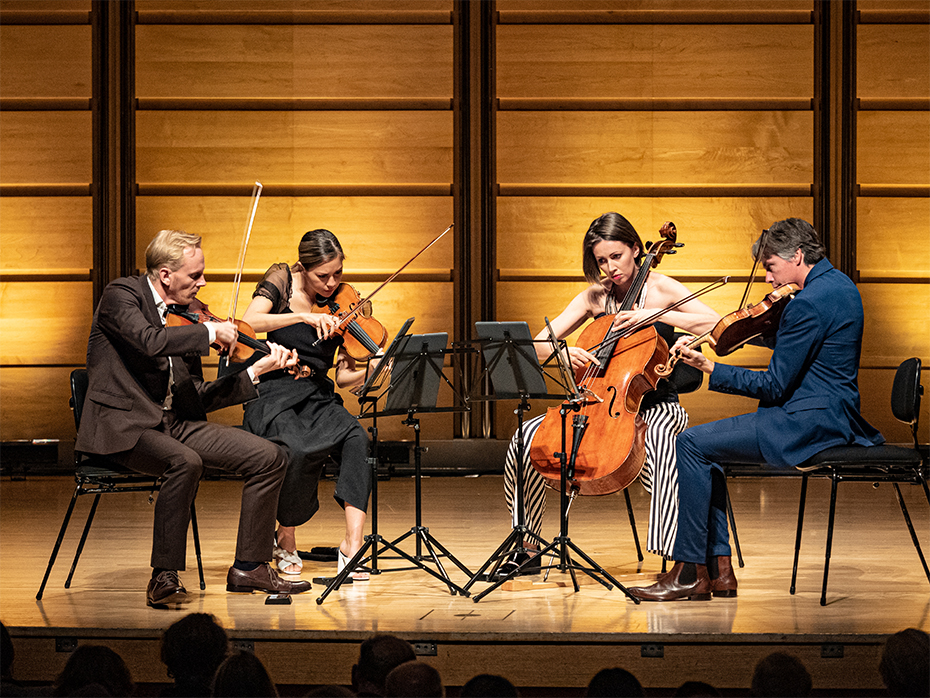 Australian String Quartet performing Nigel Westlake's Sacred Sky at City Recital Hall in Sydney (photograph by Sam Jozeps)
This group, quartet-in-residence at the Elder Conservatorium of the University of Adelaide, has famously had its ups and downs since its creation in 1985 (the original members were Bill Hennessey, Douglas Weiland, Keith Crellin, and Janis Laurs). There have been a series of dramatic departures, the most recent of which was the subject of Scott Hicks's documentary Highly Strung (2015). Now in its fourth year, the current line-up – Dale Barltrop (first violin), Francesca Hiew (second violin), Stephen King (viola), and Sharon Grigoryan (cello) – looks as if it should have staying power along with a high level of professional accomplishment. A unique characteristic of the quartet is that they play matched Italian eighteen-century instruments, Guadagninis, made available to them by generous patrons Ulrike Klein and the Ngeringa Arts Foundation. (The Guadagninis were also virtually characters in their own right in Highly Strung.) Hiew, who joined the quartet in 2016, says it took her a while to get used to her Guadagnini. King, who has had his longer, still notices that it's smaller than other instruments he's played.
In the past, I hadn't noticed any qualitative difference between the ASQ and other good quartets arising from the use of matched instruments. Here, listening to them at close quarters in a pre-concert rehearsal, I was blown away, initially during Westlake's first meditative and sustained movement, and then, even more powerfully, during the third (Andantino espressivo) movement of the Debussy quartet. Debussy's theme is introduced by the first violin in a low register over dense, close harmonies from the lower strings; its oddity is that, despite being in a major key, it seems like a plaintive minor. As it was a rehearsal, the quartet played those opening phrases repeatedly, and beautifully, making microadjustments in balance and dynamics. That was when I began to appreciate what having those four Guadagninis can mean. At first, I was going to suggest that it sounded like one particularly poignant and expressive instrument, but that isn't quite right. Rather, it sounds like four instruments in conversation – four instruments closely and affectionately related to each other, as in a family.
Here, the Guadagnini deserves some of the credit, but so, of course, do the players. As Westlake has remarked, 'quartets spend infinitely more hours honing their craft than any other instrument combination', and both audience expectation and standards of quartet performance are at a record high. Australian audiences are used to hearing top-ranking international quartets brought in on tour by Musica Viva. But the best of Australia's string quartets – and that means the Australian String Quartet – can hold their own with this international competition.
Gratifyingly, local ensembles can now attain this professional standard at home without necessarily spending years with a teacher in London, Vienna, or New York, which used to be considered obligatory. The senior members of the ASQ, Dale Barltrop and Stephen King, served the international apprenticeship, both by chance finding themselves at the University of Maryland in the 1990s, working with the Guaneri Quartet; but the younger players, Sharon Grigoryan and Francesca Hiew, are equally accomplished products of Australia's own ANAM. I was pleased to see that all the ASQ members played in the Australian Youth Orchestra in their formative years. Nigel Westlake did, too; he played clarinet in the AYO's historic 1979 China tour. So did I, in the AYO's very first year (1957), when, if memory serves, we had to omit some movements of the Tchaikovsky Fifth because they were too hard.
The ASQ's three-concert 2020 subscription series (Adelaide, Brisbane, Canberra, Melbourne, Perth, and Sydney) includes Beethoven, Bartok, Janáček, and a world première of a new quartet by Ross Edwards. Chamber-music lovers take note: it's not enough to subscribe to the Australian Chamber Orchestra and Musica Viva. The best live quartet playing you will have the chance to hear in 2020 may well come from the Australian String Quartet.
---
Ives Westlake Debussy, performed by the Australian String Quartet, is repeated in Canberra (September 8), Adelaide (September 9), Brisbane (September 17), Perth (September 18), and Melbourne (September 20). Performance attended: September 4.