How many variations does it take, how many iterations and transfigurations, before a work of mediocrity becomes a work of genius? And what about a life – at what point do the quotidian accretions of living come to represent a person's entire existence? What does it actually mean to live an extraordinary life? For all our continued obsession with genius, with those among us who break through into ways of thinking and creating the rest of us cannot conceive, we still have scant understanding of how it actually works. Venezuelan/American playwright Moisés Kaufman takes this ambivalence and weaves a very fine and moving drama out of it with his play 33 Variations, which had its première on Broadway in 2009, with Jane Fonda in the main role.
The genius at the centre of this play is Beethoven himself (William McInnes), although he isn't the central character, or even the play's primary concern. That would be Dr Katherine Brandt (Ellen Burstyn), a musicologist who has developed a professional obsession with the 33 variations Beethoven wrote on an insignificant waltz composed by the Italian publisher Anton Diabelli (Francis Greenslade). She is determined to understand why such a great composer would 'waste his time' obsessing over such a trifle, and resolves to travel to Bonn in order to study the maestro's notebooks, to get as close to the site of genius as possible.
---

---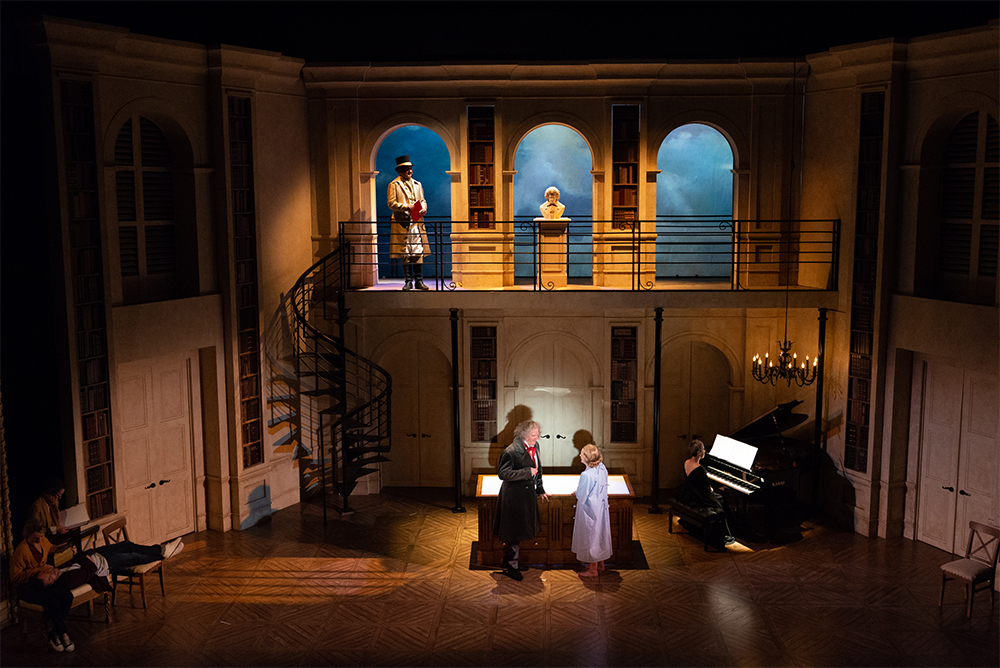 The set of 33 Variations (photograph by Lachlan Woods)
The only problem is that Brandt is chronically ill, suffering from what used to be referred to as Lou Gehrig's Disease, and doesn't have much time left before her body's functions atrophy and she dies. Her daughter, Clara (Lisa McCune), is naturally reluctant to let her leave for Germany, but the relationship is strained and distant; she doesn't seem to have the influence or even the will to prevent her mother from going. Deep-seated animosities and long-held prejudices simmer just below the surface, and the physical distance only promises to embed an entrenched emotional one.
It is here that the play begins to take flight, as Kaufman weaves places and time periods, establishes echoes in theme and character, and finally bores down to the very essence of creativity itself. While Brandt tries desperately to understand Beethoven's inspiration, we see him grapple with it himself; as he struggles with the pain and entropy of deafness, her body begins to break down. And all the while, pianist Andrea Katz punches out those musical variations on the grand piano in a way that illuminates and colours the sophisticated and witty textual variations underpinning the drama.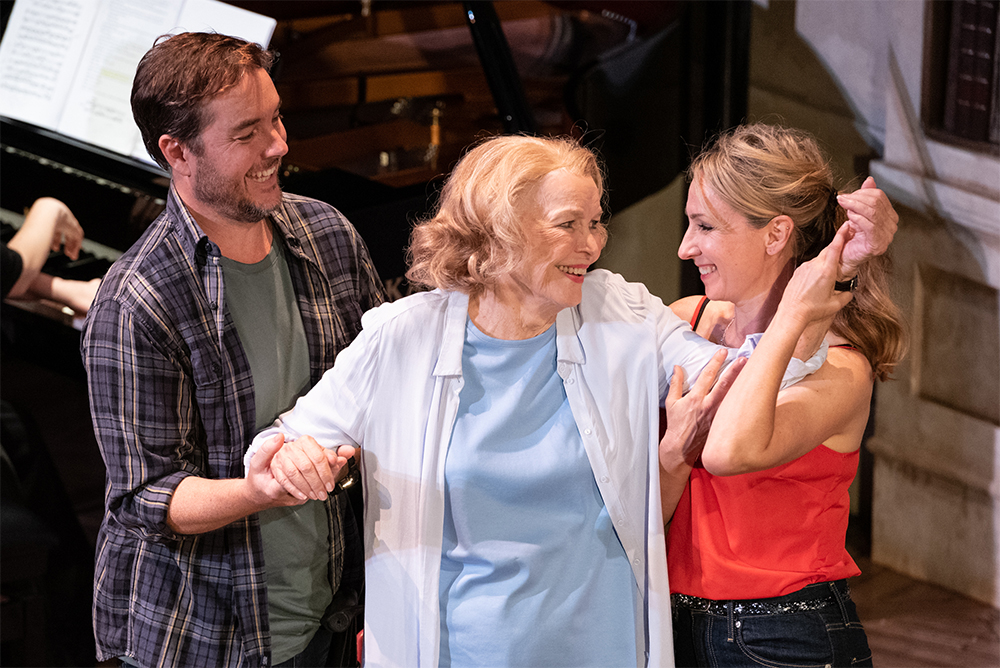 Toby Truslove as Mike Clark, Ellen Burstyn as Katherine Brandt, and Lisa McCune as Clara Brandt in 33 Variations (photograph by Lachlan Woods)
Director Gary Abrahams is one of the country's best directors of text-heavy theatre, and here he brings a lightness and daring to the often fiendish requirements of the play. Vastly different acting styles – from the intricate and interior through the casual and avuncular, all the way to the bombastic and fully operatic – are allowed space to establish themselves, and yet the final effect is symphonic and harmonious. It's a play of ideas that is also firmly and overwhelmingly emotional, and Abrahams handles its shifts, its crescendos and decrescendos, with considerable skill.
The performances are simply wonderful. McInnes is an entire foot taller than Beethoven was, and he towers over everyone else on stage, but the effect is strangely apt: his monumental genius here takes physical form, and his wild volatility comes to seem like strictest sense. McCune is both pained and generous as the unfairly chastened Clara, and her chemistry with Toby Truslove (adorable as Katherine's nurse and Clara's eventual boyfriend, Mike) is one of the pure joys of the play. As a trio of servants and supporters, Helen Morse, André de Vanny, and Greenslade are all delicious; together they provide a very strong sense that all we think of as great in this world is merely well tended.
Of course, the audience has come primarily for Ellen Burstyn, and boy does she deliver. The first thing we know of Brandt is encapsulated in her stance: erect, noble, assured, she stands before us an unbending authority. She will, throughout the course of the play, diminish in some fundamental ways, but she also rises and opens out, and Burstyn lets us in at every point of departure. There are many technical aspects to the performance that dazzle – the subtlety of her physical decline, the thickening of the vocal chords, the withering sideward glances – but it is the emotional register, the colossal resistances, and ultimately profound epiphanies that drive the play towards its exquisitely poignant conclusion. It's a star turn from a bona-fide star.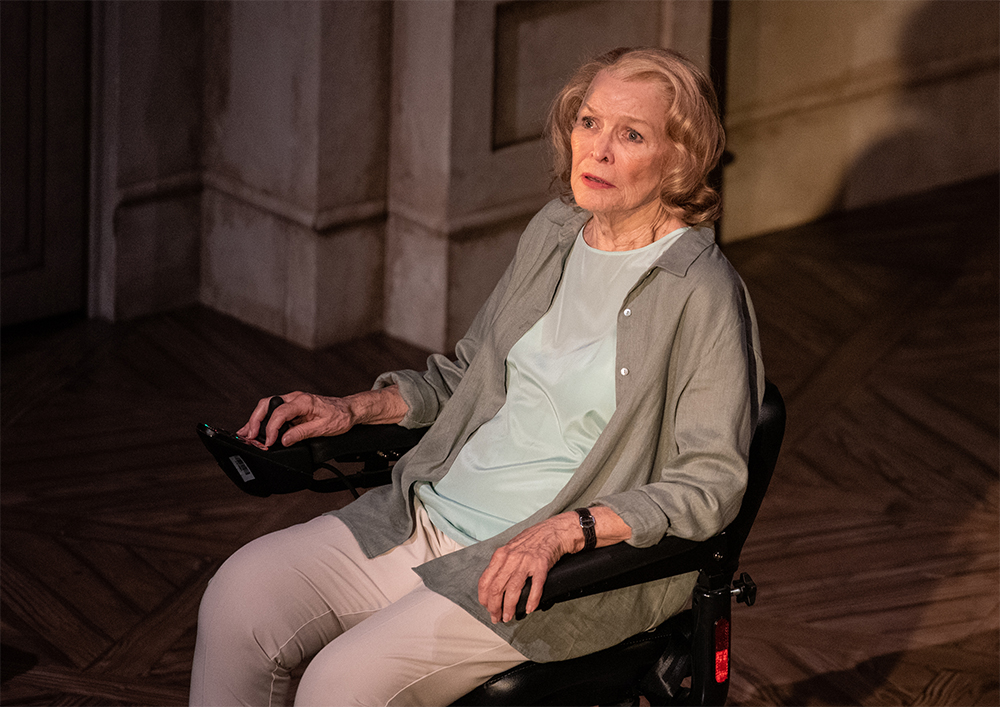 Ellen Burstyn as Katherine Brandt in 33 Variations (photograph by Lachlan Woods)
33 Variations is that rare bird of the theatre, a play about an abundance of riches that is itself abundantly rich and varied; curiously ambivalent about the very notion of genius, of the split between the extraordinary and the mediocre, it still champions and exalts the idea of great art and the power it can have over our lives. This sublime production – from Dann Barber's gorgeously sumptuous set, Chloe Greaves's effortlessly evocative costumes, and Rachel Burke's ingenious and versatile lighting – is as lithe and entertaining as you could hope for. That it's independently produced is a thing of wonder.
Schopenhauer said that while talent is like the marksman who hits the target others cannot reach, genius is the marksman who hits the target others cannot even see. The idea that Ellen Burstyn could come to Melbourne and triumph in the role that seems written for her in a local production of this calibre, sounds like a target none of us thought possible. It's real, and it's playing at the Comedy, and it would be a mediocre city indeed that missed it.
---
33 Variations, produced by Cameron Lukey and Neil Gooding Productions, is being performed at the Comedy Theatre from 7–24 March 2019. Performance attended: March 10.