'When Gregor Samsa woke up one morning from unsettling dreams, he found himself changed in his bed into a monstrous vermin.' It is surely one of the most celebrated, and arresting, opening lines in all literature – very 'Kafkaesque', in fact! It was just a matter of time before The Metamorphosis (Die Verwandlung), this profoundly unsettling novella by Franz Kafka, found its way into dramatic form, and it has been adapted into a variety of genres, including spoken theatre, ballet, film, and, of course, opera. One of the best-known of all the theatrical adaptations is by Steven Berkoff, maverick British actor, director, playwright, and all-round theatre man.
Irene Shaland suggests that the 'whole art of Kafka persists in forcing us to reread him. If he ever suggests any explanations, they are not revealed in clear language, thus they require that the work be reread from another point of view.' Berkoff's Metamorphosis proves a point in doing this, if only in order to gain the courage for taking another look at, as Kafka puts it, 'the horror of life – the terror of art'. Berkoff has maintained that 'we make theatre as if there had never been theatre before'. The success of his adaptation has certainly made Kafka's story available to a range of audiences, providing a different form of access to the work; operatic versions provide yet another perspective on this great literary work.
Opera is an irrational art form, as has been pointed out by many commentators and in many different contexts. What is more irrational than people singing at each other? Kafka and opera should have a lot in common, with Kafka's work being renowned for its surreal and often absurdist qualities. Yet there are surprisingly few effective operas based on his fiction. Works drawing on Kafka by well-known contemporary composers include Aribert Reimann's version of The Castle (Das Schloß) of 1992, and Philip Glass's In the Penal Colony (2000). Reimann, as an opera composer, is best known for his searing adaptation of Shakespeare's King Lear, written for Dietrich Fischer-Dieskau in the title role, but his Kafka opera was very successful; his version of Strindberg's The Ghost Sonata will be performed in the same venues by Opera Australia in Sydney and Melbourne in 2019.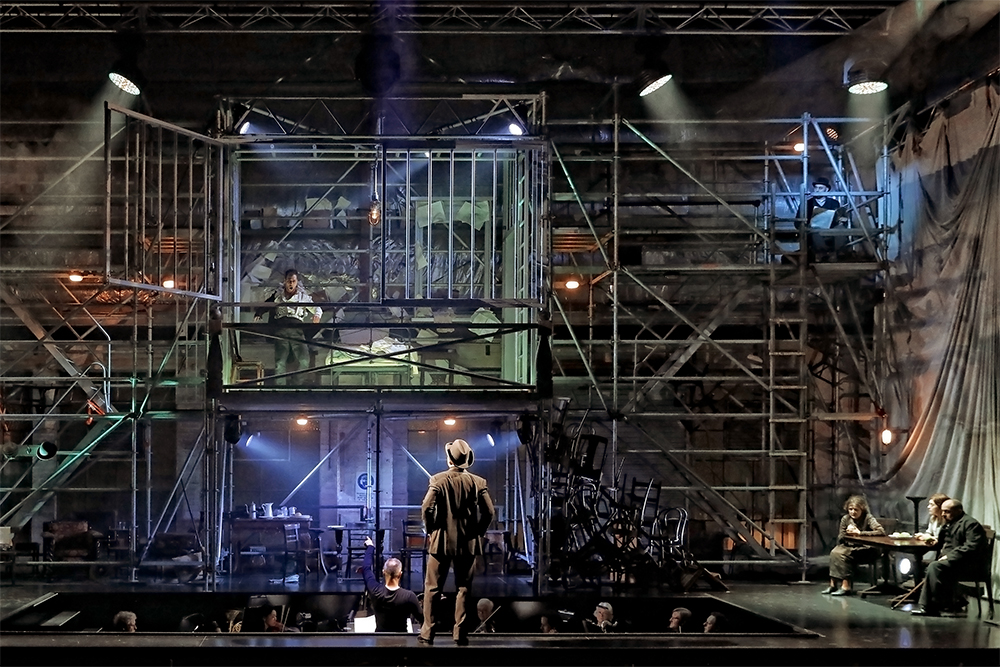 Ensemble cast in Opera Australia's 2018 production of Metamorphosis at The Opera Centre Scenery Workshop (photo by Prudence Upton)
Philip Glass is probably the most prolific contemporary opera composer – twenty-six at last count – and his Kafka opera, In the Penal Colony (2000), was effectively staged by Sydney Chamber Opera in 2012 (Glass also adapted Kafka's The Trial in 2014). But it is with great pleasure that an Australian opera gets a rare revival. Composer Brian Howard has enjoyed a distinguished career with opera a central plank of his musical output. Metamorphosis (1983), his second opera, came after the successful collaboration with Louis Nowra, who turned his own play into the libretto for Inner Voices (1979). They would collaborate on another original libretto by Nowra, Whitsunday (1988), written for the Bicentenary.
What does Kafka's novella mean? The question has occupied scholars since its publication in 1915. Perhaps the most disturbing aspect of the tale is not the actual transformation of human being to insect, but the way in which all the characters treat the change: the deliberate blindness towards the new reality of the situation, almost as if the metamorphosis is some kind of natural event, something willed by Gregor, who refuses to accept that it has happened. The relationships within his family are seen to be illusions, founded on a fundamental lack of communication, with a sense of alienation and mutual misunderstanding colouring their interactions; there is the perception that the self becomes distorted through falsehood and deception, both of oneself and of others. Gregor is finally complicit in willing his own death as he increasingly shuffles on his insect persona by simultaneously shedding his humanity and accepting his ultimate fate. His family, of course, are completely complicit in this, including his sister Grete, who initially is the most sympathetic to his sudden plight. His death leaves them with an overwhelming sense of liberation.
Artistic Director of Opera Australia Lyndon Terracini, who played Gregor in the première of the work, has championed and occasioned its revival. The opera is a welcome inauguration of an annual series of chamber operas to be performed in the Opera Australia Scenery Workshop in Sydney and the Merlyn Theatre at Coopers Malthouse in Melbourne. Using Kafka's words, the singers playing Gregor's family address the audience directly while enacting critical moments from the family story, transforming family encounters into history. Howard's music is febrile and unsettling, perfectly appropriate for the surreal subject matter of the opera. The work has twelve musicians and six singers.
Naturally, the central performance is that of Gregor, and the opening question is always: how 'realistic' is the insect persona going to be? Stage productions range from the minute recreation of an insect-like body to using ordinary clothes while suggesting the nature of the transformation through movement and music. Dancer Mikhail Baryshnikov's famous assumption of the role on the New York stage (1989) used his pre-metamorphosis clothes throughout, suggesting the transformation purely through movement.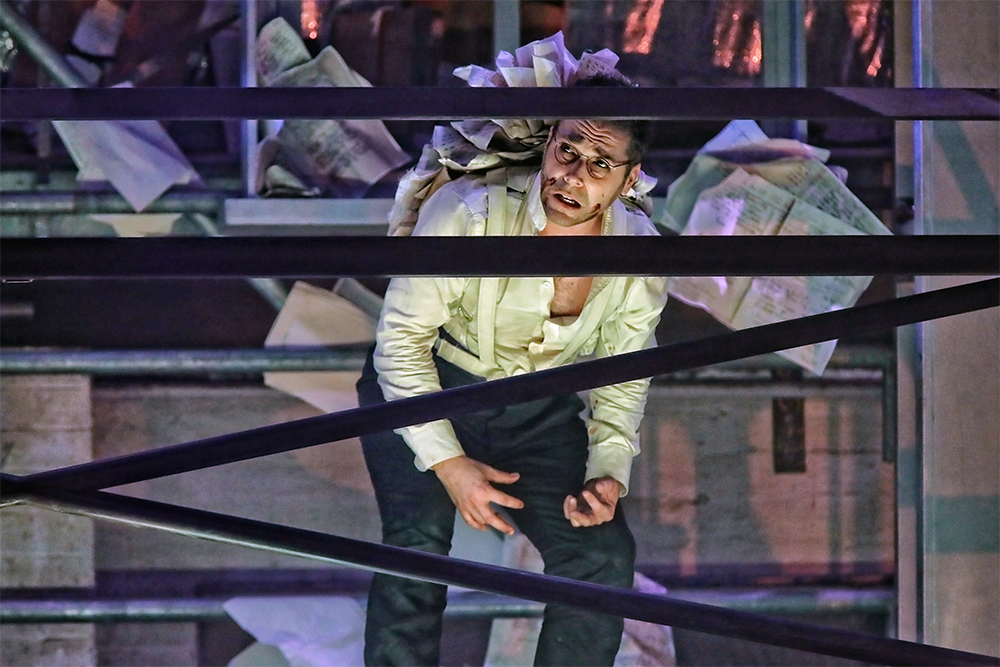 Simon Lobelson as Gregor in Opera Australia's 2018 production of Metamorphosis at The Opera Centre Scenery Workshop (photo by Prudence Upton)
Baritone Simon Lobelson 'developed' a ruffled attachment to his back as part of his transformation, but most of the insect-like elements were suggested by his movements as well as his mouthing words to his family who could not 'hear' him. His is a highly athletic performance, restlessly clambering over, around, and up an intricate scaffolding set, simultaneously displaying a voice of burnished bronze that projected well in the open space of the workshop. His diction was unwaveringly clear and precise, and there were many moments of poignancy and pathos: a performance that will long linger in the memory.
An extra frisson of excitement was added to the first night through the assumption of the role of Greta at the last moment by Tabatha McFadyen for the unwell Julie Lea Goodwin. McFadyen had been participating in the Opera Australia observer program for young directors and literally jumped into the role – no mean feat, as this is complex music as well as intricate staging. She did a sterling job, displaying a soprano of rich hues and a striking stage presence. Unlike most repertoire operas where there are singers to call on in an emergency, in a work like this the show will normally be cancelled if one of the singers is indisposed.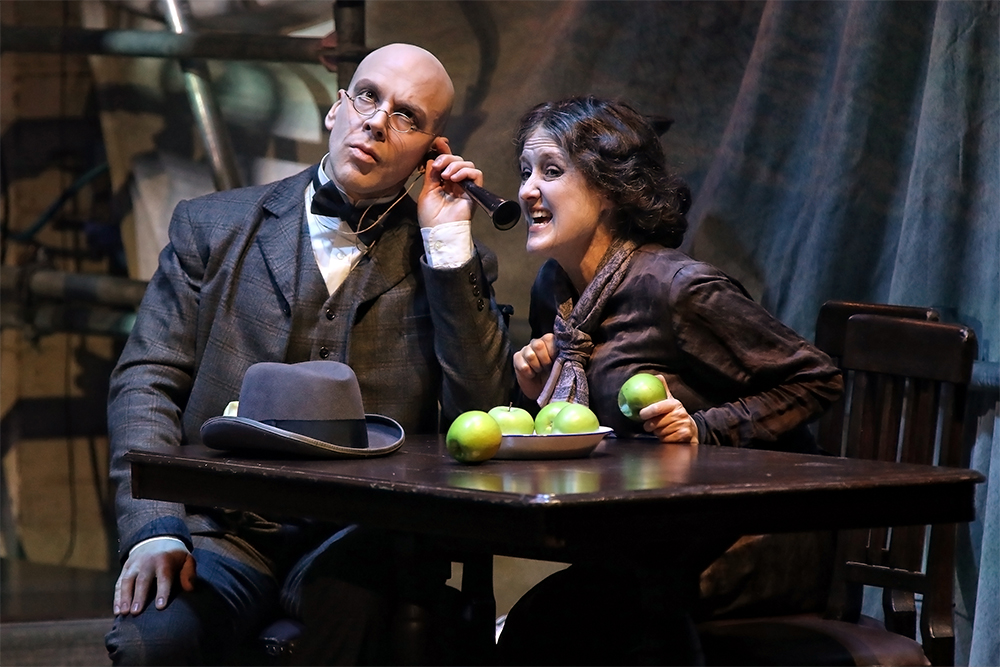 Adrian Tamburini and Taryn Fiebig in Opera Australia's 2018 production of Metamorphosis at The Opera Centre Scenery Workshop (photo by Prudence Upton)
As the parents, Taryn Fiebig and Christopher Hillier created rounded portraits of these conflicted characters. Fiebig suggested the downtrodden housewife subservient to her domineering husband, and infused the character with warmth and pathos, her occasional rebellious outbursts providing fleeting moments of anger and resentment. Hillier physically conveyed the arrogance and pomposity of Mr Samsa, strutting around the set, his powerful baritone cutting through the orchestral web with ease, but also infusing the character with surprising humanity despite his empty bluster. In the two smaller roles, Adrian Tamburini's powerful bass boomed through with menace as the Head Clerk, while Benjamin Rasheed's whining tenor well conveyed the complacency and self-importance of the Lodger, as well as his terror at his discovery of the transformed Gregor as a fellow resident of the house.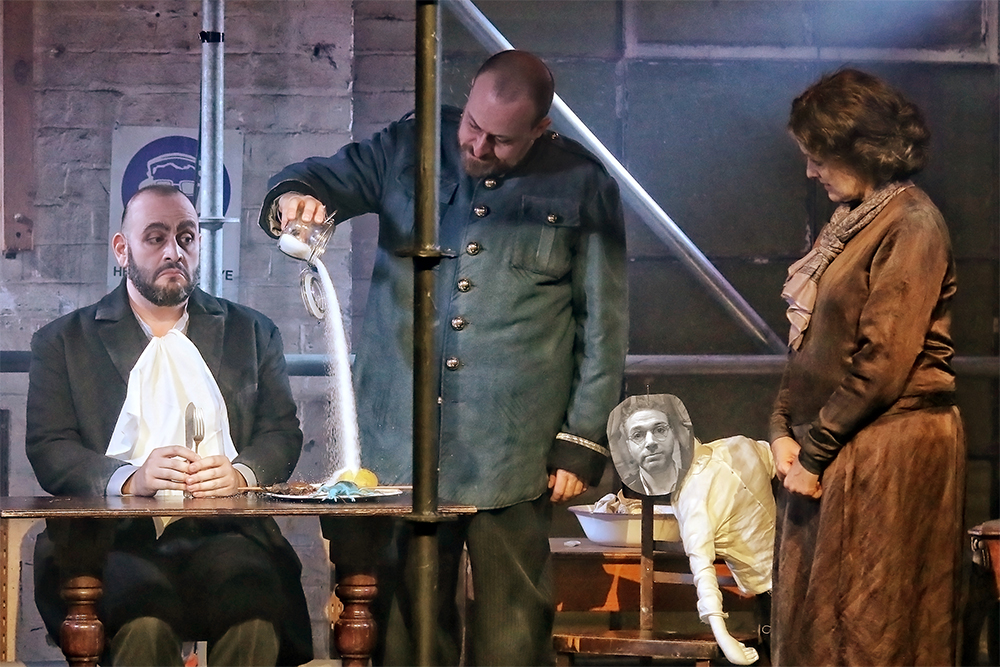 Benjamin Rasheed, Christopher Hillier, and Taryn Fiebig in Opera Australia's 2018 production of Metamorphosis at The Opera Centre Scenery Workshop (photo by Prudence Upton)
The musical score is never still, with continual surging and bubbling of rising sound cells, never settling into musical stasis, sometimes leading into brief vocal ensembles. The crucial moments of transformation and significance are frequently set off from the overall sound world by instrumental solos. There is a lot of absurdist comedy in the opera, underscored by the orchestra, but there are deeply poignant moments as well, not the least as Gregor contemplates his imminent death. Conductor Paul Fitzsimon directed the often widely spread musical forces with aplomb and an overall sense of musical shape and development, although there were occasional issues of balance between voices and orchestra due to the nature of the venue.
The Workshop is a challenging yet highly effective performance space, perfectly suiting the nature of this opera. Set and costumes by designer Mark Thompson strikingly evoke an early-twentieth-century, Mitteleuropa ambience, while lighting by John Rayment turns the venue into a kaleidoscopic array of discrete spaces, with skin-crawling projections of an array of insects continually playing over the multitude of surfaces, turning into a colourful display of flowers for the final stage picture. Tama Matheson's production is outstanding, with unflagging energy and momentum; he tells the story with clarity and humanity, characters clearly drawn, while conveying Kafka's incisive critique of political and social issues of the time.
This operatic initiative by Opera Australia must be highly commended. As the first in a future series of chamber works, it has set the bar extremely high, both in terms of the quality of the opera chosen, as well as the inventiveness and excellence of the production and its performance. Bravi tutti!
Metamorphosis, presented by Opera Australia, is being performed in Sydney 26–29 September 2018, and then in Melbourne 25–27 October 2018. Performance attended: September 26.
ABR Arts is generously supported by The Ian Potter Foundation and the ABR Patrons.