The notion of the sad clown probably has its origins in prehistory; the mockery of pain and sorrow is such an embedded human trait that indigenous cultures around the world embraced it long before it became a trope of commedia dell'arte. Pierrot, with his iconic painted white face and billowing white costume, is the universal symbol for sad clowning. He is sad because he pines for Columbine, who will forever prefer Harlequin, calcifying Pierrot into an emblem of unrequited love. Lear's Fool could be seen as a sad clown, although this largely depends on the way he's played. He is certainly a philosopher clown, a subset of the sad clown. It is such a ubiquitous concept – forever turning up as ghastly amateur oil paintings in thrift shops – that it has become something of a byword for bad taste. For this reason, it is quite daring for a contemporary playwright to tackle the concept – and even more daring for the actor to act it.
Justin Butcher's one-man play Scaramouche Jones, which premièred in Dublin in 2001, pulls lightly on the traditions of the sad clown, in ways that allow him to forge new pathways for the character: he includes the white face but does away with the intractable love interest; he hints at the stock personality tropes of dell'arte without simplifying the characterisation; he largely avoids pathos by rendering his hero a self-made man, philosophical but rarely lachrymose. If anything, the playwright is drawing more heavily on the traditions of picaresque than those of the clown. Scaramouche's tale is full of derring-do, of wild adventures in exotic locations, all delivered in episodic form. The man himself is a bit of a rogue, constantly getting himself in and out of scrapes, wily and resourceful. He says he adopted the surname Jones because an officer told him he needed one to get a passport, but surely we're meant to think of The History of Tom Jones, a Foundling.
In many ways, the play itself is quite wily and resourceful. Set on 31 December 1999, it tells the story of a man born on the same day in 1899 who has decided to die, because 'a hundred years is long enough'. Scaramouche comes up against the century's major events, but any attempt to read the play as mere allegory – an extended joke in the mode of Woody Allen's Zelig – is destined to fail. Butcher is after a mood that is capable of encompassing the elegiac as well as the rambunctious, one that can suggest the vagaries and small victories of a private life without ignoring the massive global events that tend to shape it.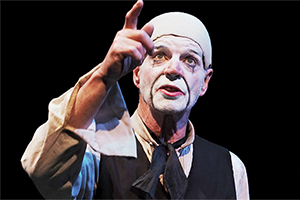 Colin Friels in Scaramouche Jones at Arts Centre Melbourne (photo by Lachlan Bryan)
The key global event that shapes Scaramouche's life – like a dying fall in the background – is the waning of the British Empire. Scaramouche is born in Trinidad – which became an English colony only ten years before his birth – to a gypsy mother and an unknown English father. His mother comments on his pale skin, the first of seven white masks he will wear in his lifetime. It is a curious image, the application of white face that corresponds to the British shedding of territories. And it serves to deepen our interest in this literate, loquacious clown, who may or may not be a ghost or cypher.
Of course, a play like this is totally dependent on the performer, and Colin Friels rises magnificently to the challenge. The program notes cite this as 'his first one-man show', but surely this is a mere technicality. Friels was recently seen in the Belvoir/MTC co-production of Brian Friels's Faith Healer, a play made up of four dramatic monologues, and he completely dominated the format. He is an actor who can have a thorny relationship with his fellow cast members – he has a wild unpredictability that can jar with the cohesion of an ensemble – so the solo performance might just be his ideal vehicle. Friels is superb here, mercurial and vibrant, but constantly nudging at the loss and dissatisfaction beneath the surface. There is nothing resigned about the character or the performance; if there is pathos, it is full, abundant, deeply life-affirming.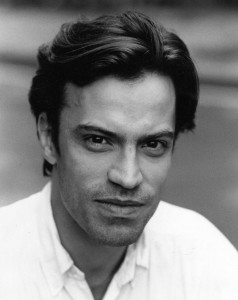 Scaramouche Jones playwright, Justin Butcher. Alkinos Tsilimidos's direction is exemplary. Having worked with Friels before, in John Logan's Red, he clearly understands the actor's process, but there is something about the material's symbolic register here that suits him better. Butcher's is by far the more poetic work, and Tsilimidos seems more comfortable with it. Richard Roberts's set is glorious, a convincing garden space just outside the big top that is also a suggestion of a primordial garden of return. It is beautifully lit by Matt Scott, and Tristan Meredith's sound design is so delicate it seems embedded.
Scaramouche Jones is a richly literate work, bursting with imagery and reference – from Shakespeare to the King James Bible, through Dickens and Gilbert and Sullivan – but never bogged down or entombed by them. The play is so crowded with characters, accents and personalities that it feels at times more like a nineteenth-century novel than a solo performance. If it is political, it is only lightly so; Scaramouche's white faces are constantly affording him privileges, and increasingly seem made up of the white ash of Empire, but they are also personal masks that shield him from a purely personal tragedy. This is a great vehicle for an actor, and Friels relishes every beat. It's a curious contradiction, that the sad clown could be such an agent of joy.
Scaramouche Jones was performed by Wander Productions at Fairfax Studio, Arts Centre from 15 to 25 August 2018. Performance attended: August 17.
ABR Arts is generously supported by The Ian Potter Foundation and the ABR Patrons.