While the bulk of Samuel Beckett's monumental reputation rests on the plays – especially the mid-career, mid-century works that include Waiting for Godot (1953), Endgame (1955–57), and Happy Days (1961) – it is the novels that afford the most prolonged, immersive access to his enduring concerns and preoccupations. While Molloy (1951), Malone Dies (1951), and The Unnamable (1953) are considered his most significant, his earlier works such as Murphy (1938) and Watt (started in 1941, when Beckett was hiding from the Gestapo in Roussillon, but not completed until 1945) offer a fascinating glimpse into the initial stirrings of his genius. In fact, the latter is perhaps the first solid glimpse of this genius in action, one that arguably lay the foundations of what was to come.
Certainly, the preoccupations are there. Nothing, and its great devouring of meaning, is one of the central tenets of Beckett's output, and its creeping presence is everywhere felt in the novel. Then there is the master–servant dynamic that morphs into increasingly complex power plays – one that crops up in Godot and Endgame. Vitally, there is the idea of language as a tottery, tenuous bridge to reality and even to existence itself. In Beckett, to speak is to grasp desperately at life even as the silence encroaches. Of course, as any fan of Beckett knows, it's also achingly funny.
Actor Barry McGovern – without doubt one of the world's foremost interpreters of Beckett's work – has adapted the novel for the stage himself. He opens with a line that could be seen as an overarching principle: 'The only way one can speak of nothing is to speak of it as though it were something.' This is a paradox, and in McGovern's droll delivery it's very funny, but it also speaks to a key concept in this, and in all of Beckett's writing: negation is as much a creative as a destructive act, and what looks on one viewing like profound pessimism can just as easily be interpreted as proof and affirmation of life.
The plot concerns itself with Watt and his service to a gentleman named Mr Knott, of whom he knows nothing and from which he learns nothing. How Watt comes to work for Knott, and why he stops, is never explained; it seems that the formation of master–servant relationships is intrinsically unknowable in Beckett, as we see in the Hamm/Clov and the Pozzo/Lucky pairings in Endgame and Godot, respectively. In this case, Watt just comes and then he goes. The accumulation of useless detail fails to mask the lack of purpose or meaning in Watt's working life. Beckett takes pains to assure us that Watt is replacing a former servant and is replaced in turn, but the never-ending cycle of service makes no quantifiable sense. This is echoed in an hilarious sequence when Knott rants about ancestors and their meaningless iterations: their 'mothers' fathers' mothers and their fathers' mothers' fathers and their mothers' mothers' fathers and their fathers' fathers' mothers'.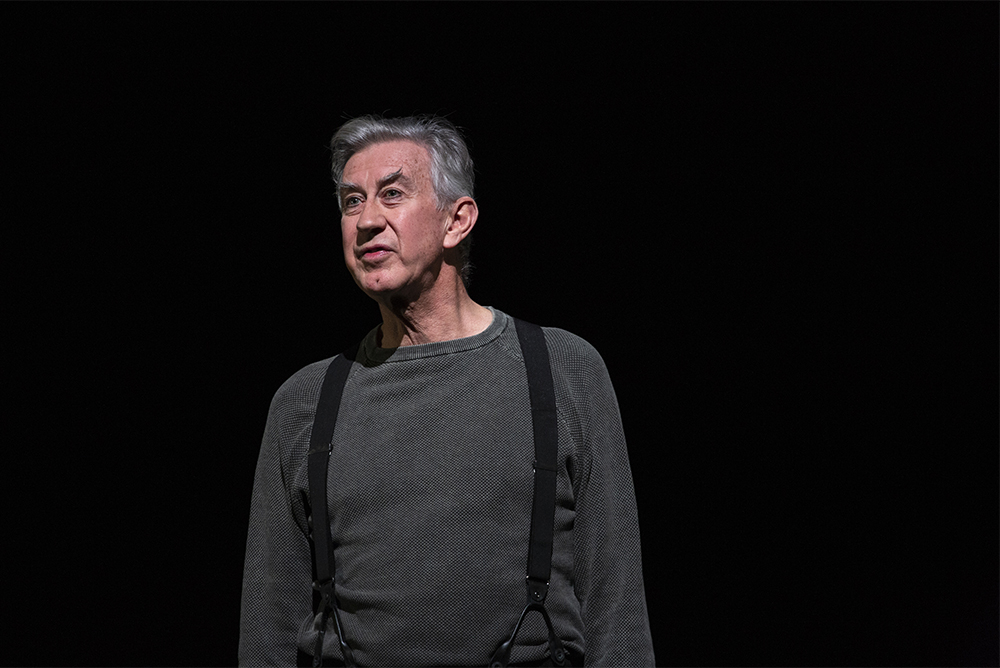 Barry McGovern in Watt (photo by Pia Johnson)
The play avoids the rickety dramatic structure of the novel by excising large parts of the text – notably Watt's increasing detachment from reality and subsequent convalescence in an asylum – in favour of a simpler but more lucid narrative arc. In the novel, language itself breaks down; sentences fall into ellipses, words lose their bearings, and the final line is 'no symbol where none intended'. Of course, words are symbols, and in the play every symbol is intended; language is still the primary source of meaning, even if it is full of pointless details and existential non sequiturs. Where the novel plays semiotic games with time and memory, the play embraces its own dying fall. The sheer presence of the actor seems to tip the scales towards hope, but it's a line call. Meaning and non-meaning; something and nothing.
McGovern is a genuine master; he seems to have an almost symbiotic affinity with the material. His physicality is taut and considered, with a raised eyebrow that conveys a kind of sardonic weariness. But it his sonorous and supple voice, lighting on the humour without ever losing the sadness and perplexity of the character, that best conveys Beckett's world view. The language – with its increasingly complex and labyrinthine structures, its seemingly endless but perfectly balanced subjunctive clauses – is so flawlessly articulated that it sounds almost like natural speech.
Barry McGovern in Watt (photo by Pia Johnson)
Director Tom Creed is in total control. Beckett is so stripped back, so naked, that every gesture is amplified, and Creed makes of the strictures something freeing and honest. The props are minimal, peripheral; the staging is nondescript. But then Sinéad McKenna's lighting – with its gloriously responsive transitions and bold, memorable shifts – elevates the final moments of the play in ways that are truly instructive: the Beckett estate might insist on impossible restrictions, but great artists will always find new ways to illuminate his genius.
Anyone arguing that Watt represents the pinnacle of Beckett's talent would find few adherents, but this adaptation proves that even his densest, most impenetrable writing can yield dramatic wonders. McGovern stands alone as the voice of Samuel Beckett now that Billy Whitelaw is gone, and the privilege of hearing the man speak these words is difficult to quantify. Perhaps it's best to leave it to Harold Pinter, who said this of Beckett: 'The further he goes, the more good it does me … and the more he grinds my nose in the shit, the more I'm grateful to him'.
Watt is being performed at the Playhouse, Arts Centre from 4 to 13 October 2018 as part of the Melbourne International Arts Festival. Performance attended: Friday October 5.
ABR Arts is generously supported by The Copyright Agency's Cultural Fund and the ABR Patrons.