John Doyle's production of Gaetano Donizetti's 1837 opera dates back to 2012 – a co-production with La Fenice and Houston. It is a rather self-important production – very dour and Presbyterian. The dark cloudage never parts. There is a radical want of props: one long table, two chairs, and a row of otiose sticks which are deployed with something like religious gravity. Every gesture, every placement, must be solemnised. The grey panels that are lowered and raised throughout are distracting. The chorus lacks all affect. Even during the Mad Scene, the wedding guests remain robotic, slowly turning their back on Lucia as if one of the guests has just splashed red wine on an expensive carpet. These Scots, superbly costumed by Liz Ascroft, are dour, humourless, and beyond humanity.
Donizetti's glorious score calls for great brio from the orchestra. Carlo Montanaro took it exceptionally fast, unsettling the orchestra and singers at times. The Act One duet, 'Verranno a te sull'aure', one of the most stirring things in Italian opera, suffered as a result and was oddly unmoving.
This was a long season – nine performances – and Michael Fabiano (such an inspired Edgardo at the Met in April, opposite Pretty Yende's Lucia) – sang the first eight, a coup for Opera Australia, which presented him as Faust to great acclaim in 2015.
Diego Torre stepped in as Edgardo for the final performance, which is the one ABR Arts attended (July 27 ★★★★). Torre, immensely popular with this audience, sang with his usual ardour and sure top notes. Edgardo, of course, ends the opera with some of the best music, and Torre was convincing and expressive.
The true lunatic in Donizetti's opera is Enrico, Lucia's vicious, petrified brother. Giorgio Caoduro – still interestingly young for the role, though he sang it here as early as 2012 – was unfailingly dastardly. Like all true baritones he luxuriated in his high notes, several of them interpolated and held to rousing effect. He was at his best in the Wolf's Crag scene (cut in 2012), when Edgardo visits Edgardo in his lair to taunt him about Lucy's conjugal throes.
Suitably bedizened, John Longmuir – Lucia's unloved bride groom and the solution to Enrico's financial woes – was in good form – a voice full of money, as it were.
Richard Anderson seemed ill at ease as Raimondo, Lucia's chaplain; he sang very two-dimensionally.
This was, as it should be, Lucia's night. Jessica Pratt – first heard in Australia in the role that has made her internationally celebrated in a middling 2016 Victorian Opera production – did not disappoint. Her diction is exemplary, and she moves around the stage with great lightness and charisma, always in total sync with her fellow singers, especially Torre. She got better and better all night, quite unforgettable in the Sextet and the Mad Scene.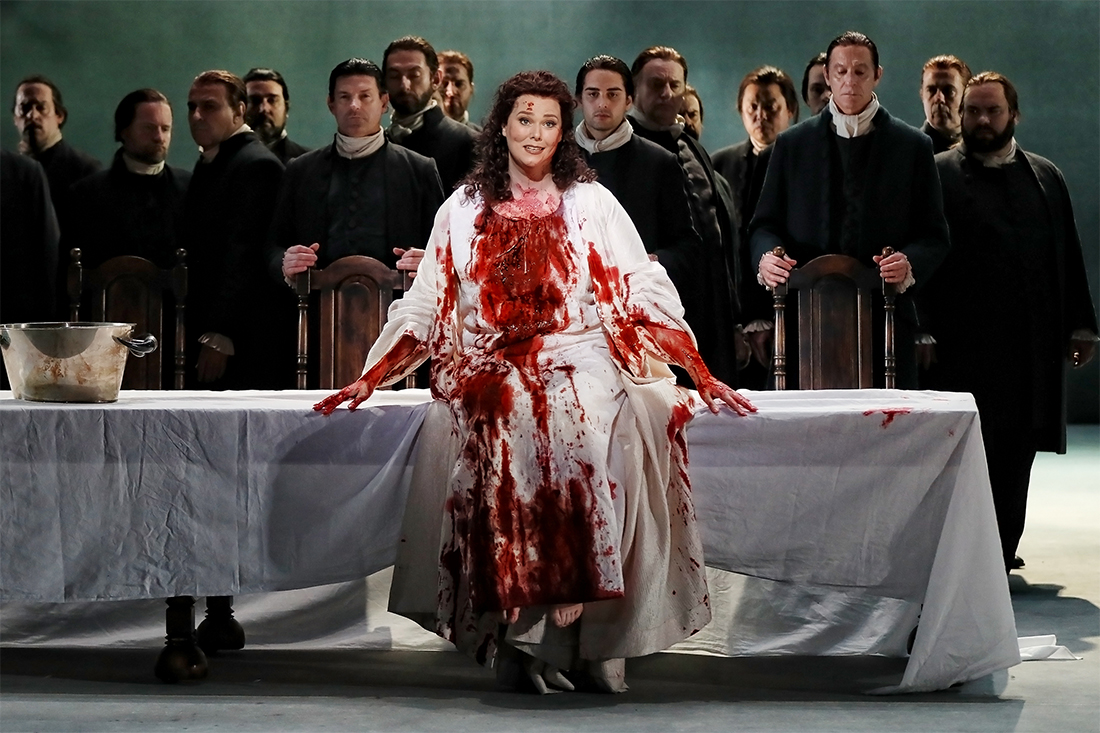 Jessica Pratt and ensemble in Opera Australia's 2018 production of Lucia di Lammermoor at the Sydney Opera House (photo by Prudence Upton)
When Emma Matthews sang this role in 2012, the glass harmonica (Benjamin Franklin's creation) replaced the wonted flute during the Mad Scene (as it did in 2016, in Melbourne), but here they reverted to the flute – brilliantly quick and accurate, though less atmospheric. Pratt was at her best during this long and virtuosic scene.
There is a short scene after Lucia's cabaletta 'Spargi d'amaro pianto' and the long ovation that inevitably follows. Edgardo – no longer master of himself, as he admits – denounces Lucia, and Normanno congratulates the omnipresent Raimondo (Benjamin Rasheed) on his nefarious handiwork. Here, this short scene was retained, to good effect. Then Alisa (Jane Ede) led the bloody, stricken bride across the stage in total silence. Dramatically, it was the best thing in Doyle's production.
This was a relatively late company début for Pratt, who studied at the Sydney Conservatoriuum, but this superb young bel cantist surely has many more triumphs ahead with the national company. Meanwhile, Melburnians can long forward to hearing Pratt as Juliet in Bellini's I Capuleti e I Montecchi – another concert version, and her third Bellini heroine for Victorian Opera. (There is a single performance, on September 14 – not to be missed.)
The chorus, despite the dramatic constraints of this production, was in excellent form.
ABR Arts returned to the Joan Sutherland Theatre the following evening for the fifth performance of Davide Livermore's new production of Aida (July 28 ★★★★), Verdi's third-last opera, first performed in Egypt in 1871 and early the following year at La Scala.
Only Enobarbus could do justice to the infinite variety of the Italian director's busy production. It relies heavily on video, ten LED screens, comely gym-gods in G-strings, and inevitable hieroglyphics. There is so much going on in the first hour as to be giddy-making. Nothing, no one, stays still for more than ten seconds – apart from the huge projected panther that appears from time to time, bearing its teeth. The costumes are extravagant and inconsistent. There is yet more cloudage – fiery this time.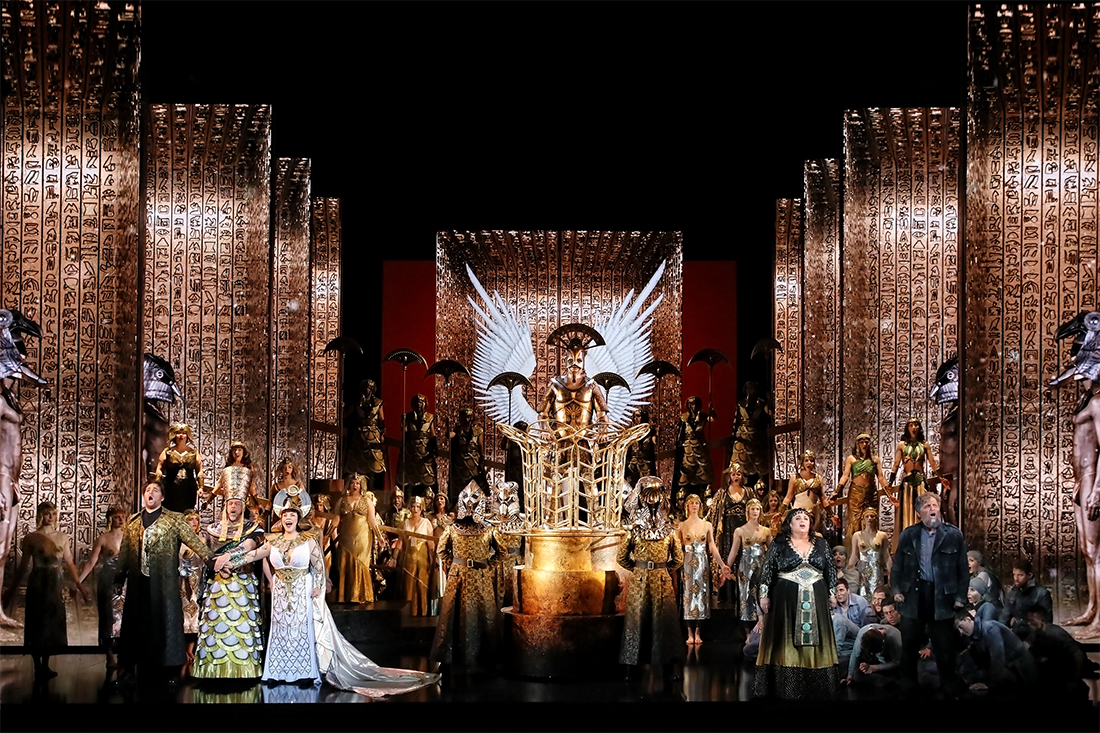 The cast and chorus of Opera Australia's 2018 production of Aida at the Sydney Opera House (photo by Prudence Upton)
The neurotic, angular choreography is risible – repellent too at times, especially when the manic slave girls slash away at one another with knives.
Fortunately, things settled down in the final two acts when the intimate qualities of Verdi's drama become more pronounced. Followed the most spectacular singing of the evening – a memorable hour indeed. The video was more sympathetic in the long, crucial Nile Scene.
Amber Wagner, as Sieglinde, was one of the stars of the 2016 Melbourne Ring. Reviewing Die Walküre for ABR Arts, I was struck by Wagner's powerful chest notes and ringing top; she reminded me of the young Jessye Norman. Two years later, Wagner's soprano has grown even larger, surer. Aida is a massive role, with enormous vocal hurdles, but nothing fazed the young American singer. At times the voice seemed almost too large for this small theatre: here is an Aida custom-made for houses like the Met. As in 2016, Wagner's many high notes were absolutely secure, and in the later acts she offered a masterclass in messa di voce singing, that curliest of vocal techniques.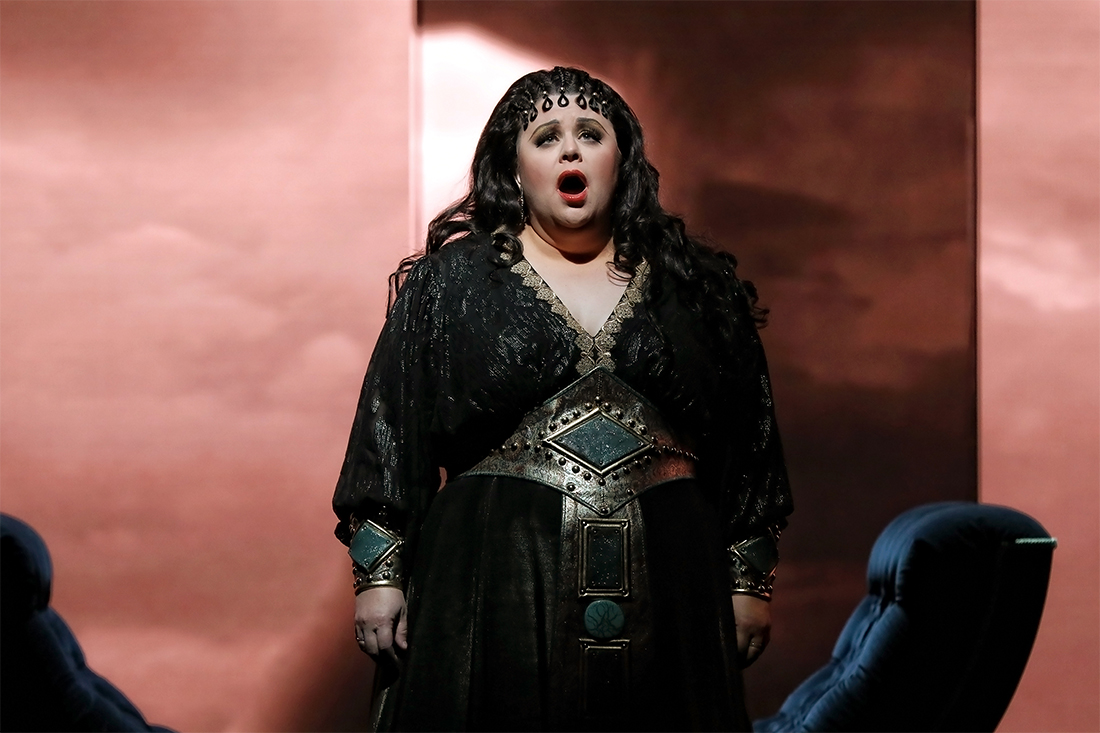 Amber Wagner as Aida in Opera Australia's 2018 production of Aida at the Sydney Opera House (photo by Prudence Upton)
Not perhaps since the 1970s and 1980s, the glory days of Joan Sutherland's tenure at Sydney, have local audiences heard a voice of such amplitude and assurance in the theatre now named after her. (Not that Sutherland, in this house, ever sang Aida, a role she performed a few times in the 1950s, but never after Lucia in 1959.)
Livermore, in the first two acts, with so much else going on around them, requires little interplay between Aida and the other principals – often she stands apart, facing the audience, anxious, embattled – but during the Nile Scene Wagner exhibited true rapport with Amonasro and Radamès.
Warwick Fyfe, as Amonasro, was in notable form: suitably indignant when his daughter declines to betray Radamès, and matching Amber Wagner for power and conviction in the glorious passage when Amonasro disowns Aida ('You are the slave of the Pharoahs').
Torre, impressively, was back as Radamès the night after singing in Lucia – clearly comfortable in his wonted Verdi territory. Notwithstanding his habit of attacking high notes a semi-tone below, Torre sang with immense volume and power from the outset. His best singing came in the Act Three scene with Amneris, when Radamès admits his guilt and longs only for death ('La vita aborro! … sol bramo di morir'), and also the Tomb Scene that ends the opera. During these softer, more reflective passages, Torre sang with considerable sweetness and feeling.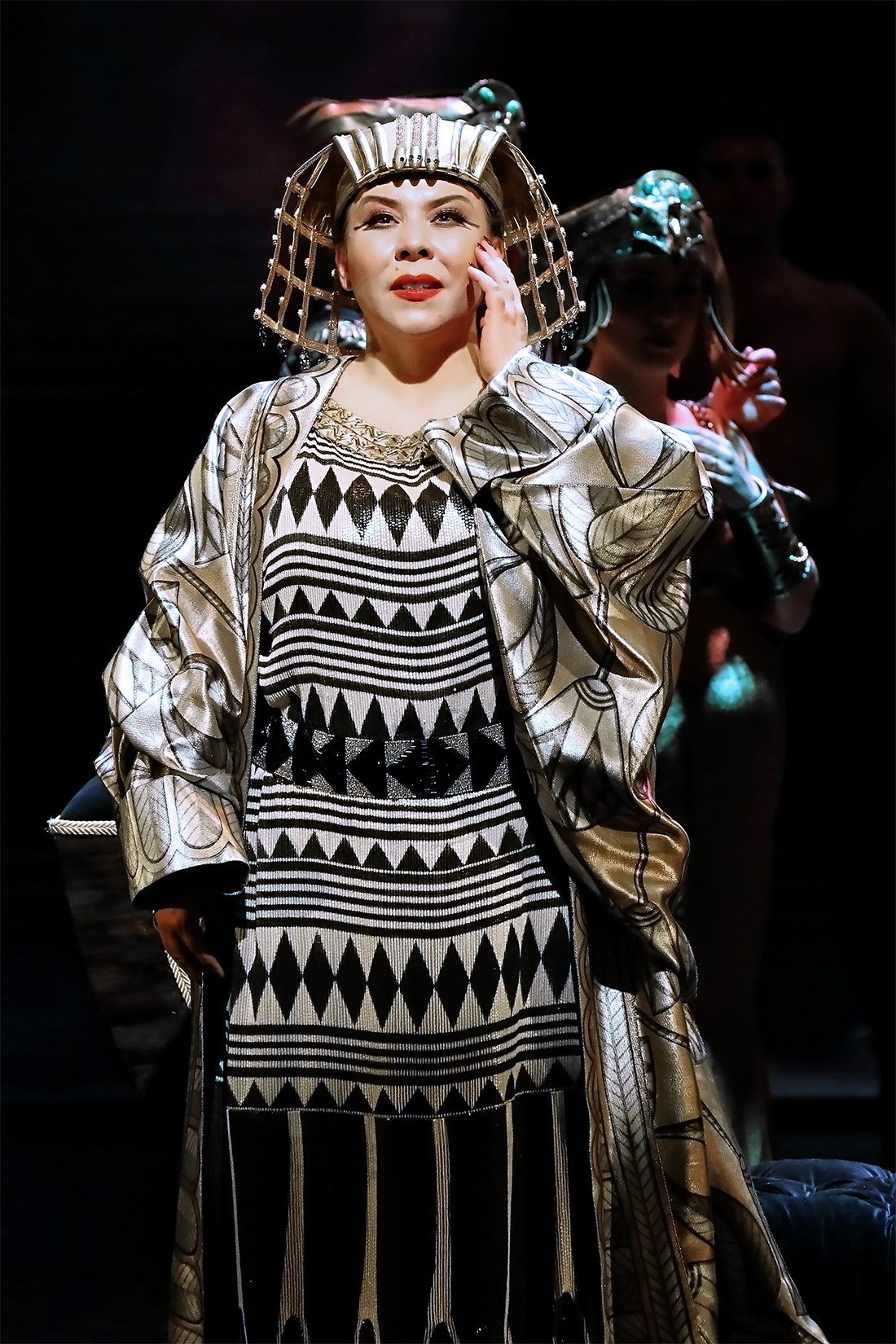 Elena Gabouri as Amneris in Opera Australia's 2018 production of Aida at the Sydney Opera House (photo by Prudence Upton)New to the company, Elena Gabouri, as Amneris, princess of Egypt, was in blazing form – quite magnificent in her long duet with Radamès and the scene that follows, when the priests condemn him to death by entombment. This was fearless singing, brilliantly enacted.
Andrea Battistoni conducted superbly; rarely has the Opera Australia Orchestra sounded so good. This was a rhythmic and brisk reading, but the performers never seemed vulnerable because of the brisk tempi and impressive volume emanating from the pit.
The chorus sang superbly, especially the men.
Aida continues until the end of August, with several cast changes (there are nineteen performances in all). Amber Wagner, Elena Gabouri, and Diega Torre can be heard until 9 August. Lovers of stand-and-deliver singing in the great tradition should not miss these three vocally sumptuous performances.
Lucia di Lammermoor was presented by Opera Australia in the Joan Sutherland Theatre, Sydney Opera House from June 28 to July 27, 2018. Performance attended: July 27. Aida (Opera Australia) continues in the Joan Sutherland Theatre until 31 August 2018. Performance attended: July 28.
ABR Arts is generously supported by The Ian Potter Foundation and the ABR Patrons.